Vietnam women's football team targets ASEAN title
Vietnam hopes to win the ASEAN Women's Football Championship starting on May 1st in Ho Chi Minh city.
Vietnam hopes to win the ASEAN Women's Football Championship starting on May 1st in Ho Chi Minh city.
Coach Norimatsu Takashi, who has worked with the team for several weeks, is confident of retaking the trophy that they lost two years ago.
He said he was surprised at the professional attitude of Vietnamese players who, he said, worked very hard, focused on his programme and quickly carried out all exercises.
Myanmar and Thailand are powerful teams, so Vietnamese women need to be in top shape. Takashi said he was satisfied with their progress.
He said Vietnam had chances to go further, but needed time to build up into a really strong team.
He said there was something similar between Vietnamese and Japanese women's football although there was a big gap between two teams in world ranking.
Japan spent 20 years to become world champions with the support of many experts and foreign players.
He said it would be the same for Vietnam, who have to improve the quality of the national championship as well as create more competitions for them.
Mai Duc Chung, head of the Vietnam Football Federation's (VFF) National Teams Department, agreed with Takashi's goal.
Takashi has 24 players in training. Many competed successfully during the Asian Games where they entered the semi-finals.
The championship will kick off on May 1st. Vietnam will play Myanmar a day later. Both teams are considered at a higher level compared to Malaysia and the Philippines in Group B. They are expected to secure two berths to the knockout stage.
In Group A, Thailand and Australia are expected to be semi-finallists as their rivals, Indonesia and Laos, are not as strong as them.
Teams will compete in the May 1st-10th event at the Thong Nhat stadium.
Last year, visiting team Japan took the trophy after beating Australia 5-3 in the penalty shoot-out. Vietnam won a bronze medal after defeating Myanmar 3-1 in the third-place play-off./.
VNFVNA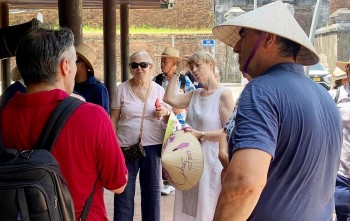 National
Vietnam News Today (Mar. 29): Vietnam to issue e-visa to foreigners of all countries; Vietnam, China beef up defence ties; Outbound tours prove popular during April holiday; Vietnam International Travel Mart 2023 to spotlight cultural tourism.