Vietnamese – American Daniel Nguyen tennis player to play under Vietnamese flag
Tennis player Daniel Nguyen can now play officially under the Vietnam flag as he has received his Vietnamese passport and will be able to represent the country at the upcoming Southeast Asian Games later this month.
Daniel Nguyen
The 29-year-old Nguyen is currently ranked No. 350 in the world but has been as high as No. 189. Both his parents hail from Vietnam and he has been playing in Vietnam often over the past few years. Nguyen has been hoping to play under the Vietnamese flag for a long time.
He was earlier representing the United States of America. The entire process by the Vietnam Tennis Federation took a month to complete and Nguyen finally received his passport on October 28th. He will be part of the Vietnam team that plays the South East Asian Games later this month along with four other men and five women players from Vietnam.
Nguyen is the favourite for the gold medal in the tennis event at the South East Asian Games and is expected to compete in both singles & doubles. The tennis competition at the South East Asian Games will be played from December 1 to December 7th at the RMSC Tennis courts, Metro Manila.
Nguyen has been in good form recently - winning two ITF titles in Tay Ninh, Vietnam in October back to back in singles. Overall, he has won 15 ITF singles titles in his career. He has a 27-14 record in singles this year and a 186-122 record in singles over his career on the tennis tour.
VNF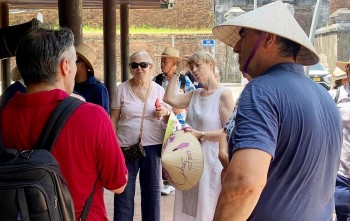 National
Vietnam News Today (Mar. 29): Vietnam to issue e-visa to foreigners of all countries; Vietnam, China beef up defence ties; Outbound tours prove popular during April holiday; Vietnam International Travel Mart 2023 to spotlight cultural tourism.