Vietnamese artist paints 44 US Presidents in 'ao dai' though never met anyone
Though never met anyone of the 44 US Presidents, artist Tran Lam Binh spent two years studying and portraying all of them, for what he calls "the love for America".
Binh has been invited to Florence Biennale international art exhibition in Italy, along with his five portraits of US President Donald Trump, selected from 500 paintings that he had produced during 5 years.
Like the paintings of Donald Trump, 44 paintings of US president drawn in pop-art style - an artistic style born from the 1950s industrial era and the most powerful influence in American society.
Notably, in these paintings, all US presidents were dressed in traditional Vietnamese costume and held a book and rose in their hands.
As Binh explained, US president wearing Vietnamese 'ao dai' is a cultural interference between the two countries. Rose represents love, peace, happiness and prosperity that American presidents always tried to brings to their country. And the book is Bible, with the meaning that people, regardless of their society, still need faith.
The 37-year-old artists said, he and his manager Le Dinh Hung have got an idea of US president paintings since 2015.
Binh started his work in 2016 and completed it 2 years later.
He said these painting will not be sold but will be used for display in a private museum.
Let's admire some of his paintings
President Bill Clinton
President Barack Obama
President George W.Bush
President George H.W. Bush
President Franklin Roosevelt
VNF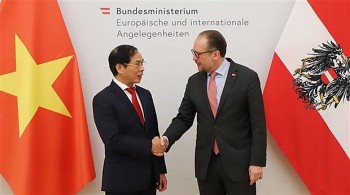 Overseas Vietnamese
Fifty years have passed since the establishment of the relationship, the two countries have enjoyed great strides in bilateral cooperation.