Vietnamese artist Phan Thanh Liem showcase water puppetry in Italy
Water-puppetry artist Phan Thanh Liem will bring a performance of miniature water puppets to the 39th Orient Festival held from September 14 to 16 in Napoli, Italy.
Water-puppetry artist Phan Thanh Liem will bring a performance of miniature water puppets to the 39th Orient Festival held from September 14 to 16 in Napoli, Italy.
Phan Thanh Liem's miniature water puppet stage attracts many visitors. (Source: NDO)
According to Artist Phan Thanh Liem, he will put on a show of selected traditional water puppet performances.
Currently, all preparations are complete and about 200kg of equipment has been transported to Italy. He will perform in three cities: Napoli and Brescia in Italy, and Nice in France. He will give a 30 minute performance using the miniature water puppet stage in each of the cities.
The Orient Festival will gather perse cultures from Asian countries such as India, China, Japan, Thailand, RoK, Indonesia, Malaysia, Vietnam, Bangladesh, Mongolia, Nepal, Rajasthan, Sri Lanka, Myanmar and Tibet. The festival also has a variety of activities such as photography exhibitions, typical culinary booths, traditional ritual performances, music, dance, traditional martial arts, and yoga.
Artist Phan Thanh Liem was born and raised in a family with a seven generation history of traditional water puppetry in Rach village, Nam Chan commune, Nam Truc district, Nam Dinh.
He is a successful design artist of water puppetry stages, as well as a screenwriter and contributor to the research and creation of a lot of water puppetry. Liem has received many invitations to bring his miniature water puppet stage to the U.S., the UK, Canada, the Republic of Korea (RoK) and China.
A water puppet show depicts the daily activities in Vietnamese rural life as well as important historical events and ancient legends.
MINIATURE MOBILE STAGE
Liem has performed with a specially designed mobile stage for water puppetry invented by his father for the past 20 years.
He has also created various new puppets to perform alongside traditional ones. He has composed his own scripts and served as the main puppeteer for the past 20 years.
His mobile stage includes a nylon water tank, which is used as the water surface for the art. The tank is designed to look like a communal house, which serves as the backdrop for the puppets.
Liem's father, Phan Van Ngai, has helped trained many generations of artists for the Central Puppetry Theatre and puppetry troupes for various localities. His mobile stage for water puppetry is still used by central and local troupes. The Louvre Museum displays a puppet named Chu Teu carved by Ngai.
Ngai has run a family puppetry troupe with Liem, who has realised the limitations of the form's traditional big stage, which consists of a communal house located on a large lake or tank. It is not only large but also difficult to move and not suitable for a family-sized troupe.
Liem's first miniature stage for water puppetry was first used in 2000 at Van Ho Art Exhibition Centre in Hanoi with small puppets on a tank 80cm in length and 50cm. Then Liem designed the larger tank that he uses now.
At the opening ceremony for the private water puppetry stage in Long Bien District last week, Liem said the mobile stage has many advantages.
"It's small, light, convenient to bring to serve audiences in small spaces like schools, offices and even private homes," he said. "It's also convenient for performance in remote areas or abroad."
"With the small stage, the distance between the stage and audience is also reduced," he added. "Artists and audiences have a better chance to exchange ideas on the traditional water puppetry art of Vietnam."
Liem has not only served domestic audiences but also traveled overseas to perform. He has created various scripts to reflect today's important issues.
His first mini theatre for water puppetry in Kham Thien Market Lane, in Dong Da District, has become popular with both domestic and foreign tourists.
His second home theatre is located at No. 22, Lane 145/8, Thach Ban Street, Long Bien District.
"I opened this second theatre as it is a convenient stop on the tours to Quang Ninh Province or Bat Trang Pottery Village," he said. "My first theatre in Kham Thien Lane cannot meet audiences' demands, though many foreigners like to walk through the lane to reach my theatre there."
The theatre in his house in Kham Thien Lane can receive up to 21 audience members while the new one in Long Bien District can welcome 50./.
VNF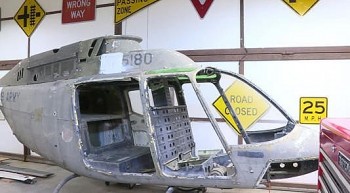 World
A piece of military history related to Vietnam is coming to life with a special project in a small Barton County townm in the US