Vietnamese Artist Promotes Traditional Cultures with Multi-Ethnic Doll Collection
The traditional outfits of the 54 ethnic groups of Vietnam are lively depicted through a collection of pretty dolls. These dolls, each conveying a dream or a message, are skillfully hand-made by a miniature artist from Hanoi.
The talented artist Nguyen Hoang Anh (Hanoi, Vietnam) is known for his collection of dolls dressed in traditional costumes of 54 ethnic groups. After 26 months of developing ideas and refining details, he released the first collection this year.
"When I realized that the Vietnamese traditional costumes are very attractive, from color to style, I decided to bring ethnic costumes to more people. In addition, when I look at Japanese and Korean dolls, I wonder why not try to put Vietnamese costumes on the dolls so that international friends know more about Vietnamese culture," he said.
Perfecting the art of miniature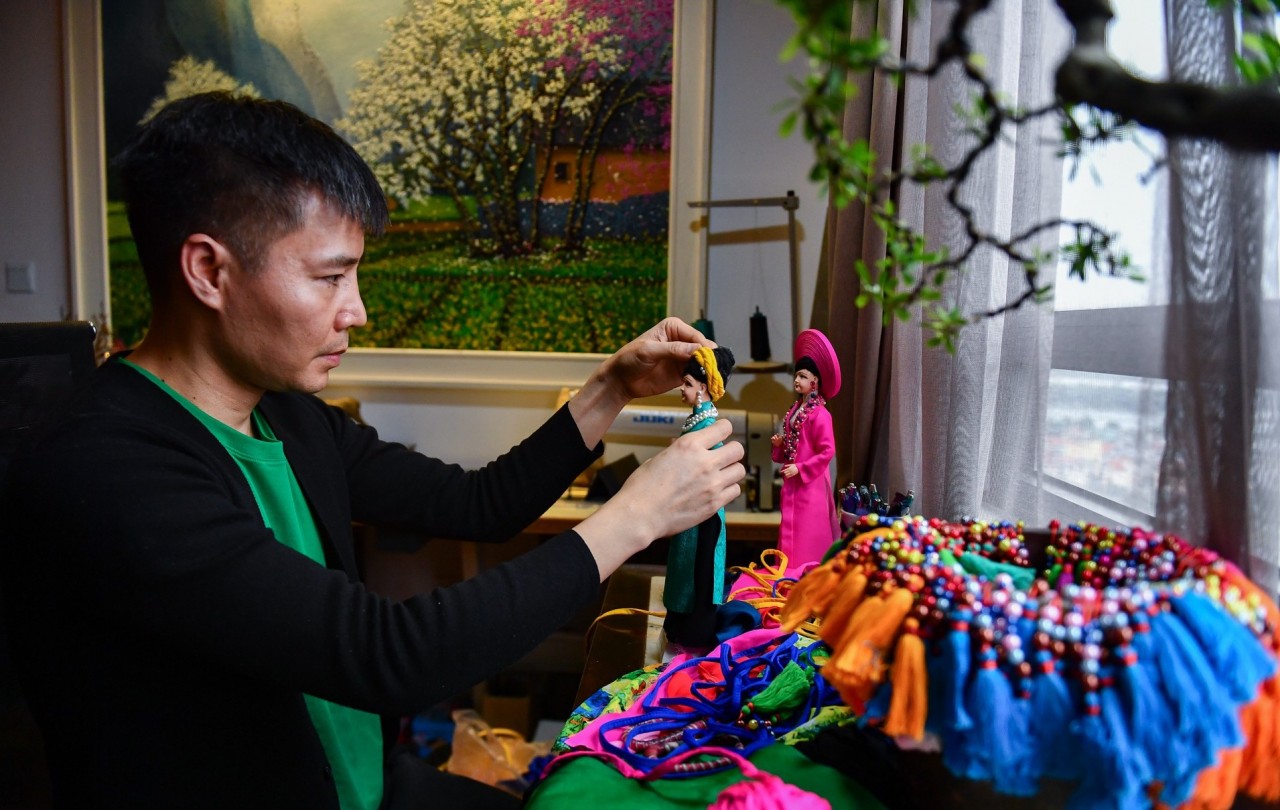 Artist Nguyen Hoang Anh. Photo: Zing News
Anh put much time and effort into making the costumes. It took more than 2 years but the artist is satisfied by the results.
He spent years doing field trips in Vietnamese villages. Thus, he collected authentic materials and get inspired to create realistic replicas of the costumes Ethnic dolls are displayed in the most attractive and eye-catching position in his studio, showing the pride of the young man.
Nguyen Hoang Anh started making miniature national costumes since 2011. His collection now includes about 60 costumes of 45 different ethnic groups after a decade of pursuing this art.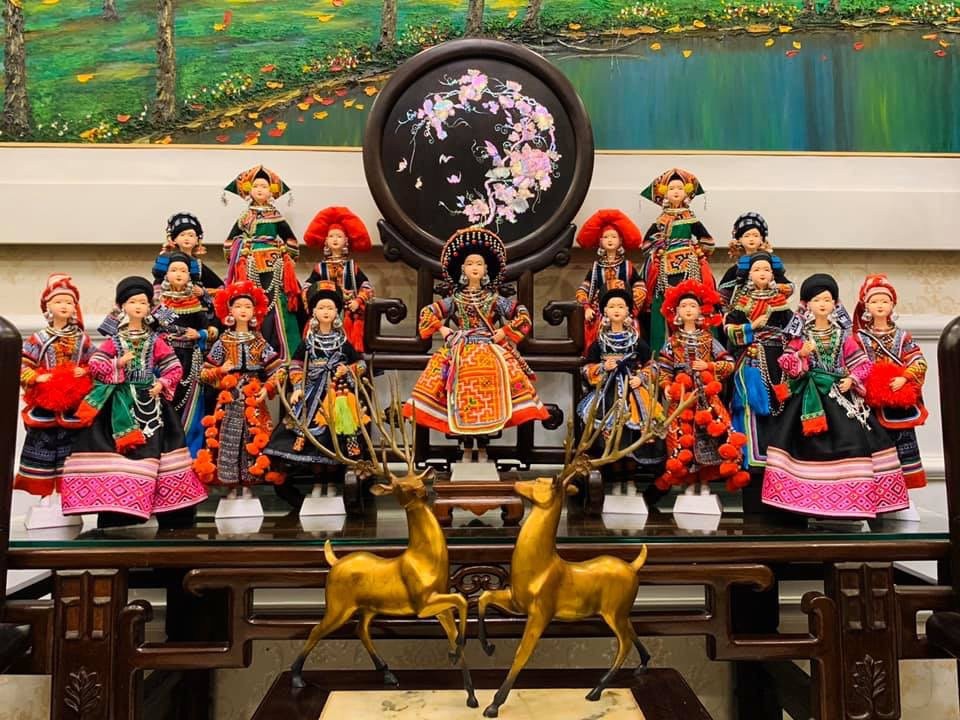 The collection of dolls dressed in traditional costumes of 54 ethnic groups. Photo: Dan Tri
It is very important to learn from experiences. My "schools" are everywhere from libraries, ethnographic museums to villages. I create by recreating, receiving feedbacks, and renewing myself through art, he shared.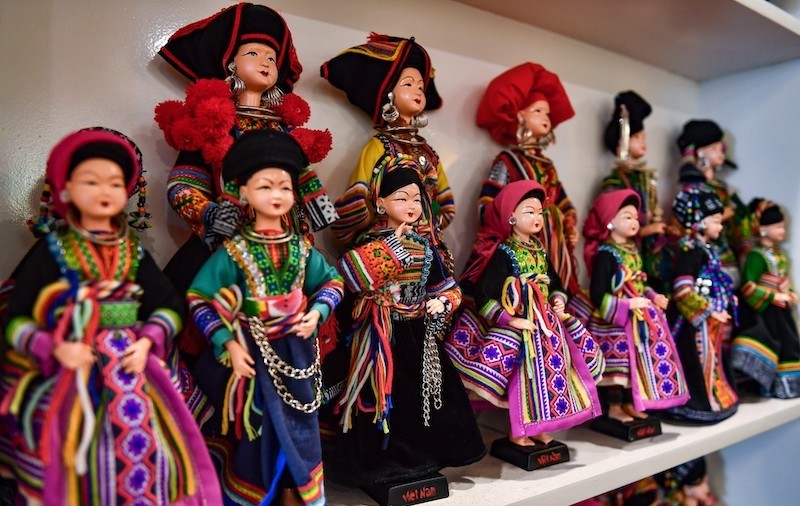 The doll versions of the traditional attires from different groups. Photo: Zing News
The veteran artist also encountered many technical challenges when making this collection. Some ethnic groups have many different costumes, such as the Dao, the Mong, etc. The costumes take more than one textile craft to make. For example, Dao ethnic costume elaborates the concept of the universe and the community's life using patterns, embroidery motifs as well as printed.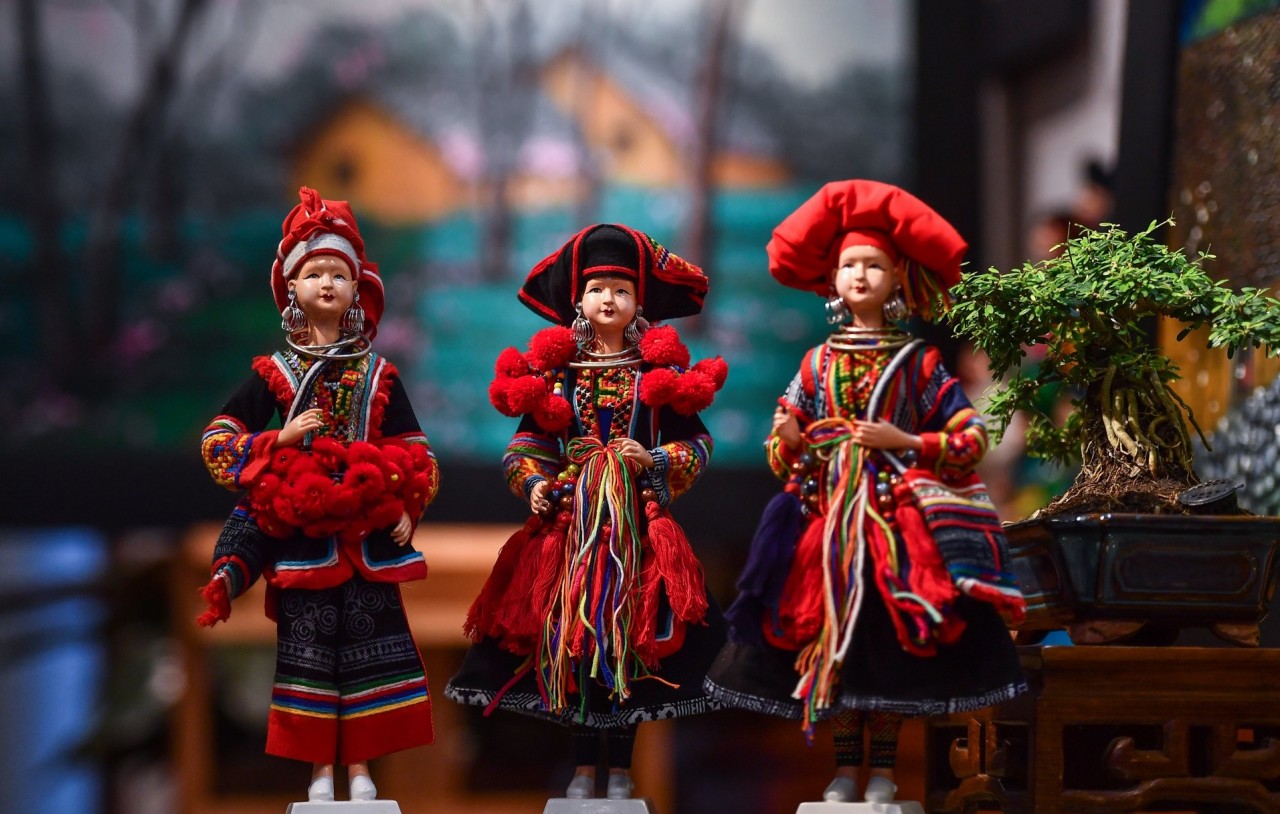 From left to right are the costumes of the Bac Ha Hoa Mong, Blue Mong and Son La Hoa Mong ethnic groups. Photo: Zing News
Anh paid close attention to the details so that he can bring out the most accurate doll versions of the traditional attires from different groups.
The costumes of the Bac Ha Hoa Mong, Blue Mong and Son La Hoa Mong ethnic groups. The costumes of the H'Mong ethnic group are more distinctive and colorful, the skirt is usually indigo, and the hem is often embroidered with many motifs. They wear a shirt with split armpits, on their shoulders and chest are added a colored cloth embroidered with snail patterns.
Blue H'mong people wear tubular skirts, embroidered with small cross-shaped patterns in squares. The top has a straight left slit and buttoned up, and the sleeves are covered with red and embroidered patches.
The costumes of the Mong ethnic group are unique with many different sewing styles depending on the 4 groups of people: White Hmong, Hoa Hmong, Black Hmong, and Blue Hmong.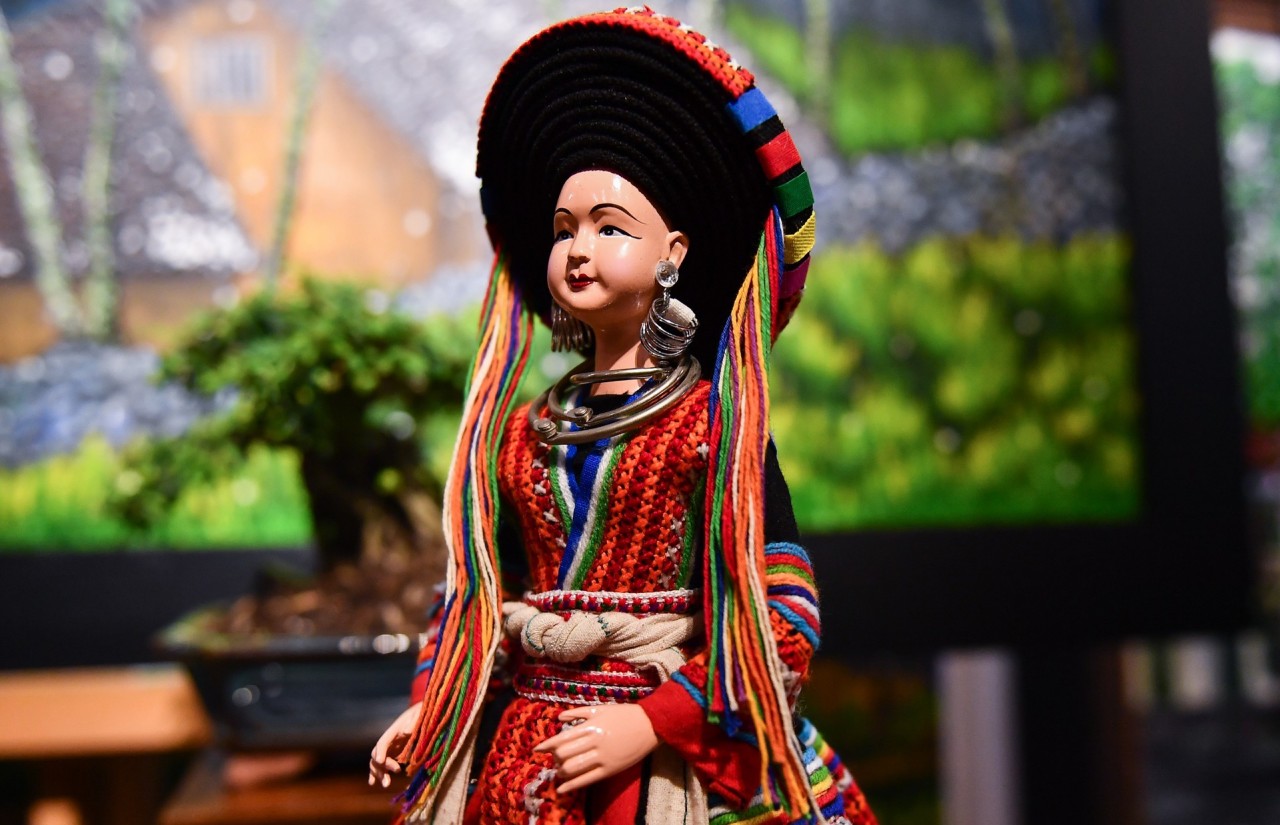 Pa Then Ethnic Group Doll. Photo: Zing News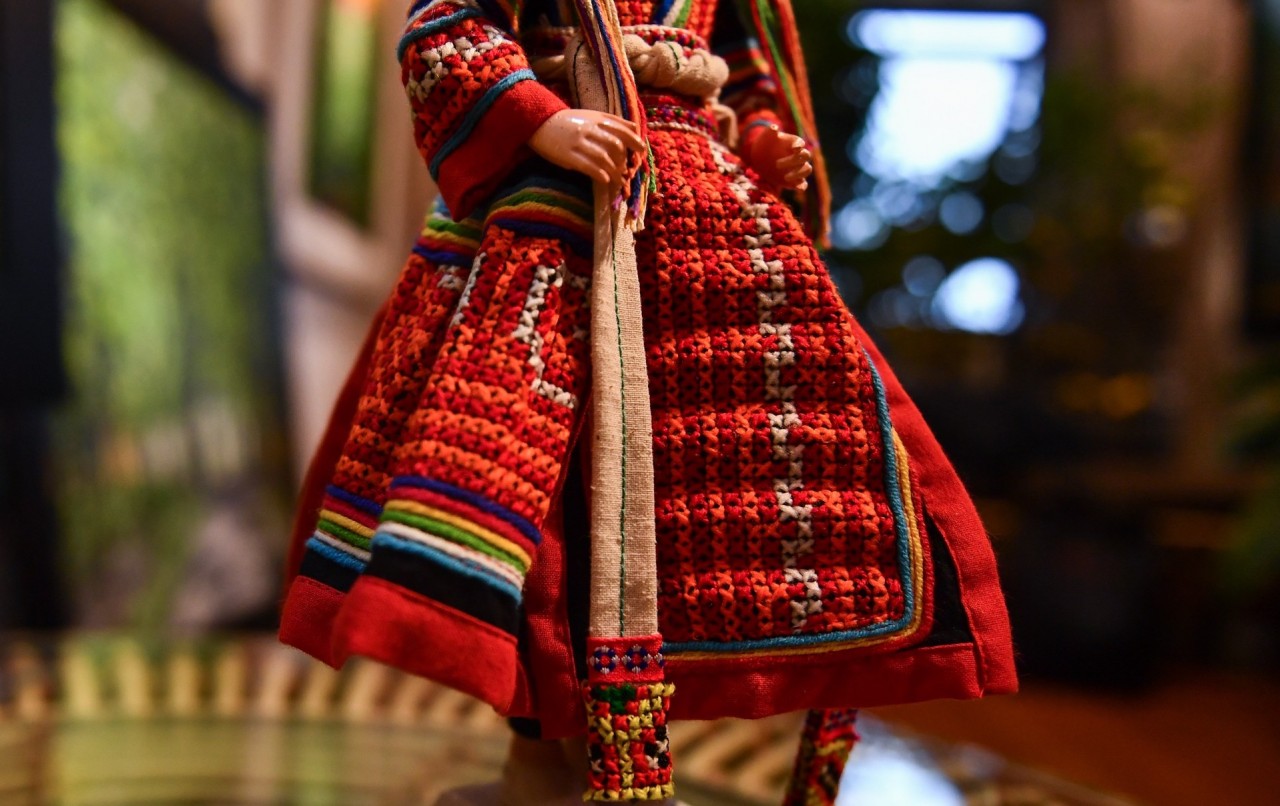 Meticulous details on the doll show Anh's talents. Photo: Zing News
Pa Then is an ethnic minority with a population of about 5,000 people, living mainly in Ha Giang and Tuyen Quang. The female costume of the Pa Then ethnic group includes a scarf, shirt, belt, skirt, and bib. Women often wear long hair with a scarf around their heads, and the two ends of the scarf are attached with yellow and red tassels. Head scarfs come in two types, the black inner shawl and the red outer shawl. Pa Then women wear scarves wrapped in many rounds on the head like a hat, or in a form a roof protruding from both sides of the ear.
Keeper of traditional beauty
Anh's work space. Photo: Dan Tri
Anh made his house the compact studio: The house is a drawing studio, a fabric store, a showroom all in one. To him, this is a place to keep the traditional beauty of Vietnam.
Doll products are available in 2 sizes, 25cm and 35cm. The dolls priced about VND 3,000,000 - 4,000,000 (US$ 130-173).
In addition to the Vietnamese national costumes, the artist also makes the traditional Ao Dai doll model. Anh wants to complete a full set of 54 ethnic Vietnamese dolls and a number of sets depicting highland people in the near future. He believes this would be a great idea for tourist souvenirs to promote Vietnamese cultures. "Dolls are not only gifts but also a cultural bridge, introducing ethnic costumes to international friends," he affirmed.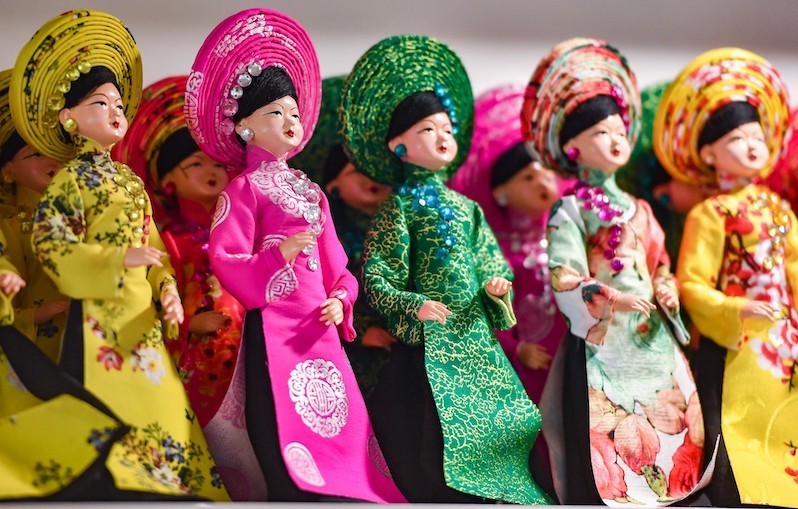 The traditional Ao Dai doll collection. Photo: Zing News