Vietnamese culture impresses Japanese in Kansai
Recently, on occasion of the 45th anniversary of Vietnam - Japan diplomatic relations establishment, a programme themed "Days of Kansai-Vietnam 2018" were held in two cities of Kansai region, Sakai and Osaka.
Poster of the Days of Kansai-Vietnam 2018.
Vietnamese Vice Minister of Foreign Affairs, Le Hoai Trung addressed the opening ceremony and oversaw the organization of Days of Kansai-Vietnam 2018. On this ocassion, the diplomat also paid a courtesy visit to Vice Governor of Osaka city, Arai Jun and Mayor of Sakai city, Takeyama Osami.
Held by the Vietnamese Consulate-General in Kansai region, the event, which run from November 9 to 11, attracted thousands visitors, including the locals and Vietnamese residents in Japan as well as students and expats.
Within three days, a series of activities promoting the beauty of Vietnamese culture, potentials in trade and business were held in two cities of Sakai and Osaka. These activities included meetings between Vietnamese Consulate-General and the provincial authorities, business agencies, conference promoting investment between Vietnam - Kansai, folk arts performance, Vietnamese - Japanese artists exchange as well as painting exhibition featuring their art works.
Particularly, the trade fair brought together Vietnamese and Japanese enterprises in Japan as well as Vietnamese enterprises from four provinces of Quang Ninh, Binh Dinh, Quang Nam, Ha Giang, who introduced their wide range of products via the exhibition of 40 trade pavilions.
Below are the re-cap of the activities on photo: (Credited to Consulate-General of Vietnam in Kansai)
Artists exchange.
Dance performance.
Vietnamese folk bamboo stick dance.
Conference of promoting Vietnam-Kansai cooperation.
( Translated by Phi Yen )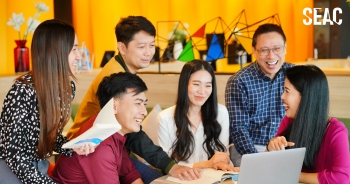 Economy
SEAC, a leading corporate and lifelong education innovator, is shaking up the Thai and ASEAN education market with significant investment to expand its SMART learning solutions across the ASEAN region.