Vietnamese Firms Explore Chances in Africa
The Trade Office and Embassy of Vietnam in Algeria are attending the ninth African Investment and Commerce Forum in Algiers to popularise Vietnamese goods and seek investment and business opportunities for Vietnamese enterprises.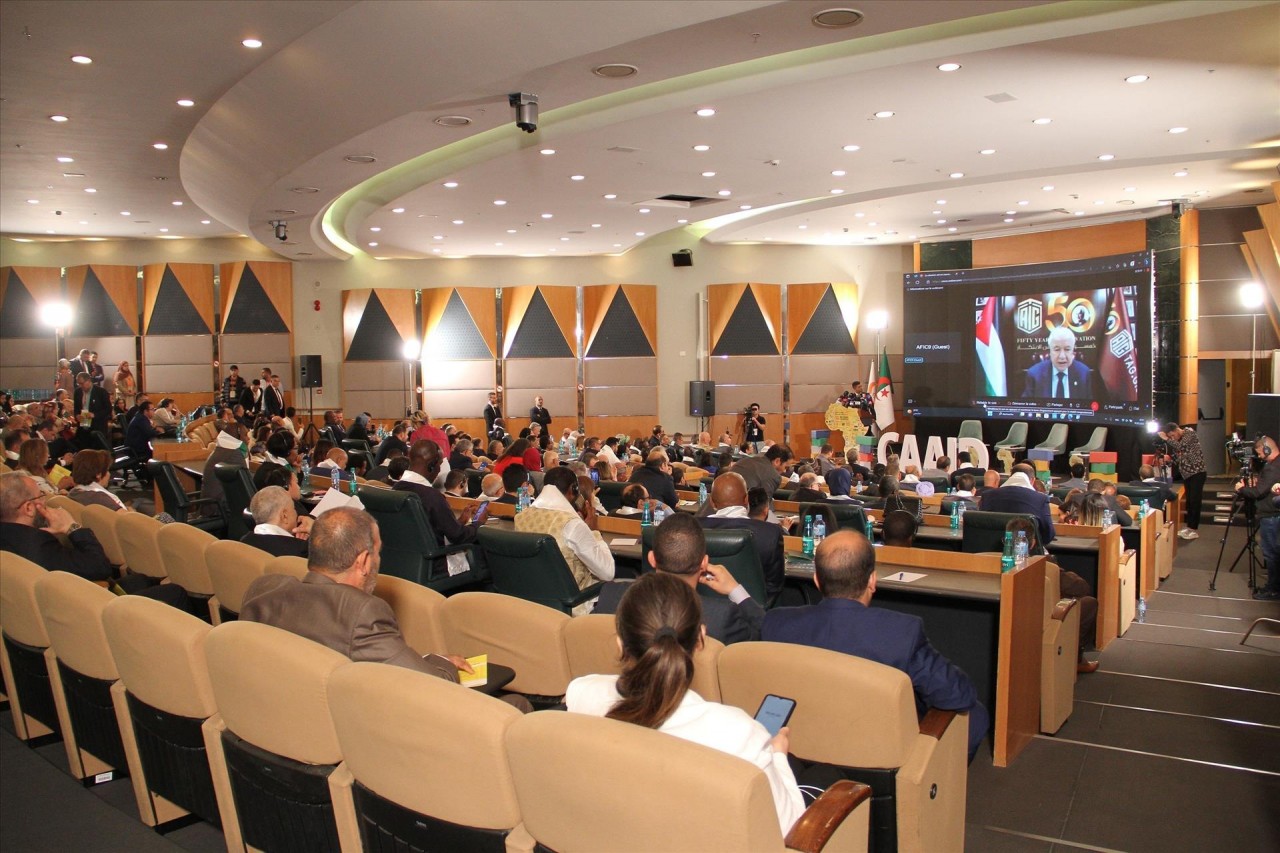 The ninth African Investment and Commerce Forum 2023 (AFIC9) which got underway from May 16 to May 17 in the Algerian capital of Algiers. Photo: VNA
Numerous Vietnamese products such as coffee, tea, rice, pepper, cashew nuts, milk, canned products, and handicrafts were introduced at the ninth African Investment and Commerce Forum 2023 (AFIC9) which got underway on May 16-17 in the Algerian capital of Algiers, VOV reported.
The event, organised by the Arab-African Center for Investment and Development (CAAID), aims to connect more than 650 investors, leaders of regional and international organisations, experts, and representatives of commerce chambers from 37 countries.
Taking place on the sidelines of the forum were also exhibitions on exports, trade, agriculture, the food industry, tourism, services, technology, electronics, digital transformation, energy, construction, justice, health care, the pharmaceutical industry, investment, finance, transportation, free trade area, and the environment.
Aside from participating in seminars focusing on trade and investment in Algeria and Africa, the Trade Office and Embassy of Vietnam introduced a number of Vietnamese commodities such as coffee, tea, rice, peppercorn, cashew nut, milk, canned products, and handicrafts. Lists of reputable exporters and catalogues have also been distributed to participants.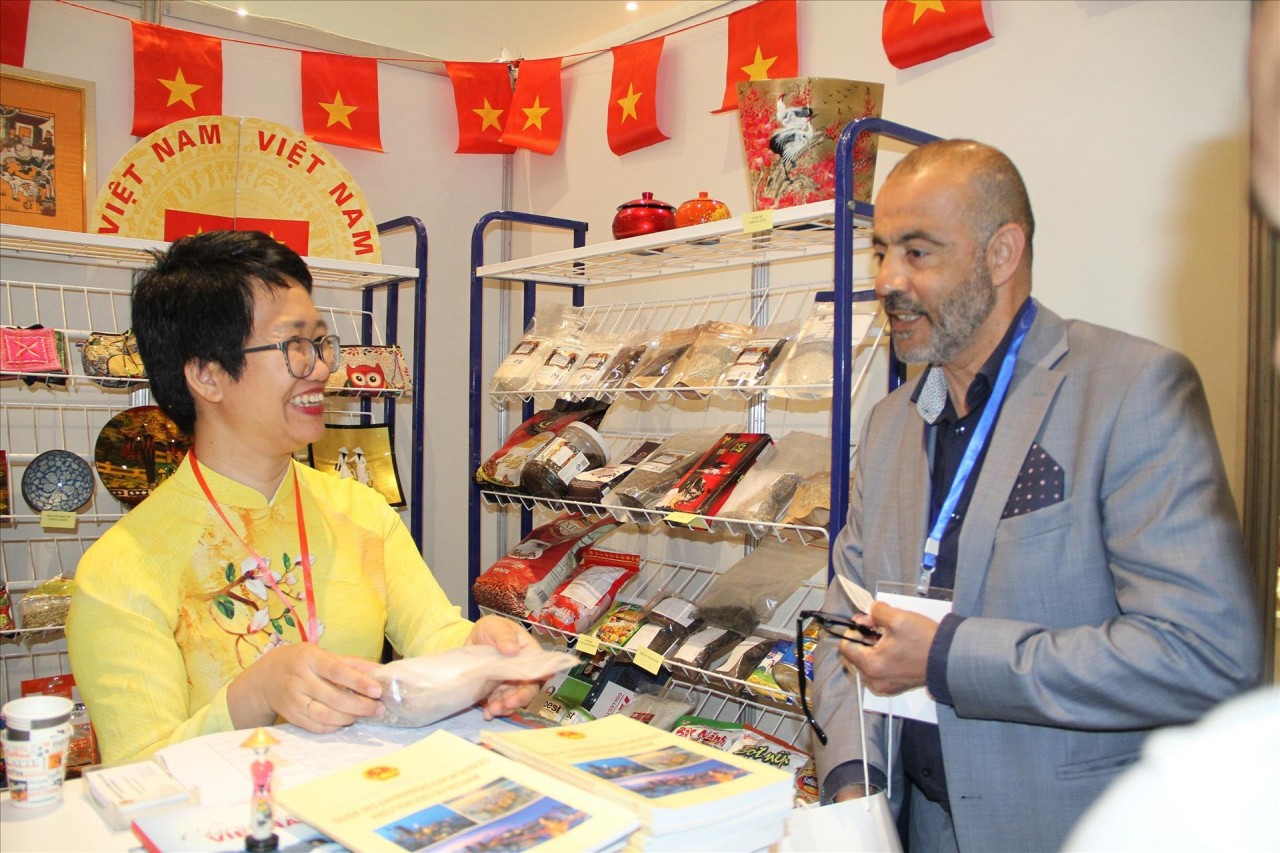 Many Vietnamese products are displayed at the event. Photo: VNA
Furthermore, the Trade Office met with Algerian and African businesses in order to learn about their demand and explore opportunities for further business and investment partnerships with Vietnamese firms.
In general, visitors highly appreciate the overall quality of Vietnamese goods, stating that there remains a lot of potential for exporting Vietnamese products to Africa.
The occasion saw Vietnam Trade Office representatives hold meetings with Algerian and African businesses attending the forum in order to find out their needs, whilst connecting business and investment opportunities for Vietnamese businesses.
According to Hoang Duc Nhuan, a Vietnamese trade counselor in Algeria, Vietnam and African countries boast huge potential for trade and investment cooperation, noting that bilateral trade and investment have been growing steadily over recent years.
Trade between Vietnam and Africa hit USD 5.4 billion last year, including USD 2.8 billion from Vietnamese exports. Major African trade partners of the country include Egypt, South Africa, the Ivory Coast, Ghana, and Algeria, according to the General Department of Vietnam Customs.
Regarding investment ties with the continent, Vietnam attracted around USD 2.7 billion in investment from Africa last year with major investors such as the Seychelles, Mauritius, and Angola. Meanwhile, it had invested USD 2.4 billion in 17 African countries as of February 2022, with the biggest recipients being Algeria, Mozambique, Tanzania, and Burundi.
Nhuan stated that Algeria and Africa's promotion of integration, especially via the African Continental Free Trade Area (AfCFTA), is offering plenty of chances for Vietnamese enterprises.
The AfCFTA is the world's largest free trade area bringing together the 55 countries of the African Union and eight Regional Economic Communities. The overall mandate of the AfCFTA is to create a single continental market with a population of about 1.3 billion people and a combined GDP of approximately USD 3.4 trillion.
Vietnamese companies can therefore directly invest in some countries that boast big populations, political stability, and an abundant material supply in order to capitalize on the AfCFTA to export goods to other African countries, he went on to say.
Despite certain difficulties related to geographical distance and trade rules, if Vietnamese enterprises thoroughly learn about African markets, then they will be able to successfully enter these markets since most African firms have demand for imports to serve their growing population amid demand for consumer goods in the continent, with great potential for Vietnamese exports, he added.
The nation has so far established diplomatic relations with 54 out of 55 African countries, as well as setting up trade relations with almost all countries throughout the region.
Along with trade and investment, ties in the agricultural sector are also relatively developed, with the support of developed countries and international organizations, such as the Food and Agriculture Organisation of the UN (FAO) and the African Union (AU).
"With FAO, we have carried out many models of bilateral and multilateral agricultural cooperation in Africa, especially in Senegal, Mozambique, Sudan, and Guinea, and have been quite successful. As a result, productivity in the fields of crop and livestock production has been greatly improved," said Nhuan.
The AFIC is an annual event that helps the continent's businesses increase trade with the rest of the world, as well as offering other businesses globally the opportunity to learn new policies on investment in African countries.
This can be seen as a highly potential market for key Vietnamese export products.
The Asian-African Market Department said that trade between Vietnam and Africa increased from USD 2.52 billion in 2010 to USD 5.5 billion in 2022. Of the total, Vietnam's exports were valued at more than USD 2.8 billion, resulting in a trade surplus of USD 226.3 million.
Vietnam mainly shipped rice (USD 568.6 million), phones and component parts (USD 355.6 million), computers and electronic products (USD 210.4 million), and footwear (USD 141.8 million) to Africa.
Meanwhile, it bought cashew nuts (USD 1.1 billion), metals (USD 484.1 million), and wood and wood products (USD 114.3 million) from this continent.
In the coming time, to facilitate intra-bloc trade, African nations will pour more capital into infrastructure facilities, thus opening up more opportunities for Vietnamese goods to access more markets, including 15 landlocked countries, in Africa. At present, Vietnam's main export markets in the region are major economies with seaports such as South Africa, Egypt, and Nigeria.
Vietnam can increase its exports of textile, leather and footwear products to Africa by promoting competitive advantages such as low labor costs, good sewing techniques, and high-quality products, if the nation or the ASEAN negotiates a trade agreement with the AfCFTA, the ministry said.