Vietnamese Goods Take Advantage of Export Opportunities from FTAs
Vietnam exported nearly US$80 billion of goods to markets with Free Trade Agreements (FTAs).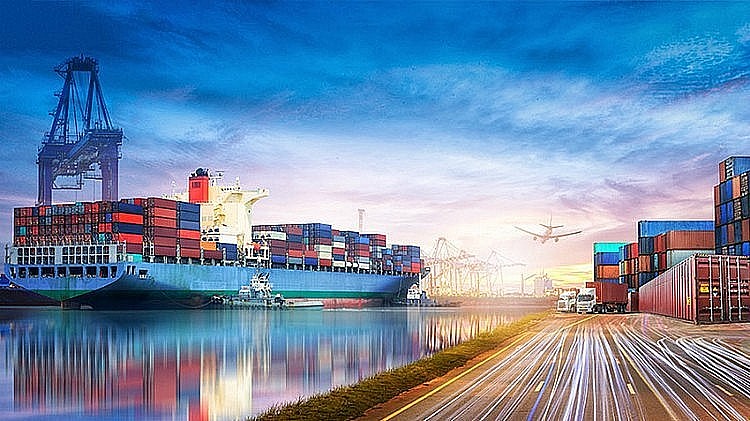 Photo: congthuong.vn
Nearly US$80 billion of goods exported to markets with Free Trade Agreements (FTAs) enjoyed preferential tariffs in 2022. This figure is 13% higher than the level of the previous year.
Taking advantage of FTAs
According to industry associations, the global economic slowdown was faster than expected. Total demand from abroad dropped sharply, making many export enterprises unable to sign orders, greatly affecting both industrial production and exports in the first 4 months of the year.
"Facing this situation, the Ministry of Industry and Trade had many solutions to promote exports. The exploitation of FTAs is being deployed to support businesses to have more orders and new customers", said Vu Ba Phu, director of the Trade Promotion Department (Ministry of Industry and Trade).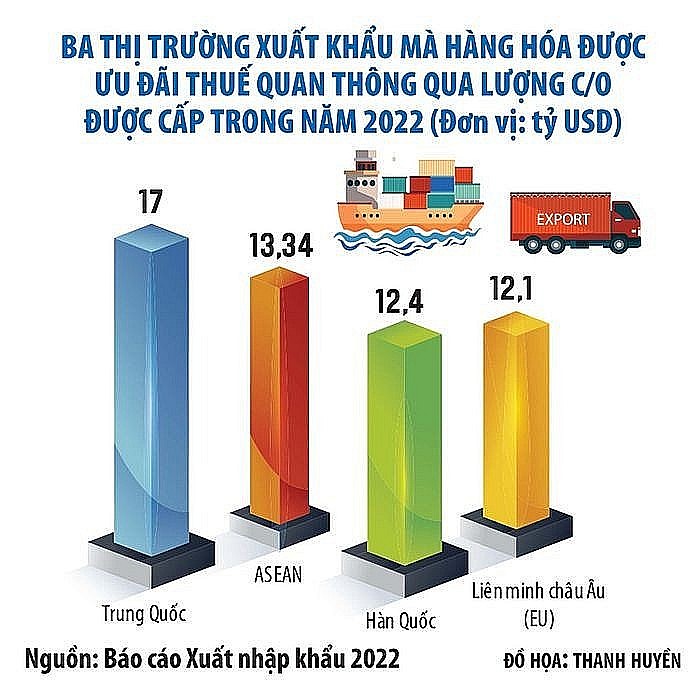 Three export markets where goods are eligible for preferential tariffs in 2022 (Unit: billion USD). Photo: Thanh Huyen
The Ministry of Industry and Trade also continues to facilitate and strengthen digital transformation in the granting of preferential Certificates of Origin (C/O), thereby supporting businesses to take advantage of commitments in FTAs.
More than 60 markets have signed FTAs with Vietnam, which are major export destinations, accounting for nearly two-thirds of the country's export turnover. In 2022, Vietnam exported over US$371.5 billion of goods, of which, exports to FTA-signed markets alone reached US$233 billion.
When participating in FTAs, the industries also benefit from preferential tariffs. Total export turnover using preferential C/O under FTAs reached US$78.3 billion, accounting for 33.61% of the total export turnover of nearly US$233 billion of Vietnam to FTA-signed markets.
"The rate of granting preferential C/O is relatively stable, corresponding to the export turnover to markets," said the Ministry of Industry and Trade.
Authorized agencies and organizations have granted 1,380,359 sets of preferential C/O, an increase of 13.18% in value and 11.75% in number of C/Os compared to 2021.
The rate of granting preferential C/O of 33.61%, together with the growth rate of 13.18%, shows that enterprises and exports from Vietnam are gradually recovering in markets with FTAs, after 2 years of Covid-19.
Goods exported to China and the RoK receive the most preferential treatment
Vietnam is implementing 15 FTAs, opening up many opportunities for exporters to enjoy preferential tariffs.
Among these, China, the RoK, and ASEAN markets are continuously leading markets for importing goods from Vietnam.
Preferential C/O (Form E and RCEP) granted to Vietnam's goods exported to China ranks first, with a value of more than US$17 billion. The next is US$13.34 billion of C/O form D issued for goods exported to ASEAN countries.
Ranked 3rd and 4th respectively are the RoK (C/O form AK, VK and RCEP) with US$12.4 billion and the European Union (C/O form EUR.1) with US$12.1 billion.
The group of goods exported to the RoK with the best rate of using FTA incentives are seafood (93.99%), agricultural products (vegetables, coffee and pepper), having preferential C/O rates. They all have high rates of using preferential C/O, reaching 92.26%, 97.98% and nearly 100%, respectively, wood products (76.15%), footwear (100%), textile (97.99%).
The RoK's preferential use of FTAs (AKFTA, VKFTA and RCEP) is because enterprises mastered the rules of origin for goods exported to this market. The rules of origin of AKFTA and VKFTA are relatively flexible, exported goods can meet the criteria to be granted C/O form AK and VK.
In addition, RoK's FDI enterprises in Vietnam imported raw materials from the RoK. They also applied the principle of origin accumulation for goods exported to the RoK.
Although there are still many obstacles in meeting the criteria as committed in each FTA, due to the low rate of localization of raw materials, the rate of using preferential tariffs from FTAs is still increasing.
The Ministry of Industry and Trade said that the rate of granting preferential C/O is 33.61%. It does not mean that the remaining 66.39% of Vietnam's export turnover is subject to high taxes.
One of the reasons is that the MFN (most favored nation) treatment in some markets such as Singapore and Hong Kong is already 0%, so goods do not need to have a preferential C/O to enjoy the 0% tax rate. For example, export turnover to Singapore with preferential C/O (US$558 million) accounted for only 12.92% of the nearly US$4.32 billion total export turnover to this market.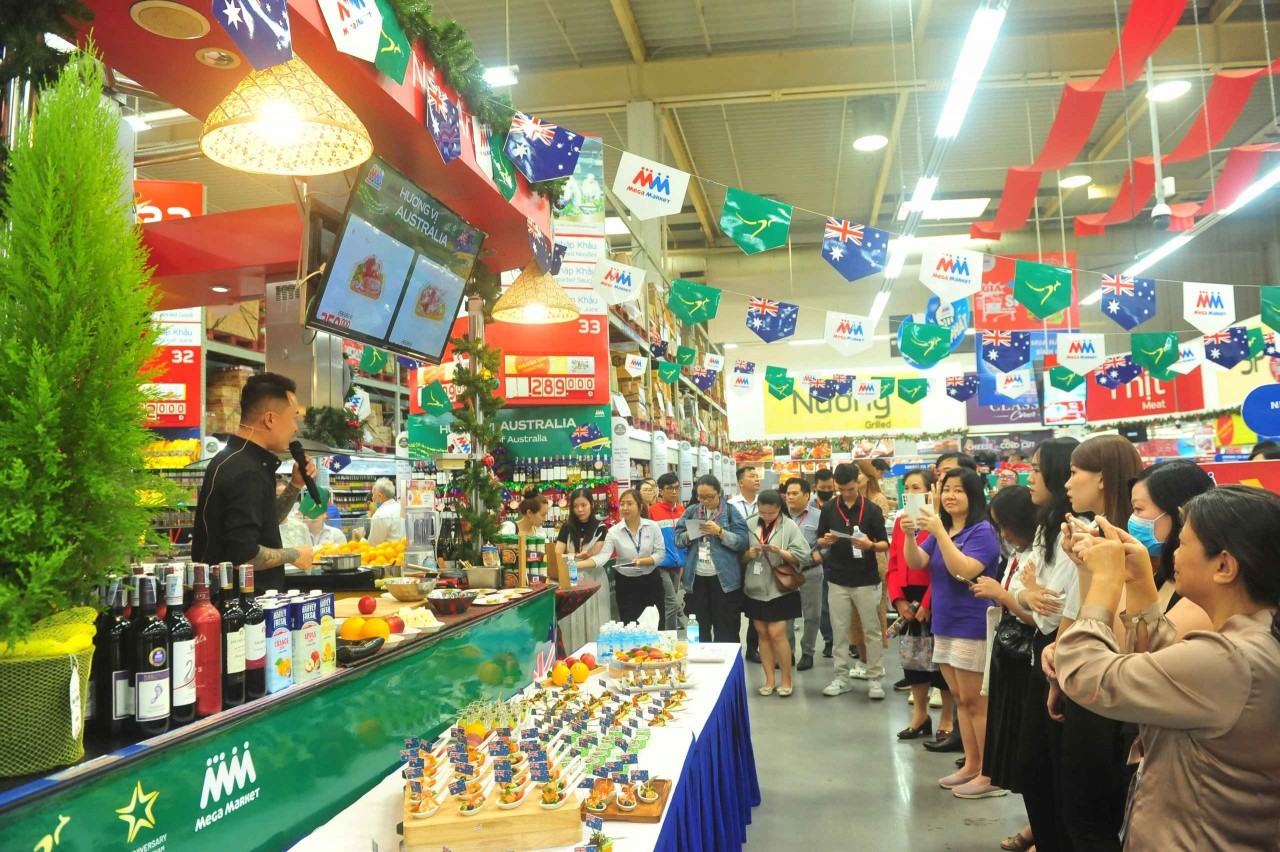 Economy
These programs provide a bridge for Australian suppliers and Vietnamese partners to introduce Australian food and beverage products and contribute positively to the trade between Vietnam and Australia.
December 08, 2023 | 16:42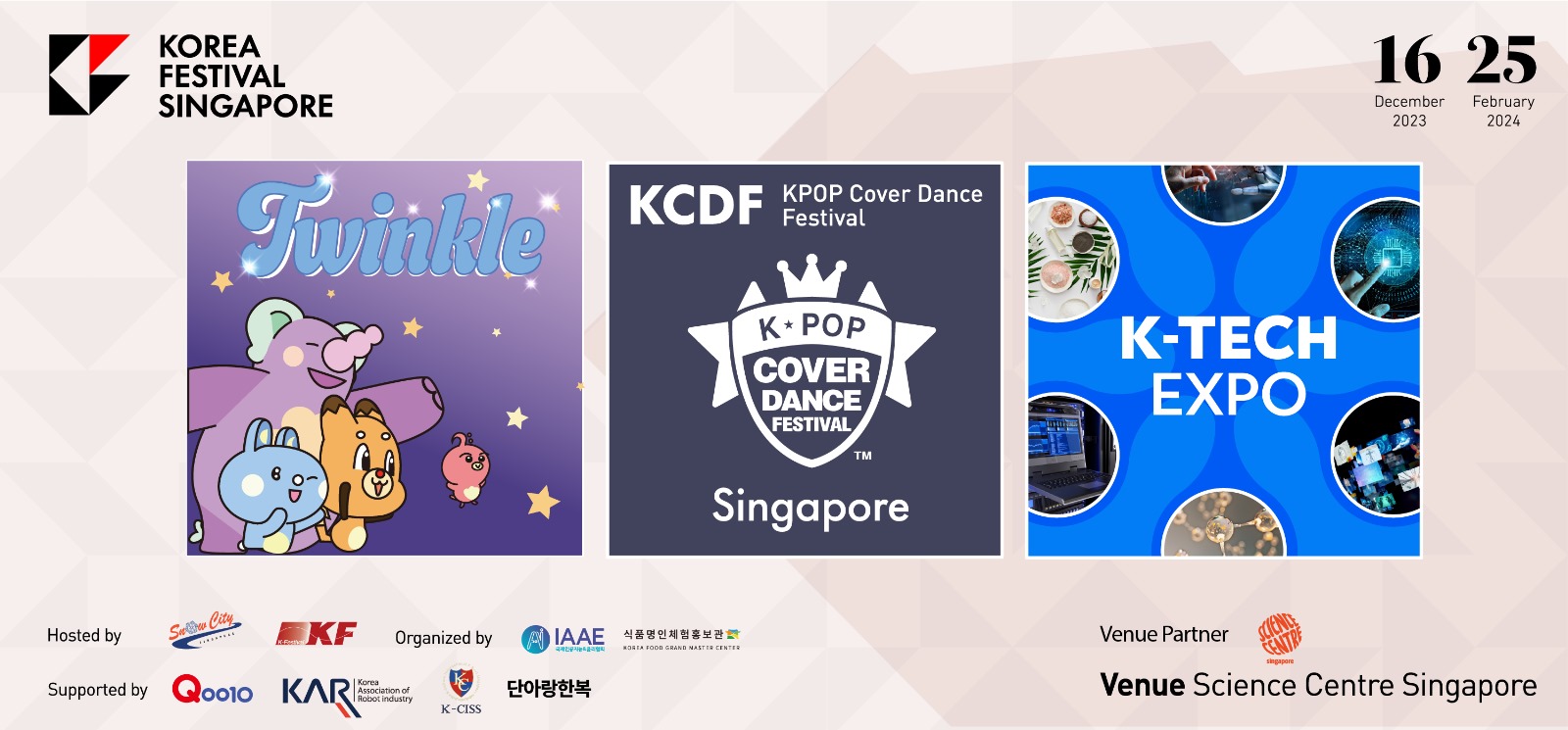 Economy
The "Korea Festival Singapore 2023" will be hosted by K-Festival Ltd and Snow City. between 16 December 2023 and 25 February 2024, associating with Science Centre Singapore as its venue partner.
December 08, 2023 | 11:00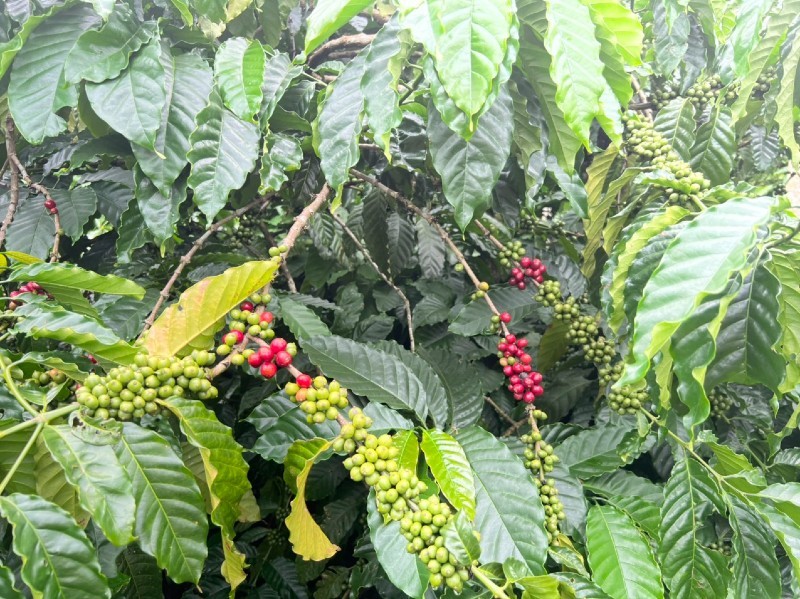 Economy
Reduced output causes coffee prices to continuously increase from the beginning of the season, possibly even the highest in the world in 2024.
December 08, 2023 | 10:50