Vietnamese Health Workers to Train at Japanese Medical Care Facilities
Center of Overseas Labor (Colab) announced the recruitment of 80 Vietnamese trainees to practice at the care facilities of the Osaka Medical Association of Japan.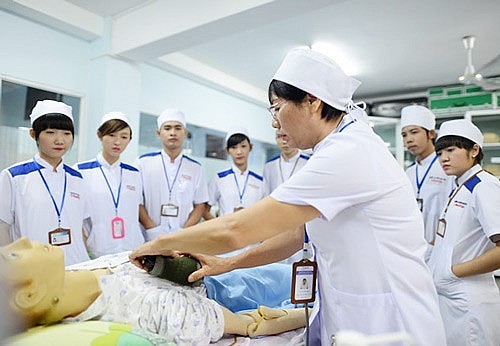 Training 80 Vietnamese at Japanese medical care facilities. Illustrative image.
The Center for Overseas Labor announced its plan to recruit candidates for the 3rd class to come to Japan in 2023 - 2024. This is in the agreement between the Center for Overseas Labor (Ministry of Labor, Invalids and Social Affairs) and Osaka Medical Association of Japan on sending caregiver trainees to Japan.
According to the Center for Overseas Labor, the number of recruited is 80 people. The date to receive applications is until the end of May 31, 2023 (for candidates submitted by post, it will be considered according to the date of the candidate's application at the post office). Internship period in Japan is from 3 years, at care facilities belonging to Osaka Medical Association Japan.
There are several requirements for this program. Candidates must be aged from 20 to under 35 years old (born between 1988 and 2003); Being a student who has completed a study program of 1 year or more, or graduated with a major in nursing from a secondary school, college or university; Person with clear identity, no criminal record, good moral character; Being healthy enough to work abroad according to the laws of Japan and Vietnam; Haven't participated in Japanese intern training programs.
When participating in the program in Vietnam, candidates are supported by Osaka Medical Association with the full cost of a Japanese language training course from 8 to 11 months in Vietnam to pass the N4 exam. They will also receive fees for medical examination at the beginning of admission and before exiting, fees for the Japanese Language Proficiency Test N4 (01 test), visa application fees, and airfares upon exit.
Photo: colab
In Japan, candidates are entitled to receive a training allowance of 60,000 yen/person (US$445) for one month after entry; work at Hanwa Izumi Hospital in Osaka which is a large hospital, working environment and employee welfare prioritized.
They are entitled to a salary according to Japan's minimum wage law and not lower than Japanese people working in the same position, about JPY175,000/month (US$1297) or more (equivalent to about VND35 million/month).
Osaka Medical Association also supports free Japanese lessons (to ensure that after 1 year of taking the exam, participants will reach the N3 level of Japanese) and vocational skills training for the transition exam. Participants can receive full payment of all types of insurance during the internship period in Japan.
After completing the program, candidates are provided with airfare to return home, and are supported by the Osaka Medical Association JPY200,000/person (US$1483) if they complete the 3-year internship program on time.
To find out information and register to participate, candidates can access the website of the Center for Overseas Labor (www.colab.gov.vn), at the "Registration to work abroad" section, select "Register for the Japanese nursing program" to declare information and register for counseling support; or contact the Center for Overseas Labor (address: No. 1, Trinh Hoai Duc, Cat Linh ward, Dong Da district, Hanoi).
Japan is one of the countries with the longest life expectancy in the world (84.6 years).
This is putting great pressure on medical care facilities in Japan, including hospitals, aged care and nursing homes.