Vietnamese, Japanese Experts Discuss Ways to Improve Nutrition for Mothers and Newborns
A workshop was held in Hanoi on September 30 among experts from Vietnam and Japan to discuss the situations and solutions to improve nutrition for Vietnamese mothers and infants in the first 1,000 days of life.
The event was held by the National Children's Hospital, the Vietnam Paediatrics Association, the Vietnam Nutrition Association, the Japan International Cooperation Agency (JICA), Asahi Group Foods JSC, and the Japanese Embassy in Vietnam.
In his opening speech, Assoc. Prof. Dr. Tran Minh Dien, President of the Vietnam Nutrition Association and Director of National Children's Hospital, emphasized the important role played by nutrition in children's development. Over the past years, the Vietnamese government and the Ministry of Health have issued documents related to the issue, leading to significant progress in reducing the rate of malnourished children in recent decades.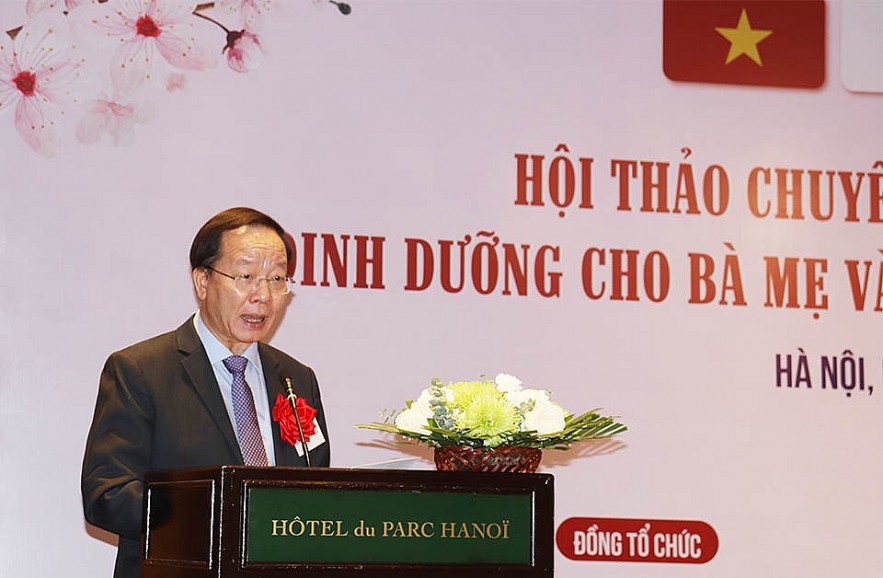 Assoc. Prof. Dr. Tran Minh Dien, President of the Vietnam Nutrition Association and Director of National Children's Hospital at the event.
However, statistics from UNICEF show that 1.8 million children under 5 years old in Vietnam suffer from stunting. Only one-fourth of children under six months of age are exclusively breastfed and 59% of children are provided with a diverse and adequate weaning diet, he said.
According to Associate Professor, Doctor Pham Van Phu, Hanoi Medical University, the majority of mothers in the northern mountainous region lack the conditions and knowledge to provide themselves and their children with proper nutrition. Meanwhile, in the southern provinces, while the situation has improved, many children are still given an unbalanced diet, mostly lacking micronutrients and fats.
Sharing experience from Japan, expert Toshiaki Shimizu from the Graduate School of Medicine - Juntendo University said the country overcame post-war malnutrition and became one of the countries with the lowest infant mortality rates in the world thanks to its policies about taking care of mothers and newborns. Many laws, policies, and guidelines were issued to encourage changes, namely the Law on Maternal and Child Health Protection, Basic Law on Shokuiku, and Guidelines for Meal Provision at Preschool. "Shokuiku" meaning the acquisition of knowledge about food as well as the ability to make appropriate food choices is significant in Japan. Specific knowledge about food groups balanced diet, and instructions on weaning were spread to the people.
Through discussion, Vietnamese experts look to learn from Japan's experience to come up with better ways to ensure proper nutrition for mothers and newborns.
Japan Highly Values CEPPP Hosted by Vietnam

Japan and representatives of State members of ASEAN Defence Ministers' Meeting Plus (ADMM-Plus) valued the preparations of Vietnam in hosting the Competency Evaluation Program for ...