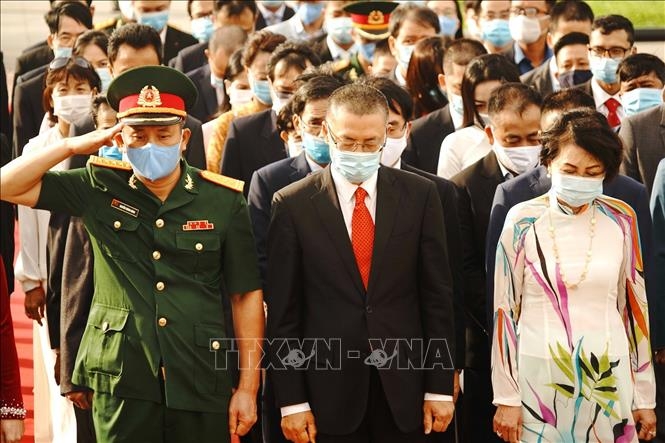 (Photo: VNA)
According to NDO, the event was part of activities to mark the 31st anniversary of Vietnam's All People's Defence Festival and the 76th anniversary of the Vietnam People's Army (December 22).
Representatives from the Royal Cambodian Army led by Defence Ministry Secretary of State Gen. El Van Sarat also attended.
The delegates paid tribute to voluntary Vietnamese soldiers who laid down their lives in Cambodia during the war.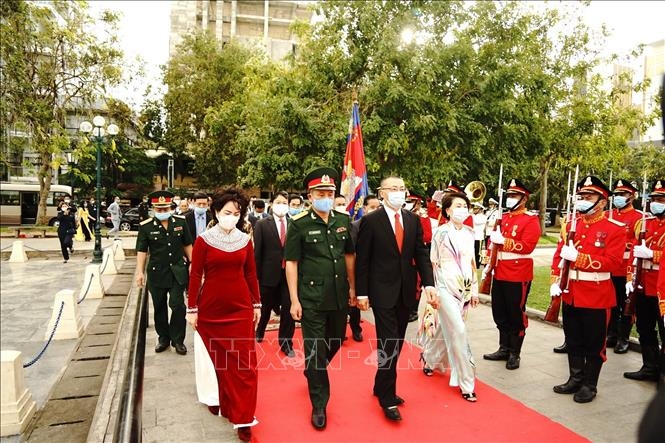 (Photo: VNA)
Over recent years, the Governments of the two countries have coordinated to search for and repatriate the remains of fallen Vietnamese soldiers.
Earlier, on December 18 and 19, the Vietnamese Consulates General in Preah Sihanouk and Battambang provinces also held incense offering ceremonies to pay respect to Vietnamese soldiers who sacrificed their lives in Cambodia.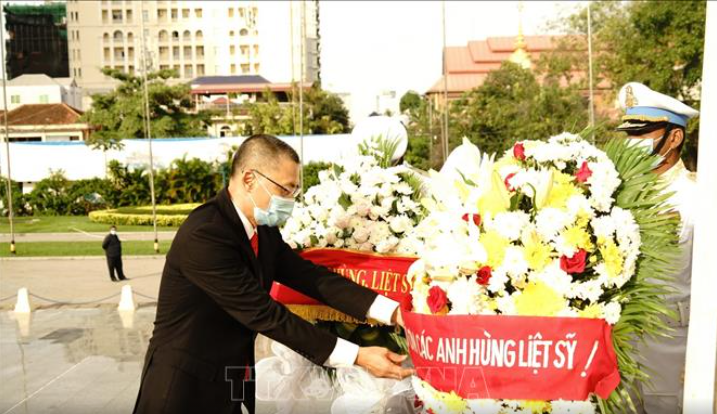 (Photo: VNA)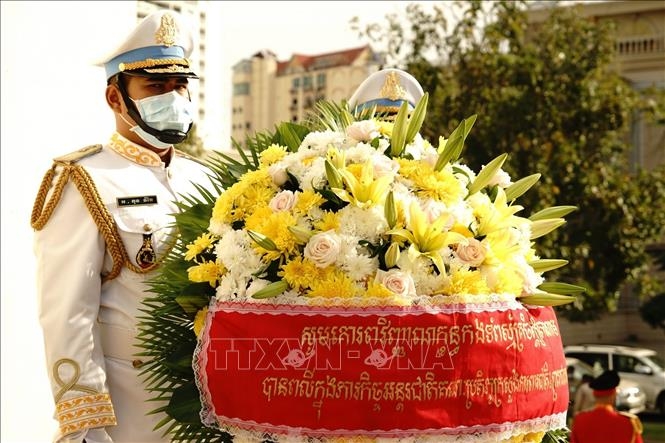 (Photo: VNA)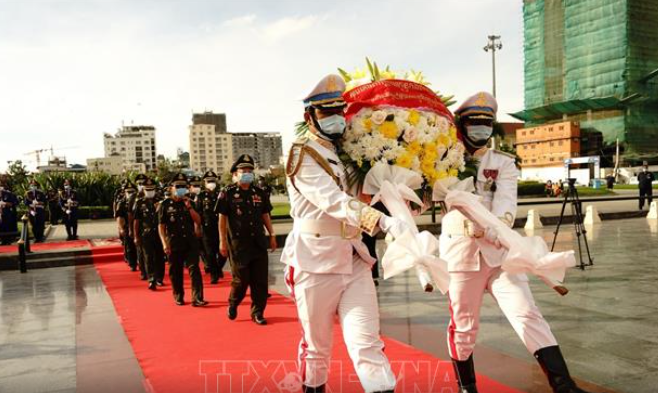 (Photo: VNA)
Earlier in early November, The Ho Chi Minh City Union of Friendship Organisations (HUFO) and the city's Vietnam-Cambodia Friendship Association also held a get-together on November 9 to mark Cambodia's 67th Independence Day (November 9, 1953-2020).
According to VNA, President of the city's Vietnam-Cambodia Friendship Association Truong Minh Nhut stressed that November 9, 1953, was a historical milestone in Cambodia's history of national construction and defense.
He highlighted the traditional friendship, fruitful cooperation, solidarity, and mutual support between Vietnam and Cambodia in the past struggles for national liberation as well as present efforts in national construction and development.
The leaders and people of the two countries are trying to consolidate solidarity and friendship, cooperate in socio-economic development, and closely coordinate at international forums, in order to elevate the traditional friendship to a new high, for the benefits of the two countries' people and for the sake of peace, stability, and cooperation for development in the region, he said.
The chapter has organized activities to bring the people of the two countries closer together, along with social welfare programs to support poor Cambodian students, Nhat said, adding that people in HCM City will continue their efforts to further promote the cooperation between the two nations.
Sok Dareth, Cambodian Consul General to HCM City, expressed his delight at the increasing development of the Cambodia-Vietnam special traditional friendship and neighborliness.
He took the occasion to thank the Vietnamese Party, Government, army, and people for their wholehearted support to Cambodia during the liberation of the country from the genocidal Pol Pot regime in 1979, as well as the current national construction and development, VNA reported.
Jasmine Le