Vietnamese peacekeeper medical officers trained on blood transfusion and standard precautions
The three-day program was jointly held by the Military Hospital 175, the Department of Military Medicine of the Defense Ministry, and the US Emergency Plan for AIDS Relief (PEPFAR).
(VNF) - A training course on blood transfusion and standard precautions for field hospital's staff of the peacekeeping force was kicked off in Ho Chi Minh City on March 28.
Speaking at the opening ceremony of the course, Senior Colonel Tran Quoc Viet, Deputy-Director of the Military Hospital 175 emphasized the course's role in boosting the competencies of field hospital's staff before they are assigned to a UN Mission, and asked all trainees to pay due attention to the course to meet the expected requirements.
According to the People's Army News, all lectures and practices are designed and performed by a group of medical experts from the United States Pacific Command (USPACOM), the Vietnam Nurses Association, and the Ho Chi Minh City Infection Control Society.
Presenting flowers to the trainers
The course gave peacekeeper medical officers and field hospital staff chance to obtain knowledges in a number of subjects, mainly focusing on blood test and transfusion, injury control and recovery, popular blood products being used in the field, an overview of standard precautions, safe injection techniques and response to occupational exposure.
In addition, they also practice specifying blood types, testing blood for transfusion, and doing nucleic acid test for detection of the human immunodeficiency virus (HIV) and hepatitis B virus (HBV), etc./.
( VNF )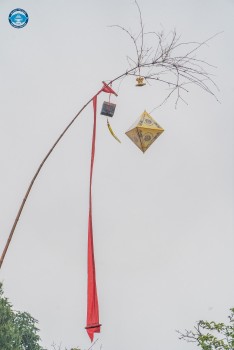 Viet's Home
In the past, the Neu pole (a tall bamboo pole with red garment strips used to ward off evil spirits during the lunar New Year) lowering ceremony at the royal palace of the Nguyen Dynasty was performed to mark the end of the New Year holiday and prepare to enter a new working year.