Vietnamese people embellish to American cuisine
For many Vietnamese immigrants in the US, opening a traditional restaurant is a viable option to feed themselves and their families.
For many Vietnamese immigrants in the US, opening a traditional restaurant is a viable option to feed themselves and their families.
It's not uncommon to find long lines at Brodard, a Vietnamese restaurant situated in the Mall of Fortune in Garden Grove, an area also popularly known as "Little Saigon." After all, this institution's lauded nem nuong cuon — grilled pork spring rolls accompanied by an unimitable sweet and savory dipping sauce — has a fervent following.
Over the years, the Brodard brand has grown to three locations, but co-owner Chau Dang-Haller, 46, says it wasn't always her and her 50-year-old sister Lisa Dang's game plan to run a restaurant empire. "We were refugees [when we] came [to the United States] in 1986, so we didn't come here to open a restaurant," says Dang-Haller.
Their primary goal was to get an education. As for their parents, Diane Nguyen and Thuong Dang, who ran a three-generation-owned bakery back in Vietnam, they wanted to open a small business so they could support their family. "It was just like any other family trying to survive in America, and to achieve your goal is to work and support your kids [so they can get an] education," Dang-Haller says.
Brodard's signature dish, nem nuong | Courtesy of Brodard
Her family's story of survival in a new country is one that likely resonates with many Vietnamese immigrant families who experienced hardships fleeing their war-torn country and navigating their way through a new, unfamiliar one. Many Vietnamese immigrants, like the Dang-Nguyens, found a way to support their families while keeping their traditions alive, by opening restaurants that served the food that reminded them of home.
Little Saigon in Orange County is just one of the many thriving Vietnamese communities in the United States; other cities like San Jose, Houston and New Orleans are also flourishing as Vietnamese enclaves and culinary destinations. In an effort to dig deeper into the intersection of Vietnamese immigration and its culinary impact on the United States amid the backdrop of the Vietnam War, we turned to Vietnamese historians, ethnographers and restaurant owners in these regions to share their thoughts and stories.
Traditional and modern
By 2014, 1.3 million Vietnamese immigrants were living in the United States, and the population concentrated in the greater Los Angeles, San Jose and Houston metropolitan areas, according to nonpartisan think tank, Migration Policy Institute.
John Nguyen, 38, who owns Cajun Kitchen in Houston's Chinatown says Katrina led to a wave of Vietnamese immigrants in New Orleans to relocate to Houston. With the migration grew the popularity of the Viet-Cajun crawfish trend, in which Louisiana-style crawfish boils are punctuated with Vietnamese flavors and ingredients, like garlic butter and lemongrass, bay leaves and citrus juice.
"The whole [Viet-Cajun] crawfish craze in Houston probably started about 2000 to 2001. One or two shops opened up and they didn't really have much competition for four or five years," John Nguyen says, adding that everything changed in 2005 and now new shops are popping up all the time.
Cajun Kitchen was originally launched in 2005 by Vietnamese immigrants who had come from Louisiana, and John Nguyen, who previously worked as an accountant in the oil and gas industries, took over the business in 2013. He says when The Boiling Crab, whose chain is also popular in Southern and Northern California, first opened in Houston around that time, it "really helped put [Viet-Cajun] crawfish on the map."
John Nguyen is confident that Viet-Cajun crawfish is a unique fusion that started in Houston. His family was one of the few ones that immigrated to Norway after the war; it wasn't until 2000 that they all moved to Houston. He remembers that from the 1980s to the 1990s, his family would visit Louisiana every three years, and the crawfish boils that his relatives would make were generally by the book Cajun-style.
Pho | Pho Hoa
Vuong, whose Lilly's Cafe gets celebrity visits from the likes of Chopped TV judge Aaron Sanchez and actor John Goodman, is a purist when it comes to her restaurant's pho — so much so, that she and her husband-chef Kiet Le's visit Vietnam every year just to stay current on how to make the best-tasting pho.
"Anybody can cook pho, but not everyone can make a good pho because it takes patience and dedication. [It's] not just throwing in water and a few pieces of bones in it and you call it a 'pho,'" Vuong says.
There's a reason behind the need stay true to the traditional flavors of Vietnamese cuisine in New Orleans. To Vuong, New Orleans is a big hub for Vietnamese families, and that means that the matriarchs are great cooks, so their children have high standards when it comes to Vietnamese food. "So when you go out to eat in a restaurant, they want to have that similar taste or better; otherwise they won't go eat [at your business]."
Dang-Haller equates food to fashion and believes that because they follow the trends and stay fresh and unique, that's why they've been so successful at Brodard. A decade ago when seared ahi was a trend, they started putting the fish in their spring rolls — and that became a hit. They often cater to their customer's needs and are especially focused on how Californians are health-conscious people.
These restaurant owners similarly believe the key to their success is hard work. "Being immigrants, we knew that if we flunked out of school or if we didn't work hard, we wouldn't be able [to survive]," Dang-Haller says. "Nobody would give us anything — it's not like your parents were [well to do] so you could inherit this and that."
Vuong says, "I think family is the foundation of everything and Vietnamese people work hard — I'm not saying others don't — but as a native Vietnamese person we strive hard because we're minorities [and we're in the] land of opportunity."/.
Complied by VNF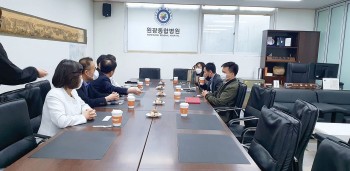 Overseas Vietnamese
A meeting was organized at the Wonkwang Hospital on the provision of medical support for the Vietnamese community in Korea in accordance with the signed cooperation agreement.