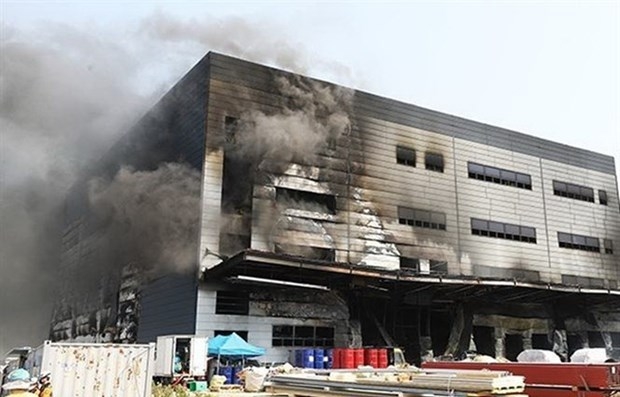 The site of the fire in Icheon. Photo: Yonhap/VNA
The fire at a construction site killed at least 38 construction workers earlier this week, according to local media.
The fire, which injured 10 others, two of them seriously, engulfed a four-story building under construction in Icheon, 50 kilometers southeast of Seoul, and was put out five hours later.
Icheon is home to SK hynix Inc., the world's second-largest maker of DRAM chips, as well as a large number of warehouses and storage facilities for retailers.
President Moon Jae-in pledged on April 30 to create safe workplaces as South Korea celebrated Labor Day.
In a Facebook post to mark the holiday for workers, Moon said it is very heartbreaking to hear about industrial accidents, remembering the 38 construction workers who were killed in a warehouse fire in Gyeonggi Province.
The RoK president again offered his condolences to the victims and their families, and expressed his profound respect for all workers nationwide./.
Hannah Nguyen