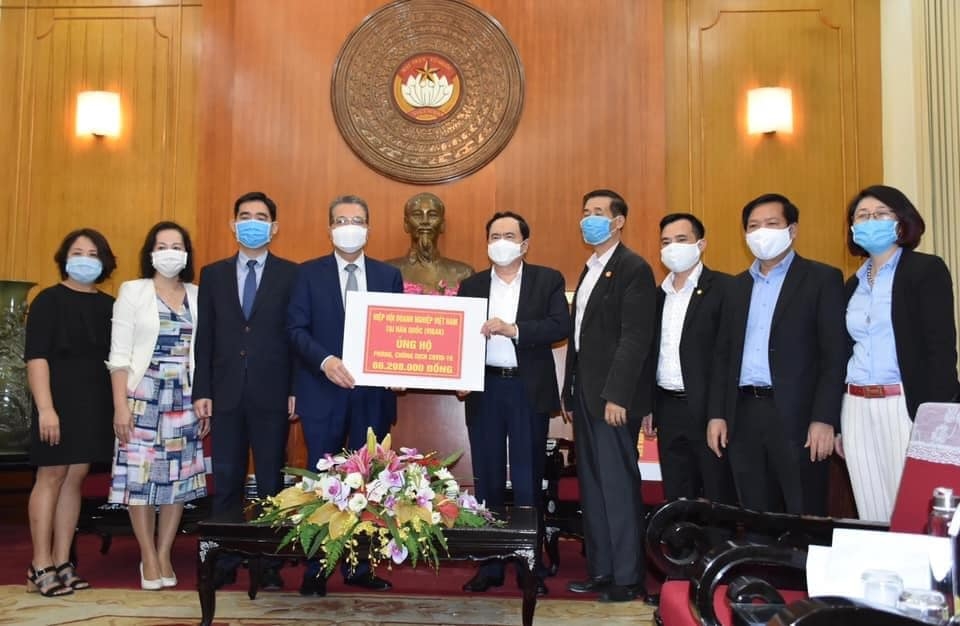 At the ceremony.
Speaking at ceremony in Hanoi on April 27, Khoi said that the donations reflected the tradition of solidarity and mutual support of the Vietnamese people.
Despite difficulties in their host countries, overseas Vietnamese have joined hands in launching fund-raising campaigns to help their compatriots in the homeland combat the disease since the first case of suspected virus infection in Vietnam was announced.
In addition, Vietnamese in Hungary, Thailand, China, the US, Laos, Cambodia, the Republic of Korea, Poland, the Czech Republic, Britain, Germany and France, have also offered cash and medical supplies such as cloth face masks, clothes, food, protective masks, and gloves to administrations, hospitals and Vietnamese nationals in need in their host countries, he added.
Received VND 638 million (USD 27,000) from the General Association of Vietnamese people in Thailand and VND 66 million (USD 3,000) from the Vietnam Business Association in the Republic of Korea, VFF Central Committee President Tran Thanh Man thanked Vietnamese citizens abroad for their heartfelt support to the homeland and said the money and medical supplies will be delivered to those in need in an open and transparent manner.
According to preliminary statistics of the the State Committee on Oversease Vietnamese Affairs, as of April 26, 25 overseas Vietnamese collectives and individuals from 14 countries and territories have donated nearly VND 33 billion VND (USD 1.4 million) and medical supplies to the COVID-19 combat in the homeland.
Overseas Vietnamese abroad have also actively joined hands with the local government and people in the host countries in the prevention and control of COVID-19 and donated masks, food, and cash.
International press and media have constantly considered and mentioned Vietnam and Vietnamese people as emerged images in the COVID-19 fight's support.
The overseas Vietnamese community is an inseparable part of the Vietnamese nation.
In compliance with the Prime Minister's directions, the Foreign Ministry will coordinate with the Ministries of Health, Transport, and National Defence as well as domestic airlines to arrange flights to bring Vietnamese citizens in disadvantaged circumstances home amid the COVID-19 pandemic based on the domestic epidemic situation and quarantine capacity.
Priority will be given to children under 18, the elderly and sick people in line with the country's concentrated quarantine capacity.
Hannah Nguyen