Vietnamese Premium Agriculture Products Enter Japanese Market
Vietnamese rice and agriculture products are rising stars in Japan, entering hundreds of supermarkets and retail stores in AEON's system across the country.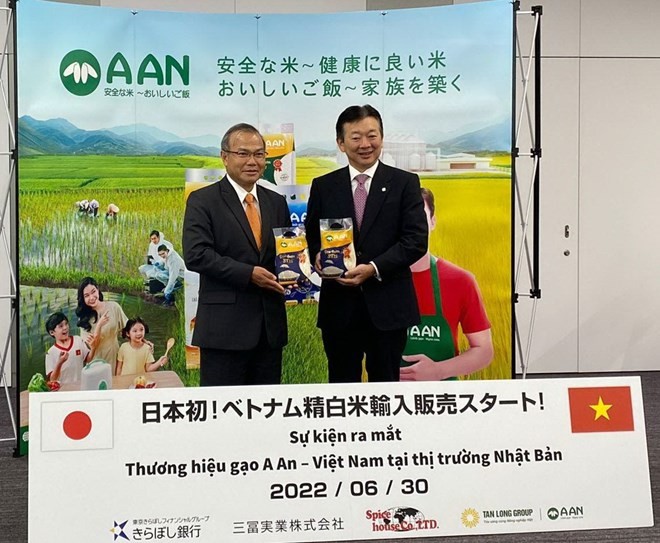 ST25 rice brand A An is now officially sold in Japan. Photo: Vietnam Trade Office in Japan
This is the first time that Viet Nam's ST25 rice is present in the Japanese market. The export of ST25 rice to the Japanese market is proof that Viet Nam has not only exported a lot of rice but also can export rice that meets the very high standards of the Japanese market.
On this occasion, the Vietnamese Ambassador to Japan Vu Hong Nam expressed his hope that Japanese consumers will welcome ST25 rice and that more Vietnamese rice products will successfully enter this market. The Ambassador praised the joint endeavor of the Kiraboshi Bank and Tan Long group to bring made-in-Viet Nam rice to Japan, a market demanding high-quality products.
He said that in order to bring ST25 rice to the Japanese market, the group has to pass over 600 strict technical standards and meet Japanese consumers' requirements.
Vietnam's rice export turnover to Japan is valued at JPY 48.7 million, an increase of 73 percent compared to 2020, occupying only 0.09% of total Japan's rice imports, reported to Japan Customs.
In 2019, Vietnamese ST25 rice was recognized as the world's best type of rice. Since 2021, it has been widely sold in the Vietnamese market and has made inroads into several demanding markets, such as Sweden and Germany.
Vietnam Week at AEON supermarket system in Japan is an annual activity organized by The Ministry of Industry and Trade, Hanoi People's Committee, and AEON Japan Group.
Japanese customers love made-in-Vietnam agricultural products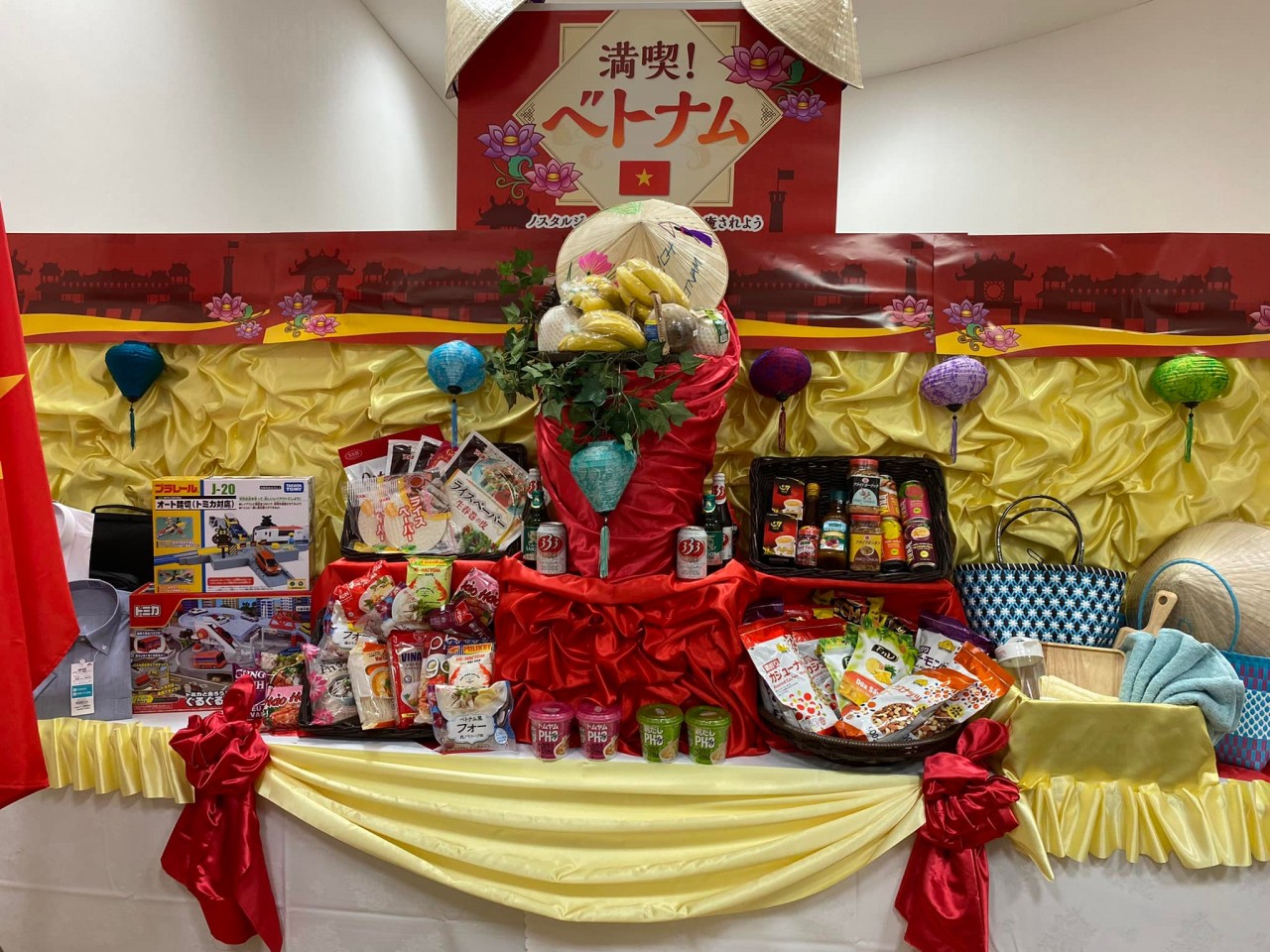 AEON introduced to Japanese consumers a number of new made-in-Vietnam products in Vietnam Week. Photo: Vietnam Trade Office in Japan
This year, Vietnam Week was held at AEON Lake Town Mori Shopping Center, Saitama Prefecture, and at all AEON supermarkets and retail stores (GMS) in Japan for the first 3 days of July.
Through the project, many types of Vietnamese products that meet the standards have been imported by AEON and put into consumption at hundreds of supermarkets in AEON's system.
These are the images of Vietnam weekly at AEON Japan on the first day of opening on July 1, 2022.
One of the highlights of Vietnam Week at AEON this year is the first time AEON organizes a "Souvenir Fair" to introduce Vietnamese souvenirs such as knitting, embroidery, and ratten items to Japanese customers.
In addition, AEON also introduced to Japanese consumers a number of new made-in-Vietnam products with the Topvalu brands such as deep-fried breaded shrimp, frozen Cat Chu mango, cashew nuts, and mixed nuts.
On the other hand, AEON also innovates its approach to Japanese consumers when organizing direct instructions on how to cook Vietnamese dishes. As a result, this year's Vietnam Week at AEON has brought Japanese consumers interesting experiences.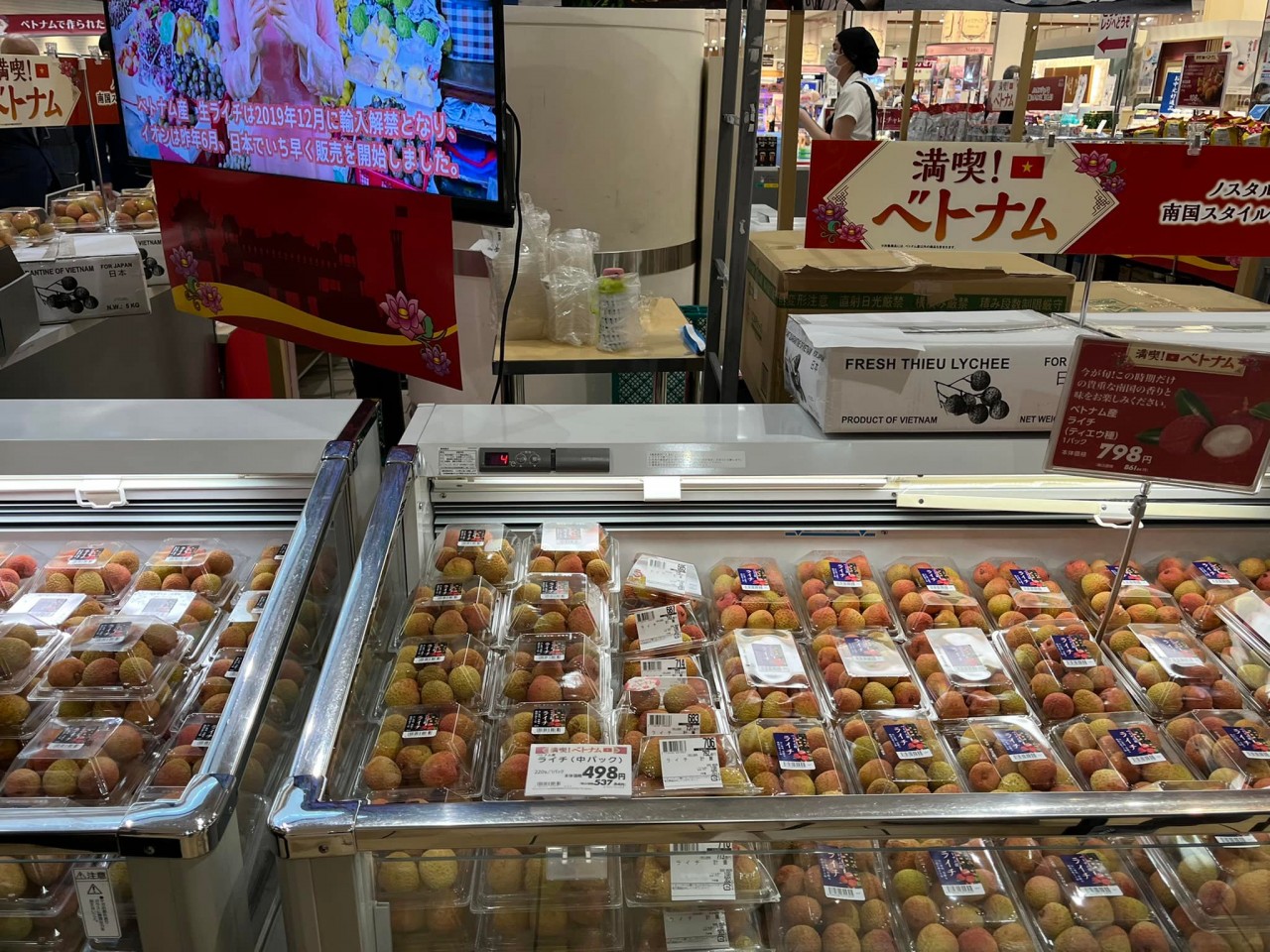 AEON introduced to Japanese consumers a number of new made-in-Vietnam products in Vietnam Week. Photo: Vietnam Trade Office in Japan
Also, since Japanese people love Vietnamese lychee, AEON imported up to 22 tons of fresh lychee to display and sell at all supermarkets in its system.
A delegation from the Vietnamese Embassy in Japan and AEOn group attending Vietnam Week in AEON retail store: Mr. Vu Hong Nam, Vietnamese Ambassador to Japan (left), and Soichi Okazaki, AEON Executive Board Member (middle). Photo: Vietnam Trade Office in Japan
Soichi Okazaki, AEON Executive Board Member in charge of the Association of Southeast Asian Nations (ASEAN) region, said: "Last year, we imported only 5 tons of fresh lychee from Vietnam and sold it only in other countries. supermarket. This year, we imported up to 22 tons of lychee and sold it in all AEON supermarkets across Japan."
He praised that Vietnamese lychee fruit is delicious with a fragrant scent.
At the opening ceremony of Vietnam Week, Ambassador Vu Hong Nam thanked Okazaki and AEON's contributions to the trade relations between the two countries.
The Ambassador emphasized: "AEON's contributions have both economic and social significance as AEON not only helps bring Vietnamese agricultural products and other goods to the Japanese market but also help transform and develop a high-quality production system in Vietnam, thereby increasing the income of farmers and producers."
Friendship
Ambassadors of Kuwait and Israel came to present their credentials to the Vietnam's president.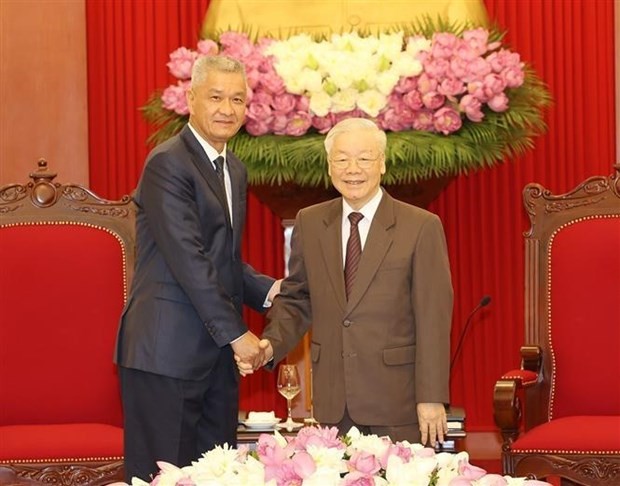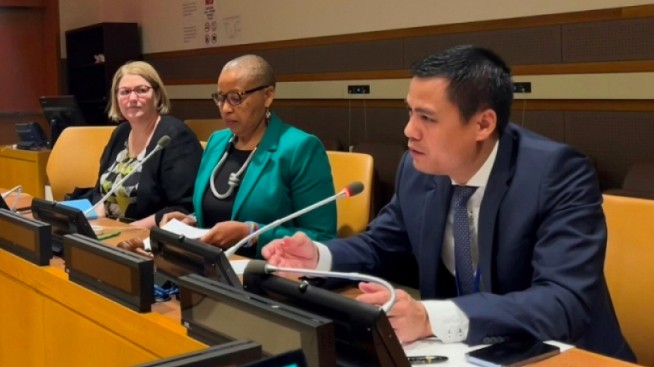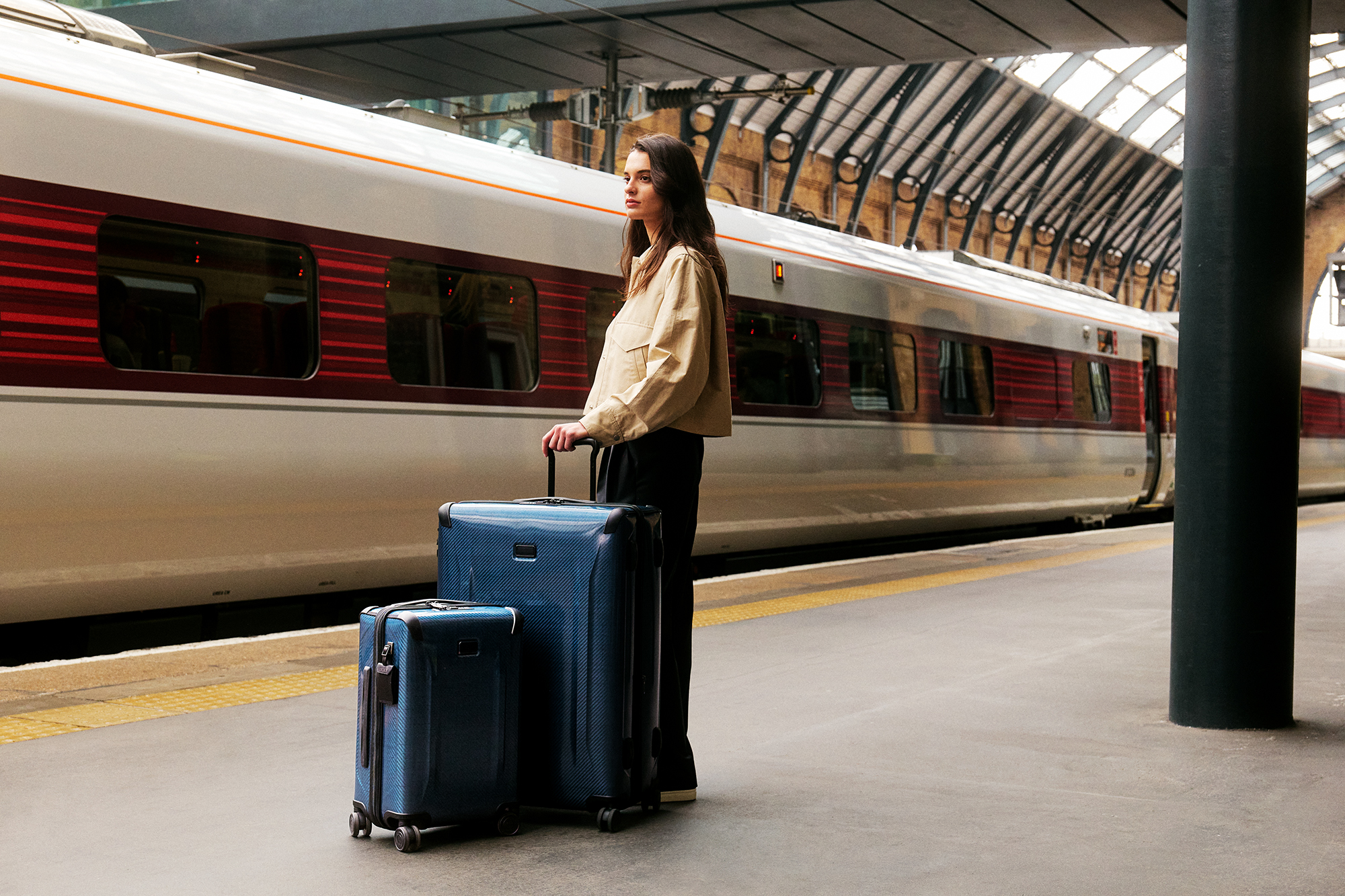 Economy
For Fall 2022, TUMI explores the concept of "Future Earth." Looking towards the new world, TUMI reexamined its innovations to help better every journey – and the planet.
August 10, 2022 | 10:00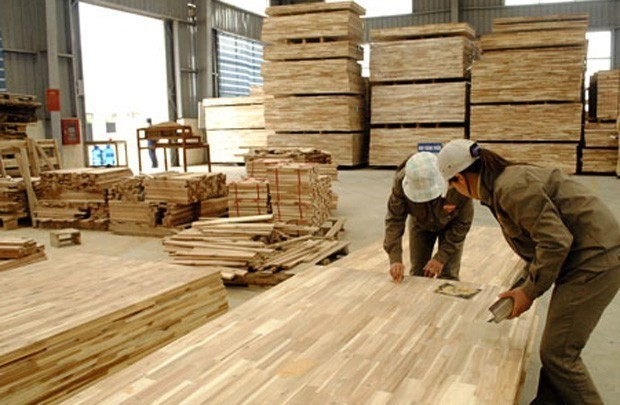 Economy
The US Department of Commerce (DOC) has announced the extension of the deadline for issuing its final conclusion on a trade remedy duty evasion investigation into hardwood plywood imported from Vietnam, according to the Ministry of Industry and Trade (MoIT).
August 10, 2022 | 08:19