The Vietnamese Goods Week was launched on June 25 at all AEON supermarkets in Japan, attracting the attention of many Japanese customers.
Vietnamese goods displayed at this year's event are more diverse in types than the last year, ranging from fresh fruits such as lychees and bananas, instant noodles, Pho to textile products, footwear, household appliances and handicrafts, according to Vietnamplus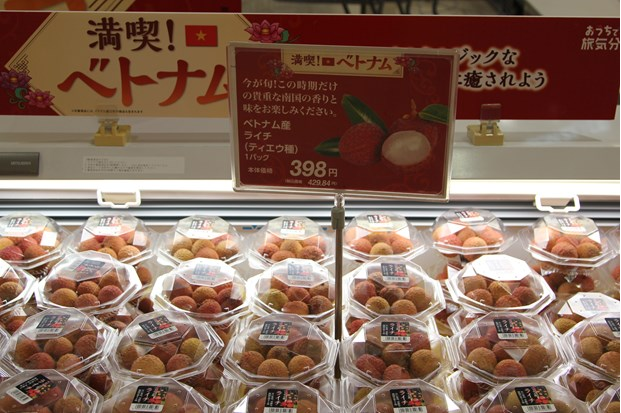 Vietnamese lychees are sold at the AEON Lake Town in Saitama. Photo: VNA
However, an important highlight of the Vietnamese Goods Week is fresh Vietnamese lychees which are preferred by many Japanese customers.
To serve the event, AEON imported around 30 tons of lychees from Bac Giang and Hai Duong provinces to promote and introduce to Japanese consumers.
Vietnamese Ambassador to Japan Vu Hong Nam said "This year is the second year that Vietnamese lychees are sold in Japan. Last year, when lychees hit shelves at supermarkets in Japan for the first time, they were warmly welcomed. Therefore, this year, Japan has ramped up to import lychees from Vietnam."
Vietnamese Trade Counselor in Japan Ta Duc Minh said that after two consecutive years of successfully penetrating the Japanese market, Vietnamese lychees have met strict regulations on food quarantine and safety set by Japan. Thus, the fruit has been consumed well in the market despite the complex Covid-19 development.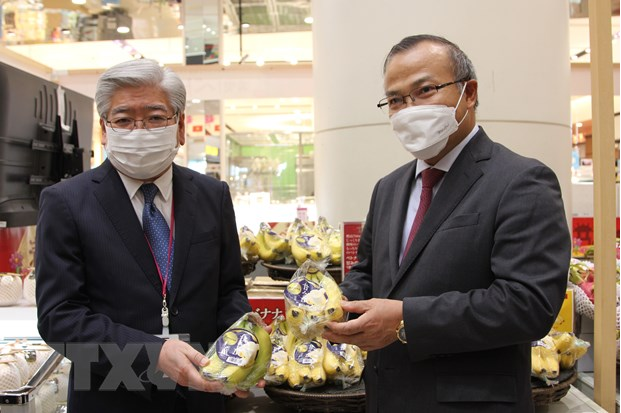 Soichi Okazaki, Executive Officer, ASEAN Business of AEON (L) and Vietnamese Ambassador to Japan Vu Hong Nam introduce Vietnamese bananas to Japanese reporters. Photo: VNA
Apart from lychees, AEON has focused on promoting Vietnamese bananas. Soichi Okazaki, Executive Officer, ASEAN Business of AEON, said it was eyeing importing bananas from Vietnam, adding that Vietnamese bananas had a better taste than that of Ecuador, the Philippines, and Taiwan (China).
The Vietnamese Goods Week is an annual event organized by AEON Co., Ltd, in coordination with the Ministry of Industry and Trade and the Vietnamese Embassy in Japan. It aims to raise AEON's sales of Vietnamese products in Japan to US$ 1 billion by 2025.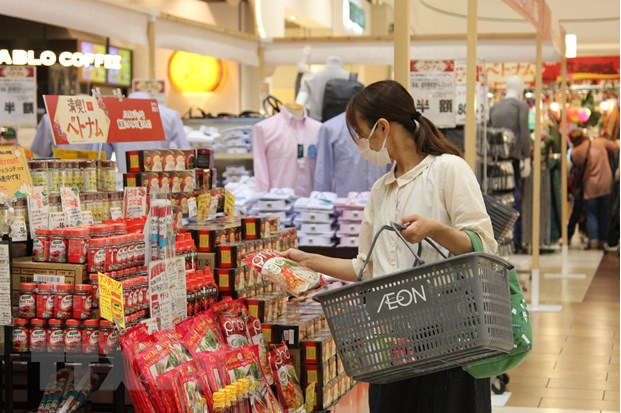 A Japanese customer shops for Vietnamese products. Photo: VNA
More than 100 enterprises from 21 Vietnamese provinces and cities have so far introduced their products to Japanese consumers at the event.
During a reception for Vietnamese Ambassador to Japan Vu Hong Nam ahead of the opening ceremony of the Vietnamese Goods Week at AEON Lake Town in Saitama prefecture, Okazaki said that AEON had made efforts to promote Vietnamese products not only in Vietnam but also in Japan and other Southeast Asian countries.
AEON's import turnover of Vietnamese goods increased from JPY 35 billion (US$ 315 million) in 2019 to JPY 40.4 billion in 2020 and can reach the target of JPY 50 billion this year.
Ambassador Nam added that other Vietnamese fruits like longans are also expected to be shipped to Japan.
Supermarkets in France, Germany, and Norway have also raced to order Vietnamese lychees.
The Ministry of Industry and Trade said that sample products were sent to all Eurasian supermarkets in the Netherlands for testing and received a strong response from supermarket owners.
Immediately, orders of several hundred kilograms to 1 ton of lychee from each supermarket in the Netherlands, France, Germany and Norway were quickly ordered.
"This empowers importers to continue to bring fresh litchi from Hai Duong and Bac Giang to the Netherlands in the next 1-2 weeks by air," the Ministry of Industry and Trade informed.
Besides, online sales websites of the Netherlands and France also quickly received orders for Vietnamese lychees imported and distributed by LTP.
Malie Nguyen