Vietnamese Resort Named in Top Most Breathtaking Eco-resorts To Visit in 2021
Six Senses Ninh Van Bay in the south-central province of Khanh Hoa has been named in the list of 11 breathtaking eco-resorts in the world to visit in the summer of 2021 as selected by Euronews.
Euronews published an article named "11 breathtaking eco-resorts to visit in 2021" earlier in August.
"We've spent the last year visiting a whole host of eco-resorts around the world so that you can opt for conscious hotels putting time and effort into preserving the environment," the article said.
Below is the list of 10 sustainable travel destinations voted by Euronews.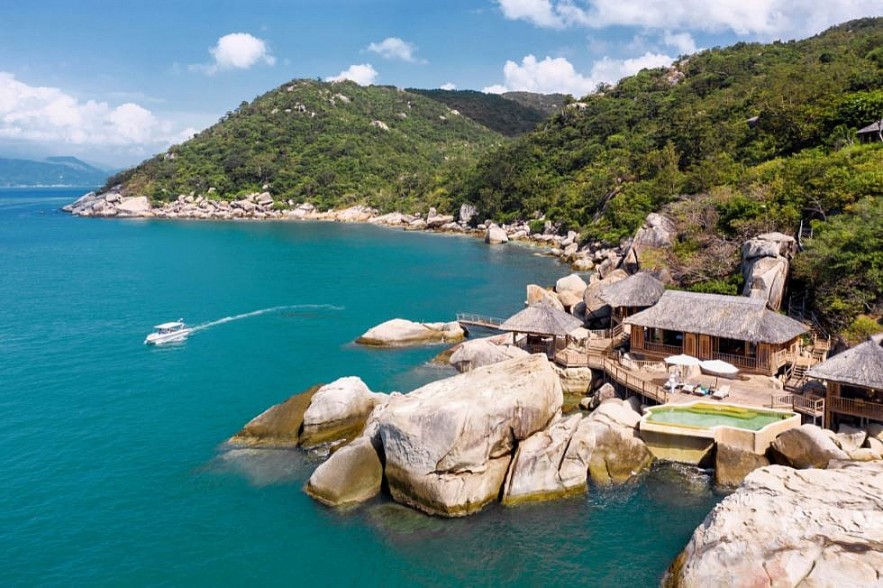 Photo: Six Senses
Six Senses Ninh Van Bay, Vietnam
If Nha Trang is honored as one of the 29 most beautiful bays in the world, Six Senses Ninh Van Bay is the place with the purest beauty on the bay. Clear, peaceful atmosphere without a little hustle and bustle, this place is the result of the harmony between nature and people in the villas with the main materials of wood, bamboo, and painting, the smell of herbs.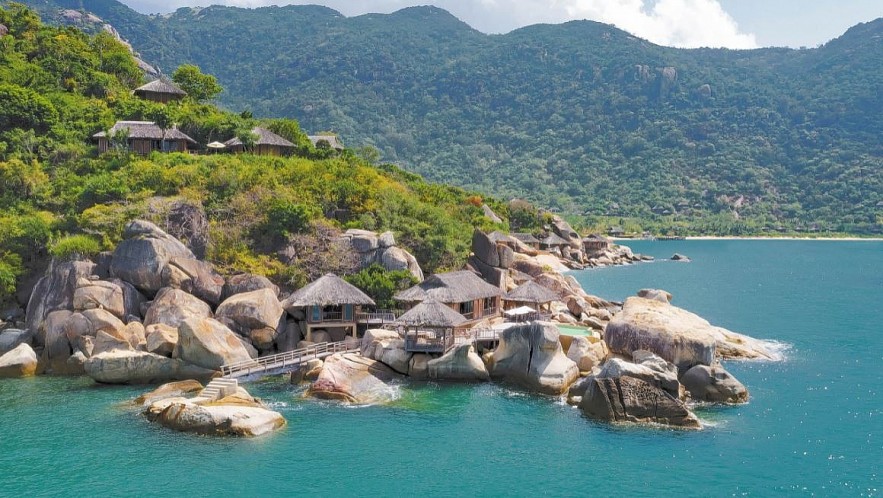 Photo: Six Senses
Ninh Van Bay is a "hidden place" to leave the noise of city life. It's about 60km from Nha Trang city, located in Ninh Van commune, Ninh Hoa town, Khanh Hoa province. The beautiful scenery of Ninh Van Bay is beautiful like the picture with the drawings and colors mainly created from the immense green of the water, the smooth white of the sandy beaches, the green of the trees or the dots. some red colors of the stones lie sprawled and piled up.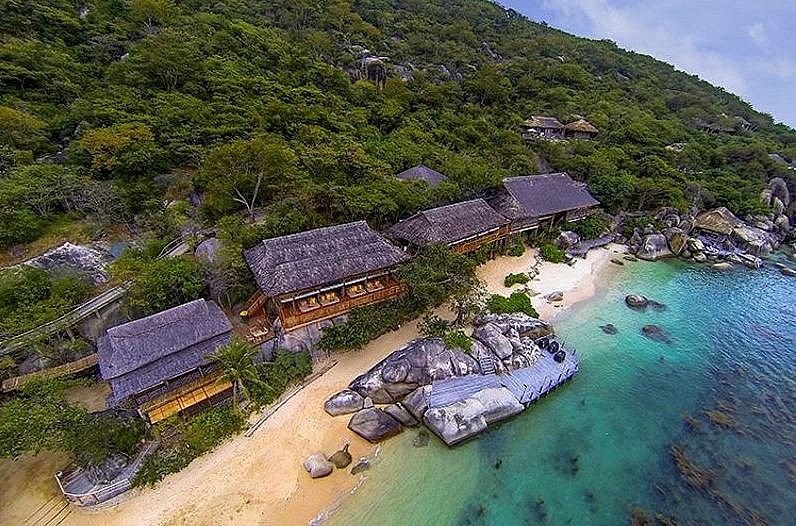 Photo: Bookings
"Model and wellness influencer Danielle Copperman visited Six Senses Ninh Van Bay for us and gave it rave reviews. The hotel is an 'isolated eco-paradise', in her own words, featuring on-going conservation projects and growing fresh produce on-site. Danielle explores the plantations and samples the local fruit on offer, from lemongrass, mango, and papaya, to pomelo, kumquat, and dragon fruit," Euronews writes about Six Senses Ninh Van Bay resort.
According to Ninh Van Bay's website, Six Senses Ninh Van Bay sits on a dramatic bay looking out to the East Vietnam Sea so it can only be approached by water. "You can't be more intimately at one with nature," it said.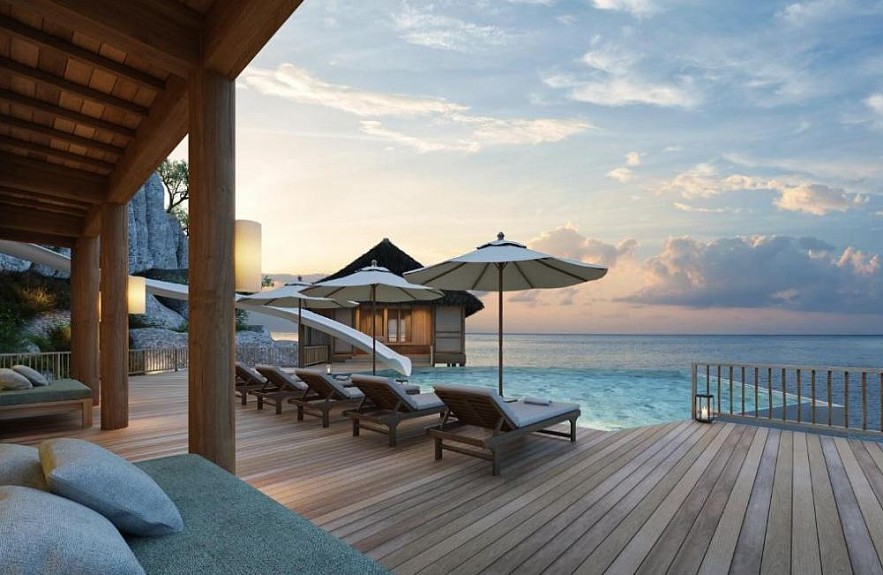 Photo: Bookings
The luxury spa system at Six Senses Ninh Van Bay was voted in the "Top 10 most wonderful destinations for spa treatment in the world" by the famous British newspaper Huffingtonpost with herbal treatments to Regenerates energy, beautifies the skin, and makes the spirit more comfortable, according to Origin Vietnam.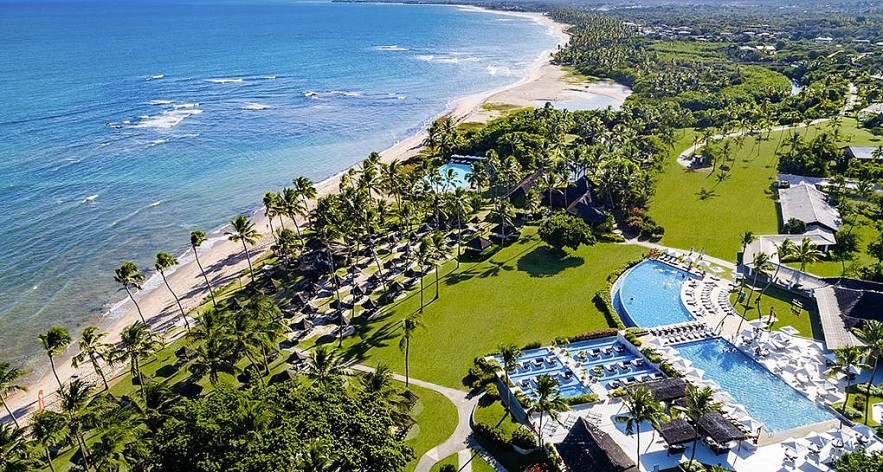 Photo: Travel Latam
Tivoli Ecoresort Praia do Forte, Brazil
In Brazil, north of Salvador, there is an ideal destination for lovers of ecotourism, natural beauty, and the pure pleasure that is enjoying time and comfort in a luxury resort in Bahia.
Tivoli Ecoresort Praia do Forte Bahia, where the architecture is in perfect harmony with the exuberant landscape and local biodiversity, gathers coconut trees as far as the eye can see, framed by an emerald green sea with warm waters all year round. Twelve kilometers of white sand beaches, protected by coral reefs that form dozens of natural pools. In addition, it has the Anantara Spa, a world award-winning brand that offers different treatments and massages with Thai techniques, which are true well-being journeys.
Tivoli Ecoresort Praia do Forte was awarded by TripAdvisor among the Top 10% of the best establishments in the world.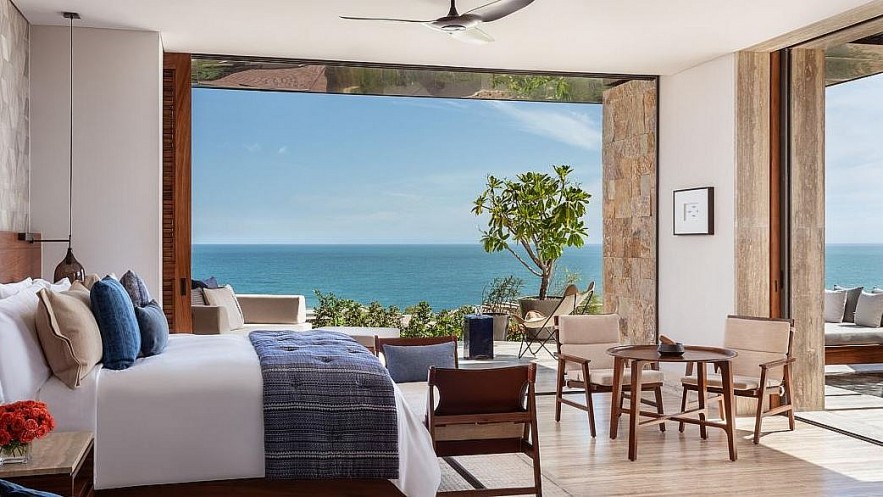 Photo: Marriott International
Zadun, A Ritz-Carlton Reserve, Mexico
The Zadun Ritz-Carlton in San José del Cabo, Mexico, not only champions the environment, but it also supports local artistry in the area - which is why it's so trendy. The whole hotel is ultra-modern, with pillows made of handwoven textiles and sculptural art pieces in every bedroom. Guests are invited to take part in Jean-Michel Cousteau's Ambassadors of the Environment program and are also taught about the marine sanctuaries of the Sea of Cortez.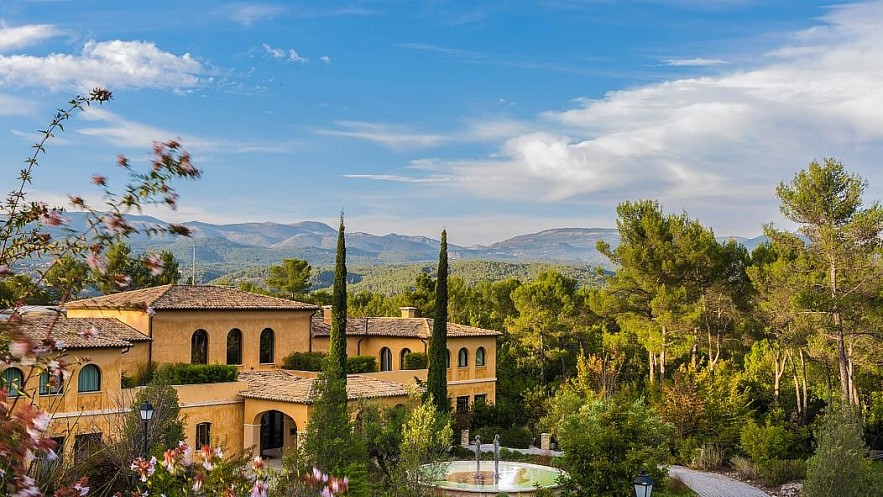 Photo: Terre Blanche
Terre Blanche, Provence, France
Terre Blanche has been awarded the Health Safety badge by Forbes Travel Guide, in partnership with Sharecare. This badge, awarded after an in-depth evaluation of more than 360 criteria to be met, is proof of our constant desire to offer you idyllic stays in complete safety. Terre Blanche was opened in 2004 and has two internationally renowned golf courses - Le Château and Le Riou - as well as the only training center of its kind in Europe, where the very best teaching methods are used.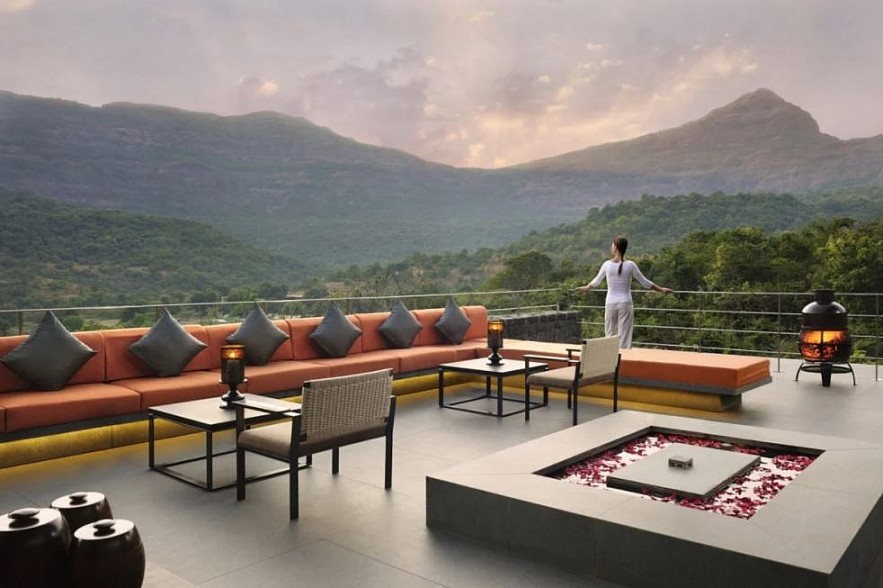 Photo: Luxury Launches
Dharana at Shillim Estate Retreat and Spa, India
The Shillim retreat and spa sits right in the middle of the Sahyadri mountain range, not far from Mumbai. We spent a week soaking in the Ayurvedic principles the retreat has to offer, practicing yoga every morning at 6 am, or else cocooned inside a canopy with the rain overhead and the smell of forest in the air.
The hotel's 'Dharana' wellness programme heals you both inside and out, combining spa treatments with daily meditation and a detox diet. And from an eco perspective, the Shillim team plant millions of new trees in the nursery every year and are passionate about preserving the local environment.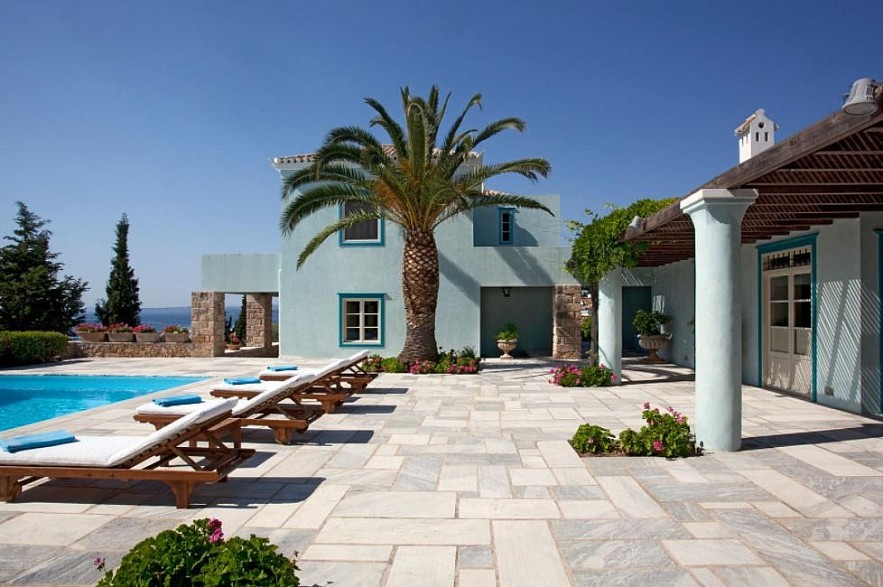 Photo: White Key Villas
Villa Persa, White Key Villas, Island of Spetses, Greece
This aristocratic estate is prestigiously positioned right above the cosmopolitan Old Harbor, where the heart of the island's nobility and historical tradition beats. Built as three separate volumes and spreading on various levels, the property rests majestically in a superbly manicured large garden, sheltered by tall trees, enjoying picturesque views of the harbor and the sea. Easy access to the sea from a natural rocky platform at a two-minute walk, as well as to the lively happenings of the Old Harbor, make this location unbeatable.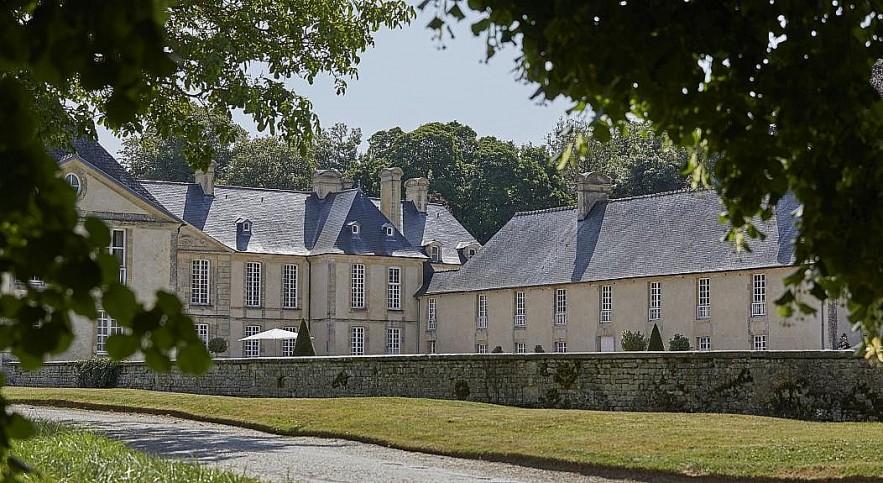 Photo: Château D'Audrieu
Château d'Audrieu, Normandie, France
An official historic monument, Chateau d'Audrieu offers the warm welcome of a family home. Take a trip back in time and relax in Normandy's lush countryside. With a rich history stretching back to the 18th century, Chateau d'Audrieu is a part historical monument, part grand hotel. Set amidst acres of manicured gardens and wooded parkland, this charming residence is the perfect place to experience the rhythms of château life. The 30 luxuriously furnished rooms, suites, and luxury treehouse are clad with classical furnishings, along with original fireplaces and wainscoting, according to Kiwi Collection.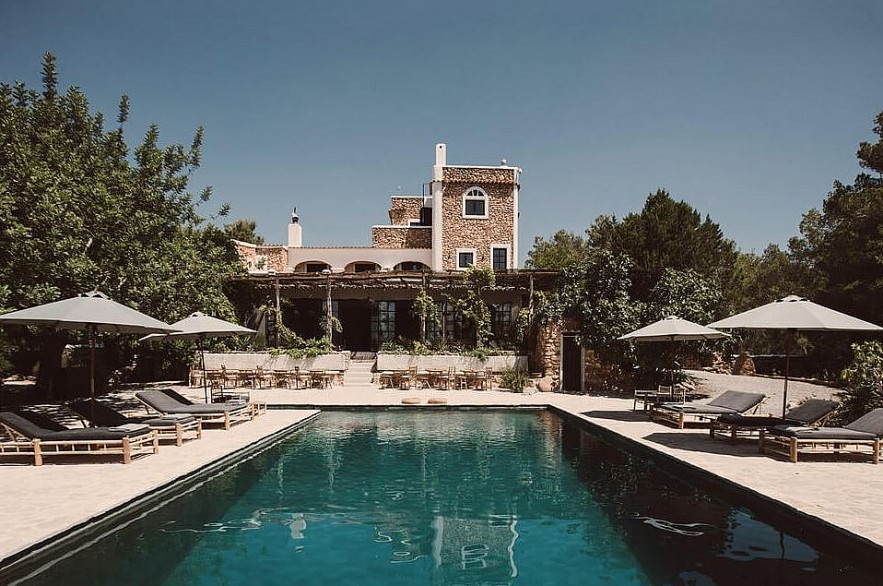 Photo: Slow
La Granja, Ibiza
A 200-year-old farmhouse, marked by classical Iberian architecture with traces of Moorish influences, was converted into a members-only retreat of 9 suites and a private 2 bedroom guesthouse by Dreimeta Design studio led by Armin Fischer.
A boho farmhouse aesthetic of minimalist elegance permeates the boutique hotel in a medley of dark burnt wood, distressed wooden furniture, dark painted walls anchored with slabs of slate and stone. Mediterranean gardens surround the sprawling estate with stone terraces, an infinity pool, and an outdoor bar. Pared-down, yet luxurious, La Granja is ideal for those seeking a simpler, quieter way of life, surrounded by good food and company.
Photo: Stonefield Resort
Stonefield Villas, Soufriere, Saint Lucia
One of the first resorts in St. Lucia to open near the small fishing port of Soufriere, Stonefield Villa Resort transports you to a boutique tropical getaway filled with relaxation and rejuvenation. It's only when you stay at the Stonefield Villa Resort, our adults-only resort, that you gain a true sense of reverence, awe, and inspiration from the enveloping wonder of St. Lucia.
The family-run feel of the resort is what makes it so special, along with the outdoor terraces, private pools, and hammocks to lounge in - all you need you for a week in the Caribbean sun.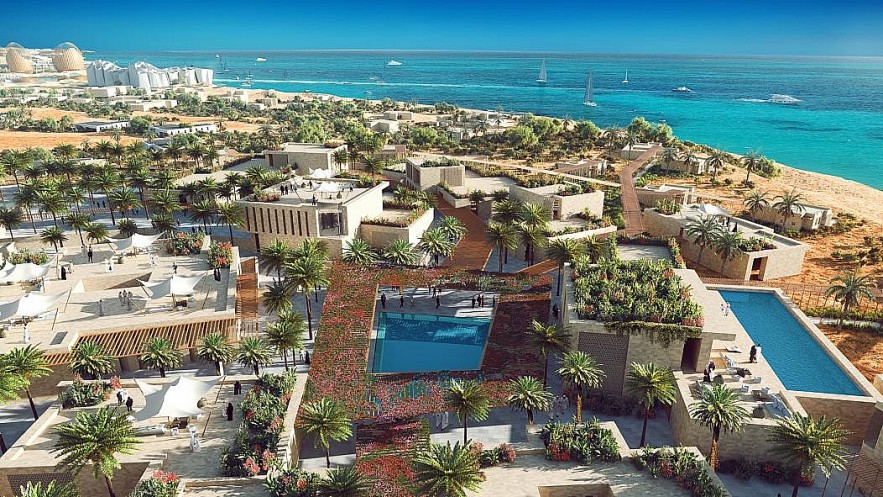 Photo: HKS Architects
The Amaala Project, Saudi Arabia
Hidden in plain sight on Saudi Arabia's northwestern coast, Amaala will be a place of self-transformation. Its three communities are easily accessible by air, road, and sea; and connected to the iconic marinas of the Mediterranean Sea, according to its official website.
The reefs on the Egyptian side of the Red Sea have been badly abused by mass tourism in recent years, so their preservation and conservation are paramount to the architects. Keep an eye out for the grand opening to be one of the first guests at this exclusive eco-friendly resort.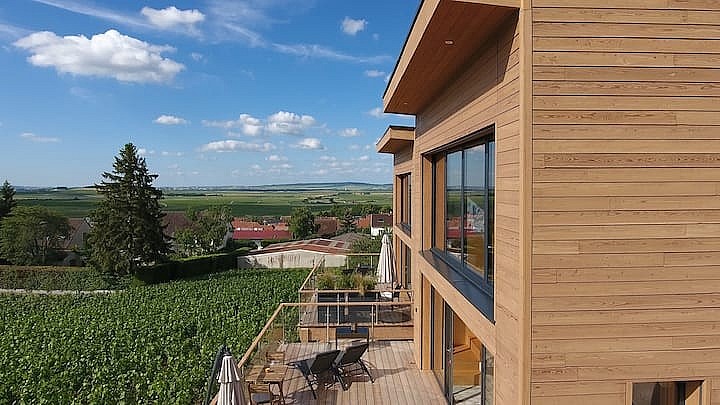 Photo: Airbnb
Cottages Antoinette, Champagne, France
For a truly rustic escape, set up camp at Cottages Antoinette. We went and stayed in the ecological wooden houses, all on stilts, in the heart of the Champagne countryside. The whole experience is almost meditative with views over the vineyards stretching as far as the eye can see. The decor is minimum and you're surrounded by glass walls, making the space feel light and spacious.
Building the cabins required little energy in the first place, and neither does running them daily. The whole ethos is based around energy efficiency and the sun shining on the bay window heats up the space quickly so you are nice and toasty inside. Plus, you can easily get there by train from Europe, cutting out the need to fly - a real bonus on the environmental front.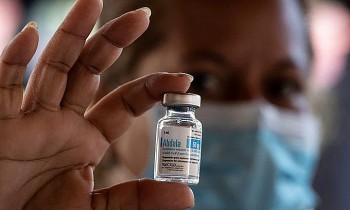 National
Vietnam News Today (September 19): Vietnam records 9,360 new local Covid cases; Vietnam approves emergency use of Cuba's Covid-19 vaccine; 4,000 foreigners vaccinated in Hanoi; Climate change adaptation featured in HCM City's master plan.
World
Somewhere in Portugal, there is a historical site named Quinta da Regaleira castle and its mysterious Initiation Wells that charms many tourists because of its unique architectural design.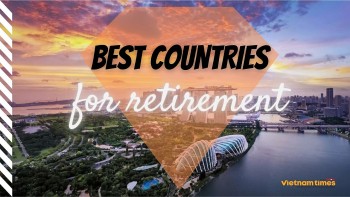 Handbook
If you are planning to relocate for your retirement, find out top 10 best countries that help you're no longer tied to a specific location.