10 favourite hotel stays in Vietnam voted by TripAdvisor users
10 hotels, resorts and accommodation in Vietnam have been voted as favorite places to stay in a holiday by TripAdvisor users in annual Travelers' Choice Award 2021.
Vietnam tourism continues to leave good impressions on tourists around the world according to the voting in the Travelers' Choice Awards 2021 from TripAdvisor, the world's largest travel website.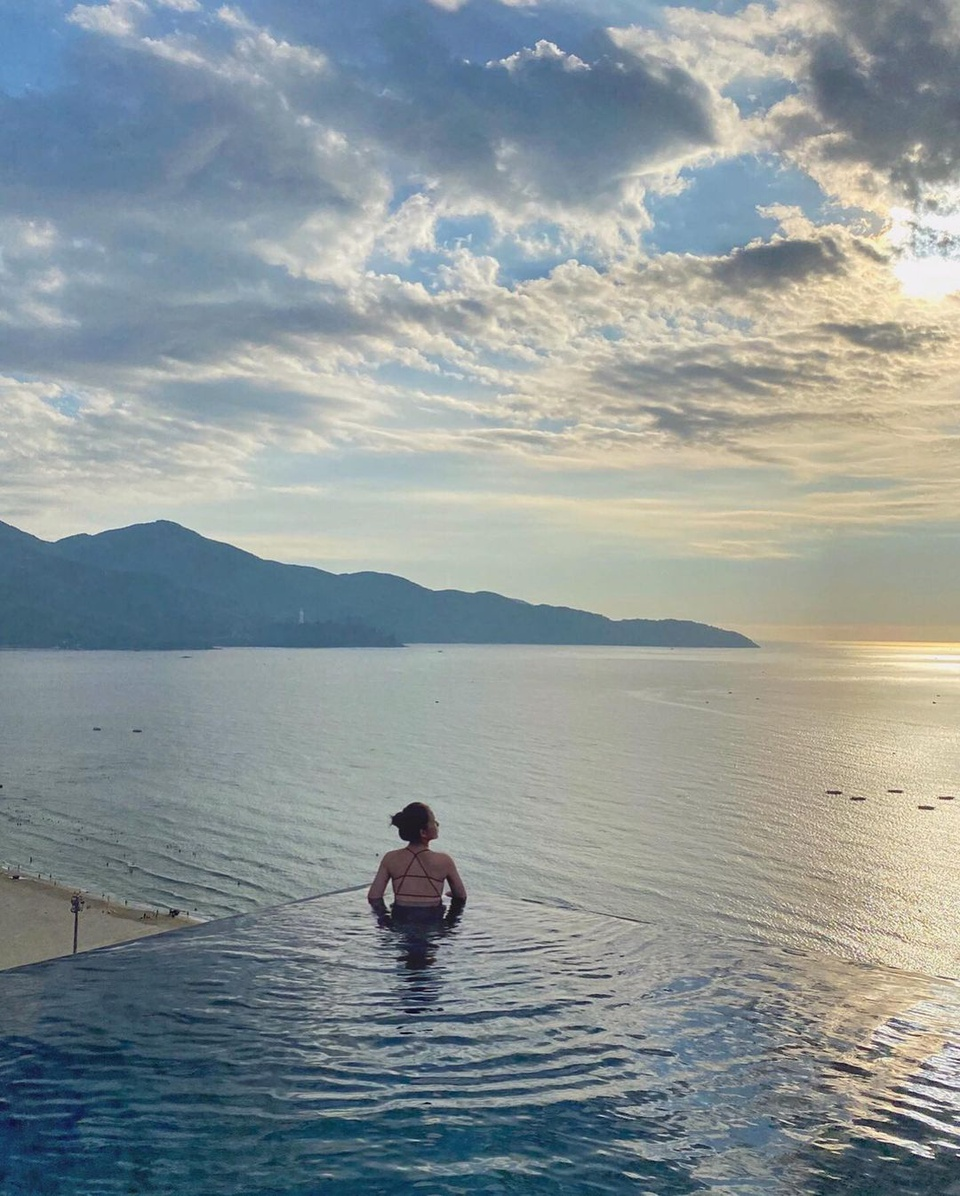 Photo: nhungxinhh.188.
In May, the largest tourism website, TripAdvisor has announced its annual Travelers' Choice Awards 2021 Best of the Best. These are the 10 best hotels in Vietnam for 2021 as voted by Tripadvisor readers, with Hanoi boasting three representatives in the list, followed by Da Nang with two. They are: JW Marriott Hotel, Dalat Edensee Lake Resort & Spa, Sherwood Suites, Sheraton Hanoi Hotel, Chicland Hotel, Vinpearl Resort & Spa, La Veranda Resort, Vinpearl Luxury Nha Trang, The InterContinental Hanoi Landmark 72, and Vinpearl Resort & Spa Ha Long.
JW Marriott Hotel Hanoi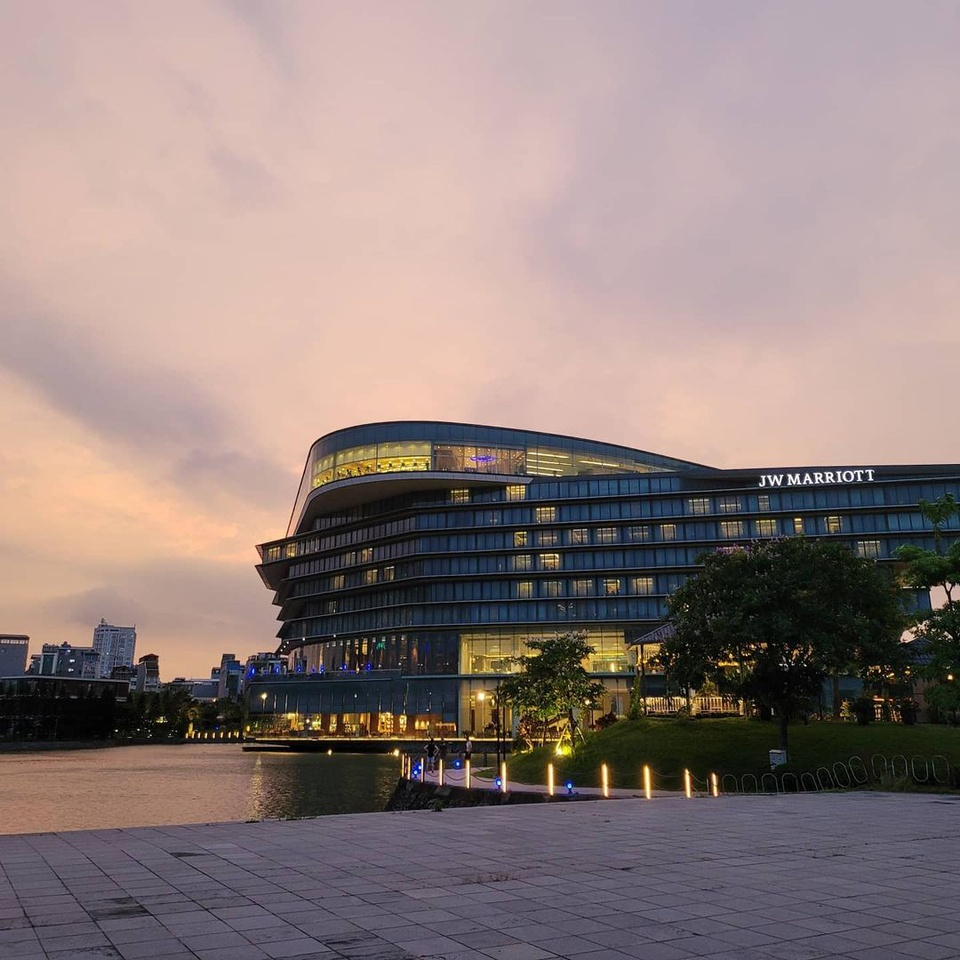 . JW Marriott Hotel Hanoi: In the top of the list is JW Marriott Hotel Hanoi. This hotel used to welcome former U.S President Barack Obama to stay in his visit in 2016. It is modernly designed with the world-class amenities. Located in the west of Tay Ho Lake, this place is loved because of the quietness and beautiful window view. The only disadvantage is that it will take the visitors a lot of time to move to places in the centre of city. Photo: giants9045.
The 450-room, 75,000 square meter (800,000 square foot) JW Marriott Hotel Hanoi is a 'reverse skyscraper' designed by acclaimed architecture practice Carlos Zapata Studio. The impressive structure was inspired by the country's magnificent coastline and evokes characteristics of a dragon - a modern interpretation of a symbol from Vietnam's past.
Located in Hanoi's new central business district and adjacent to the National Convention Center, the JW Marriott Hotel Hanoi is poised to become a key player for leisure and business within the city's growing and dynamic hotel industry.
"It gives us great pleasure to introduce the JW Marriott luxury brand to Vietnam," said Bob Fabiano, General Manager of JW Marriott Hanoi. "Vietnam is a hugely appealing market, and we see great growth potential here. It is an honor to lead the first JW Marriott hotel in Vietnam and I am looking forward to providing the best in five star services to our domestic and international guests."
JW Marriott Hanoi is set to impress with a wide array of culinary and nightlife experiences. A total of six restaurant and bar outlets will cater to travelers with a passion for exceptional food, wine and crafted cocktails. Dining venues include the French Grill, a French inspired outlet serving fresh seafood and prime cuts of steaks along with a variety of premium wines and spirits; and a Chinese restaurant specializing in Cantonese fare (open in January 2014). Guests are also invited to sample fare from across the globe throughout the day at JW Cafe. Meanwhile, Antidote Bar is set to become one of the most sought after nightspots in the city.
With over 3,600 sqm (38,750 sq ft) of flexible meeting space built for large corporate and association events, JW Marriott Hanoi is well placed to cater to the flourishing market for MICE (Meetings, Incentives, Conferences and Exhibitions) in Vietnam. The hotel has a total of 17 meeting rooms including two Ballrooms of 1,000 sqm (10,763 sq ft) and 480 sqm (5,166 sq ft) with extensive public foyers. All meeting facilities are conveniently located on the ground floor with a dedicated entrance and parking.
Bob Fabiano expressed his hope that the new hotel would set a new standard for hospitality in Hanoi and Vietnam as a whole. "Our goal is to offer consumers the world-class luxury choice of accommodation in Hanoi. In doing so, we want to be part of a growing contingent of hotel options helping to leverage hospitality standards in the city."
Marriott International has more than 3,700 properties in 74 countries and territories worldwide. The company expects to more than double in size in Asia - from 144 open hotels today to more than 330 by 2017 - with room growth from 47,318 to 96,684 and doubling its total number of associates to more than 80,000.
Dalat Edensee Lake Resort & Spa
Being the most luxurious and elegant resort town in Vietnam, Da Lat is not only famous for the typical atmosphere but also villas and resorts nestled with pine forest. Among them, Dalat Edensee Lake Resort & Spa Resort is located in Tuyen Lam Lake - A destination contains the most pristine and intact beauty of the misty city.
Photo: dalatedenseeresort.
Located nearby the end of the Hoa Phuong Tim Street, Dalat Edensee Lake Resort & Spa - the first resort built near Tuyen Lam Lake, has always been a symbol of the whole Tuyen Lam valley. The Gothic villas are located among the pine forest, the fresh sapphire lake but only nestled into nature, not breaking the poetic beauty. Tuyen Lam is so quiet but not lonely, luxurious, comfortable but still pristine. Mr. Tieu Nhu Phuong - Edensee Lake Resort & Spa investor can't hide his pride in the beauty of the valley.
Having traveled through many famous cities in the world, Mr. Tieu Nhu Phuong felt that Da Lat is similar to Europe. Da Lat has many green hills and mountains such as the Alps, Switzerland, deep pine forest Forêt Noire (Germany's the Black Forest) or quiet lakes like the Como lake region of Northern Italy. However Da Lat has a very specific nuance, it is cool fresh air, especially after the gentle afternoon rain. Da Lat has a pristine beauty for those who want to balance their mind and body.
The resort is not only located in a beautiful location but also built by the most advanced materials and equipment, like the long-lasting castles in Europe. The resort is adjacent to the Pinhat mountain (1600 meters). All villas are attractive because of the view of the lake or the mountain. With such a unique position, the international five-star Edensee Lake Resort & Spa - resort has a lot of potential for exploitation.
Sheraton Hotel Hanoi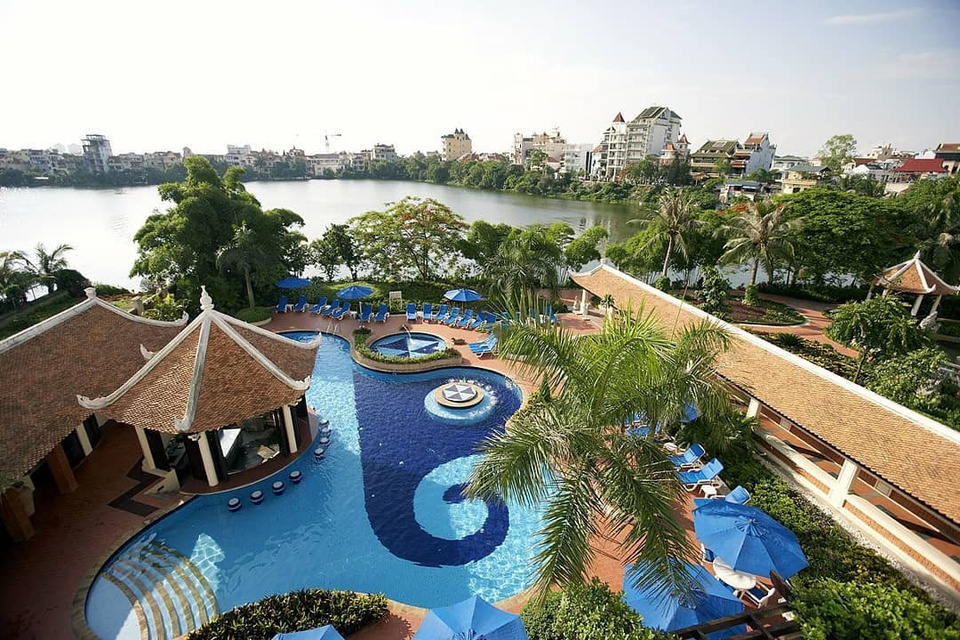 Photo: sheratonhanoi.
Truly a "resort within the city," our hotel provides the perfect balance between tranquility and convenience. Take in panoramic views of Hanoi's largest lake and enjoy great comforts in the 299 spacious guest rooms and suites, specially designed to help you relax.
Share a meal with people who mean the most to you. The Oven D'Or restaurant offers an extensive international buffet and is a great place to meet friends and colleagues. Hemispheres, our signature restaurant provides an inviting ambience and innovative Vietnamese cuisine. For a more intimate dinning experience, you can sit on the terrace overlooking West Lake.
Sheraton Hanoi Hotel boasts 299 spacious guest rooms, including 16 suites. A traditional-style décor with a local Vietnamese and French colonial influence, high ceilings, and large bay windows with spectacular views of West Lake give each room a warm, comfortable feeling.
Experience the celebrated of the Sheraton Sweet Sleeper (SM) Bed. Enjoy some time for pure indulgence in the luxurious black marble bathrooms with separate bathtub. The large working area, writing desk, and High Speed Internet Access help you stay connected to those back home.