Vietnamese Teacher Helps Students in Highland of Laos
Working in Luang Namtha, the northern mountainous province of Laos, teacher Nguyen Thanh Ngoc had memorable days when teaching Lao students, tightening the solidarity and friendship between Vietnam and Laos. The Vietnam Times spoke with caring educator in an exclusive interview.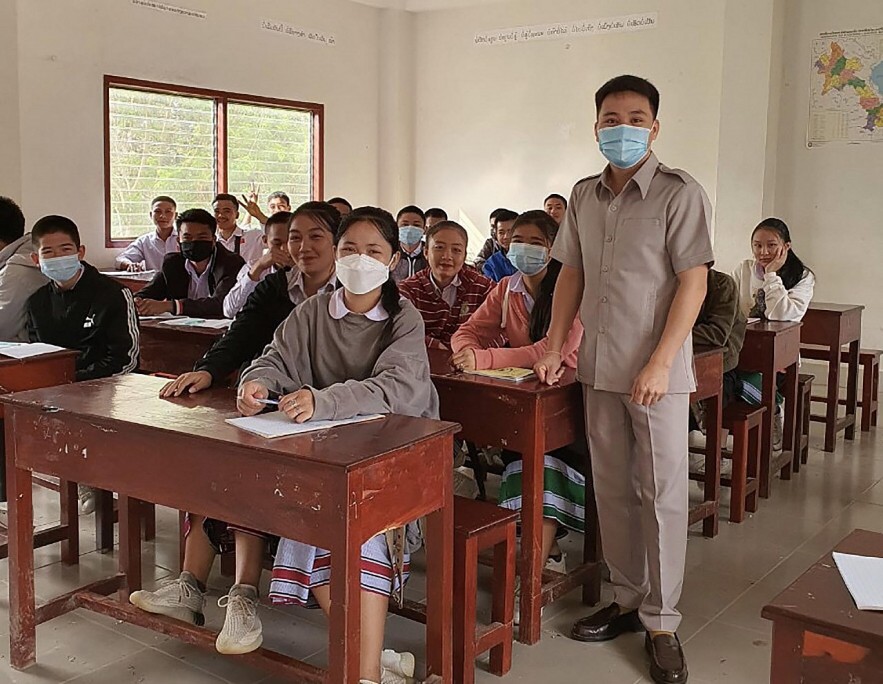 Teacher Nguyen Thanh Ngoc in a classroom in Laos. Photo: WVR
Did you enjoy a warm traditional Tet in Laos?
Having the opportunity to study, and currently teaching Vietnamese in Laos, I have experienced eight Bunpimay - traditional Tet holidays with many different emotions each year.
Bunpimay is the biggest Tet holiday of the year in Laos, taking place on April 14, 15, and 16 every year.
On this occasion, there are many cultural activities with specific meanings of the Lao people such as: ceremony of tying white strings around the wrists, going to pagodas to pray for peace, water splashing with the meaning of praying for the new year with favorable rain and wind, and peace to everyone.
However, in the past two years, due to the Covid-19 pandemic, the scale and activities of Lao New Year have decreased. People only celebrate the New Year within the family.
This year, I was assigned to work in Luang Namtha province. During the past Tet holidays, I was invited by teachers at the school to visit their home and celebrate the new year with them. The scale was small but no less cozy. I was immersed in the culture of the Lao people.
Assigned by the Vietnamese Ministry of Education and Training to teach in Laos at a time of complicated Covid-19 pandemic, did you encounter difficulties?
My teaching job has never been as difficult as the past two years.
I had to go through Covid-19 tests, medical isolation, and traveled nearly 2,000km from Vietnam to get to the school. Sometimes, while teaching, the whole school has to temporarily stop because a teacher or student in the school is infected with Covid-19.
This is a special year with many difficulties. However, because of the love and responsibility for the profession, my Vietnamese peers and I overcame difficulties to teach Lao students, tightening the solidarity and friendship between Vietnam and Laos.
What are your unforgettable experiences while working in the highlands of Laos?
Luang Namtha is a remote mountainous province in Laos. Here, I was able to interact with students as well as people from ethnic minorities such as Mu, A Kha, and Kho Mu.
This period has given me valuable experiences such as living in a new culture, eating rice, going to the fields, and teaching students new things.
The time here has shown me the hardships of the students and the people here. I also called for support and received a lot of supplies, clothes, and food from benefactors, with a total amount of nearly VND200 million (US$8705) to give to students and needy families.
Through the days of living and working here, I feel the sincerity of people here. If there are vegetables, fish, chicken, they bring it to me. I live in the love of people, all geographical and cultural distances seem to be erased.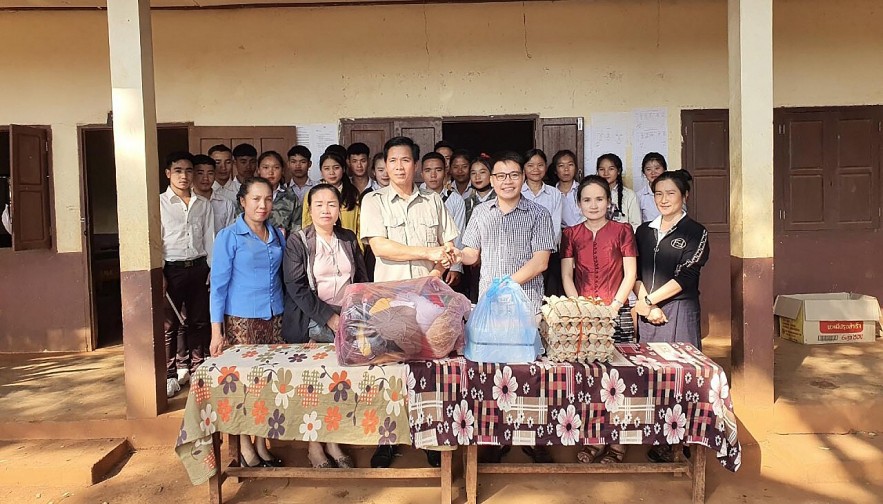 Teacher Ngoc with volunteer activities to help students and Lao people. Photo: WVR
Can you share about your current job and the motivations that help you with teaching Vietnamese in foreign countries?
As a Vietnamese teacher selected by the Vietnamese Ministry of Education and Training to come to Laos to teach Vietnamese language and culture, I am honored. I also understand my responsibility in tightening the friendship and solidarity of the two countries. I always try my best to complete my work.
Currently, I am assigned to teach eight high school classes (grades 11 and 12) and I am also assigned to teach a class of district officials.
Besides teaching, I also try to do more social activities. I go to villages and schools in remote areas to give students clothes and school supplies that I have collected.
I also participate in people's daily life activities to learn and integrate with them.
These jobs bring me joy and experiences. I hope that my small contributions will contribute to building a stronger Vietnam-Laos friendship.