Vietnamese team champions int'l smart city initiative competition
The application named Internet of Things brought the Vietnamese team the grand prize worth VND100 million  (USD 4,300 USD), announced the organizing board on October 12.
The iNut Smartcity Team from Vietnam's University of Economics and Law has won the World Technopolis Association (WTA) 2018 Binh Duong Smart City Initiative Competition.
Binh Duong provincial leaders and organizers award the 2018 Smart City Initiative to the iNut Smartcity team
Meanwhile the SK2 team from Hannam University (Daejeon, Korea) won the first prize worth VND 70 million (USD 3,000) with an initiative to manage waste treatment from plants using blockchain technology.
The organizers also awarded consolation prizes and several other awards to the remaining teams.
In addition, all winning inpiduals and teams received an additional entrepreneurial support package from the Becamex Business Incubator (BBI) at Eastern International University (EIU) based in Binh Duong city.
Launched in July, the WTA 2018 Binh Duong Smart City Initiative Competition was co-organized by the Binh Duong People's Committee, the WTA and Daejeon city. It is one of the activities to celebrate the 20th Anniversary of the WTA.
The contest focuses on smart urban management, healthcare, culture and tourism, smart education, public services, environmental energy, urban agriculture and smart production.
The criteria include new and innovative features, feasibility for application to real life, improving the quality of life, and socio-economic effectiveness.
The contest was organized with the preliminary round and semi-finals taking place in Binh Duong city and Daejeon city.
Fourteen teams passed a strict selection to compete in the final round held on October 10 in Binh Duong province, with more than 100 smart-city solutions from universities across Vietnam and 26 solutions from 13 universities in the Republic of Korea.
Each team consists of three to four students from schools, colleges or universities from both Vietnam and the Republic of Korea.
Each team was given 10 minutes to present their creative ideas and 15 minutes to answer questions from judges after they finished their presentation in the final round./.
( VNF )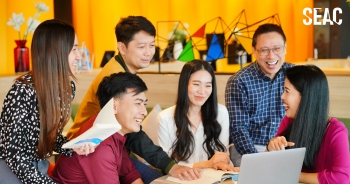 Economy
SEAC, a leading corporate and lifelong education innovator, is shaking up the Thai and ASEAN education market with significant investment to expand its SMART learning solutions across the ASEAN region.