Vietnamese Youths Experience Wax Drawing on Batik Fabric
Vietnamese participants were excited to show their Batik drawing skills on the white cloth.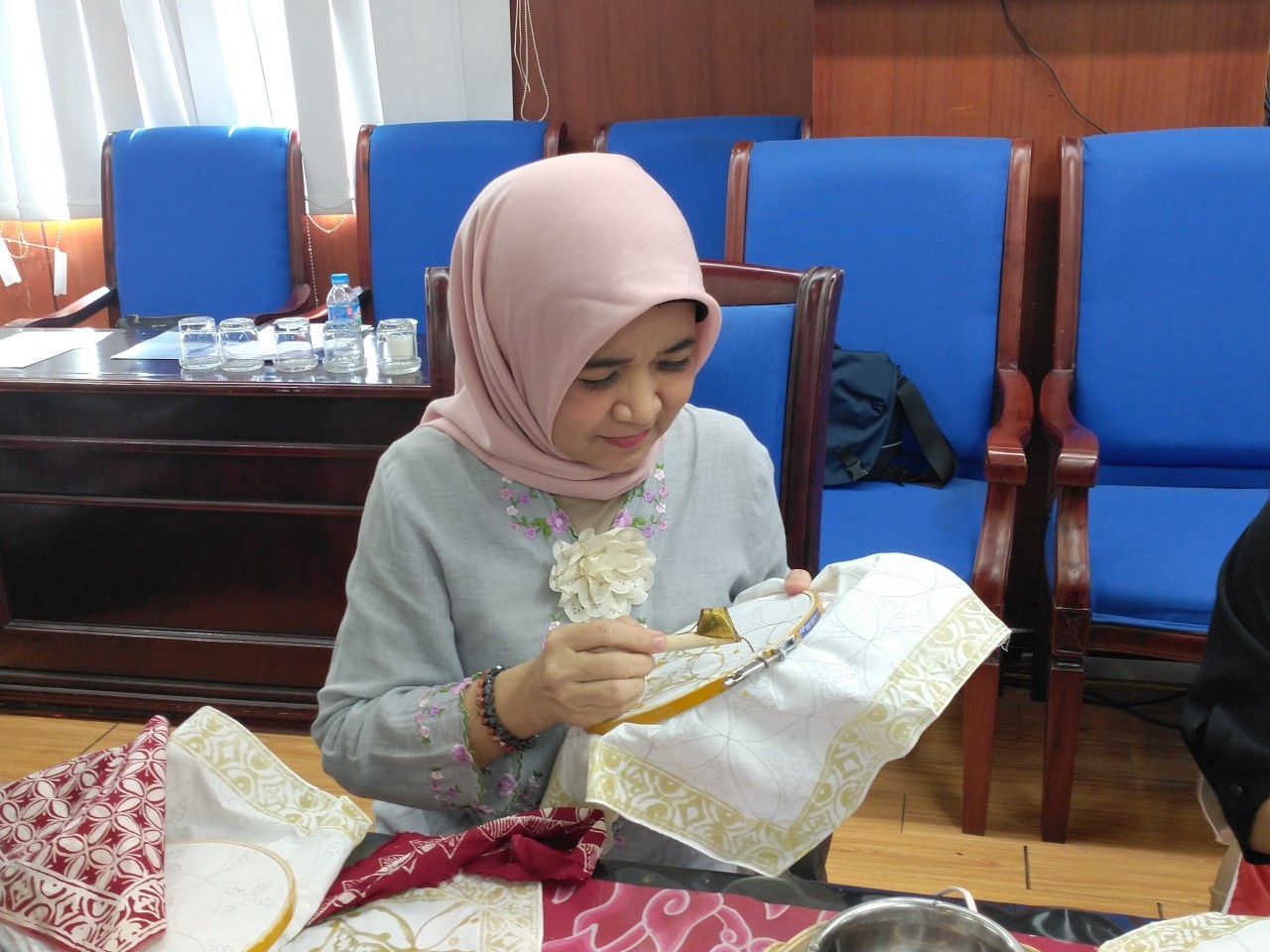 Artisan Ira Ratna Handayani teaches Vietnamese participants to draw Batik. Photo: Mai Anh
Several Vietnamese young people participated in the Indonesian traditional Batik drawing experience program organised by the Indonesian Embassy in Vietnam in collaboration with the Vietnam - Indonesia Friendship Association.
This program was held in Hanoi to celebrate the 10th anniversary of the strategic partnership between the two countries.
It also aims to introduce Batik fabric, create opportunities to learn and improve understanding of the culture and traditions of the two peoples, thereby cultivating the friendship between the two countries.
Participants experienced doing Batik, an Indonesian technique of wax-resist dyeing, using a canting to draw beeswax on the fabric with the instruction of Sri Ratna Handayani, a Batik artisan from Indonesia.
Batik is a traditional Indonesian dying used in patterns and drawings, typically on fabric and finished textiles. Photo: Mai Anh
In 2009, Indonesian batik was inscribed on UNESCO's Representative List of the Intangible Cultural Heritage of Humanity.
For Indonesians, batik is not only an art but also a cultural symbol that can represent social status, local community, nature, history, and cultural heritage.
The physical aspect of batik (its techniques) as well as the symbolism behind this hand-dyed cotton and silk garment tells the story of Indonesian people from beginning to end.
Batik is made by a resist technique, where Indonesian artists use hot wax in creating patterns and designs to prevent them from absorbing color when the cloth is dyed. The hot wax is applied with a pen-like tool named canting. In Indonesia, the craft of batik is usually handed down within families for generations.
There are three main types of batik included hand batik (hand painted), machine batik (machine printed), and stencil batik (stenciled). Hand batik is the oldest and most expensive method of batik.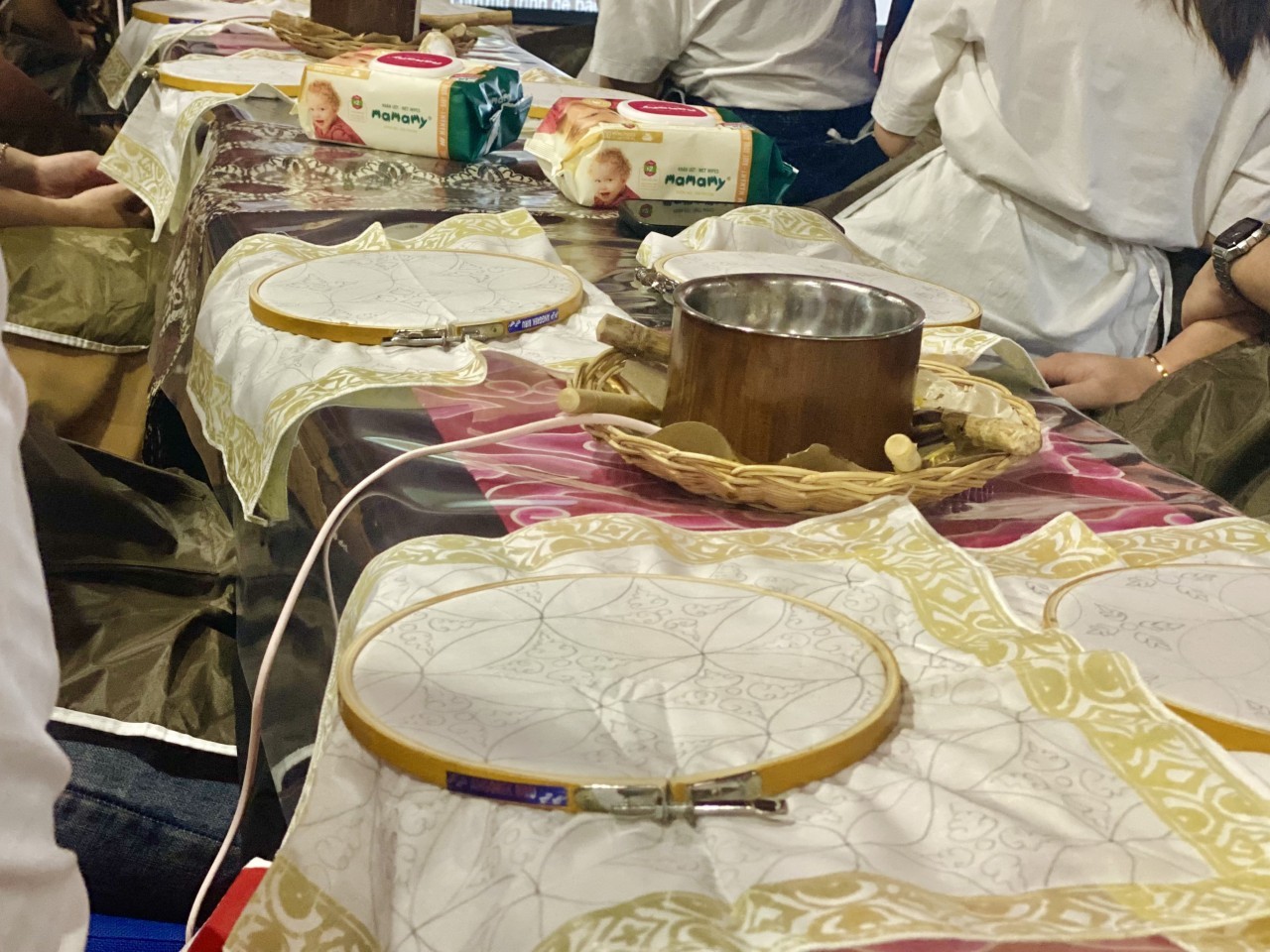 Youths came together to try their hand at Batik-making in Hanoi. Photo: Mai Anh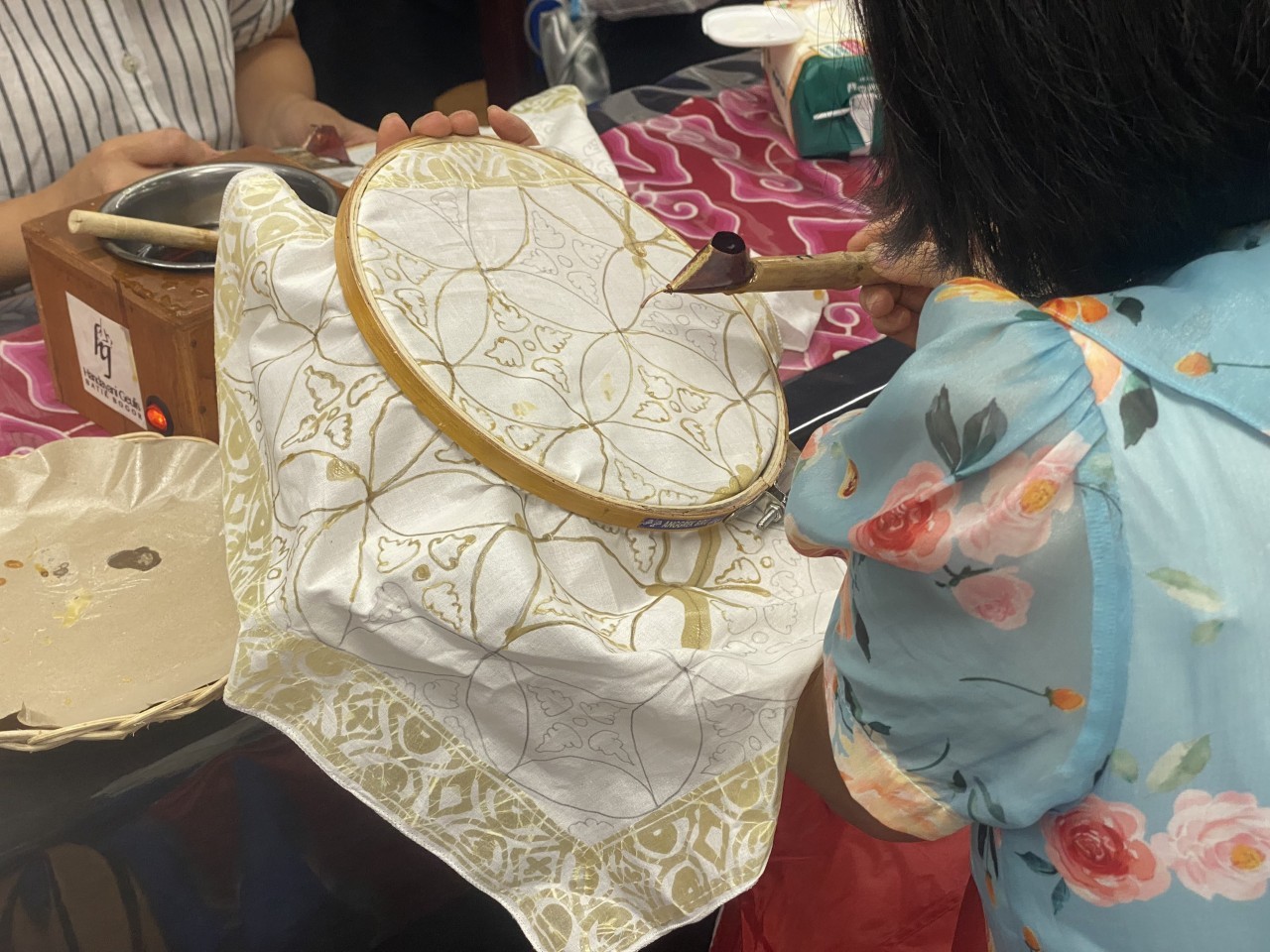 Participants use wax-based dyes to paint patterns directly onto fabric. Photo: Mai Anh
Tran Minh Hung, president of the Vietnam-Indonesia Friendship Association and VOV vice president, said, "The program is part of a series of cultural exchange activities to enhance understanding between the two peoples. Indonesia's Batik was recognized by UNESCO as an Intangible Cultural Heritage of Humanity in 2009. Batik is not merely an art but also a culture, containing the soul, emotions and life of the Indonesians."
Indonesian Ambassador to Vietnam Denny Abdi said he hopes that through the program, Vietnamese people will understand more about Indonesia's rich art and culture.
Artisan Ira Ratna Handayani teaches Vietnamese participants to draw Batik. She said, those who make Batik for the first time often have difficulty in the drawing stage because it requires meticulousness, care and perseverance.
Do Anh Duc, who participated in the experience, said, "Doing Batik in Indonesia and drawing patterns with beeswax of the Vietnamese H'Mong are similar in the use of beeswax, different in fabric, painting tools, dyeing method". Photo: Mai Anh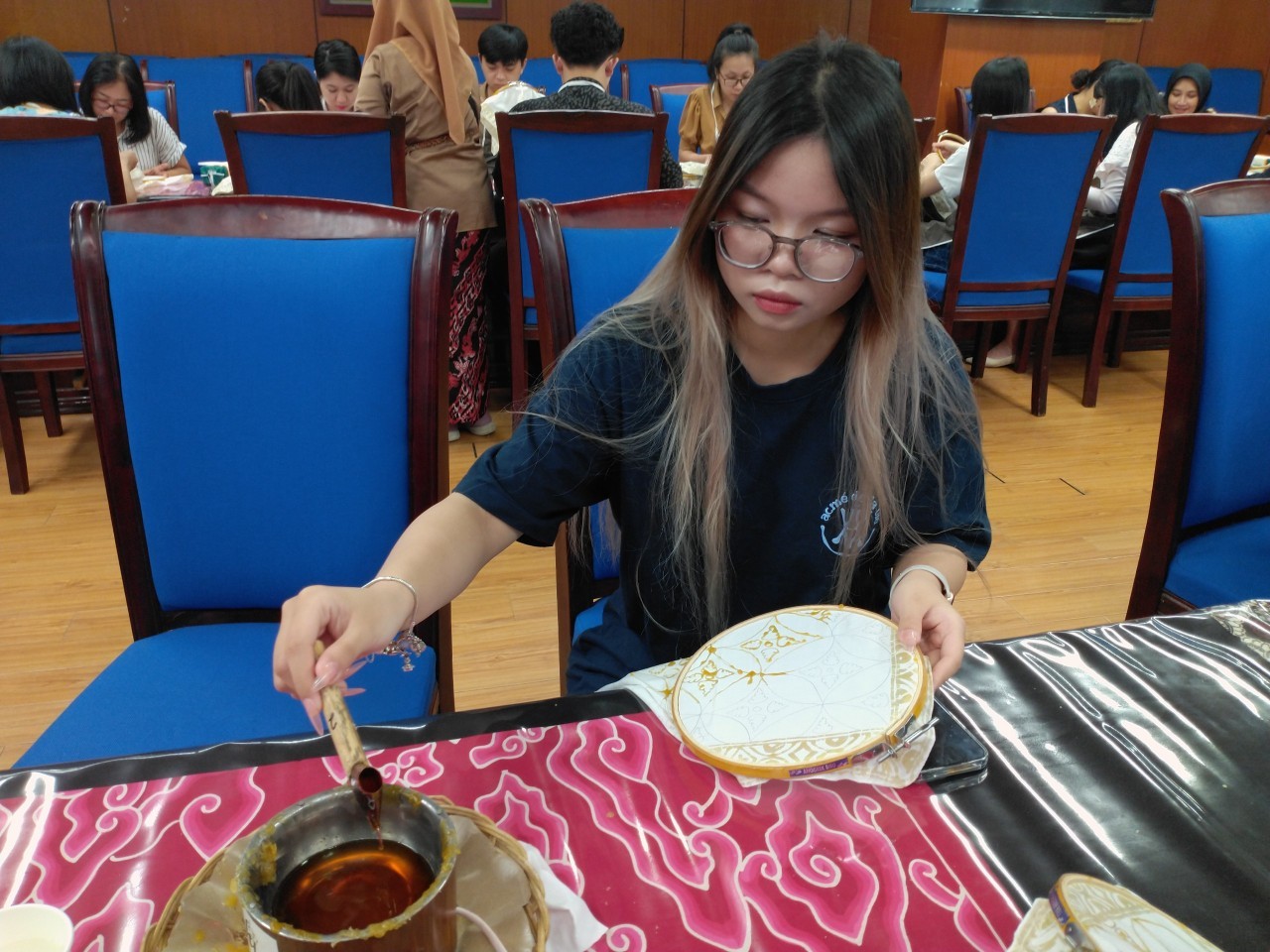 Minh Tam, a fourth-year student at National Economics University, shared that the most difficult thing for her is to control the amount of candles out of the pen without dropping the candles on the cloth. Photo: Mai Anh
Last year, several Batik introducing activities were held in Ho Chi Minh City and Dong Nai province which are part of the series of events of Batik Week - a cultural exchange activity launched by the Indonesian Government and coordinated with other countries.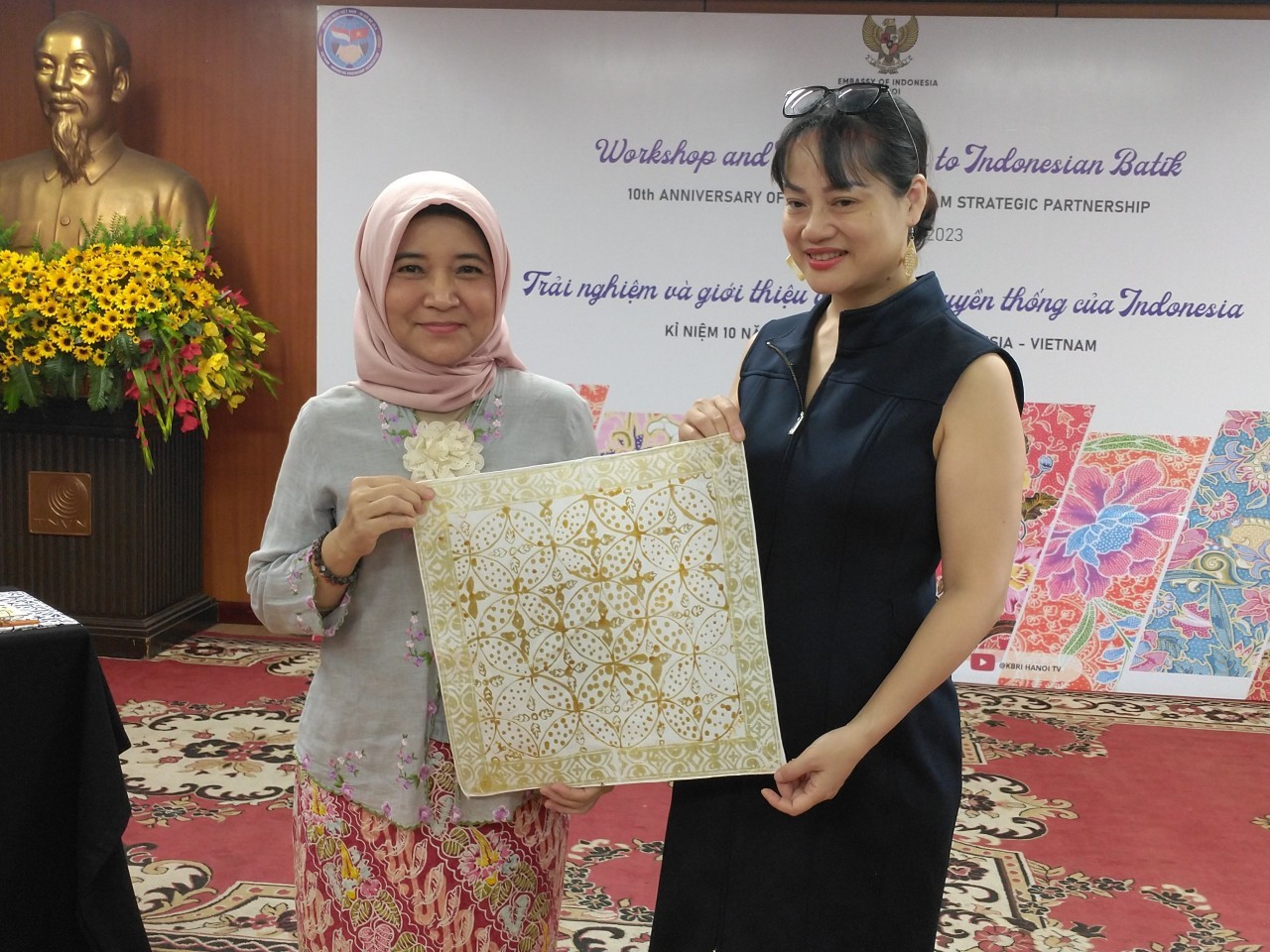 Three participants drawing the most beautiful works received gifts from the organizing committee. Photo: Mai Anh
Can Tho City Celebrates Indonesia Day

The two-day event aimed to introduce the diverse culture of the thousand islands country, contributing to strengthen the solidarity, friendship and knowledge between the people ...