Vietnam's Development Agenda Receives Additional Boost
Australian Government grants Vietnam 5 million AUD to recover economy post-Covid and support the country's development agenda.
The Australian Government has approved a grant of 5 million AUD to help Vietnam enhance competitiveness, reduce carbon footprint, and improve lives and livelihoods, according to the World Bank.
The grant represents additional funding to the ongoing Australia – Bank Partnership in Vietnam (ABP), which focuses on a wide range of policy areas designed to support the country's development agenda.
"The COVID-19 pandemic continues to have a significant impact on Vietnam's reform agenda and exacerbate inequalities, which are more pronounced and harder to close for ethnic minorities, for women and for other marginalised groups. Responding to this, Australia's extended collaboration with the World Bank will continue to support Vietnam's quick economic recovery and help achieve its development goals," Australian Ambassador to Vietnam Robyn Mudie said.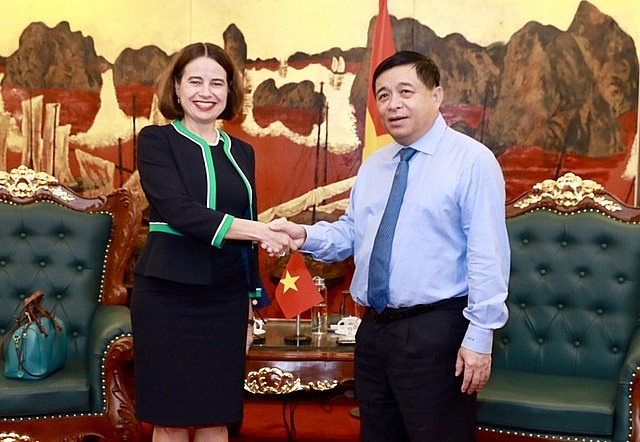 Australian Ambassador to Vietnam, H.E Ms Robyn Mudie discusses cooperation for COVID-19 recovery with Minister for Planning and Investment Nguyễn Chí Dũng. Photo: Internet
The ABP will continue its work on gender equality and the sustainable development of the Mekong Delta. In addition, it will also help address new priorities set out in the country's recently adopted socio-economic development strategy for 2021-2030 and plan for 2021-2025, including the transition to a low carbon economy, social equity and inclusion, and innovation-driven growth.
"The ABP will continue providing high-quality advisory work, enabling Vietnamese policymakers to pursue substantive reforms," said Carolyn Turk, World Bank Country Director for Vietnam. "These reforms are needed both for recovery from the economic costs of COVID-19, but also to set a solid basis for the pathway to higher income status."
The ABP was established in 2017 with an initial funding amount of 25 million AUD. During the COVID-19 pandemic, it responded quickly and provided an additional 5 million AUD to support Vietnam to respond to, and recover from, the pandemic. The program leverages expertise from Australia and the World Bank Group to support the Vietnamese Government in strengthening its development policies and programs, according to VNA.
Foreign experts highlight Vietnam's production, export strengths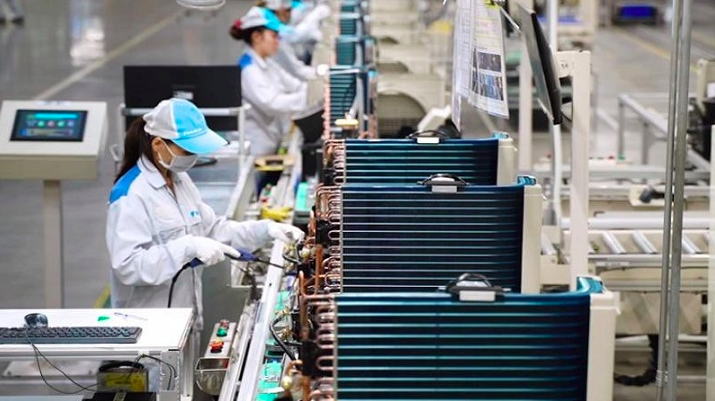 Vietnamese processing and manufacturing prowess helps economy rank high among regional counterparts. Photo: NDO
Within the region, Vietnam ranks high on economic performance, fuelled by a powerful gain of manufacturing and export capability, according to economists Shirley Shen and Aidan Yao from the Singaporean-based AXA Investment Managers Asia.
In a research & strategy insight, they said Vietnam's successful integration into the Association of Southeast Asian Nations (ASEAN) was key to igniting its trade engine. The nation's membership in the bloc since 1995 has allowed it to enjoy zero tariffs when trading with other ASEAN member states. Vietnam also signed free trade agreements with other major economies including China, the European Union, the UK, and Japan, creating a fertile environment for trade relations to grow.
In addition, a rapid increase in manufacturing competitiveness has also contributed to Vietnam's rise as a regional export powerhouse, with manufacturing value-added increasing by the most in the past decade.
The economists noted Vietnam has also been very successful in attracting foreign direct investment (FDI), thanks to favourable government policies. By 2020, the number of industrial parks in the country had grown to 369, an increase of 180 percent from 2005.
According to the insight, the Vietnamese government offers a variety of tax benefits and streamlines regulations for foreign entities. This has been reflected in an impressive gain in Vietnam's ranking in the World Bank's "ease of doing business" index – up 23 places to 70 from a decade ago, reported VNA.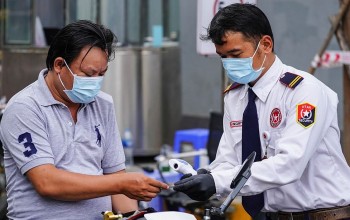 National
More than 1.12 million vaccine doses were administered in Vietnam on October 24. The country has now inoculated more than 74 million doses of vaccine to date, with over 21.46 million people fully vaccinated.