Vietnam's First Automaker VinFast Eyes European Strategy
Vietnam's first homegrown car manufacturer Vinfast plans to focus on more countries to expand its European strategy.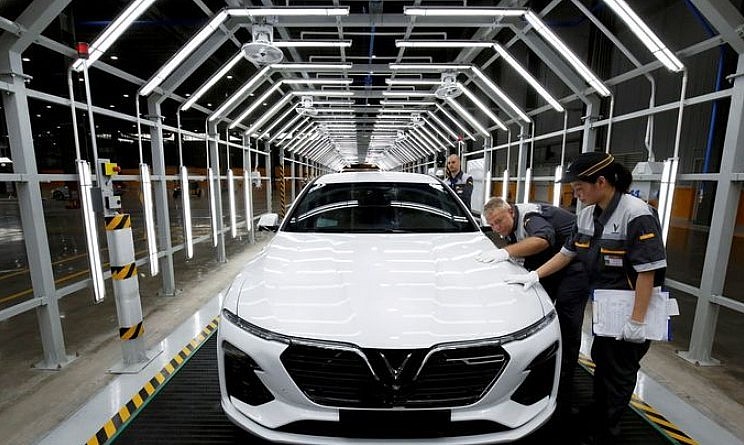 Workers at Vinfast's auto plant at the opening ceremony in Hai Phong city, Vietnam June 14, 2019. Photo by Reuters/Kham
Expanding to more markets
According to Reuters, Vietnamese carmaker VinFast could add other markets by 2023 to expand its European reach beyond a planned debut in Germany, France and the Netherlands next year.
The company, a unit of Vingroup JSC, Vietnam's largest conglomerate which some have called "Vietnam's answer to Tesla," will debut in Europe next year with two battery electric SUVs models, the midsized VF e35 and the seven-seater VF e36, both designed by Italy's Pininfarina.
The two models launch in Vietnam, North America and Europe around mid-2022, after an unveiling planned later this year.
VinFast became Vietnam's first fully fledged domestic car manufacturer when its first gasoline-powered models built under its own badge hit the streets in 2019.
VinFast's B2B Sales Vice President Emiel Hendriksen said on Thursday it was also looking at Italy, Scandinavia, Switzerland and Austria for a second step in its European strategy.
"We're considering those countries for 2023," he said during a presentation at Pininfarina headquarters in Turin.
VinFast will initially rely on a direct distribution model in Germany, France and the Netherlands, based on property showrooms, but could later consider an agency-model for sales in other countries, Hendriksen said.
The company sold about 30,000 vehicles domestically last year and had set a target of selling 15,000 electric vehicles in 2022, although its representatives did not provide detailed forecasts for the European market on Thursday.
Photo: autocar.
Earlier this year sources Vingroup said it was considering an U.S. initial public offering (IPO) of its car unit that could value VinFast at about US$ 60 billion, though an initial second-quarter deadline for the deal mentioned by one of the sources was delayed.
VinFast Europe CEO Bich Tran said any IPO decision was up to the company's headquarters in Vietnam.
"Our European plans are independent from any IPO. We're carrying on with our plans, everything in Europe is moving as planned," she said.
A global smart car company
In July, Vinfast officially kick-started its branches in the United States, Canada, France, Germany and the Netherlands in preparation for its launch in those markets, moving closer towards the goal of becoming a global smart electric car company.
According to its plan, VinFast will officially launch its two smart electric car models VF e35 and VF e36 globally in March 2022. These are breakthrough electric SUVs with impressive exterior designs and top-of-the-range conveniences, meeting the highest safety standards set by NHTSA and EURO NCAP.
The United States, Canada, France, Germany and the Netherlands have been considered key markets in VinFast's business expansion plans since its early days. For the past year, VinFast has set up apparatus and foundations for business operations in these countries.
In terms of personnel, as well as the core of Vietnamese senior managers, VinFast has also recruited automotive and business experts from leading car makers like Tesla, BMW, Porsche, Toyota, Nissan, etc. Together, they have developed an organisation, expanded partnership networks and prepared for VinFast to enter the market.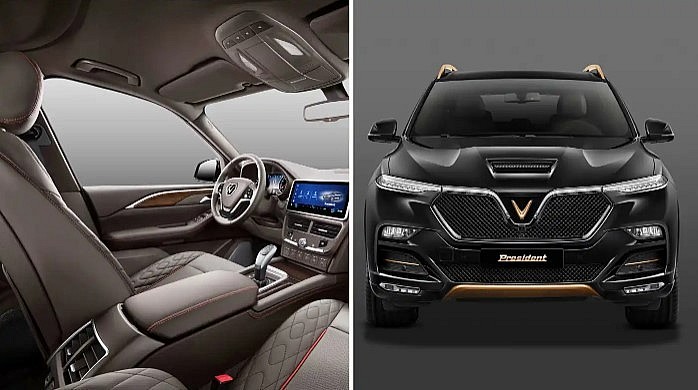 Photos courtesy of VinFast
VinFast has designed plans based on each market's features. In Europe, VinFast will particularly focus on France, Germany and the Netherlands before moving onto other countries. VinFast's car models will be appropriately designed for customer needs and operating conditions in each country.
"With smart electric cars backed by VinFast's proven research and production capabilities, we are confident that VinFast can be a competitive contender with leading brands in the US today," said Jeremy Snyder, chief growth officer of VinFast US.
In July, the former executive of Volkswagen Group America, Michael Lohscheller, was appointed the new CEO of VinFast Global as part of the automaker's strategy to sell its vehicles internationally.
Lohscheller will lead VinFast Global to expand in Vietnam, the United States., Canada, France, Germany and the Netherlands, aiming to turn VinFast into a global smart electric car company, according to a statement by the Vietnamese automaker.
Increasing capital for overseas investment
The Foreign Investment Agency under the Ministry of Planning and Investment on June 27 announced that, overseas investment by Vietnamese firms neared US$547 million in the first half of 2021, rising close to 2.5-fold compared with the same period last year.
As many as 24 new projects with a combined registered capital of US$143.8 million were granted investment certificates in these months, equivalent to 77.6 % of the same period last year.
Over US$403 million was added to nine existing projects in H1. They included two projects of the Vingroup conglomerate and its automobile arm Vinfast which were adjusted up by US$300 million and US$32 million in the US and Germany, respectively.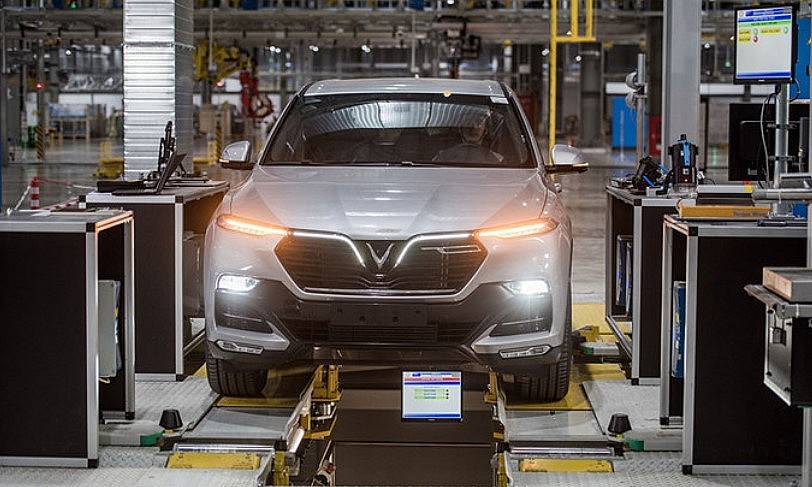 An VinFast car is tested in a factory in the northern Hai Phong City. Photo by VnExpress/Minh Tuan.
A factory of Masan High-Tech Materials abroad (Illustrative photo: VNA)
Among the 12 fields of investment, Vietnamese firms channeled US$270.8 million into science-technology projects, accounting for nearly half of the total. Wholesale and retails came second with US$148.6 million.
As reported by Public Security News, the US was the top destination for Vietnamese capital in the period with US$302.8 million, holding a lion's share of 55.4 %. Cambodia ranked second with US$89.2 million, followed by Canada and France.
As of June 20, Vietnam had 1,420 valid overseas projects totaling US$21.8 billion, mainly in the sectors of mining (36.4 % of total capital) and agro-forestry-fisheries.
Laos was the largest recipient of Vietnam's overseas investment, making up 23.7 % of the total capital, followed by Cambodia (13.1 %) and Russia (nearly 13 %).