Vietnam's Healthcare Industry's Outstanding Achievements in 2021
The spread of Covid-19 this year caused the health system to go through a rough time, taking unprecedented measures to prevent loss of life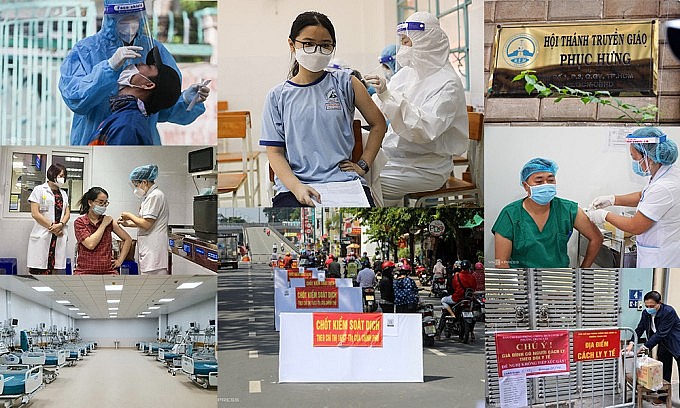 A year of the Covid-19. Photo: VnExpress
Largest-scale hospital emergency response teams
The fourth wave was the most intense phase in the fight against Covid-19. The Delta variant with a virus load 1,260 times higher and the ability to infect 20% more than the original strain resulted in a spike in infections and deaths. Hundreds of field hospitals were set up.
At the end of July, the Ministry of Health decided to establish 12 national-level intensive care centers. A week later, reinforcements from Hanoi and Hue entered Ho Chi Minh City to build ICUs with a total of more than 2,000 beds, along with 1,000 beds of the Covid-19 Resuscitation Hospital. These emergency response units were extremely important, creating a turning point in Covid treatment
The speed of setting up and the scale of such large ICUs is unprecedented, because previously, even the largest hospitals such as Bach Mai and Cho Ray only had a few dozen recovery beds.
Director of the Ho Chi Minh City Department of Health Tang Chi Thuong, when referring to the newly built ICUs, said: "They are the works of the century."
Biggest support deployment
On July 24, the Ministry of Health called on all forces to participate in the fight against the pandemic. More than 80,000 health workers participated, of which nearly 25,000 doctors and nurses from all over the country came to Ho Chi Minh City's hospitals.
This was the largest medical manpower mobilization ever. During the previous outbreaks in Da Nang or Hai Duong, the number of medical staff supporting was only a few thousand people.
The Ministry of Defense also had the largest deployment since the war, carrying out an unprecedented mission with more than 134,000 soldiers. The army participated in the fight against the pandemic at the border, treated patients in hospitals, and deployed 530 mobile medical teams to take care of F0 patients at home.
Unforgettable days in Ho Chi Minh City. Video: VnExpress
Mobile medical station taking care of 1 million patients at the same time
For the first time in history, more than 13,000 mobile medical stations were set up at the same time, to treat more than one million F0 patients at home - the largest number of home patients in an outbreak. On average, for each residential cluster with about 50-100 F0 isolated at home, there was a mobile medical station.
Thanks to mobile stations, F0 patients received timely care, and the stations could detect early signs of serious illness and brought the patients to the hospital immediately.
Together with ICUs, mobile medical stations play a big role in the strategy of reducing severe cases and deaths, contributing to pandemic control.
At the same time, they raised urgent issues about policies to improve grassroots health care capacity, especially in the adaptation period.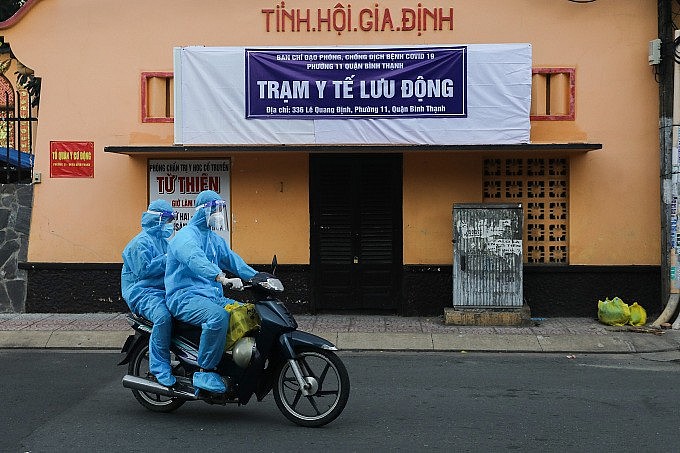 A mobile medical team in ward 11, Binh Thanh district, went to take samples and test instructions for people on August 23. Photo: VnExpress
Largest trial for Covid-19 drug
When the trial phase has not yet been completed, the antiviral drug molnupiravir has been included in the Home-Based Care program - "pilot controlled treatment of F0 at home and in the community" by the Ministry of Health, since August.
The drug was evaluated as bringing a significant reduction in viral load in mild and moderate patients after 5 days of treatment. To date, about 300,000 doses of molnupiravir have been delivered to the provinces.
This is the largest drug trial ever in Vietnam, every F0 patient taking the drug is participating in a scientific research. Until the Covid-19 pandemic, each drug trial was usually performed on only a few hundred to a few thousand people, and all were treated in hospitals.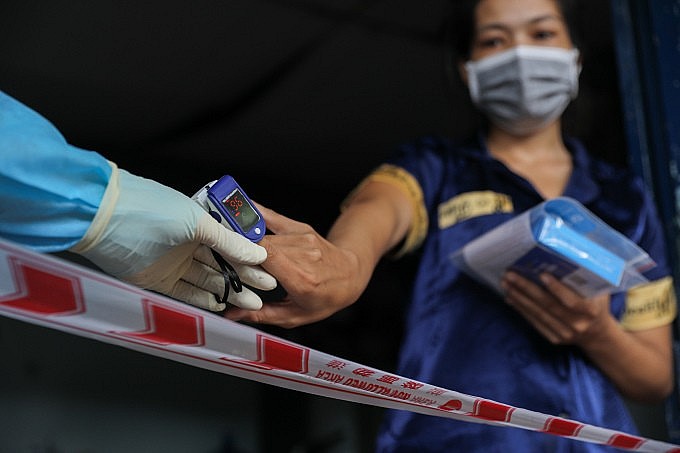 Medical workers in Ward 3, District 8, Ho Chi Minh City, provide medicine to people with Covid-19, who are being treated at home, August 29. Photo: VnExpress
Biggest vaccination campaign
Assessing vaccines as the most effective weapon against Covid, Vietnam has carried out "the largest-scale vaccination campaign in national history " according to the Health Minister. Starting from March 8, the country has injected more than 144 million doses, including nearly 77 million first doses, more than 65 million of second doses, and more than 2.2 million of the third doses.
In 2014, Vietnam vaccinated children with 23 million doses of measles - rubella vaccine, which is said to be the largest campaign in more than 30 years of implementing the national expanded program on immunization. Currently, the Covid-19 vaccination campaign is many times larger in scale.
This campaign used the most vaccines (5 out of 9 licensed); mobilized the most medical staff to participate (more than 20,000). The transportation and storage of vaccines required the most difficult conditions (minus 90-60 degrees Celsius).
Information technology was also applied in vaccination in registration, issuance of codes and certificates of vaccination, helping to speed up injection and make management easier.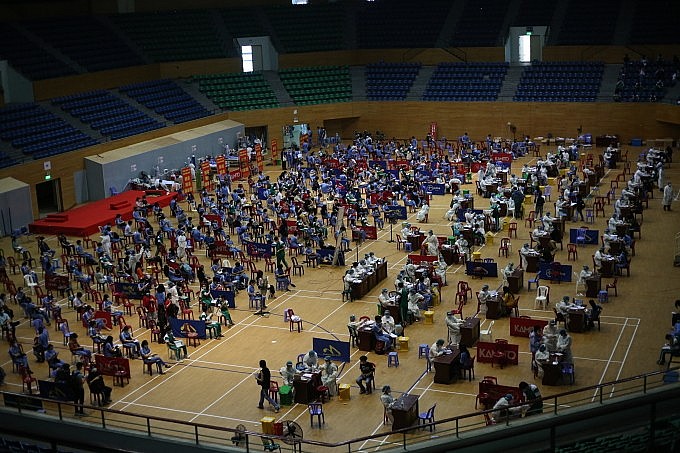 Vaccination against Covid-19 for children 12-17 years old in Da Nang, November 2. Photo: VnExpress
Highest number of coronavirus-related deaths
During the period of SARS (severe acute respiratory syndrome) that caused global concern in 2003, Vietnam recorded 63 infections and 5 deaths. In annual diseases, such as dengue fever, each year, Vietnam has several hundred thousand infections, of which several dozen deaths. The HIV/AIDS epidemic lasted for more than 30 years, claiming about 3,000 lives each year.
As of December 25, Vietnam recorded the fourth highest Covid mortality rate in Southeast Asia, 7th in Asia and 27th worldwide.
With vaccines and 5K, normal life will gradually return to Ho Chi Minh City and other provinces. The Omicron variant threatens the opening plans of many countries, and the World Health Organization believes that 2022 is the time when the pandemic can end globally.