Vietnam's L2FH Rotation 1 receives UN Medal
The Vietnamese Ministry of National Defense and the United Nations Mission in South Sudan (UNMISS) jointly organized a medal parade ceremony in the afternoon of November 14 (Vietnam's time) in Bentiu, South Sudan.
Present at the ceremony were Senior Lieutenant General Tran Quang Phuong, Deputy Director of the General Department of Politics of the Vietnam People's Army; Lieutenant General Shailesh Tinaika, UNMISS Force Commander; Hiroko Hirahara, Chief of the UNMISS Field Office in Bentiu; UNMISS Medical Chief Officer; and other heads of agencies at the base of the UNMISS Field Office in Bentiu.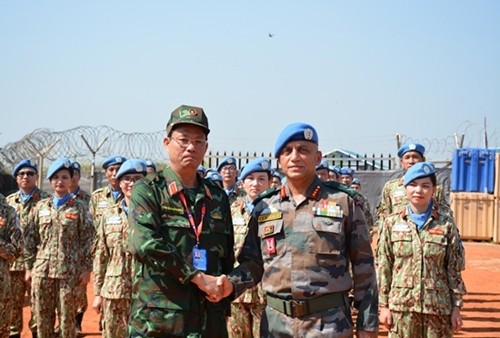 Generals Tran Quang Phuong and Shailesh Tinaika at the medal parade ceremony
General Phuong congratulated the Level-2 Field Hospital (L2FH) Rotation 1 on receiving the noble UN Medal and applauded the hospital's personnel for their great efforts and achievements. The L2FH Rotation 1 has been the first unit of the Vietnam People's Army participating in UN peacekeeping operations.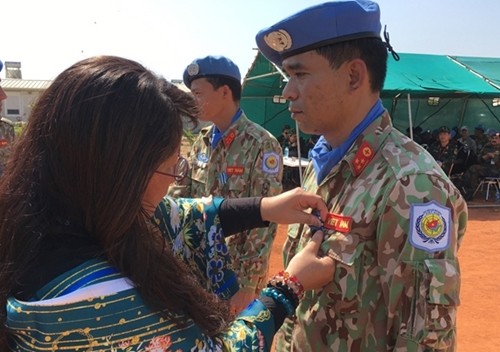 Pinning the UN Medal on Vietnamese officers' uniforms
In his speech, General Phuong emphasized that after dispatching its officers to UNMISS and the UN Multidimensional Integrated Stabilization Mission in the Central African Republic (MINUSCA) in October 2018, Vietnam has continued sending the L2FH Rotation 1 to Bentiu to take part in UN peacekeeping activities.
According to General Phuong, for more than a year, the L2FH Rotation 1's staff has exerted all-out efforts and gained encouraging achievements in health care for UN staff and employees in Bentiu. They have also demonstrated the good virtues of Uncle Ho's soldiers in a multinational working environment and received high appreciation from the UNMISS's leaders, chains-of-command of UNMISS Field Office in Bentiu and their colleagues.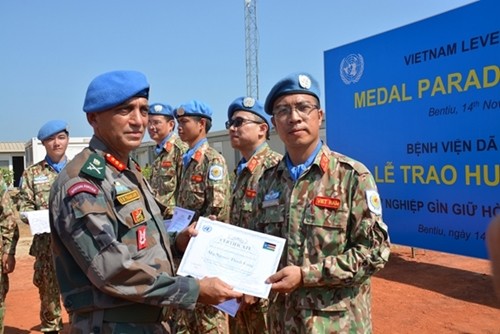 L2FH Rotation 1's outstanding officers receive certificates of merit awarded by the UNMISS Force Commander
General Phuong stressed that these efforts demonstrate that Vietnam is a responsible member of the UN and Vietnamese people's empathy for South Sudan people.
On the occasion, on behalf of the Vietnamese Ministry of National Defense's leadership, General Phuong thanked leaders of the UNMISS, its affiliated units and UN units stationed in Bentiu for their support for the L2FH Rotation 1 of Vietnam over the past time and asked them to continue giving assistance to and creating favorable conditions for the L2FH Rotation 2 of Vietnam to complete their missions in South Sudan.
For his part, Lieutenant General Shailesh Tinaika praised Vietnamese doctors and nurses for their competence and enthusiasm and said that no unit has done better than what the L2FH Rotation 1 of Vietnam has done in providing healthcare services for UN personnel and local people when requested.
In a solemn and touching atmosphere, Generals Phuong and Shailesh Tinaika, and Chief of UNMISS Field Office in Bentiu and UNMISS's Chief Medical Officer presented the UN Medal to Vietnam's L2FH Rotation 1 and merit certificates from the UNMISS Force Commander to the hospital's four staff in recognition of their outstanding task performance.
On the afternoon of the same day, a handover ceremony between the L2FH Rotation 1 and L2FH Rotation 2 took place in the presence of General Phuong and his entourage.
en.qdnd.vn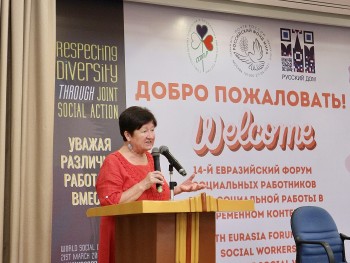 Friendship
The 14th Eurasia Forum of Social Workers Opens was held in Hanoi on March 20-21 with the theme of "The role of social work in the current context."