One of the largest charity fundraisers to take place this weekend
The HIWC Annual Charity Bazaar – one of the largest charity fundraisers in northern Vietnam will be took place in November 17.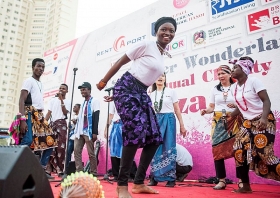 Throughout the day, there will be various international musical and dance performances from well known groups as well as students of many international schools in Hanoi. Photo: HIWC
Vietnam's largest expatriate women's group, the Hanoi International Women's Club (HIWC) will hold its grand Annual Charity Bazaar "Colour the Future" – a day of international food, music, dances, performance and fun for all the family.
The renowned HIWC Bazaar has become a much-anticipated annual community event, international food fair and family fun day out - and this year will be even better.
During the day, visitors will have a chance to experience delicious food and drink from around the world, plenty of entertainment for children of all ages, great music and performances, and quality shopping.
The 27th Annual Charity Bazaar of HIWC is the collection of intercultural experiences brought by not only the countries, charities but also our participating businesses.
The HIWC Annual Charity Bazaar is a unique Hanoi community event with expatriate and Vietnamese come together for friendship, fun and cultural exchange. 100% funds raised at the event will be allocated to projects to help improve the lives of Hanoi's most vulnerable women and children.
The organisers this year expect to raise at least USD 100,000 for women's and children's charities in the Hanoi area.
The bazaar will be held at the spacious lakeside grounds of the new urban area Starlake to the west of Tay Ho District, from 10am to 4pm.
Tickets cost VND150,000/adult presale, VND200,000 at the gate, VND50,000/children aged 3-12. Free for under 3 year olds. Tickets are available at Emporium, Oasis Xuan Dieu, Jafa, UNIS Shop, ISPH and TH School.
The HIWC is a dynamic voluntary group of over 450 members from nearly 70 different countries, of all nationalities, ages and walks of life. It brings together the expat community for friendship and charity and to keep its members updated of events on the world stage./.