Vietnam's NA Chairman Attends AIPA Executive Committee's Meeting
Vietnam has made active and thorough preparations for AIPA-43.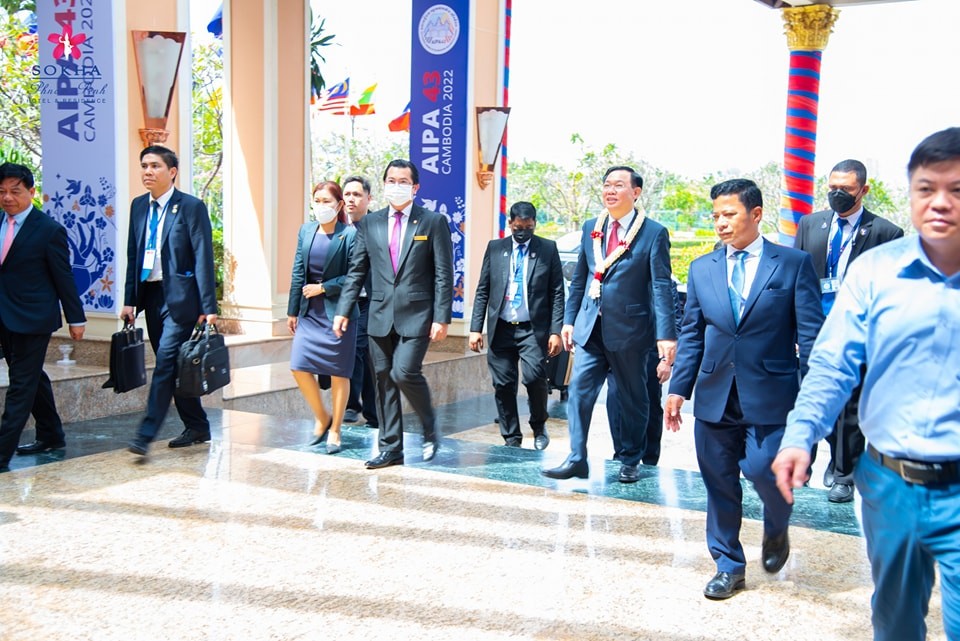 National Assembly Chairman Vuong Dinh Hue arrives at Sokha Phnom Penh Hotel and Residence. Photo: Sokha Phnom Penh Hotel & Residence
National Assembly (NA) Chairman Vuong Dinh Hue attended a meeting of the ASEAN Inter-Parliamentary Assembly (AIPA)'s Executive Committee within the framework of the 43rd AIPA General Assembly in Phnom Penh on November 20 evening, VNA reported.
At the meeting, the executive committee discussed and approved the working agenda of the AIPA-43, delegates to the meetings of Women Parliamentarians of AIPA (WAIPA) and Young Parliamentarians of AIPA, a joint statement, and the date and venue for the 44th AIPA General Assembly.
The AIPA-43 officially opens in Phnom Penh on November 21 under the theme of "Advancing together for sustainable, inclusive and resilient ASEAN".
The 43rd AIPA General Assembly will focus its discussions on peace, security, multilateralism and ASEAN centrality; and exchange views on how to strengthen parliamentary diplomacy on maritime security, promote regional stability in Southeast Asia, and boost parliamentary cooperation for inclusive and sustainable economic growth through an integrated approach to the Environmental, Social and Governance (ESG) criteria.
Delegates are also to discuss gender equality and women's empowerment for a sustainable, inclusive and resilient recovery from the Covid-19 pandemic; the enhancement of the role of female parliamentarians in advancing the agenda on women, peace and security; and the promotion of youths' engagement for a prosperous and sustainable ASEAN community.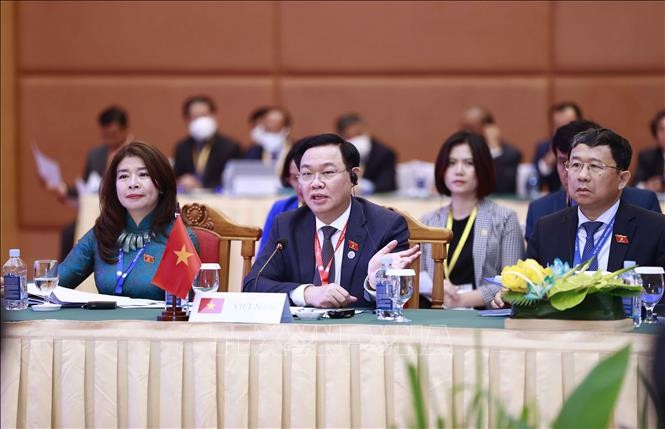 National Assembly Chairman Vuong Dinh Hue (C) attends the meeting of the ASEAN Inter-Parliamentary Assembly's Executive Committee within the AIPA-43 framework. Photo: VNA
The Vietnamese legislature will join other AIPA member parliaments to strengthen ASEAN solidarity and centrality, and boost relations between AIPA and partners, contributing to the ASEAN Community building process as well as to promoting regional peace, cooperation and development.
According to Chairman of the National Assembly's Committee for Foreign Affairs Vu Hai Ha, NA Chairman Hue will deliver a keynote speech at the plenary session, underscoring the importance of the event as well as ASEAN's unity and central role in the current situation. He will also affirm that Vietnam will make further contributions to the process of building the resilient and united ASEAN Community with sustainable development.
The Vietnamese delegation will join activities of the AIPA-43 committees, including committees on political, economic, social matters and organisation.
Female and young parliamentarians will also review Vietnam's experience and contributions to building the Southeast Asia of peace, stability, development and addressing challenges in the region.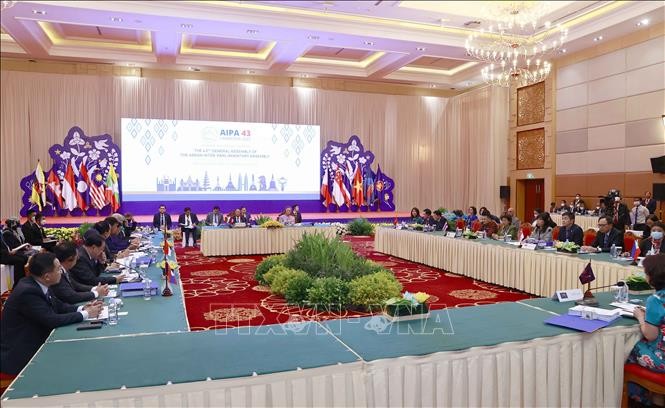 An overview of the meeting. Photo: VNA
On economic issues, the Vietnamese side will focus discussions on topics of the bloc's concern like digital transformation, post-pandemic economic and tourism recovery. Social and women-related issues will concentrate on improving women's empowerment and promoting the increasing participation of women in policy building and planning.
As for the organisation issue, officials will consider the participation of partner countries in the process of building the ASEAN Community to enhance its role and position in the region and on international arena, Ha said.
He added that the AIPA-43 will also see the official first meeting of the young parliamentarians' meeting which was initiated by Vietnam in its role as Chair of AIPA in 2020 and welcomed by member states.
In his view, the meeting will provide a helpful platform for them to debate issues of their concern such as digital transformation, green growth, climate change response. Their participation in political, social and economic activities is increasingly important for the society to develop more and more sustainably.
After two years of teleconferencing due to Covid-19, Ha said it is a good chance for leaders of parliaments of AIPA member states and observer countries to meet in-person to boost bilateral and multilateral ties. For Vietnam, it is also a good opportunity to share its experience in post-pandemic socio-economic recovery and discuss issues of interest to jointly build an environment of peace and stability.
On the occasion, Chairman Hue is scheduled to meet bilaterally with leaders of parliaments in and outside the region to talk about regional and global issues of shared concern.
NA Chairman Meets Cambodian Leaders

National Assembly chairman Vuong Dinh Hue and his entourage arrived in Phnom Penh on November 19, beginning an official visit to Cambodia and attending the ...