Vietnam's Newest Chess Champion is Only 11-Years-Old!
11-year-old chess player Dau Khuong Duy has achieved international masters standards after an impressive performance at the 2022 Bangkok Open Chess Tournament.
Dau Khuong Duy attended the Bangkok Open with an elo score of 2,017, ranked 63rd among the players participating in the standard chess event. However, this boy had impressive matches against stronger opponents to rank 16th overall.
In a total of 9 games, Khuong Duy lost only one. It was a match against an Indian player named Ravi Teja, with an elo score of 2,462 in game 6. In the remaining 8 games, the 11-year-old Vietnamese player won 4 games and drew 4, thus accumulating up to 171.2 elo points .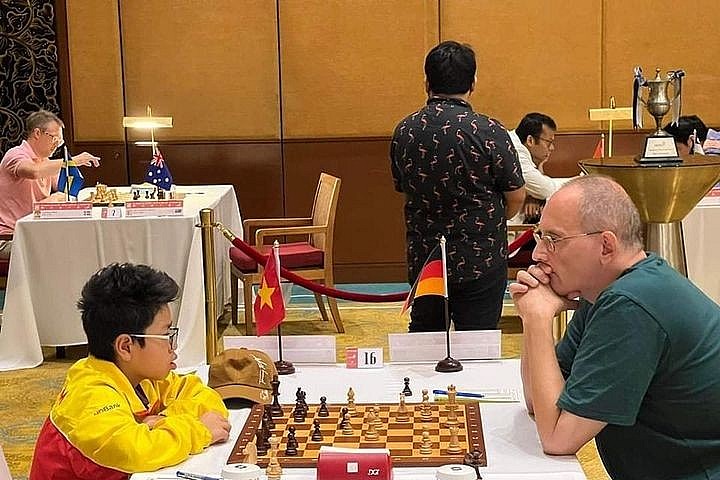 Khuong Duy holds a draw with Grandmaster Schebler Gerhard born in 1969. Photo: Zing News
Before Khuong Duy came to the Bangkok Open, this boy has won both individual and team titles in the U12 fast chess content at the 2022 Asian Youth Championship. Khuong Duy won the bronze medal at the U8 World Championship in Shandong, China in September 2019. He also won Grandmaster Cao Sang at the age of 8. In the history of Vietnamese chess, the youngest international champion is Nguyen Ngoc Truong Son, aged 12 in September 2002. Truong Son is also the youngest grandmaster in Vietnam, at the age of 14 in December 2004.
Khuong Duy became the youngest Vietnamese chess player to reach the international master standard (IM) thanks to his performance of 2,393 elo. The 11-year-old player did this when he successfully drew 3 grandmasters Priasmoro Novendra (elo 2,512), Smerdon David (elo 2,508), and Schebler Gerhard (elo 2,374), and defeated 2 IMs with higher elo, Ikeda Junta (elo 2,444) ) and De Guzman Ricardo (elo 2,352).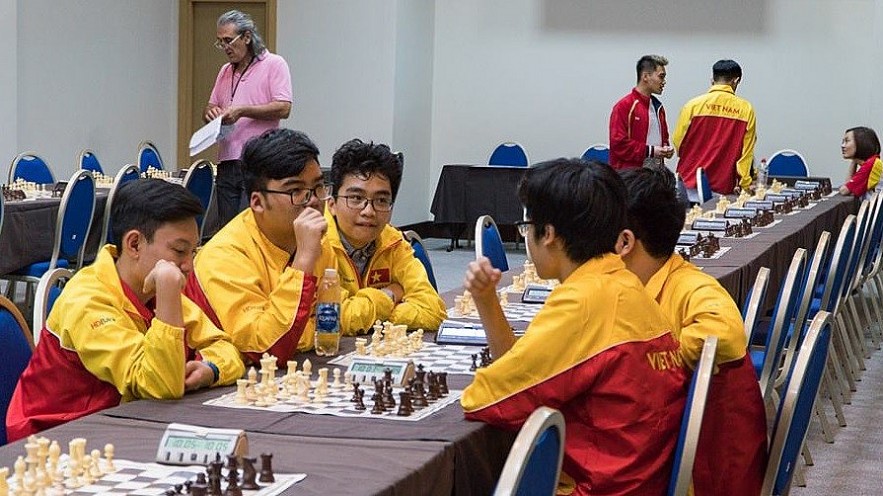 Photo: Web The Thao
In the draw with GM Smerdon, Khuong Duy even had a great advantage after a careless move from his senior. The Australian player who moved back from Qd8 to Qd7 then lost this piece. The two shake hands on the 20th move.
The condition for a player to become an IM, excluding wildcards, is to win three IM standards and have an Elo of 2,400 or more. The youngest IM in history is Abhimanyu Mishra, achieved in November 2019 at the age of 10. Mishra later became the youngest GM in history, aged 12, four months, and 25 days. According to the regulations for standard calculation and IM review, Khuong Duy's worst opponent's elo score, Gan Wei En Justin (1,197) will be raised to 2050. In the end, the Vietnamese player finished in 3rd place in the U18 age group and ranked 16th out of 144 athletes who participated in the tournament.
In addition to Khuong Duy, also at the Bangkok Open tournament in Thailand, chess player Bach Ngoc Thuy Duong also had impressive achievements. She ranked first among all female players, with 5.5 points. The 19-year-old female player earned an extra 29 Elo from this tournament. In second place is Nguyen Hong Anh with 5.5 points, an increase of 21 Elo.