Vietnam's Pet Lovers React to the Ca Mau Killings
The most recent account of animal abuse in Vietnam may spark some much-needed change for how the country views animals.
In early October, a tragic story of animal abuse rocked Vietnam, drawing headlines from around the world. Pham Minh Hung, a 49-year old bricklayer working in Long An, traveled to his wife's hometown in Ca Mau. The pandemic has left the migrant worker jobless yet Hung still had a reason to smile; his caravan of friendly pets. Sadly, these animals were needlessly killed by local authorities due to Covid-19 precautions.
Pham Minh Hung on the road with his family of happy dogs.
Hung clearly cared for his animals; fifteen dogs and one cat in total. Before embarking on their 266km journey, Hung and his family made makeshift raincoats for their pets. Many on Vietnamese social media also fell in love with Hung and his traveling menagerie. Witnesses would post videos of Hung and his family driving their motorbikes, with their pets safely secured in a basket. Many commented on the videos, fawning over the cute pets and wishing them a safe journey. Some even donated water, milk, and other supplies for the pets. It seemed as if everyone in Vietnam was cheering on Hung and his furry companions.
Ca Mau's local authorities were not as kind. The Covid prevention force of Khanh Hung Commune immediately tested and quarantined Hung and his family upon arrival, following the country's anti-Covid protocol. However, the following events were far from standard, resulting from a deeply inhumane decision. After one of the dogs tested positive for the virus, Hung's pets were destroyed by the local government.
Like many pet owners, Hung considers his pets as members family, even going as far calling them his "kids" in an interview with VICE World News. Now, Hung and his wife, Nguyen Duy Khanh, grieve for their lost children.
The most infuriating aspect of this incident is the unscientific reasoning for the animal abuse. The local government believed the infected dog put their community at risk. However, there is absolutely no evidence of dogs and cats transmitting the disease to humans. The decision was heavily scrutinized by the international medical community and resulted in Dr. Do Kim Chi, the commune's chief medical official, resigning from the position. While Vietnam remains vigilant in protecting citizens from the virus, the nation has yet to extend that vigilance to dogs, cats, and other animals.
The brutal Ca Mau killings may be a watershed moment for animal rights in Vietnam. Even before the international outrage set in, Vietnamese citizens flooded social media to condemn the poor decisions and savagery taken place in Ca Mau. An online petition was created, demanding Vietnamese pets to also be protected from Covid. At the time of this writing, the petition has racked up over 200,000 signatures from concerned global citizens.
The Vietnam Times reached out to several pet owners and lovers across the nation to share their reactions to the Ca Mau killings and what can be learned from this unnecessary tragedy.
Saddened, but not Surprised
Growing up in Hanoi, pet owner Quynh Nga Phung is no stranger to animals being unjustifiably taken and killed. Tini, her cheery Pomerian, was once stolen by thieves. Fortunately, her brother was able to buy it back from an illegal dog market. Yet for the other dogs, if not bought as pets, they would be sold to dog meat vendors.
"It is ruthless," said Phung. The ordeal has left an impact on the young woman, who is now very cautious with her own pets.
"I was not surprised to hear about the tragedy in Ca Mau," she said. "I grew up hating dog thieves so this story was very sad to hear. There is no actual research that cats and dogs spread Covid. I'm not judging them for being cautious, I'm judging them for being irrational."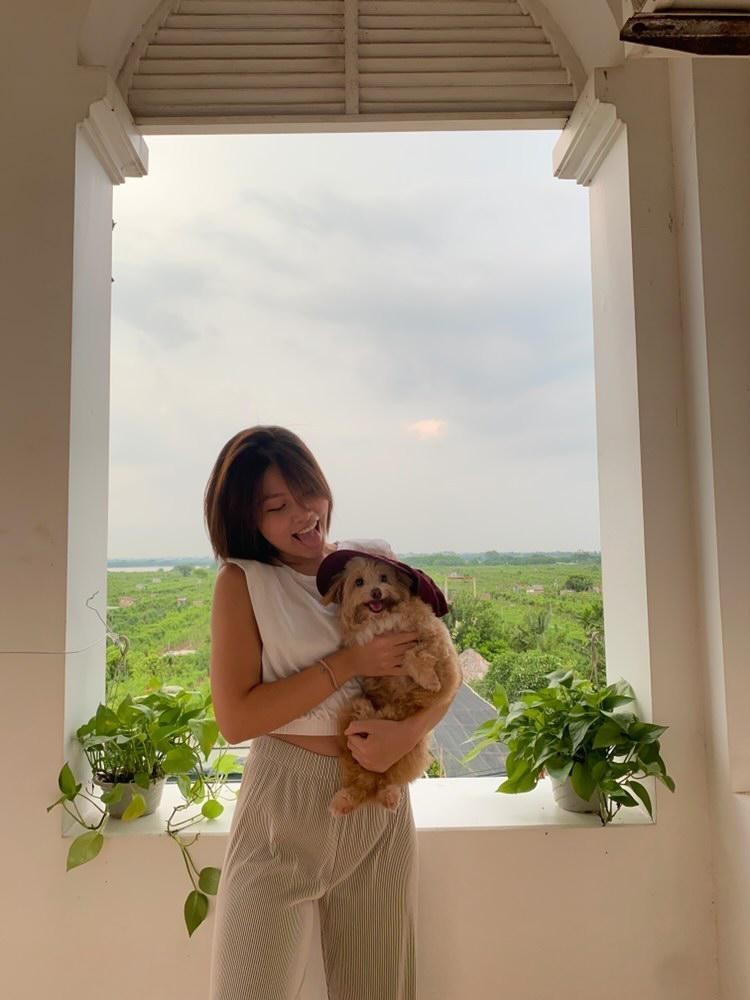 Quynh Nga and her beloved dog, Tini.
It is apparent that Vietnam's pet culture is still in development but Phung isn't discouraged. She is responding to the hateful situation with an overabundance of love for Hanoi's pets. In her free time, she volunteers as a dog walker. Along her routes, she provides her canine clients with the utmost care.
Recently, she has begun walking a rescue dog named Dobby. The dog is very skittish around people, leading her think Dobby was once mistreated by his previous owners. Dobby is hypersensitive to noises and new people. This makes walking on the crowded streets of the Vietnamese capital a bit difficult. However, Quynh Nga never complains. If the Dobby begins to feel anxious, Quynh Nga takes the time to soothe the traumatized animal. While sometimes a challenge, Quynh Nga looks forward to her walks with Dobby.
According to Quynh Nga, the future for Vietnam's pets is uncertain. "While there are less crimes, there aren't enough animal rights. I want more regulations and better animal rights. I think my generation will secure those rights for our pets."
Raising Pooches in Paradise
Le Nguyen, a teacher from Ho Chi Minh City, was stuck in Phu Quoc due to Vietnam's 4th outbreak of Covid-19. Despite being in one of the most peaceful places in Vietnam, she is still hard at work teaching online. In addition to her teaching, Nguyen recently became an adoptive mother to a litter of puppies after a dog gave birth in her hotel room. The dog belonged to to the owner of the resort and both the pet and owner are grateful for Nguyen's assistance. Although her puppies keep her busy, Nguyen is another exemplary animal caretaker in Vietnam.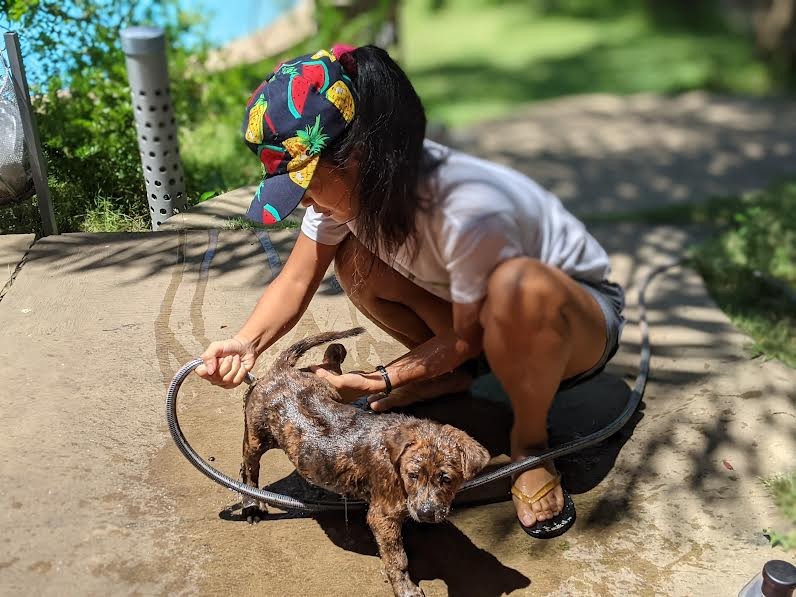 Le Nguyen gently washing her puppies.
Nguyen was caring for the puppies for almost two months when she first heard about Hang and his pets. Like many in Vietnam, Nguyen inspired by Hang's journey and care for animals. "I saw a video of a couple on motorbikes with their dogs. I could feel their love. They were poor but they loved their dogs."
When it was revealed that Ca Mau authorities killed the animals, Nguyen was shocked. "I doubted it at first. I was like, 'Wait, this actually happened?'' Nguyen joined her fellow Vietnamese online to protest the decision. "I complained online but I was still angry."
While passionate about this issue, Nguyen does not hold any hate in her heart. "I don't think the Ca Mau authorities were evil," explained Nguyen. "They were ignorant and experiencing stress due to the pandemic. They just wanted to get rid of the problem but they did it in such an inhumane and unscientific way."
Nguyen understands that pets are still not regarded with much respect in Vietnam. While the country has always bred and raised the dogs, these animals were preeminent for practical reasons such as farming or guarding households. Thanks to Vietnam's recent economic successes, more families can afford to have pets. Yet, old traditions and superstitions still exist, causing much grief for some unfortunate Vietnamese pets.
"I'm still trying to change my families mind about how they perceive dogs," explains Nguyen. She admits that her hometown still cooks and sells dog meat, despite the practice falling out of favor with younger Vietnamese. "There is little hope for the older generation to change, which is why I focus on the younger generation."
As a teacher, Nguyen wishes to instill her students with a sense of respect for animals. During one class, in order to curb boredom from online learning, she showed her students the yapping puppies. This delighted the apathetic students, who were dealing with the stress of online learning.
"Everything disappeared when they saw the puppies; their stress, their sadness, everything," said Nguyen. She hopes her fellow Vietnamese recognize the mental health benefits of pet ownership. "Pets bring so much positive energy for children, even for me! You can't get mad at a puppy."
Rescuing Animals in a Country with Few Animal Rights
As a volunteer at ARC Vietnam Rescue and Care, Irish expat Mary Kate O'Shaughnessy works practically full-time to provide for Ho Chi Minh City's abused dogs and cats. For over a decade, the ARC organization has saved countless animals and provided them with happy forever homes. Despite their amazing work, the job is sometimes soul-crushing for O'Shaughnessy.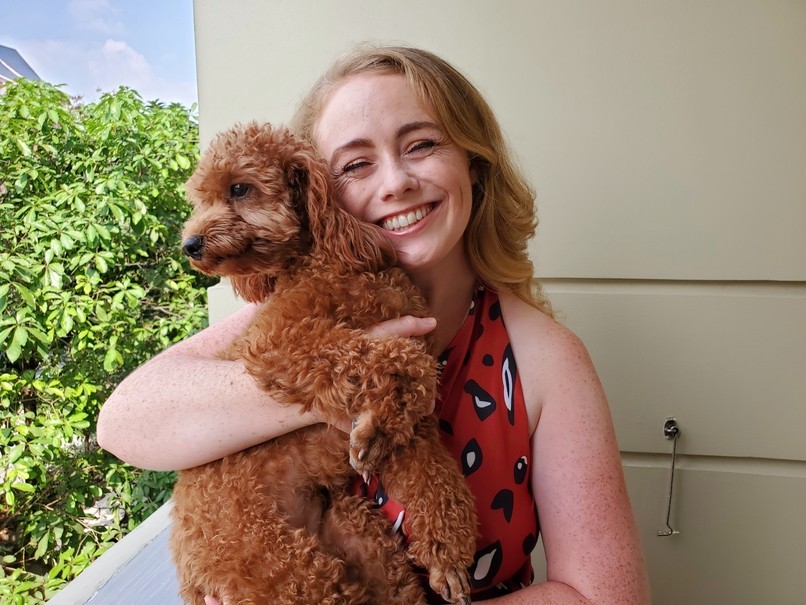 Mary Kate O'Shaughnessy and her dog enjoying the summer sun.
"We have a tough week every week," said O'Shaughnessy. The ARC workers must deal with the daily struggles of raising neglected animals while also dealing with reports of animal abuse. As a group of volunteers, ARC has no legal or financial support. It is a collective of Vietnamese and expat women coming together to save animals. While they care for all of Vietnam's creatures, they simply do not have enough support to save every animal they come across.
"You try do great all the time but you spend a lot of time failing," explains a sullen O'Shaughnessy.
As a foreigner, she recognizes that animal abuse is a global issue which is why she doesn't judge the Vietnamese too harshly. "Westerners forget that abuse happens back home too," said O'Shaughnessy. For example, while eating dog is considered sinful in Western countries, dishes like veal or foie gras are considered to be delicacies and not barbaric traditions. O'Shaughnessy wishes that people in all countries learn to respect animals.
Like many other pet lovers, O'Shaughnessy was upset about the news in Ca Mau. However, she does have some reasons to be hopeful. "When looking at reactions online, I didn't see anyone defending the animal abuse." The unanimous backlash caused a social media firestorm, signaling a shifting perspective on pets in Vietnam.
The online petition also gives her reasons to hope for a better future. "Someone who signs it can see everyone else who signed it. This petition shows that many people in Vietnam understand the need for animal rights."
Vietnam has only recently made legislative progress on this issue, beginning with The Law on Animal Health in 2015. The law declares that owners must give adequate care for their animals. In 2018, The Law on Animal Husbandry offered further protections for pets, such as mandating vaccinations. While these are positive steps, Vietnam's animal rights still has a long way to go.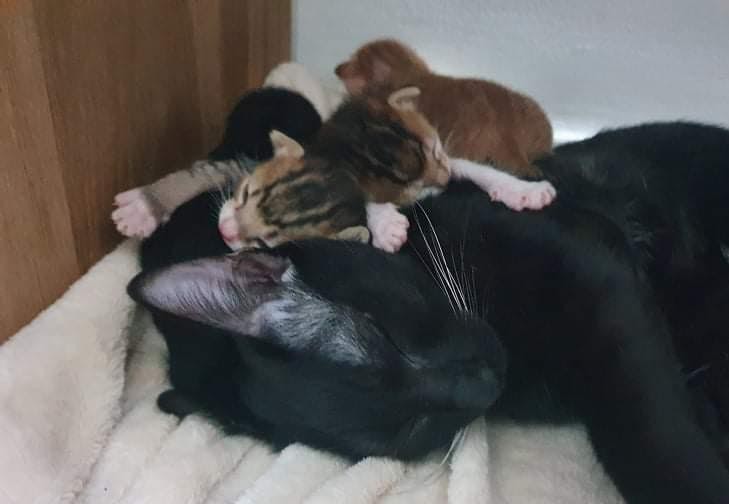 A few cats having a peaceful nap at ARC.
Going forward, O'Shaughnessy suggests schools in Vietnam should spend more time teaching emotional intelligence which would lead to better treatment of animals. "Do I think Vietnam is a good place for pets? Anyone can be good pet owner. A good pet owner is someone who grows up with empathy. I think the Vietnamese have this capacity."