US Animals First Vaccinated Against Covid-19 With Specialized Products For Pets
A San Francisco Bay Area zoo is inoculating its big cats, bears, and ferrets against the coronavirus using an experimental vaccine.
First social distancing, now vaccines
The Oakland Zoo has begun a vaccination program to inoculate its highest risk animals from Covid-19 with an experimental vaccine that has been authorized by the United States Department of Agriculture (USDA), ABC News reported on July 4.
Although none of the zoo's animals had contracted the virus, Alex Herman, vice president of veterinary services at the Oakland Zoo, said in a public statement that the vaccination campaign was a proactive measure. Previously, the zoo had been maintaining social distancing to better protect animal species that are susceptible to the virus. "We're happy and relieved to now be able to better protect our animals with this vaccine," he said.
"Up until now, we have been using public barriers at certain habitats to ensure social distancing, along with enhanced PPE worn by staff to protect our susceptible species from Covid-19. We're happy and relieved to now be able to better protect our animals with this vaccine, and are very thankful to Zoetis for not only creating it but for donating it to us and dozens of other AZA-accredited zoos across the U.S.," said Dr. Alex Herman, vice president of veterinary services at the Oakland Zoo.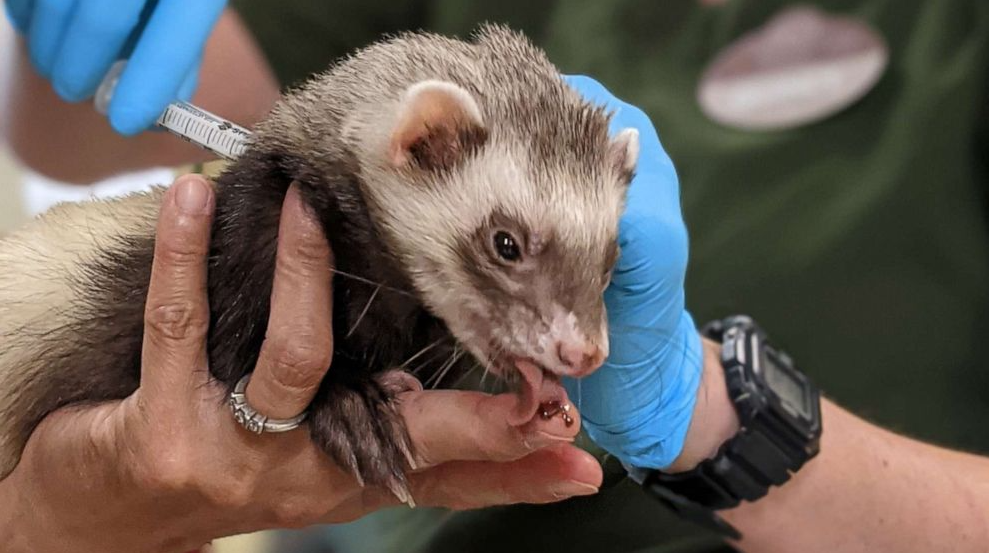 Photo: CBS News
Covid risk on animals
According to the World Health Organization, at least 75% of emerging infectious diseases have an animal origin, including Covid-19.
The Centers for Disease Control and Prevention says the risk of animals spreading the coronavirus to humans is low, but infections have been reported in several species. In January, eight gorillas at the San Diego Zoo tested positive for the novel coronavirus, infected by an asymptomatic zookeeper wearing protective gear.
In November 2020, the Danish government ordered more than 15 million minks to be killed amid fear that infected animals could breed a new variant of the virus. And in March 2020, the virus was detected in a dog in Hong Kong.
At the Virginia Zoo in Norfolk, two tigers tested positive for the coronavirus in April, and while zoo officials said the virus was being transmitted from humans to animals, there was no evidence of transmission from the felines to humans, according to the Washington Post.
Photo: Washington Post
What vaccines used?
Tigers Ginger and Molly were the first two animals at the Oakland Zoo to get the vaccine this week, the San Francisco Chronicle reported Saturday. The doses were donated and developed by veterinary pharmaceutical company Zoetis in New Jersey, CBS News cited.
Zoetis is donating more than 11,000 doses for animals living in nearly 70 zoos, as well as more than a dozen conservatories, sanctuaries, academic institutions, and government organizations located in 27 states, according to the press release.
Zoetis developed a coronavirus vaccine for dogs and cats, its website says, before shifting to minks. The vaccine has been authorized for experimental use on a case-by-case basis by the U.S. Agriculture Department, according to Zoetis.
"While thankfully a Covid-19 vaccine is not needed in pets or livestock at this time, we are proud that our work can help zoo animals at risk of Covid-19," Mahesh Kumar, Zoetis's senior vice president of global biologics, said in a statement.
Next on the vaccination docket at the Oakland Zoo are chimpanzees, fruit bats, and pigs. In March, Russia registered the first coronavirus vaccine for dogs, cats, minks, foxes, and other animals. That vaccine, Carnivac-Cov, provides an estimated six months of immunity. The Zoetis vaccine was first administered to the primates at the San Diego Zoo, where no infections have been reported since the initial outbreak.