Vietnam's Tourism in 2022: Which International Routes Have Been Reopened?
After the first 3 days of restoring international flights to Vietnam, 17 flights from 8 countries and territories were reopened with 1,753 passengers entering Vietnam.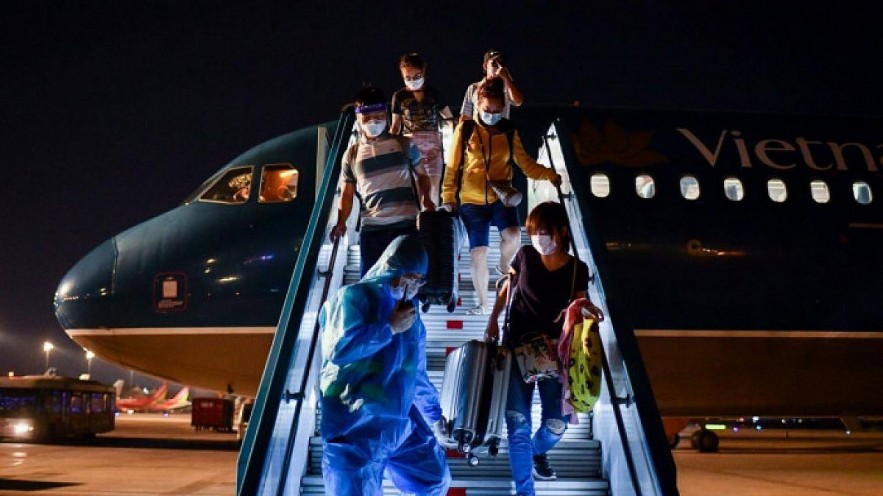 Passengers took their first regular international flight after a long hiatus due to the Covid-19 pandemic. Photo: VOV
17 flights, more than 1,700 guests entering Vietnam
In the latest report sent to the Ministry of Transport, the Civil Aviation Authority of Vietnam (CAAV) said that in the first 3 days of restoring international flights to Vietnam, there were 17 flights with 1,753 passengers entering Vietnam through four international airports: Tan Son Nhat, Noi Bai, Da Nang and Can Tho.
According to the Civil Aviation Authority of Vietnam (CAAV), as of January 4, it has licensed domestic airlines to operate 8 out of 9 regular international routes.
Eight international routes have been restored, including Japan, Taiwan (China), Singapore, Cambodia, the US, Korea, Laos, and Thailand. The flight route to China (Beijing, Guangzhou) has not yet reopened because negotiations with the aviation authorities have not been completed.
These flights are operated by 4 Vietnamese airlines (Vietnam Airlines, Vietjet Air, Bamboo Airways, Pacific Airlines) and 7 foreign airlines (Thai Vietjet of Thailand, Singapore Airlines of Singapore, Turkish Airlines of Turkey, Starlux Airlines and China Airlines of Taiwan, Emirates of UAE, Asiana Airlines of Korea).
Vietnam Airlines flight VN853 from Ho Chi Minh City to Phnom Penh on January 1 was the opening flight for the plan to restore international routes.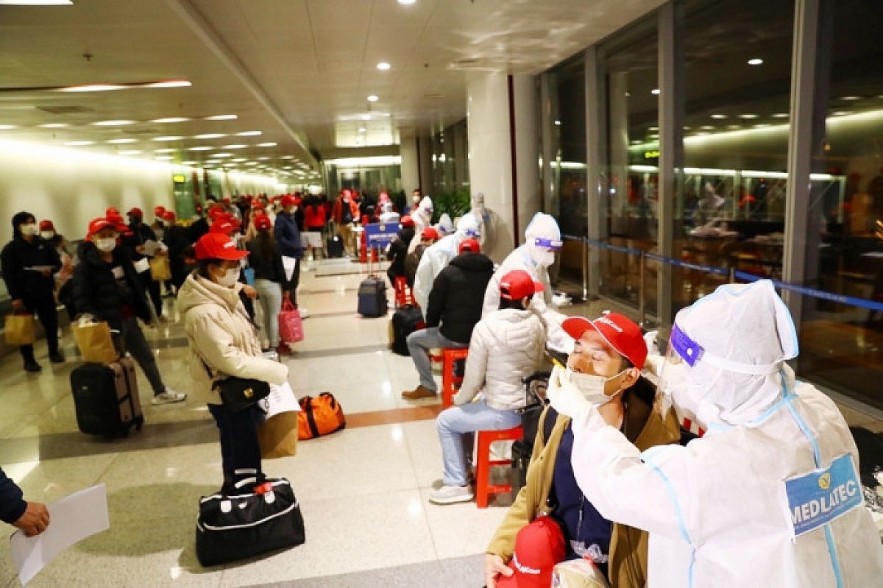 Passengers perform a quick test after the flight. Photo: VOV
On January 4, the aviation authorities of Taipei (China) issued a document designating three airlines to operate flights between Taipei and Hanoi/HCMC, namely China Airlines, Eva Air and Starlux Airlines.
For Korea, on December 31, 2021, the Civil Aviation Administration of this country agreed with Vietnam's proposal to operate 4 flights per week for each country to carry passengers from Korea to Vietnam. However, Korea wants to increase it to 6 flights/week.
Most of the routes in Asia have been reopened, ready to fly to Europe
Dang Anh Tuan, head of the Vietnam Airlines's Communications Department, said that after the flight between Vietnam and Cambodia, the airline's next scheduled international flight between Vietnam and Japan will be on January 5. Flight VN5310 from Hanoi to Tokyo costs from US$512, return flight from US$690 (including taxes).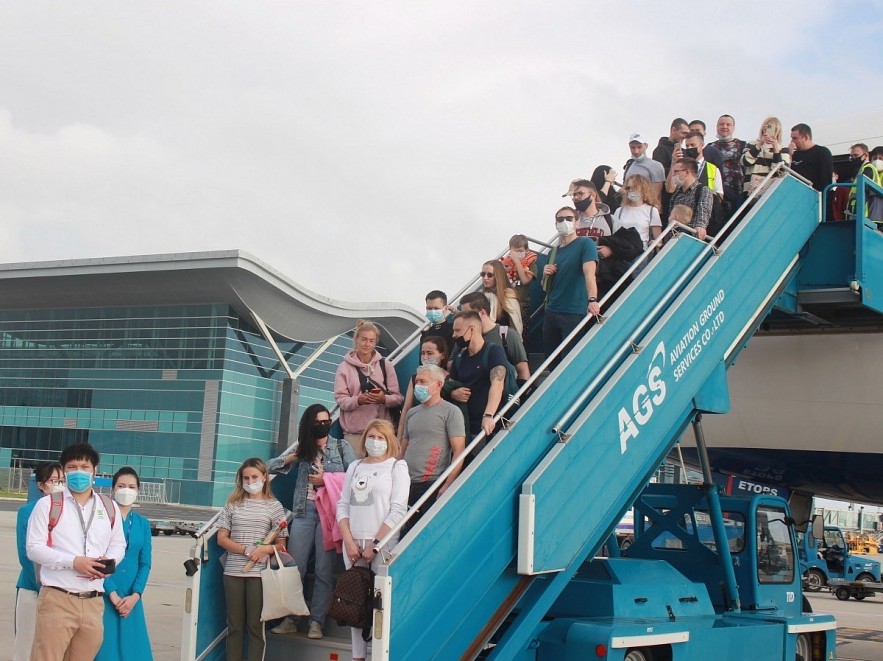 The first international passengers arrived in Vietnam on flights that were reopened in early January 2022. Photo: VOV
The airline also opened ticket sales for routes Hanoi-Seoul from January 6 with a frequency of 2 flights per week; Hanoi, HCMC-Singapore from January 12 with a frequency of 1 flight; HCM City-Bangkok from January 8 with a frequency of 2 flights: Hanoi-Vientiane from January 9 with a frequency of 2 flights; Hanoi-Taipei (Taiwan, China) from January 11 with a frequency of one flight; flight between Vietnam and the US on January 9.
"The airline is ready to operate routes to Europe and Australia this January as soon as the authorities allow it, moving to fully restore the international flight network in the early days of 2022," Tuan said.
The representative of Vietnam Airlines said that passengers can buy tickets for these flights on the airline's website, ticket office and official agents. The airline will increase the frequency according to the permission of the authorities, the travel needs of Vietnamese tourists and citizens returning home during the peak of the Lunar New Year.
Vietjet Air also operates a number of routes, such as Hanoi-Tokyo on January 6, the ticket price for the departure flight is VND6.6 million (US$290), the return flight is VND9.8 million (US$430) (including taxes, fees, no luggage). The flight route from Taipei to Hanoi on January 8 costs VND6.8 million (US$299); The route from Taipei to Ho Chi Minh City on January 12 costs VND12.2 million (US$527).
According to a representative of Vietjet Air, every week, the airline will have a round-trip flight between Hanoi and Tokyo on Thursday; Hanoi-Taipei on Saturday; HCMC-Taipei on Wednesday; HCMC-Singapore on Sunday.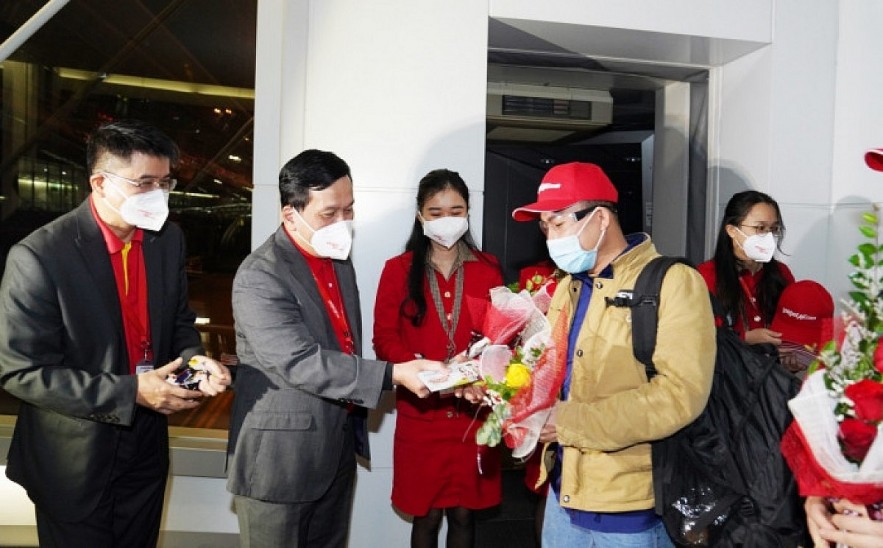 Managing Director at VietJet Air Dinh Viet Phuong gives lucky money to passengers on the first flight of the new year 2022. Photo: VOV
Bamboo Airways also operates the route Hanoi-Taipei, departing on January 5, with a ticket price of VND4.5 million (US$197) for the departure and VND12.5 million (US$549) for the return flight. The airline operates a frequency of one flight per week, with the next departure on January 12, January 19 and January 26.
Bui Doan Ne, general secretary of the Vietnam Aviation Business Association (VABA), said that the resumption of regular commercial flights on the first day of the New Year was a positive sign for the aviation industry.
"The reopening of regular flights was really necessary at this time. If the country is slow in resuming international flights, it would suffer huge economic damage and the recovery of the aviation market would be slower than that of foreign giants."
Ne said that the Omicron variant is widespread, found in more than 100 countries. Therefore, the responsibility of local pandemic prevention is heavier, but "with the current quarantine regulations of the Ministry of Health, it is sufficient, ensuring effective pandemic prevention and attracting passengers."
Citing the forecast of the International Air Transport Association (IATA), Vietnam Airlines General Director Le Hong Ha said that the domestic and international aviation markets will recover in 2023 and 2024, respectively.
However, the recovery speed of different markets depends on the vaccination process and the opening plan of each country. IATA also forecasts that by 2022, Asia will also recover gradually, but the recovery speed will be slower than Europe and North America.
"Vietnam Airlines forecasts that air transport this year will reach 70-75% compared to the period before the Covid-19 pandemic. International transport will reach about 20-25% compared to before the pandemic and gradually increase by the end of the year," Ha said.
According to regulations, before entering Vietnam:
- Passengers departing from a country where the Omicron strain has been recorded should have a negative rapid test result for Covid-19 before boarding.
- Other passengers (except children under 2 years old) need to have a negative test result by RT-PCR or RT-LAMP within 72 hours before entering Vietnam and certified by the competent authority in the country where the test is performed.
For passengers who have been vaccinated, a Certificate of Vaccination/Vaccine Passport that has been recognized in Vietnam (or certified by a competent authority if that type of certification has not been recognized for direct use in Vietnam).
When entering Vietnam:
- Passengers departing from a country where the Omicron variant is recorded need to take a quick test for Covid-19 after disembarking from the plane (passengers' own expense);
- Other passengers needing RT-PCR test:
Passengers who have had a full dose of vaccine or have recovered from Covid-19: Test once on the third day from the date of entry.
Passengers who have not been vaccinated or vaccinated with insufficient doses of vaccine: Test twice on the third and seventh day from the date of entry.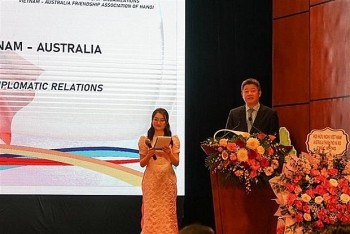 Friendship
A friendship exchange programme has been held recently in Hanoi to celebrate the 50th founding anniversary of the Vietnam-Australia diplomatic relations (February 26).