VNese Teacher Shares Valuable Practices at Int'l Conference for Equitable Education in Thailand
At the 4th Princess Maha Chakri Award (PMCA) Forum and the 2nd International Conference for Equitable Education, PMCA 2021 recipient Ha Anh Phuong represented Vietnam to discuss teaching and learning innovations with fellow teachers, educators, policy makes and legislators from the Asia region.
Her Royal Highness Princess Maha Chakri Sirindhorn officially opened the forum and the conference in Bangkok on the morning of Oct 17th, 2022.
The two-day forum's goal is to promote educational development for countries in Southeast Asia through experience and best practice sharing sessions on Oct 17 -18.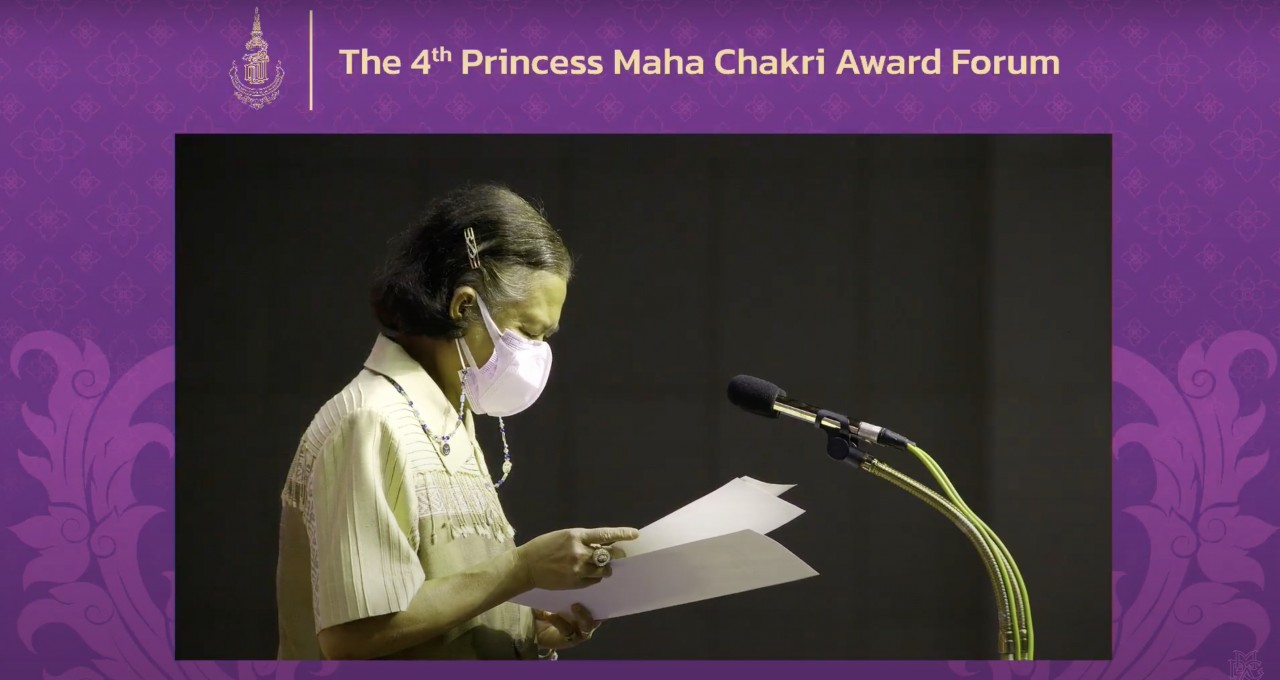 Her Royal Highness Princess Maha Chakri Sirindhor made a speech at the event in Bangkok. Screenshot of the 4th Princess Maha Chakri Award (PMCA) Forum live streaming.
In her remarks, she stressed that the 4th PMCA will provide platforms for the eleven 2021 PMCA Awardees to demonstrate their teaching innovations.
Also, she confirmed the need for stronger collaboration among policymakers, educators, and all sectors of society to educate all children.
"The crisis has brought about many teaching and learning innovations to replace traditional classroom teaching. In relation to this, countries in the region need to adapt their education systems, policies, and practices to assure continued learning for all," said the princess.
The Princess Maha Chakri Award (PMCA) is an international biennial award established in 2015 to commemorate Thailand's Princess Maha Chakri Sirindhorn's 60th birthday, to honor highly dedicated teachers in Southeast Asia whose significant contributions to education and human development deserve international recognition.
Each PMCA recipient will receive an award package which includes the PMCA brooch, plaque, medal, and certificate of honor, as well as the prize money of US$10,000.
A year after receiving the Award, all PMCA recipients will participate in the PMCA Forum to share their experiences and best practices in improving themselves, and the lives of their students, as well as in serving as examples for other teachers in their respective countries and beyond.
Speaking at the ceremony, Minister of Education of Thailand Treenuch Thienthong expressed commitment to follow Her Royal Highness's Initiatives in providing support for the upskilling and reskill activities for teachers. Thienthong thanked and encouraged the conference participants for continuous sharing and learning best practices among members of the region in order to recover from the Covid-19 education crisis.
The 2021 PMCA awardees also joined the 2nd International Conference for Equitable Education with the theme: Together Towards Equity, starting the same morning. The four plenaries of the conference are: Technical Vocational Life Skills, Science Education, General Education and English Language Teaching.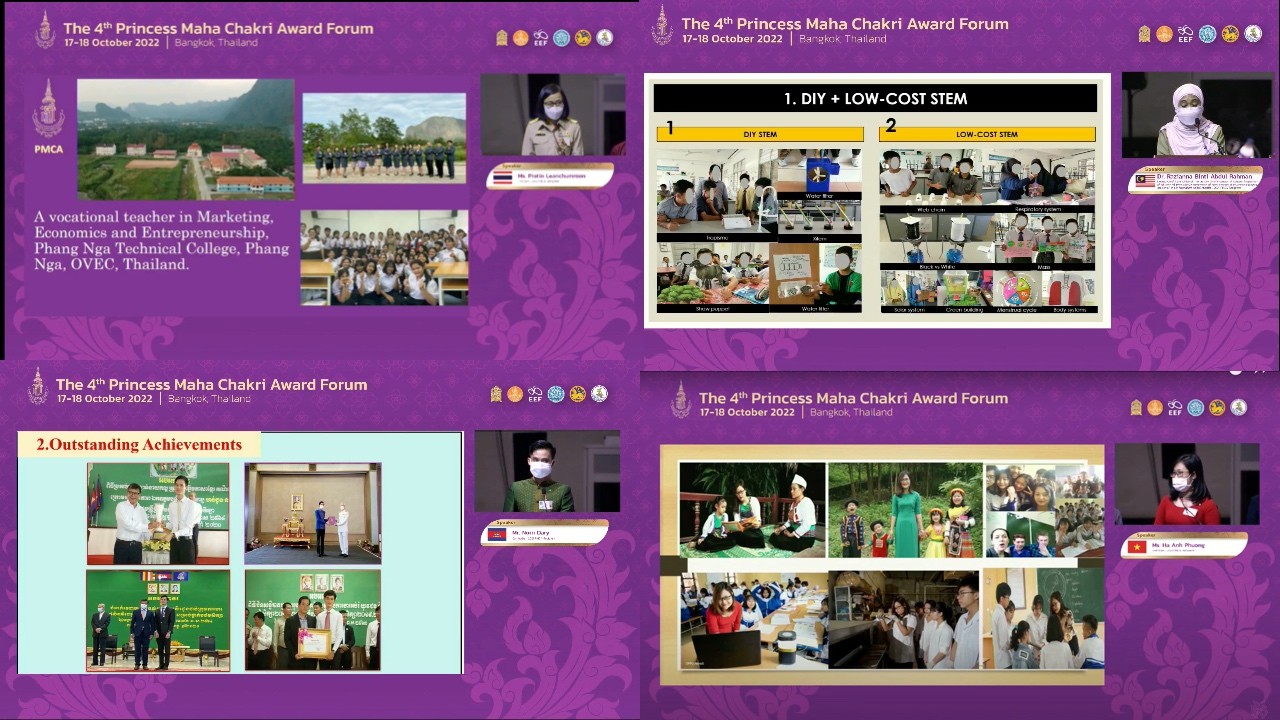 The panel's presenters at the event. Screenshot of the 4th Princess Maha Chakri Award (PMCA) Forum live streaming.
Vietnamese 2021 PMCA awardee Ha Anh Phuong was at Plenary 4 on English language teaching, alongside Yok Joon Meng (Singapore) and Kyaw Zin Aung (Myanmar).
According to VNS, prior to Ha Anh Phuong, other Vietnamese PMCA awardees were Tran Thi Thuy Dung from Lao Cai (2015), Phan Thi Nu from Da Nang (2017), and Le Thanh Liem from Hau Giang (2019).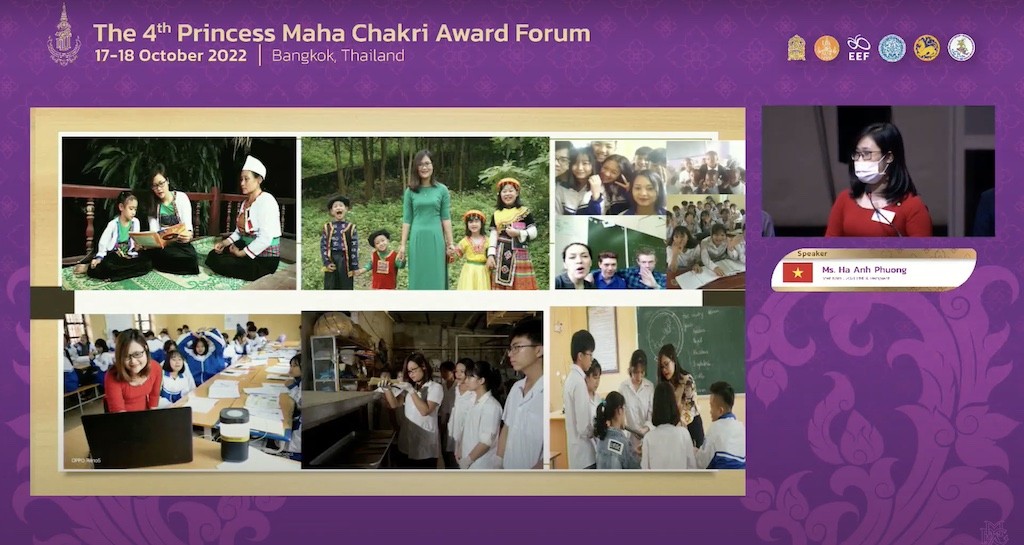 Presentation by Vietnamese teacher Ha Anh Phuong at the event. Screenshot of the 4th Princess Maha Chakri Award (PMCA) Forum live streaming.
Teacher Ha Anh Phuong's presentation at the PMCA Plenary 4. Video by PMCAF Youtube Channel.
Ha Anh Phuong is known as a "Global teacher" for being the first ethnic minority English Language high school teacher from Viet Nam in Top 10 Finalist for the 2020 Global Teacher Prize.
The Vietnamese awardee expressed her passion for teaching STEM models to ethnic minority students and started the long-term project for "Anti- cyberbullying" as the main follow-up activity after receiving the award. She also thanked the Royal Thai Embassy to Vietnam for sponsoring one of Phuong's biggest achievements, which was the "Thailand - Vietnam Cooperation in Education and Youth" project.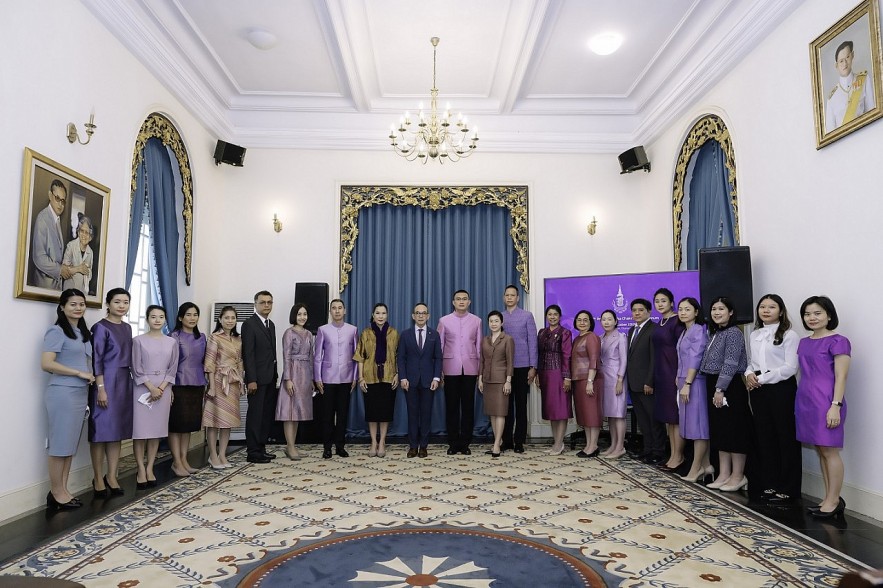 Representatives of the Royal Thai Embassy in Hanoi and guests at the screening event.
Ha Anh Phuong pledged to carry out the duties of a teacher as well as of a National Assembly Member of Vietnam. She is getting her Ph.D. in Education in order to improve her knowledge and skills in language teaching.
The Royal Thai Embassy in Hanoi held a screening of the official opening of the 4th Princess Maha Chakri Award (PMCA) Forum via virtual conference at the same time as the event took place in Bangkok (Thailand). The Thai Ambassador to Hanoi and other guests were present at the screening.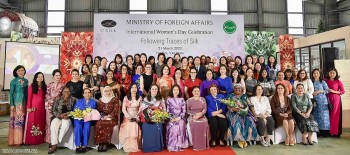 Friendship
Female ambassadors, representatives from diplomatic corps and international organizations, along with spouses of diplomats in Vietnam gathered together to find about more about silk weaving and silk products in Vietnam.