VUFO Celebrates its 73rd Traditional Day
The Viet Nam Union of Friendship Organizations (VUFO) held a meeting to celebrate the 73rd anniversary of Traditional Day (November 17, 1950 - November 17, 2023) in Hanoi on Nov. 17.
At the meeting, VUFO Chairman Phan Anh Son sent the best wishes to VUFO's officials, civil servants, staff, and member organizations at the central and local levels.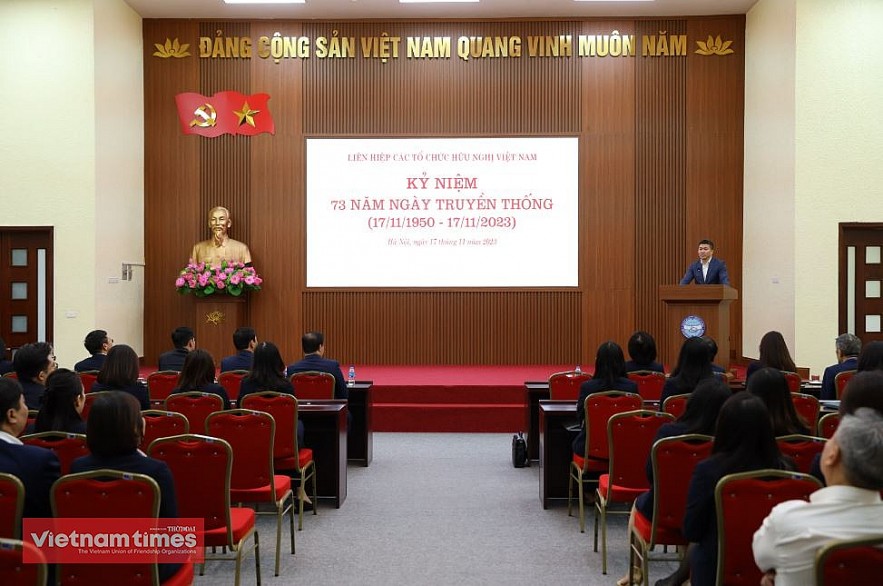 VUFO Celebrates its 73rd Traditional Day VNT
Reviewing the history of VUFO's formation and development over the past 73 years, Phan Anh Son said the current generation of staff in people-to-people diplomacy needs to clearly understand the history of the sector and have a high sense of the spirit of dedication, learning, and striving. Through that, they can meet the requirements of the tasks and missions set out for them in the new situation, as well as meet with the glorious tradition of Vietnamese people's foreign affairs.
VUFO President reviewed some of VUFO's outstanding work results in recent times. discuss and share some focuses in the remaining months of 2023 and the first 6 months of 2024.
Among the focuses, the plan to develop documents as textbooks and theoretical foundations to serve training and basic research on people-to-people diplomacy stands out. These documents will be incorporated into the specialized education and training system in universities and spread to the public. The VUFO's Development Strategy to 2030 will also be completed. Preparations for organizing the 7th VUFO National Congress, term 2024 - 2029 will be implemented from the end of 2023, along with many specific national foreign affairs tasks that have also been prepared.