VUFO leaders meet US Congressional Staff Delegation
(VNF) -
Leaders of the Vietnam Union of the Friendship Organisations (VUFO) and Vietnam – U.S. Society (VUS) hosted a US Congressional Staff Delegation in Hanoi on April 16.
At the meeting. Photo: VNF
The delegation consists of 10 assistants to US senators and congressmen from the Democrat and Republican parties on a working visit to Vietnam from April 12 to 20.
The trip is part of the Mutual Education and Cultural Exchange Act (MECEA) themed "Vietnam-US comprehensive partnership for peace and prosperity" and aims at boosting ties between the two nations and their parliaments in various areas, including trade collaboration, alleviation of war consequences, the East Sea issue, response to climate change and cybersecurity.
VUFO Chairwoman Nguyen Phuong Nga welcomes the delegates. (Photo: VNF)
At the meeting, VUFO Chairwoman Nguyen Phuong Nga briefed the delegates on VUFO's activities in people-to-people diplomacy as well as peace movements of the peoples in two countries. She also emphasised key milestones in the evolution of bilateral relations, highlighting the role of VUFO, VUS and people's organisations in fostering the Vietnam – U.S. friendship.
She voiced her hope that the visit will help delegates obtain knowledge on Vietnam's socio-economic and political affairs.
People-to-people exchange has been an important factor in Vietnam – US relations, she added.
In turn, Terra Sabag, Deputy Chief of Staff for Rep. Rick Larsen, stressed that the visit of US Congressional Staff Delegation from both Democratic Party and Republican Party, is meant to show U.S. congressmen's deep interest in boosting the broader and deeper affiliation between the law-making bodies of Vietnam and the U.S. as well as the two countries' ties.
She added the visit of her delegation helped promoting exchanges and mutual understanding, delivering the delegation members' suggestions for holding more exchanges and sharing experience in related activities.
At the meeting, the US delegates expressed interest in exchange and cooperation programmes to deal with war aftermath in Vietnam as well as in the performance of US-based non-governmental organisations in the country.
Delegates say the visit would boost mutual understanding and collaboration between the two peoples in all spheres. Photo: VNF
During their trip, the delegation is visiting Ho Chi Minh City, Da Nang, Dong Nai, Hanoi and the provinces of Vinh Long and Vinh Long. The delegation will meet with officials at the central, provincial and municipal levels and discuss a broad range of key issues in bilateral relations and of mutual interest.
At the same time, as part of the Mutual Education and Cultural Exchange Act (MECEA), staffers also visited historical and cultural sites in Vietnam.
The delegation also is scheduled to visit a care centre for disabled kids in Da Nang city and a dioxin detoxification site at Da Nang Airport; attend the launching ceremony of a dioxin detoxification project at the Bien Hoa Airport; visit a climate-change-impacted site in Vinh Long province; and tour Ha Long Bay, among other activities./.
M.Phuong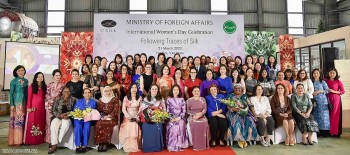 Friendship
Female ambassadors, representatives from diplomatic corps and international organizations, along with spouses of diplomats in Vietnam gathered together to find about more about silk weaving and silk products in Vietnam.