VUFO President Hosts Palestinian Ambassador
President of the Vietnam Union of Friendship Organisations (VUFO) Nguyen Phuong Nga has recently hosted a reception for Palestinian Ambassador Saadi Salama in Hanoi.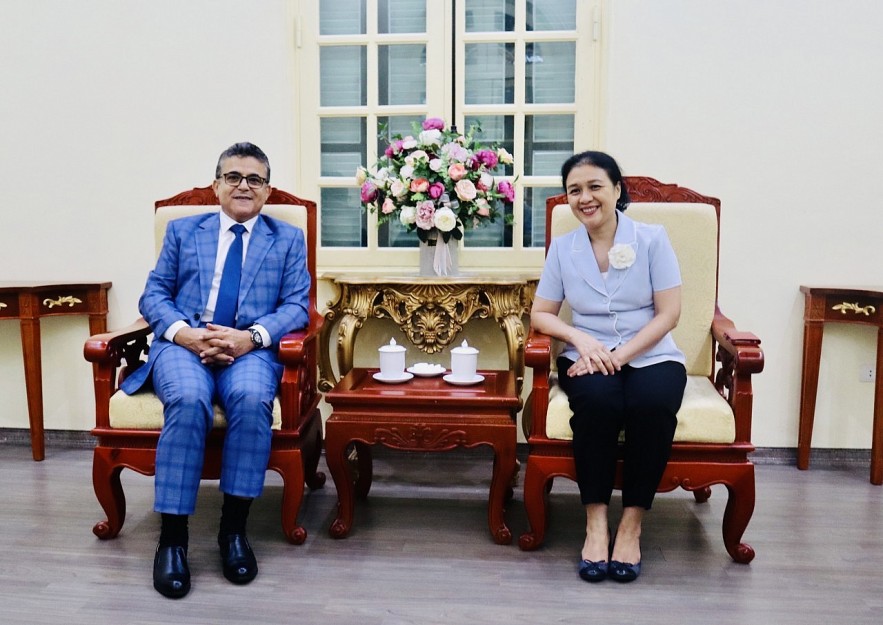 President of the Vietnam Union of Friendship Organisations (VUFO) Nguyen Phuong Nga and Palestinian Ambassador Saadi Salama in Hanoi. Photo: Vietnam Times
Saadi Salama conveyed thanks, wishes and regards of Jibril Rajoub, permanent member of the Palestinian National Liberation Movement (Fatah) Central Committee's Secretariat, following his visit to Vietnam on October 7.
According to the ambassador, Vietnam and Palestine have good friendship with a lot of similarities in the history. Palestinians have learned from Vietnam's struggle for national liberation and development.
The two sides agreed to mark International Day of Solidarity with the Palestinian People and a photo exhibition in November.
They will also cooperate to organise cultural activities, seminars and workshops to enhance understanding between people of the two countries towards the celebration of the 35th anniversary of diplomatic ties.
Delegates pose for a group photo. Photo: Vietnam Times
At an interview granted to Vietnam Times after Vietnam was elected as a member of the UN Human Rights Council for 2023-2025, the ambassador noted his belief Vietnam will continue to affirm its role as a country with prestige and position in the international arena.
First, Vietnam will continue to contribute to socio-economic development globally. It is easy to see that Vietnam has become one of the countries contributing to food security in the world. This is a great contribution to humanity because many countries are currently facing food shortages.
The second is to maintain a peaceful and stable environment in Southeast Asia. This is also a policy that creates conditions for international investors to choose Vietnam as a destination.
Vietnam should continue to maintain its consistent stance that all countries in the world should respect international law, settle all disputes by peaceful means.
"We believe that Vietnam will accompany the Palestinian people to continue supporting international efforts, finding a peaceful solution to the Palestinian issue, and protecting human rights," he said.
"We hope that Vietnam as a member of the UNHRC will continue to participate in discussions on human rights issues in Palestine."/.