VUFO Shares Information with over 300 Foreign NGOs in Vietnam
The Viet Nam Union of Friendship Organizations (VUFO) held the 2023 Information Sharing Conference with INGOs in Hanoi on Sep. 15.
This is an annual activity of VUFO, the standing agency of the Committee for Foreign NGOs Affairs (Committee) to strengthen connections, share information, and orient activities for NGOs.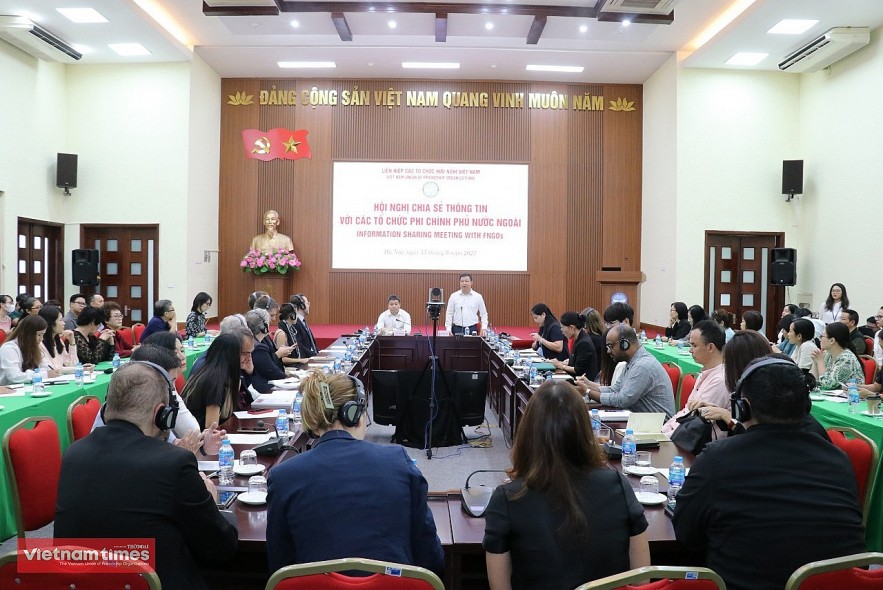 2023 Information Sharing Conference with INGOs (Photo: Thu Ha)
The conference was attended by more than 200 delegates (in-person) and 122 delegates (online across Vietnam and from abroad), representing agencies in the Committee mechanism and representatives of NGOs operating in Vietnam. Phan Anh Son, president of VUFO, Vice Chairman of the Committee, and Nguyen Ngoc Hung, Vice President of VUFO co-chaired the conference.
According to reports at the Conference, in the first 8 months of 2023, 396 foreign NGOs registered to operate and have regular aid project programs for Vietnamese partners. Solving social problems, socio-economic development, and health are the three areas that receive the highest aid value. Relations between foreign NGOs and Vietnamese agencies and partners continue to be strengthened, and the effectiveness of programs and projects is enhanced.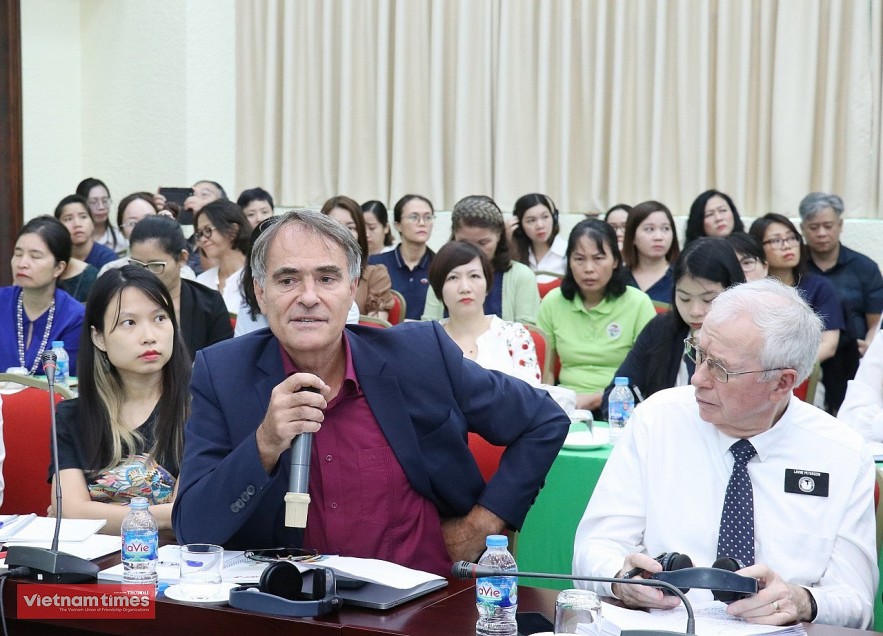 Representative of a foreign non-governmental organization spoke at the Conference. (Photo: Thu Ha)
At the conference, delegates shared information about foreign NGOs' operations in Vietnam and discussed the difficulties they face in applying regulations while implementing their activities. The conference opens up a forum for agencies in the Committee mechanism to listen and promptly respond to difficulties that NGOs are facing during their operations in Vietnam, thereby improving the effectiveness of NGO aid management and mobilization, and well-performing the Committee's functions and duties in guiding and supporting the activities of NGOs in Vietnam.
Delegates also discussed the preparations for organizing the 5th International Conference on Cooperation between Vietnam and NGOs.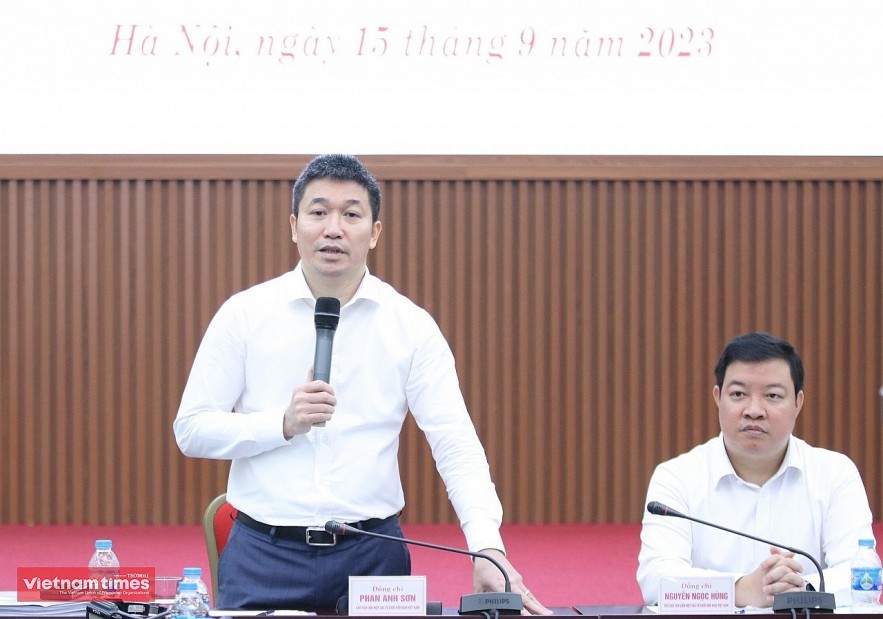 Phan Anh Son, President of the Viet Nam Union of Friendship Organizations, spoke at the Conference. (Photo: Thu Ha)
Concluding the conference, Phan Anh Son showed his empathy with foreign NGOs about the difficulties and problems that they have been facing, especially those related to administrative procedures.
According to him, to solve difficulties, foreign NGOs need to comply with Vietnam's regulations, coordinate closely and promptly, and fully inform the committee's standing agency, which is VUFO. VUFO will proactively coordinate with relevant Vietnamese authorities for support.
Given the complex and unpredictable developments in the world and region, the Russia-Ukraine situation, the Covid-19 pandemic, policy adjustments and strategic competition between major countries, and other non-traditional issues, which are causing difficulties to countries and NGOs, there is a need for innovation in approaches to mobilizing funding sources.
Phan Anh Son affirmed that the Committee and agencies will continue to innovate to effectively accompany and support NGOs in Vietnam.