What to Know about Resumption of Regular International Passenger Flights to Vietnam?
All restrictions on passenger flights finally removed
The Civil Aviation Authority of Vietnam (CAAV) has notified aviation authorities and airlines of countries and territories of the resumption of regular international passenger flights to Vietnam, VNA reported Thursday.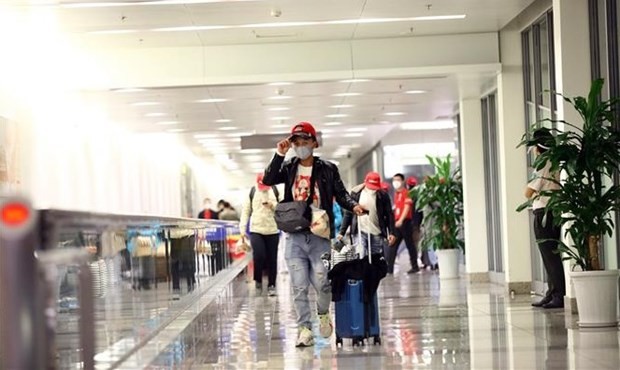 Passengers at Noi Bai international airport. Photo: VNA
The CAAV has asked the Vietnam Air Traffic Management Corporation (VATM) to issue a Notice To Airmen on the lifting of all restrictions on international flights from Feb. 15, returning to the normal situation as before the outbreak of Covid-19.
According to the authority, limits on the number of inbound and outbound international flights in Vietnam will be cleared.
Domestic travel demand surged during the Lunar New Year holiday as overloading was reported in some locations, particularly Tan Son Nhat airport in Ho Chi Minh City.
About 153,000 foreign passengers flew from/to Vietnam from the time the country launched a pilot programme to resume international flights in January to Feb. 14, according to CAAV.
On Feb. 15, or the first day of the reopening of regular international flights, Noi Bai airport in Hanoi saw 80 international flights, including 23 passenger flights. Tan Son Nhat airport served 94 international flights on the day.
Budget airline Vietjet Air and national flag carrier Vietnam Airlines have announced plans to increase flight frequency and resume international networks.
Preparations have been made since mid-2021 for the lifting of restrictions in the fourth quarter of the year, starting with the domestic market.
Deputy Prime Minister Vu Duc Dam has agreed with the Ministry of Culture, Sports and Tourism's plan to reopen tourism activities from March 15 in the context of safe, flexible adaptation to and effective control of the Covid-19 pandemic.
The CAAV has proactively reported to the Ministry of Transport on domestic and international air route resumption plans as well as preparing equipment and personnel to meet demand and ensure aviation safety and security.
Except China, all the countries receiving Vietnam's proposal have agreed to restore the aviation links with Vietnam.
Visas for foreign tourists
The Foreign Ministry will coordinate with the Ministry of Culture, Sports and Tourism to complete plans on tourism resumption and devise a policy on visas for foreign tourists, the ministry's spokesperson Le Thi Thu Hang said at a press conference on Feb. 17.
According to the spokesperson, visa procedures will basically continue to be carried out in accordance with existing legal documents such as the Law on Foreigners' Entry in, Exit from, Transit through and Residence in Vietnam, she said.
As of Feb. 16, a total of 14 countries and territories had recognised Vietnam's vaccine passport. They are Japan, the US, the UK, Australia, India, Belarus, Cambodia, the Philippines, Palestine, Maldives, New Zealand, Sri Lanka, Egypt and Turkey.
Negotiations with other countries to push recognition of Vietnam's Covid-19 vaccination certificates should also be expedited, to facilitate outbound tourism.
Illustrative image. Source: VNA
By Feb. 16, Vietnam had injected over 189.76 million doses of vaccines to date, with over 75.74 million people now fully inoculated, while more than 34.14 million booster shots and third shots of Abdala vaccine had been administered.
The national tally reached 2,643,024, including 200 infections of Omicron on Feb. 17 report.
A number of other partners are considering the recognition and will reply soon, she said, noting that the foreign ministry and Vietnamese representative offices in foreign countries are working hard to win their recognition of the Vietnamese vaccine passport.
Vietnam has accepted vaccination certificates or vaccine passports of 79 countries and territories, which were officially sent to the foreign ministry, she said.
During the 2022 Tiger Lunar New Year, 467 visitors arrived in Vietnam under the pilot "Covid-19 vaccine passport" programme.
Since the launch of the programme late last year, a total of 8,967 international tourists have arrived in three localities – Phu Quoc Island (Kien Giang province), Khanh Hoa, and Quang Nam.
Most of them came from Russia, Uzbekistan, Kazakhstan, the Republic of Korea, Singapore, the UK, the US and Canada.
The Ministry of Culture, Sports, and Tourism has proposed the Government resumes pre-pandemic waivers of visas for tourists from 24 countries as the country restarted international tourism.
The list of 24 countries on the visa exemption list comprises Brunei, Myanmar (for 14-day stay or less), the Philippines (21-day stay), Thailand, Malaysia, Singapore, Indonesia, Cambodia, Laos, Kyrgyzstan (no more than 30-day stay), Belarus, Japan, the Republic of Korea, Switzerland, Norway, Denmark, Russia, Finland, Germany, France, United Kingdom, Italy, Spain (less than 15-day stay), and Chile.
Arrivals from 46 countries could enter Vietnam on e-visas, as before the Covid-19 pandemic broke out and the country closed its border.