Top 7 Best Spring Destinations In Northern Vietnam
Northern Vietnam has many beautiful destinations that are waiting for you to discover and admire in this springtime, which the Traveloka traveling website recommends in the article below.
When the cold winter fades away and a warm spring arrives, nothing is more perfect than a long, relaxing trip with your family and friends to start a fresh new year.
1. Hanoi's Old Quarter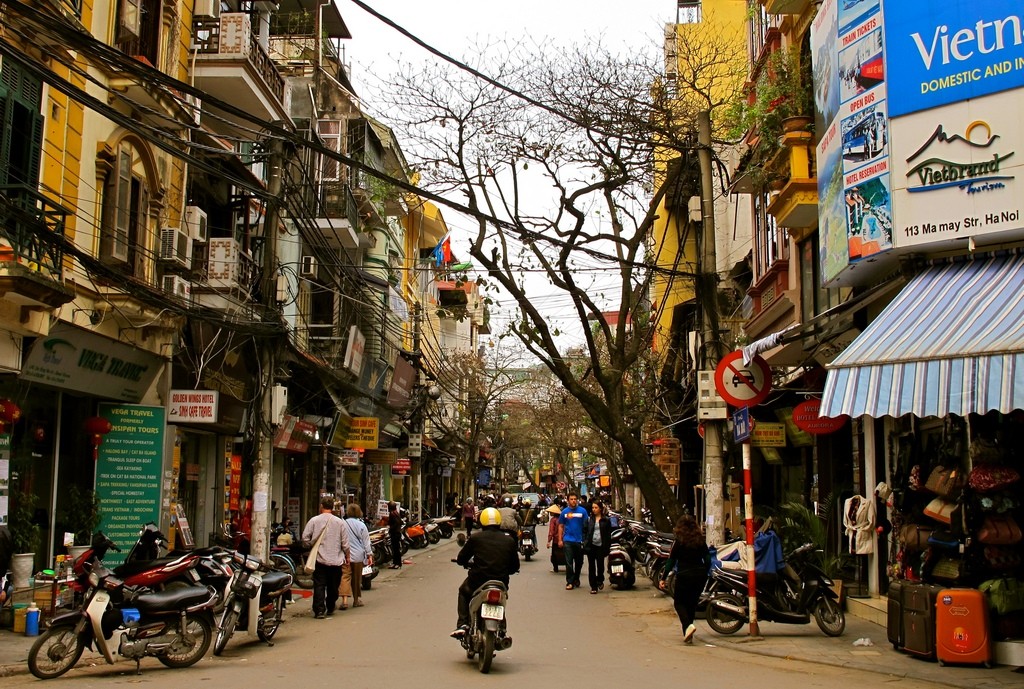 Photo: Guide Vietnam
If you want to experience a traditional Tet holiday in Hanoi, the Old Quarter is a destination that you can not miss, especially if you wish to explore the cultural Northern-style Lunar New Year at the beginning of the year.
Hanoi, Vietnam's capital lies in the North of the country and is one of the country's top tourist hot spots. It offers French-colonial architecture, rich food culture, and a long history (the city celebrated its millennium in 2010.) The most well-known and important districts in Hanoi are Ba Dinh District (aka the French Quarter) where the government offices are located and Hoan Kiem District (aka the Old Quarter) which is considered the city's business hub and main tourist destination.
Every year, tourists from everywhere flock to Hanoi for their spring trip. You can enjoy a long walk around the Old Quarter under the drizzling rain, taste some of the best street food dishes, and go shopping at the supermarkets. If you come here during the Tet holiday, you will have a chance to witness a beautiful, bustling scene of Hanoians preparing for a Lunar New Year as they buy traditional goods such as Chung cake, Gio Cha, new clothes, and flowers. The pagodas in the Old Quarter are crowded with people visiting and wishing for prosperity and a lucky year ahead of them. Do not miss these wonderful cultural experiences in your spring journey.
2. Sapa, Lao Cai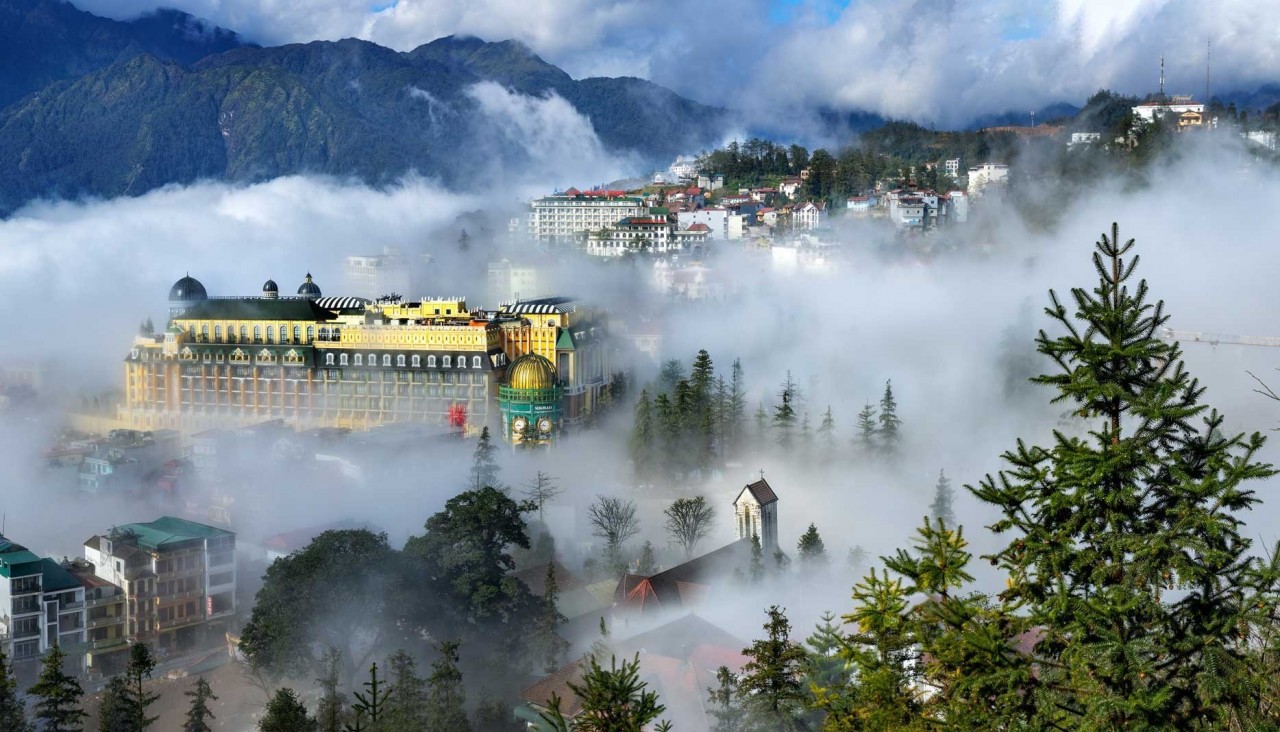 Photo: Vietnamnet
Sapa is a perfect tourist destination in Northern Vietnam for dreamy souls when spring breathes life into this mountainous area. The weather is cold and the temperature can drop very low, and chances are visitors will be able to see the snow and crystals forming on the tree branches, which is rare in a tropical country like Vietnam.
What makes Sapa special is the cultural richness of local ethical minorities with the tiny hill tribe villages, which are home to Hmong, Dzao, and Tay groups, who have been settling down here for hundreds of years while still being able to preserve their cultures and traditions. Enjoying local life with colorful ethnic costumes, traditional dances, and songs performed by people of ethnic groups would be a memorable experience lingering in your mind long after your trip.
There are several mesmerizing natural spots that you can set foot in Sapa is Fansipan peak, the colorful Muong Hoa hill, majestic Ham Rong mountain, the Silver Waterfall (Thac Bac), etc.
3. Tam Dao, Vinh Phuc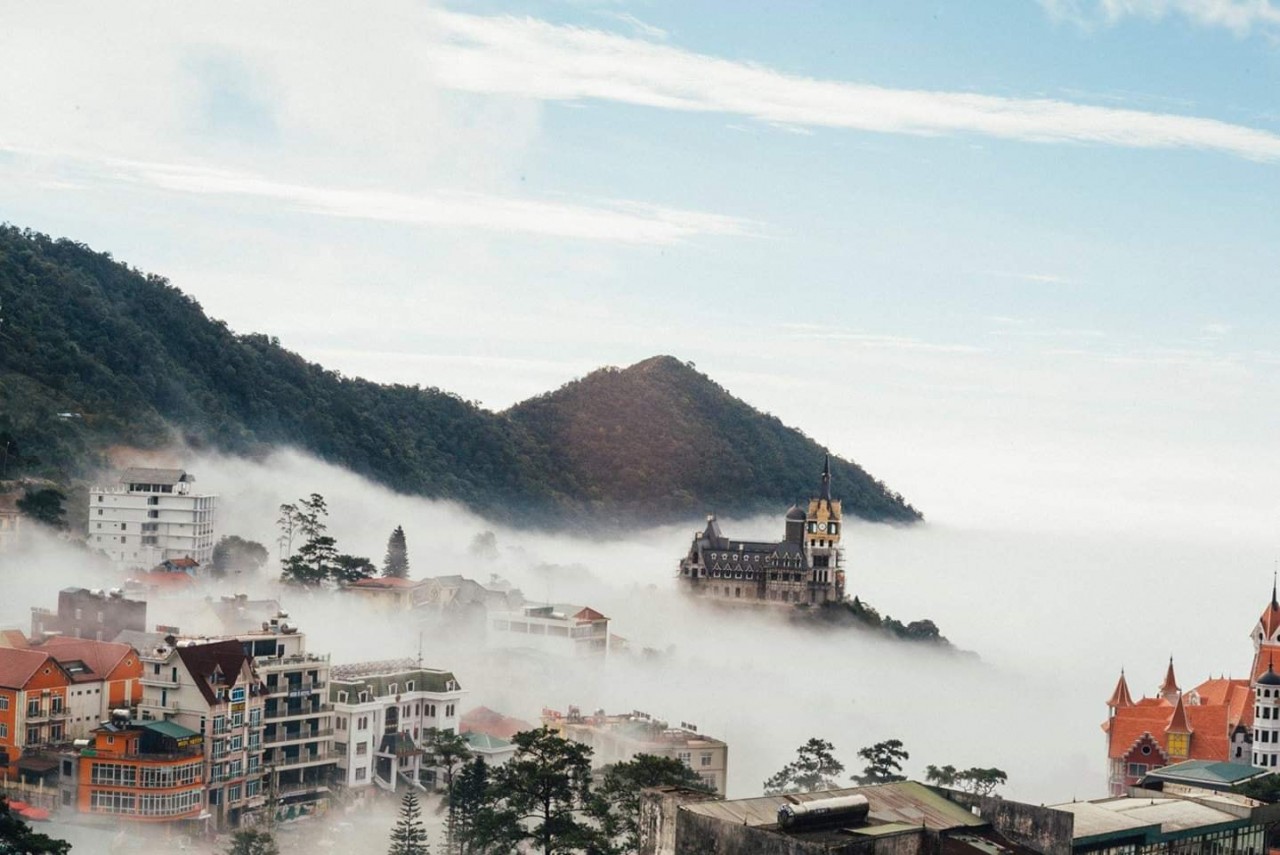 Photo: Dan Viet
Located only about 80 kilometers from Hanoi, Tam Dao is the perfect answer for the question, "Where should I go visit in Northern Vietnam after Tet holiday?".
Tam Dao now is the complex of different amazing types of both leisure and relaxation, including an amusement park, resorts, guest houses, hotels, garden villas, along with sports fields, swimming pool park, dance floor, etc. Going to Tam Dao to relax, take a long rest with the purely fresh air, contemplate the open sky with free-flying clouds, eat delicious local foods and freely have a walk on sloping roads are interesting activities for a spring trip with your family or friends.
You can visit Tam Dao anytime around the year, and it is also a wonderful tourist destination for your spring trip, with beautiful green forests, a fresh atmosphere, and relaxing resorts and hotels.
4. The Perfume Pagoda, Hanoi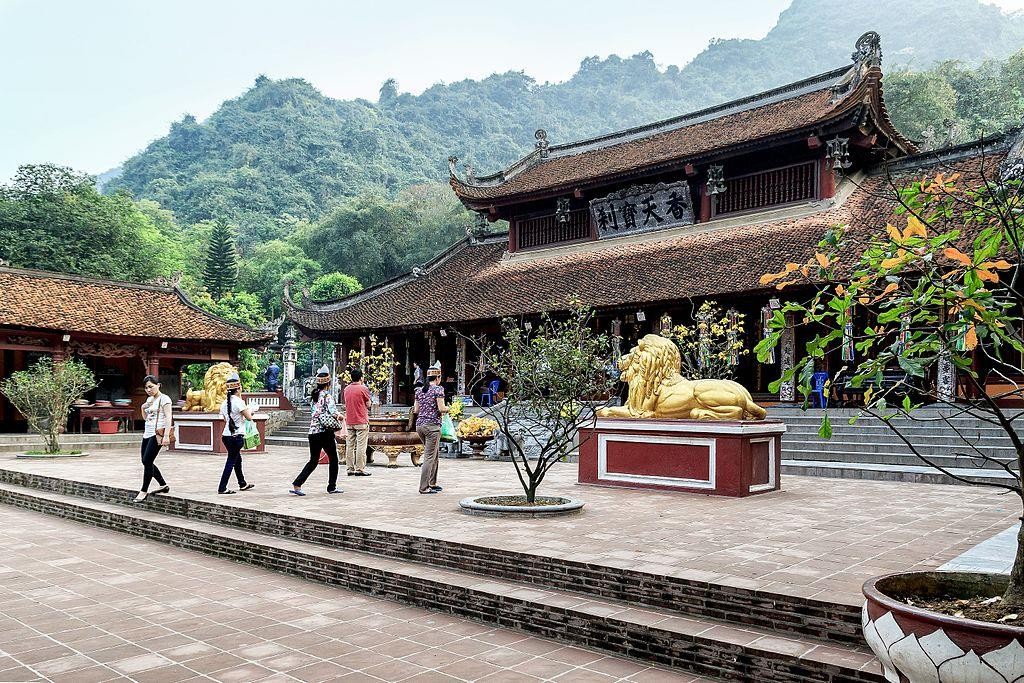 Photo: Vietravel
A destination that you can not miss is the Perfume Pagoda located in Hanoi, where people come to visit for good luck and prosperity wishes in Tet holiday time. It is believed that the first temple was built here in the 15th century, although legend declares that the site was discovered over 2,000 years ago by a Buddhist monk who was meditating nearby. The mountain foothills are an area of great natural and spiritual beauty filled with streams, tropical plants, and temples.
It is also one of the most famous religious spots on every spring trip, and the journey to the Perfume Pagoda is itself an interesting experience.
5. Dong Van Karst Plateau, Ha Giang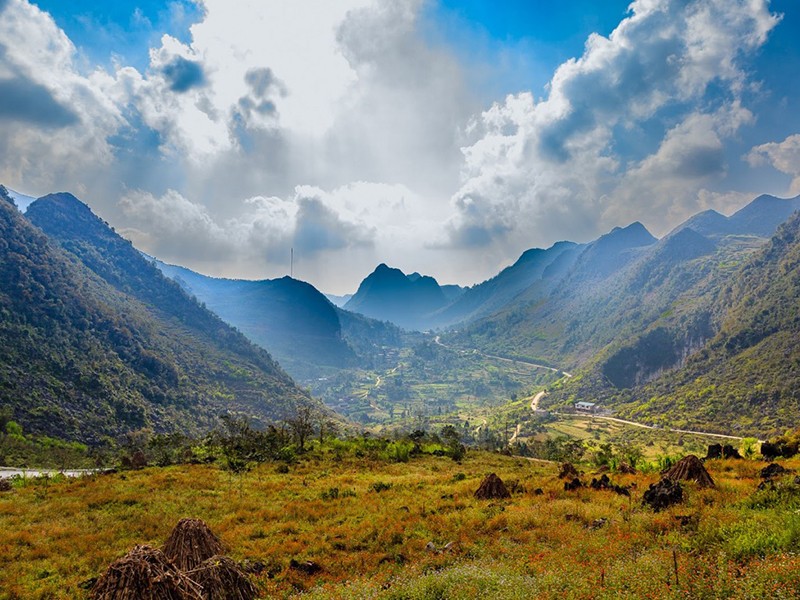 Photo: Dat Viet Tour
If climbing mountains or trekking is your idea for an exciting spring trip, Dong Van Karst Plateau is the place that you can choose. Nothing is better than hiking in the cold, chilling weather, and watching the beautiful natural scenery of the mountains, forests, and hills that are covered in the early morning mist.
Spreading over a large area of approximately 2,356 square kilometers and located over 1,600 meters above sea level, the stunning Rock Plateau was officially recognized by UNESCO as one of the 77 geological parks in the world, the only global geopark in Vietnam and the second in Southeast Asia.
Visitors to Dong Van Rock Plateau would be mesmerized with a massive area with more than 80 percent of the surface covered with rocks, limestone, and rocky peaks which contains precious and priceless old fossils of nearly 600 years old. This feature has made it one of the oldest and greatest rock plateaus.
Young travelers can find the best "check-in" spots in Dong Van and have the most memorable experience with their friends at these destinations such as Ma Pi Leng Pass, Lung Cu Flag Tower, Dong Van ancient street, etc.
6. Mai Chau, Hoa Binh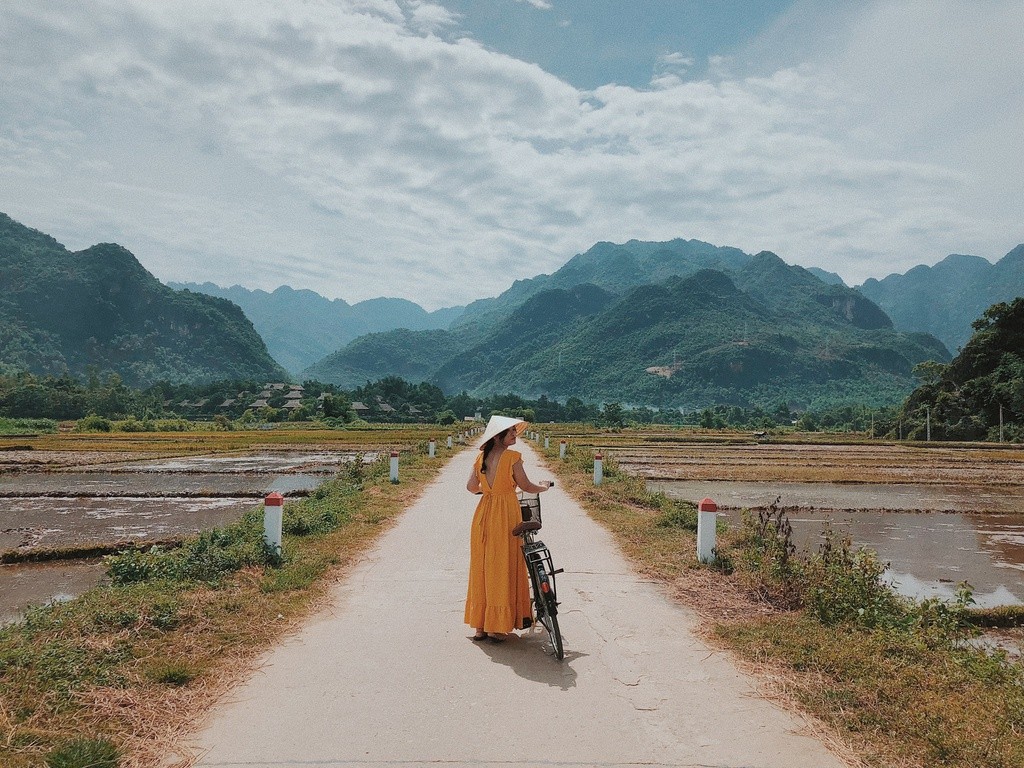 Photo: Mai Chau Ecolodge
Mai Chau, a peaceful plateau that lies between the tall mountains and is covered by green forests, is one of the most famous tourist destinations in Northern Vietnam. Located about 150 kilometres from Hanoi, tourists can easily visit this place by bike or motor. Coming here in the springtime, you will find yourself getting lost in nature with green forests, gentle hills, and stilt-house villages.
Mai Chau is indeed the place for those who seek the peace of mind, to avoid the bustling urban noises, and come back to what are basics to human's happiness – beautiful nature and friendliness of the people.
Mai Chau is also a heavenly sanctuary for people to come after a long, hard-working week, and stay at one of the best homestays and resorts here.
7. Moc Chau, Son La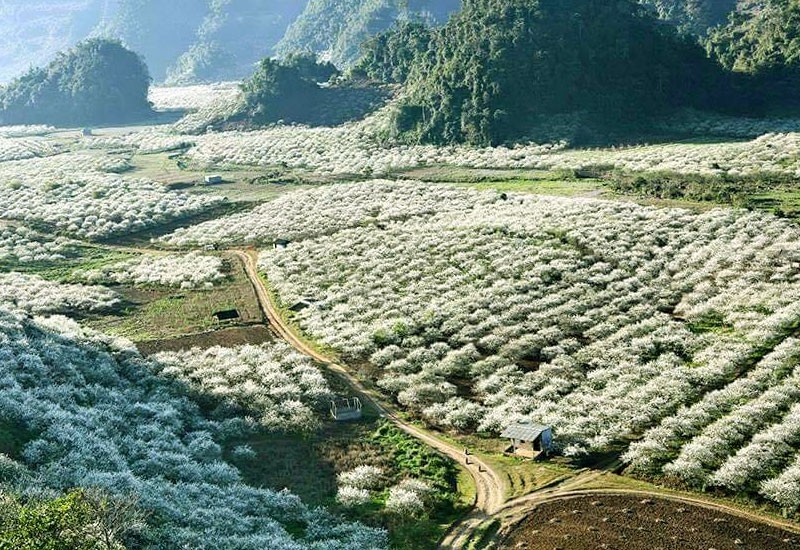 Photo: Nuibavi
Located about 200 kilometres from Hanoi, Moc Chau is where you can relax and enjoy the best out of your spring journey. The blooming flowers gardens, green tea hills, and majestic mountains are what make Moc Chau so charming and attractive in the eyes of tourists coming here for the first time.
Apart from the beautiful natural scenery, Moc Chau also has the best traditional local food that you can not find anywhere else. Deep-Fry Calf – Be Chao Moc Chau, Cow Milk – Sua Bo Moc Chau, Buffalo Smoked-Meat – Thit Trau Gac Bep Moc Chau and Corn Alcohol – Ruou Ngo Moc Chau, Salmon – Ca Hoi Moc Chau are the local dishes you should try in Moc Chau.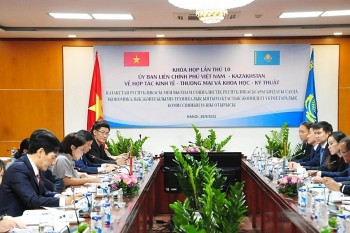 Friendship
The 10th session of the Vietnam-Kazakhstan Intergovernmental Committee on economic-trade and scientific-technical cooperation was held in Hanoi on September 26.