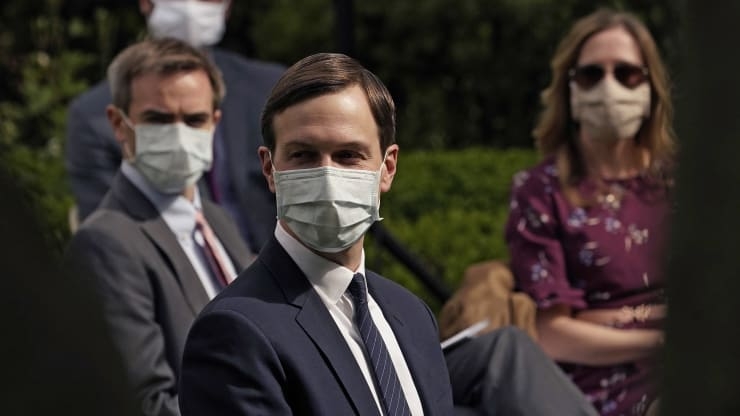 White House advisor Jared Kushner (C) and others wear face masks while attending a press briefing about coronavirus testing in the Rose Garden of the White House on May 11, 2020 in Washington, DC.
Drew Angerer | Getty Images
The White House on Monday began requiring that all staffers entering the West Wing wear a facial covering, and asked aides to avoid going there "unless you absolutely need to conduct in-person business in the West Wing," according to a memo sent to staffers.
The White House also made some smaller changes, including displaying signs encouraging social distancing at entryways and asking aides during routine temperature checks if they are experiencing symptoms, according to officials. Monday's email said that West Wing staff members were "not required to wear a facial covering while at their desk if they are appropriately socially distanced from their colleagues."
The decision comes days after two aides working near the president tested positive for the coronavirus.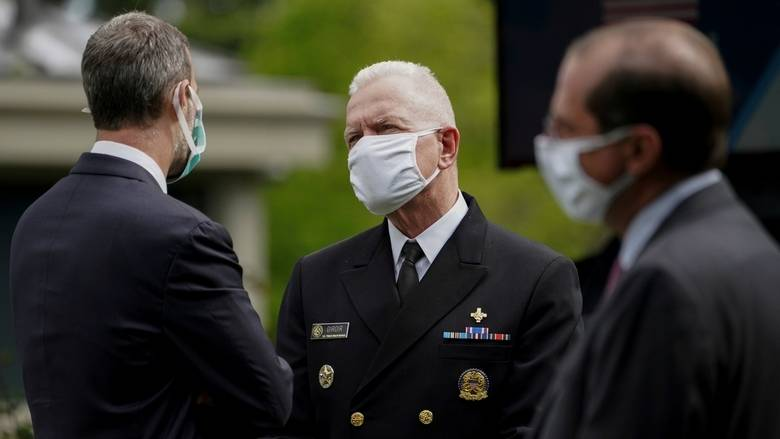 Assistant Health and Human Services (HHS) Secretary for Health Admiral Brett Giroir, coordinator for Covid-19 diagnostic testing, wears a protective face mask as he stands and talks with other officials wearing masks in the Rose Garden at the White House in Washington, U.S., May 11, 2020.
In the last week, Vice President Mike Pence's press secretary, Katie Miller, tested positive for the virus, as well as one of President Donald Trump's valets, who was in close contact with the First Family.
Pence on Sunday denied reports that he was self-isolating to avoid contracting the virus.
In April, Pence faced criticism when he didn't wear a mask while visiting the Mayo Clinic, defying hospital guidelines.
Trump has not been seen in public wearing a mask. When the Centers for Disease Control recommended that all Americans wear a basic cloth or fabric mask in public, Trump called that a "voluntary thing" and that he was "choosing not to do it."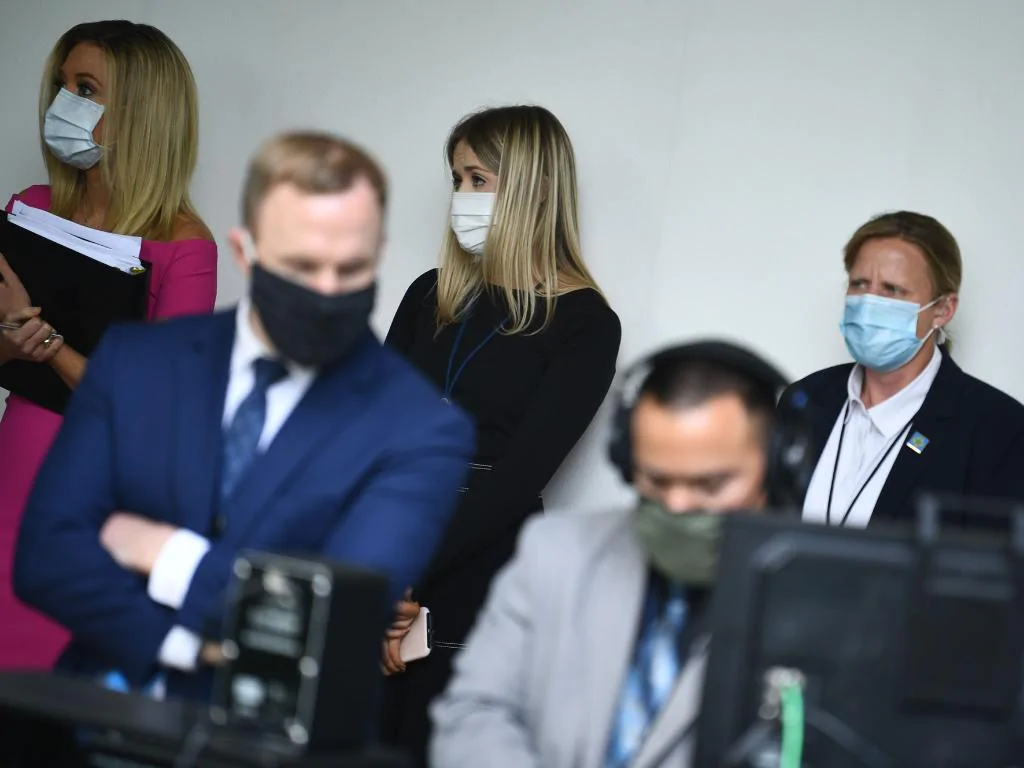 White House Press Secretary Kayleigh McEnany (L) looks on with other White House staff as US President Donald Trump speaks during a press conference. Picture: AFP
Trump and Vice President Pence have both courted controversy for their decisions not to wear protective masks on recent political trips meant to restart their offices' official travel schedule.
Pence conceded he should have worn a mask during a visit to the Mayo Clinic in Minnesota, and he later wore one during a subsequent trip to a ventilator production site at a General Motors plant in his home state of Indiana.
Following last week's new coronavirus infections, Trump announced that he and those closest to him in the White House would now be tested on a daily basis, versus previous weekly testing protocol.
President Donald Trump defended his administration's record on testing as he unveiled equipment at the White House - but unlike his staff he did not wear a mask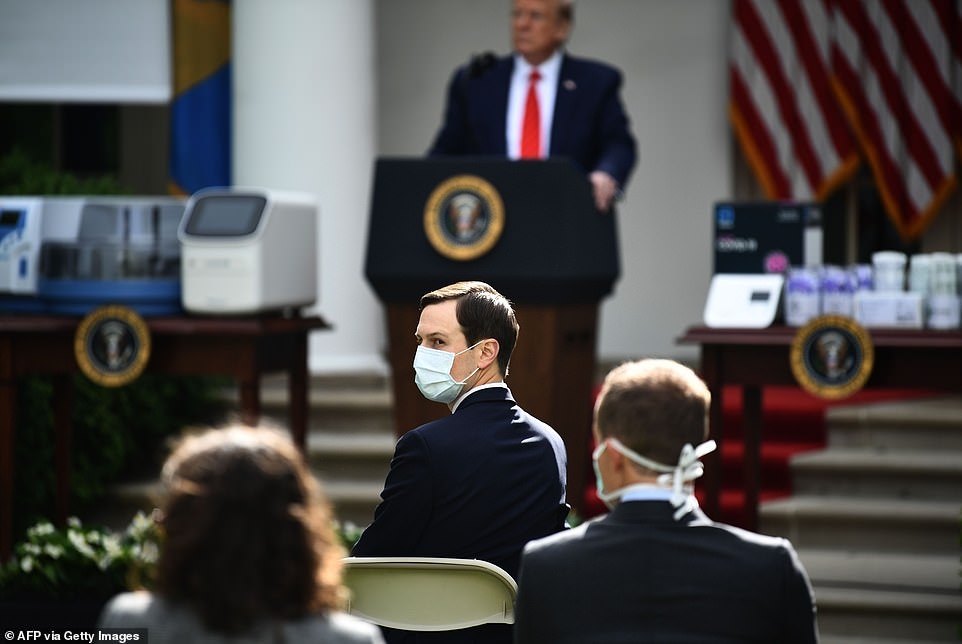 Jared Kushner was not exempt from a directive that all White House staff wear masks. Picture: AP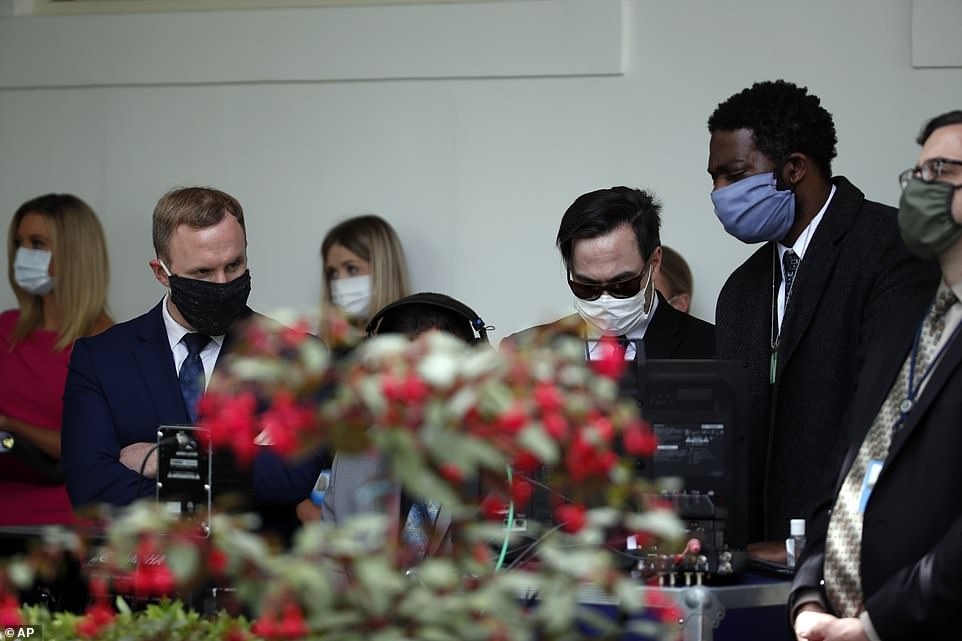 Rose Garden cover-up: White House staff members wore masks to listen to their boss speak at a press briefing, the first time new rules have been in place since two positive diagnoses at the White House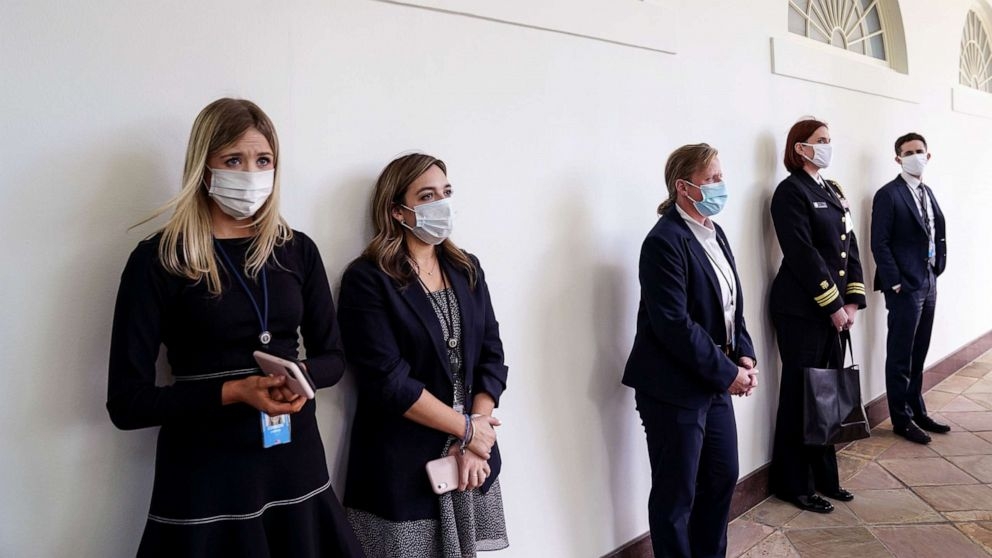 Members of the White House staff and the U.S. Secret Service stand along the West Wing colonnade prior to President Donald Trump holding a coronavirus disease (COVID-19) outbreak press briefing in the Rose Garden at the White House, May 11, 2020.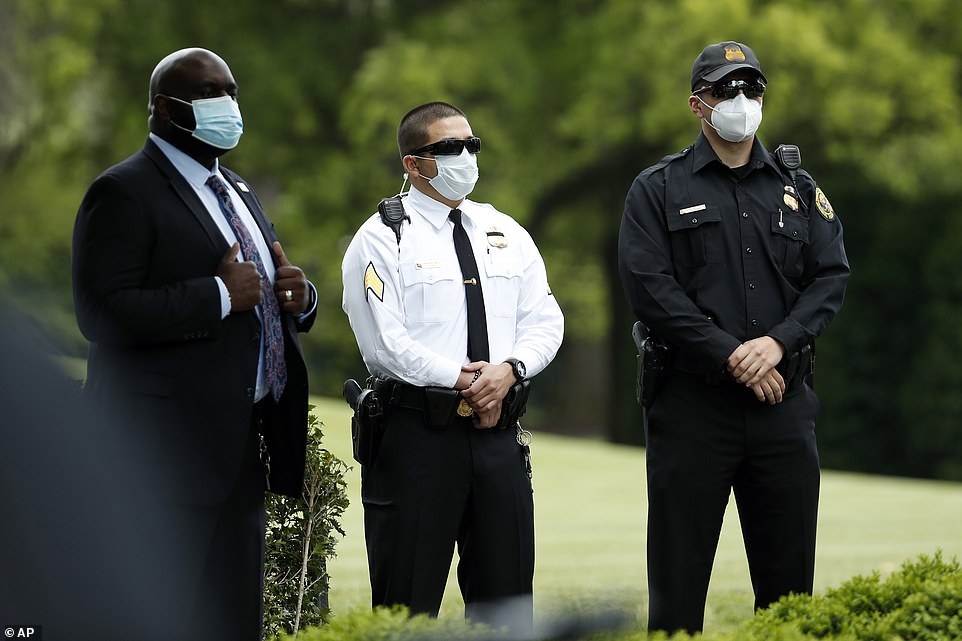 Protect and serve: Uniformed and plains clothes members of the Secret Service were wearing masks as the president spoke

Distanced audience: The White House put newly-masked officials in front of a rple line and reporters behind for the press conference.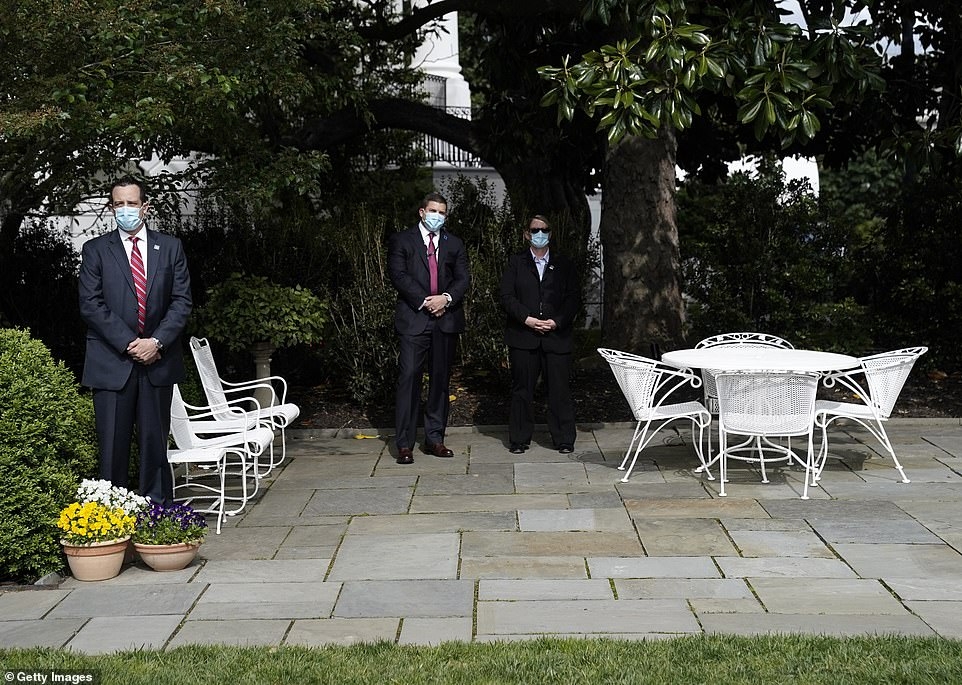 Protective detail: Secret Service agents were also spotted in masks for the first time during the president's press conference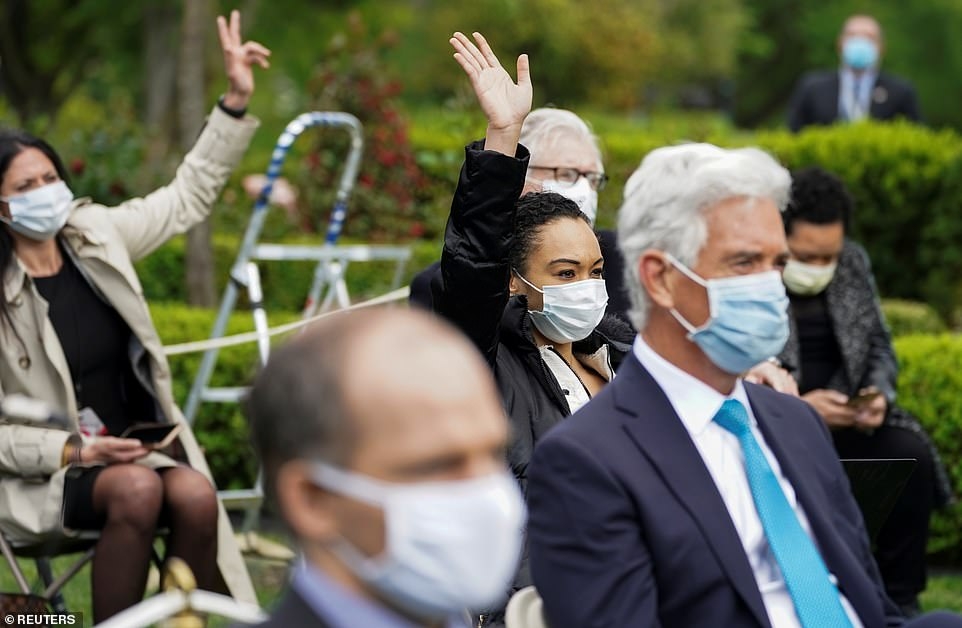 Masked press corps: Reporters at the Rose Garden press briefing -including Francesca Chambers of McClatchy newspapers (center) - all covered up to come into the White House
Jennifer Tran