Who benefit from the unprecedented US$2.6b support package? [infographics]
Vietnam government has passed a VND62 trillion ($2.6 billion) financial support package for poor people and businesses most affected by the Covid-19 pandemic. The package, approved by Prime Minister Nguyen Xuan Phuc on April 6, targets six categories of individuals and businesses.
Vietnam Prime Minister Nguyen Xuan Phuc has officially signed a resolution on a social security package of up to VND62 trillion (roughly US$2.66 billion) to support people directly affected by the COVID-19 epidemic.
The package will not "provide indiscriminate support for all people," he said, maintaining that the burden of the pandemic will be shared between businesses and the Government, doing it partly within its "resource capacity."
PM Phuc ordered measures be put in place to ensure the transparency of the implementation, make sure that there would be no fraud and that the support will go to the right people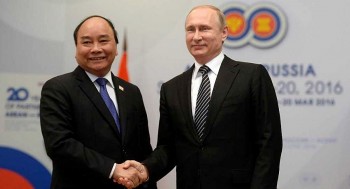 Friendship
The visit is expected to boost bilateral cooperation in Covid-19 prevention and control, especially in promoting Russia's support for vaccine production and technology transfer.