Vietnam provides more support for people affected by COVID-19
More support has continued to be provided to disadvantaged people across the nation to help ease their difficulties due to the coronavirus disease (COVID-19).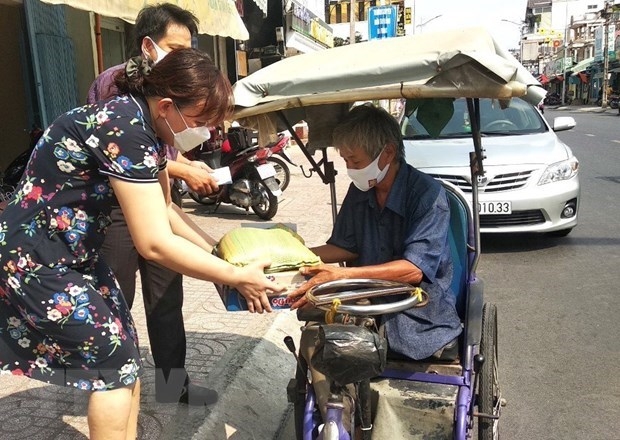 Lottery sellers are among those affected by COVID-19. Photo: VNA
Starting from today, May 12, the National Public Service Portal has provided six additional public services to support people and businesses that are facing difficulties amid the COVID-19 epidemic.
Accordingly, the services include supporting employees who postpone labour contracts or leave without pay, supporting employers to access loans to pay workers' discontinued wages, declaring the payment of enterprise income tax extension, declaration of personal tax payment extension, suspension of contribution to the pension and death benefit fund, and receiving and handling feedback and proposals from the public and enterprises at https://ncovi.dichvucong.gov.vn/p/home.
It is expected that the six new public services on the portal will support about 4 million workers and employers facing difficulties due to the epidemic, while also shortening the processing time from 6 to 10 working days for each object, compared to the direct implementation.
Meanwhile, disbursement of financial support for the disadvantaged under a VND62 trillion COVID-19 bailout package from the Government has been boosted to deliver timely assistance to those in need.
The Department of Labour, Invalids and Social Affairs of Phu Yen Province has said that eight out of the nine districts, towns and cities in the province have completed the review and got the nod from the provincial authorities on the list of groups who are eligible for receiving the financial support. They included people with meritorious services to the revolution, social protection beneficiaries and poor and near-poor households, with a total of 144,000 people. To date, some localities have disbursed VND146 billion for such groups. For other subjects, Phu Yen will rely on the guidance of the Ministry of Labour, Invalids and Social Affairs to survey, evaluate and make a specific list at a later date.
In Long An Province, the provincial Department of Labour, Invalids and Social Affairs and local authorities have reviewed and made a list of seven target groups to disburse the financial assistance. Up until now, VND144 billion has been distributed between 123,214 people in three groups of poor and near-poor households, people receiving monthly social allowances and people with meritorious services. The department is coordinating with localities to investigate, review and appraise the remaining four target groups to help them receive support as soon as possible.
On May 11, the Department of Labour, Invalids and Social Affairs of Da Nang City informed that the central coastal city has started to appraise profiles of workers and household businesses affected by COVID-19 for financial support disbursement. Accordingly, they belong to three groups: household businesses suspending operation, workers with labour contracts but are not entitled to unemployment benefits, and employees who do not have labour contracts but lost their jobs. After the list and support fund is approved, within nine days at the latest, payment will be made to employees. Da Nang has about 58,000 employees supported under the Government's bailout package and the city is expected to spend more than VND200 billion to support these groups.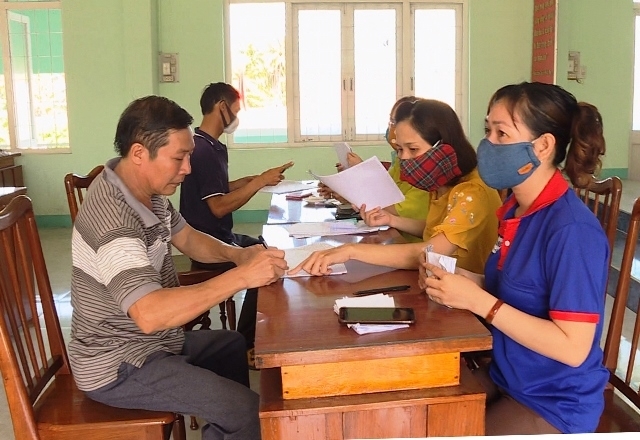 Disadvantaged local residents affected by COVID-19 in Song Cau Town, Phu Yen Province, receive financial support from the State. (Photo: NDO/Trinh Ke)
On the same day, in Thanh Hoa Province, the Thanh Hoa Association of Former Teachers presented VND120 million to the Thanh Hoa Fatherland Front Committee to support the fight against COVID-19 in the province. Entrepreneur Hoang Vy from Ho Chi Minh City also presented 1,500 gifts, with each containing 10 kg of rice and some basic necessities, to 400 patients who are receiving treatment at the Provincial General Hospital and Thanh Hoa Children's Hospital, in addition to 1,100 gifts for people in difficult circumstances in the two wards of Dong Ve and Quang Thanh in Thanh Hoa City.
Also, on May 11, Vinh Phuc Province Youth Union cooperated with Vinh Phuc Labour Union to offer free breakfast worth VND25,000 each (including milk and bread) to over 6,000 young workers suffering difficulties due to COVID-19 in local industrial zones and the workers' boarding house area in Phuc Yen City. The programme will last until May 15.
In Hanoi, students of class 9A1 and the Board of Directors of Ngo Gia Tu Secondary School in Hai Ba Trung District have presented 160 gifts to disadvantaged classmates and some families facing difficulties due to COVID-19. The beneficiaries are mainly policy families, people with meritorious services and disadvantaged families in difficult circumstances living in the wards of Bach Mai and Bach Khoa. Each gift includes rice, cooking oil, books and school supplies purchased from money raised by the students and their parents.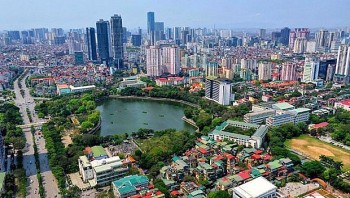 National
Vietnam News Today (Jan. 29): Quang Ninh: Cross-border trading with China resumed after Tet; Hanoi in the world's top three culinary destinations: Tripadvisor; Intertwined opportunities, challenges for Vietnam's economy in 2023; Supermarkets, traditonal markets gradually resume normal operations amid abundant supply.