Who is Nandi Bushell - 11-year-old Drummer Who Has Rock Stars For Fans?
Nandi Bushell is a young British musician and actress that is best known for her drumming covers of popular alternative rock and metal songs. At only 11, Nandi Bushell has already become the rock stars' rock star.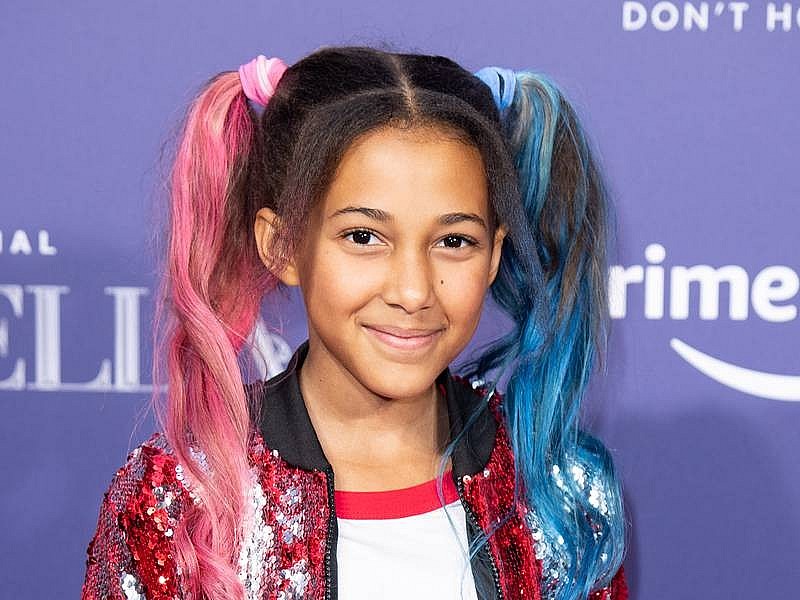 Drummer and internet celebrity Nandi Bushell. (Photo: Getty)
Nandi Bushell's childhood
Nandi Bushell (born 28 April 2010) is a British-Zulu musician and social media celebrity. She is best known for her drumming skill, performing covers of popular rock songs which had drawn the attention of several musicians including Questlove, Lenny Kravitz, Dave Grohl, and Matt Bellamy. She is a student and currently attends St. Margaret's Primary School.
Nandi's mother, Lungi, hails from Esikhawini in KwaZulu-Natal, a coastal South African province. Her father, John, is British. The two met when Lungi took a gap year in London, and the rest was history. The couple met in Liverpool around 2003. Nandi has a brother named Thomas who is often seen on her social media posts. John commented in a 2018 interview.
Bushell's instinctive grasp of rhythm became evident when she was only 5. John had played a YouTube video of The Beatles song Hey Jude and Bushell became spellbound by Ringo Starr's drumming and started thumping along. "Nandi would just have that on repeat," John told Variety magazine in February. "Something must have triggered in her mind that drums make you happy, from that video. That's the only thing that I can kind of rationalize," according to The National News.
A few weeks later, Bushell's father wanted to reward her after she scored highly on a maths test, so he took her to a toy shop. But Bushell did not want a toy, she wanted a drum set. "We couldn't get her off it," John said. "It became a little bit of an obsession." Within five short years, she had fans such as Lenny Kravitz, Arctic Monkeys and Metallica, and built an Instagram page that is like a rock and roll hall of fame.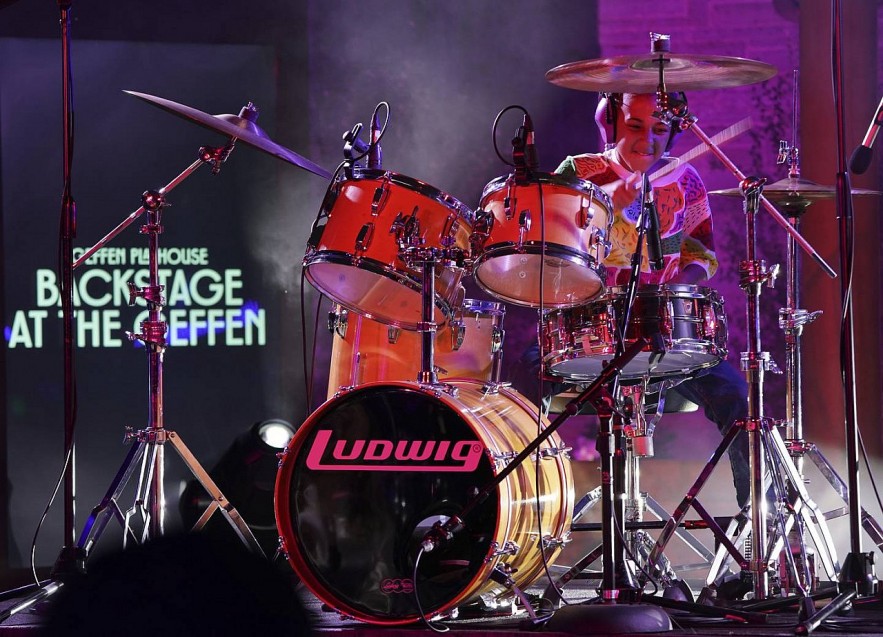 Nandi Bushell on stage. (Photo: Getty)
Music career
The Ellen Show: Nandi has appeared on The Ellen Show. She was a guest on a December 2019 episode. In the interview, Nandi reveals it was her first time in the United States. She also names her inspiration for playing the drums, which all started with weekend mornings eating pancakes and listening to The Beatles. At the end of the interview segment of the program, Nandi played drums to the Nirvana hit "In Bloom". Ellen concluded the show by presenting miss Bushell with a bass guitar, according to Vantunews.
In The News: She was featured in a BBC News Online segment where she talked about the evolution of her experience, from meeting popular musicians to acting in her first advertisement. In a 2019 interview, she stated, "I met Lenny Kravitz. That was the first famous person I've met and he was really friendly."
Acting Debut: Bushell has appeared in a Christmas holiday commercial for Argo, where she is featured drumming to the Simple Minds new wave classic 'Don't You (Forget About Me)'.
Bowie Tribute: Nandi was invited to perform at the 02 Shepherds Bush Empire in London with David Bowie's band in late January of 2020. The pianist Mike Garson of Bowie and Nine Inch Nails fame had invited young Nandi to play at the show.
My Rock and Roll: On January 17, 2020, Nandi uploaded her first original song to her YouTube channel. She not only produced the song, but also plays every instrument on the track, including the guitar, drums, bass guitar, and vocals.
Rage Against The Machine Cover: The pre-recorded performance of the 1999 Rage Against the Machine's "Guerrilla Radio" was shared on Bushell's Twitter page on March 31st, and shows her performing song on bass, guitar, and drums. The inspiration for Bushell's viral cover was fueled by the Black Lives Matter movement: "Solidarity in the Fight to End Racism!" Bushell said with the video upload.
Coldplay Cover: In October 2020, Coldplay drummer Will Champion praised Bushell after she recorded a cover of 2005 hit "Fix You". Nandi posted a video of her cover, complete with a neon Coldplay-inspired drum kit, on Twitter and Instagram on October 10. Will replied: "This put a HUGE smile on my face, Nandi. Absolutely brilliant. Love WC X."
Cinderella Movie: In October 2020, Bushell was revealed as one of the cast members in the new Cinderella movie, which is being directed by Pitch Perfect writer Kay Cannon and produced by The Late Show host James Corden. The musical, which also stars Billy Porter, Indina Menzel, and Nicholas Galitzine, is due to be released in February 2021, depending on coronavirus restrictions. Nandi was approached by the film's director Kay Cannon on Instagram, who her father John Bushell said was keen to have the drumming star on board. "Kay said Nandi would be perfect," explained Mr. Bushell. "She has captured a lot of attention recently, with her Twitter rock battle with Dave Grohl and now starring in her first-ever movie. Mr Bushell said Nandi was involved in a lot of dancing and singing and was "blown away" by the talent of pop star Camila Cabello, who she would watch singing in between filming.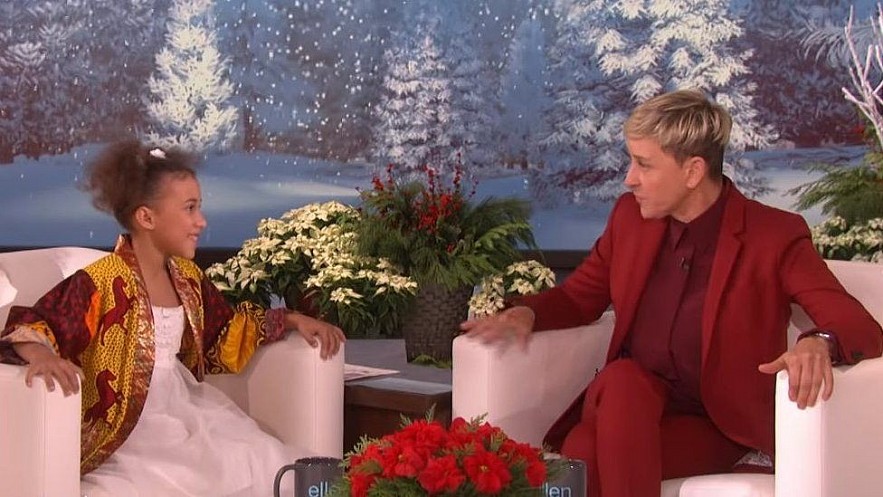 Nandi Bushell on The Ellen Show. (Photo: BBC)
Social Media
On Instagram, Nandi has amassed over 482,000 followers as of July 2020. On the account, she posts videos of her rocking out to popular songs in solo performances as well as with family. She has been seen on the account jamming to songs by bands including Led Zeppelin, Rage Against the Machine, and Queens of the Stone Age.
Her Twitter account is run by her parents and has over 81,700 followers. She uses her Twitter account to promote her latest ventures and share videos of herself playing music, according to Everipedia.
Nandi also has a YouTube channel that has over 68,000 subscribers. The most-viewed video on the platform is her drum performance of Nirvana's "In Bloom" with over 1.2 million views since it was first uploaded on November 11, 2019.
Nandi Bushell, the impressive 11-year-old musician behind so many viral rock cover song videos and related collaborations, realized a dream last month when she sat in on drums with Foo Fighters. It happened during a performance of the band's 1997 hit "Everlong" at their Aug. 26 concert in Los Angeles.
The studio version of "Everlong," a single from Foo Fighters' The Colour and the Shape, is back on Billboard's rock charts. And it's all due to the recognition it received from the performance with Bushell. For the week ending Sept. 11, "Everlong" reached No. 11 on Billboard's Hot Rock & Alternative Songs chart. It also hit No. 2 on the Hot Hard Rock Songs chart, and it landed at No. 17 on the Hot Alternative Songs chart.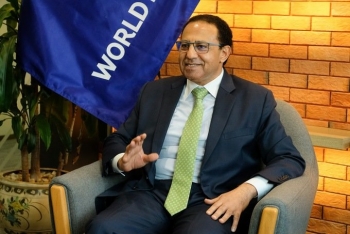 Economy
Vietnam's agriculture is transforming from quantity targets towards profit, environment and farmer income targets. Ahmed Eiweida, Vietnam Sector Leader for Sustainable Development (World Bank).