Why You Should Study Abroad in Vietnam: 5 Reasons
Vietnam is a major tourist center famous for its rich history and culture. Young people, who are eager to get an education in an exotic country, tend to come here.
Vietnam is a great choice. As there is a wide selection of educational programs and there is an opportunity to study in English. To enter a university in Vietnam, you need to have secondary education and pass an entrance exam.
Higher education is received by studying in colleges and technical institutes. It is better to study science and technology in Ho Chi Minh City, and foreign languages, accounting, business, finance, and information technology in universities in Hanoi. But if you still have some doubts here is the list of 5 reasons why Vietnam is worth considering.
1. High level of education
Many universities and colleges in Vietnam offer a wide variety of programs taught in English. The country is working to have more degree programs accredited. For Vietnamese students, it promotes a global learning environment. They can develop the skills necessary for future integration. The development of an international education plan draws foreign students to Vietnam to study. It brings the nation closer to multiculturalism and integration. To get an education of international standards students discover a better choice by selecting Vietnam.
What considerable education troubles might you experience?
Studying in another country is not a cakewalk. Students face various problems. It is because educational systems are different from their home countries. Students are not confident in writing assignment features. As a result, they feel stressed and insecure. The best suggestion, in this case, is to ask for professional online help. To get quick results students can use essay writing service and receive flawless college papers. Expert writers are ready to provide quality work 24/7 and write your assignments from the scratch. So do not hesitate to type the "write my essay for me" query and achieve a great academic result.
2. Budget-friendly
Vietnam is a reasonably affordable country to visit, study, and live in. It is a great choice for studying abroad because it has inexpensive housing and cheap food. In fact, among budget study abroad locations including Bali, Indonesia, Cambodia, Portugal, and Barcelona, Spain, Forbes rated Vietnam the cheapest place to stay. Vietnam's cost of living is partly determined by the way of life of its citizens. Yet, it is still seen as affordable when compared to surrounding and wealthy nations. The average annual cost of living is between $3,000 and $5,000.
3. Nice place to stay
As one of the most dynamic developing countries in the Southeast Asian region, Vietnam is recognized as a center for foreign investment, creating opportunities to promote the country's economic development. At the same time, it is a historical and traditional country instilled with deep respect for the land, the sea, and its ancestors. The country's age-old beauty with its well-preserved colonial buildings, ancient pagodas, and unique museums attracts more and more foreigners to come and study.
4. Affectionate locals
Because of their friendliness and hospitality, the Vietnamese are known as the people of smiles. In Vietnam, travelers are always greeted with a warm grin and the customary greeting "Hello" wherever they go. Even though students do not speak Vietnamese, Westerners can still have a great time with their new friends. Instead, they help and educate one another. International students don't have to be concerned about studying in Vietnam without knowing the language or having Vietnamese friends as a result.
5. Fantastic cuisine
International students in Vietnam, in particular, have the chance to taste Vietnamese cuisine which, combined with the cuisines of their home countries, is a significant component of the rich reflection of Vietnamese culture. Like all cuisines of the East, Vietnamese cuisine is balanced and nutritious. Many of its traditions are borrowed from China and India but are not devoid of originality.
The most respected product is rice. Vietnamese are fond of soups. The most famous traditional soup has a simple name Pho.
Conclusion
Vietnam is probably one of the most dynamic countries in Asia and has unlimited economic opportunities. Demand for education in Vietnamese universities increases daily. Universities strictly adhere to international educational standards and care about their reputation. Education in Vietnam is financially very affordable, and living and dining costs are much lower than in Europe and America. This country is also distinguished by its great centuries-old culture and unique traditions.
However, a foreign student should always remember that studying abroad is challenging. It requires a lot of time and effort. But if you manage to learn hard and enjoy student life, your education may become an epic adventure.
Author's Bio
Mary Cardoza is an expert in the field of education. She is keen on finding interesting international student exchange programs and overseas degree programs. Mary is always ready to support students who study abroad and help them with essays and research papers.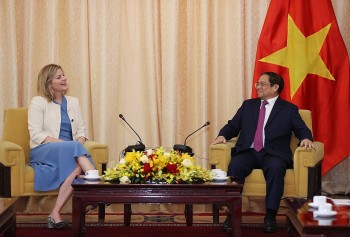 National
The Netherlands committed to cooperate with Vietnam, and together find innovative and sustainable solutions to accelerate green economy transformation.