Winners announced in Australian Embassy video competition
Nine former and current students in Australia pick up awards in "Australia - Unlocking Potential" video competition.
Nine former and current students in Australia pick up awards in "Australia - Unlocking Potential" video competition.
Photo: Embassy of Australia in Hanoi
Nine young Vietnamese alumni and students were awarded prizes in the "Australia - Unlocking Potential" video competition on August 3.
The Australian Embassy in Hanoi established the competition as a forum to reflect on and promote the transformational effect of studying in Australia. Videos submitted reflect a range of experiences, including how quickly Vietnamese students can adapt to Australian culture and education requirements, how they overcome personal difficulties while living overseas, how an Australian education and cultural experience creates new opportunities for personal growth and development, and how Australian alumni apply what they have learned in Australia to their work in Vietnam.
"I used to do what other people suggested and follow the dreams that other people said I should follow, before I was lucky enough to have the chance to study in Melbourne," said Vo Truong Thinh, the winner of the First Prize. "Now I am a different person. I have my own dream and I am chasing it. Now it's time for you to follow yours. Thank you, Melbourne."
"I'm very proud to know that Vietnamese students treasure their education and life experiences in Australia," Australian Ambassador to Vietnam, H.E. Craig Chittick, told the awards ceremony. "We are committed to assisting Vietnam's human resources development in various ways, including through our continued support for Australian alumni. It's always a pleasure to hear about the valuable contributions Australian alumni make to Vietnam's development after returning from study in Australia."
The Australian Embassy is actively implementing Australia's Global Alumni Strategy. Education is at the heart of the bilateral relationship between Australia and Vietnam. There are more than 20,000 Vietnamese students studying in Australia and at least 50,000 alumni in Vietnam. These students and alumni bring to Vietnam a wealth of knowledge, expertise, and influence.
Cash prizes were awarded, with generous sponsorship from Charles Darwin University and the Northern Territory Government's Department of Trade, Business and Innovation. The videos can be seen at https://www.youtube.com/playlist?list=PLrJXp5fiZul81AgkuH-ZTJYheUap4yZnu./.
VNF/Vn Economic Times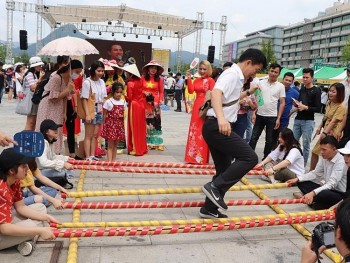 Focus
Vietnam Days Abroad is an annual national promotion program hosted by the Ministry of Foreign Affairs since 2010.