World Bank's expert: Strategies to mitigate the public health crisis and prepare for economic revival
According to analysis of the World Bank Managing Director of Development Policy and Partnerships, Mari Elka Pangestu, countries and development partners can learn strategies from each other to mitigate the public health crisis and prepare for economic revival.
The coronavirus pandemic is the most urgent global crisis of our time, exposing structural weaknesses and exacerbating inequality. As countnries grapple with the impact of Covid-19, policy makers are seeking effective, balanced solutions to address both public health and economic recovery challenges.
To understand which approaches have been successful and how these might help other countries and regions, we hosted a session with policy makers from Colombia, Ghana, South Africa, Vietnam, and Italy's Veneto region. We sought to learn from their experience in designing, communicating, and implementing strategies to mitigate the public health crisis and prepare for economic revival. Global experts in health and economics Peter Piot and Carmen Reinhart added their insights on the complex but necessary balance between public health and economic needs. The discussion highlighted that countries and development partners are continuing to learn while implementing risk-mitigation measures.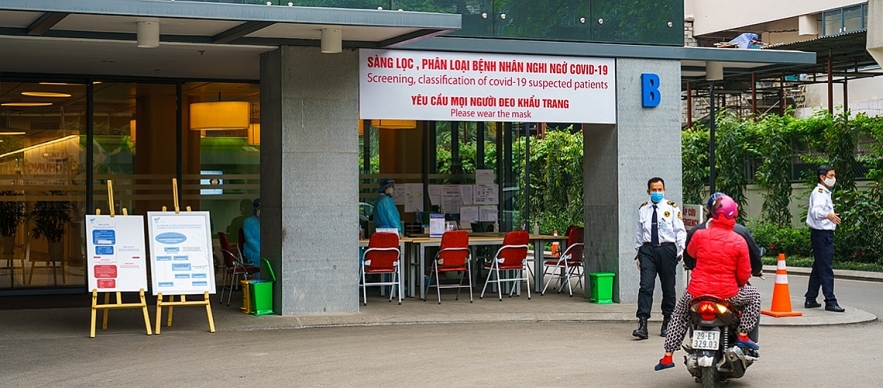 COVID-19 screening center at Viet Phap hospital in Hanoi, Vietnam. Photo: © Vietnam Stock Images/Shutterstock
A few critical elements emerged from the conversation:
Rapid and decisive action is critical. Successful responses have all involved early action and extensive testing, tracing contacts, and physically isolating unwell patients, while adapting nimbly to rapidly changing conditions.
Leadership must build trust and communicate honestly. This means being open and working with partners and communities to help people respond to the pandemic and take necessary precautions.
The crisis presents an opportunity to improve the quality and reach of critical services, not just in health care but also social protection, e.g. digital payments to reach vulnerable populations who work in the informal economy or lack access to bank accounts.
The speakers emphasized that we are still in the early days of this pandemic; an effective response will require a high level of coordination and cooperation both within and across countries, using the full gamut of tools and options.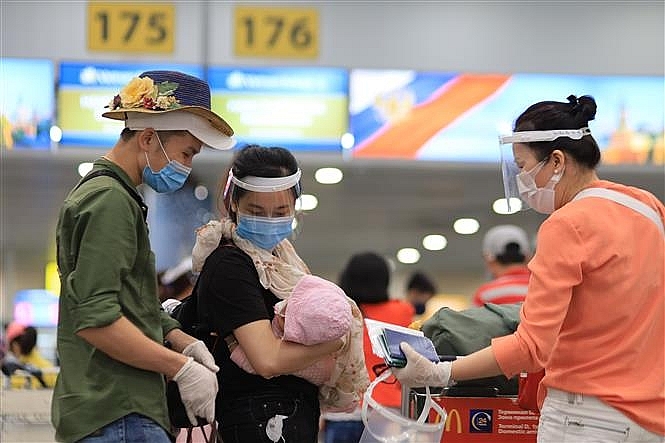 Vietnam Airlines implemented a range of strict security, safety, and epidemiology measures during the flight to protect the health of passengers onboard whilst preventing the possible spread of the virus.
Vietnam was obliged to act quickly and mobilize its people due to limited health care resources, a large population, dense cities, and borders with other countries affected by the outbreak. Dr. Dang Quang Tan from the Ministry of Health explained that the response included strict screening at ports-of-entry, aggressive testing, contact tracing, and quarantining.
The government communicated through various media and worked with communities to combat the disease. Such strategies were informed by experience with past epidemics, including SARS and H1N1. To date, the health impact of Covid-19 has been relatively small in Vietnam, and economic activity has largely returned to normal.
The Veneto branch of the Italy-Vietnam Friendship Association and Governor of Veneto Luca Zaia received 3,500 face masks from the Vietnam-Italy Friendship Association.
While Italy is wealthier, the country has an older population that made it more vulnerable. The country has a decentralized health system and had been less affected by other recent outbreaks of communicable diseases.
The region of Veneto fared better than many other regions in northern Italy. Regional advisor Dr. Andrea Crisanti described how Veneto responded quickly through rapid testing, contact tracing, isolation and surveillance to monitor the spread, especially among essential workers, the elderly, and other vulnerable groups, with an early lockdown of the town that recorded the first outbreak.
The approach prevented hospitals from being overwhelmed or becoming hotspots for disease transmission. Veneto is also innovating by helping companies screen employees using artificial intelligence to gauge their risk profile based on contact volume and mobility, so that they can test those at higher risk more regularly.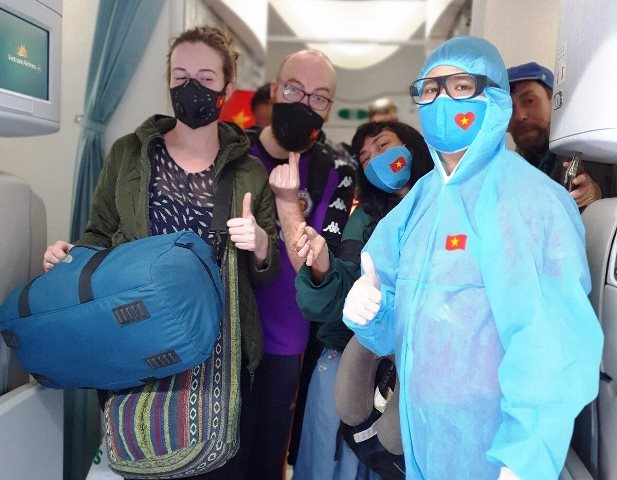 European tourists express their happiness to return home (Photo: kinhtedothi)
Ghana responded quickly to the pandemic by closing airports, deploying community health workers to test and trace contacts, and isolating positive cases, including ramping up local production capacity for PPE and other medical supplies. Dr. Anthony Nsiah-Asare, Advisor to the President, discussed that the country imposed a lockdown in the two largest cities and slowed community spread by promoting handwashing, distancing, and mask-wearing.
Messages were broadcast from the President, who stressed, "I assure you that we know what to do to bring back our economy; we don't know how to bring back lives." The efforts, building on robust systems, have slowed the spread of the virus and allowed certain sectors of the economy to carefully reopen, while providing support to sectors of the economy, such as tourism, that have yet to recover.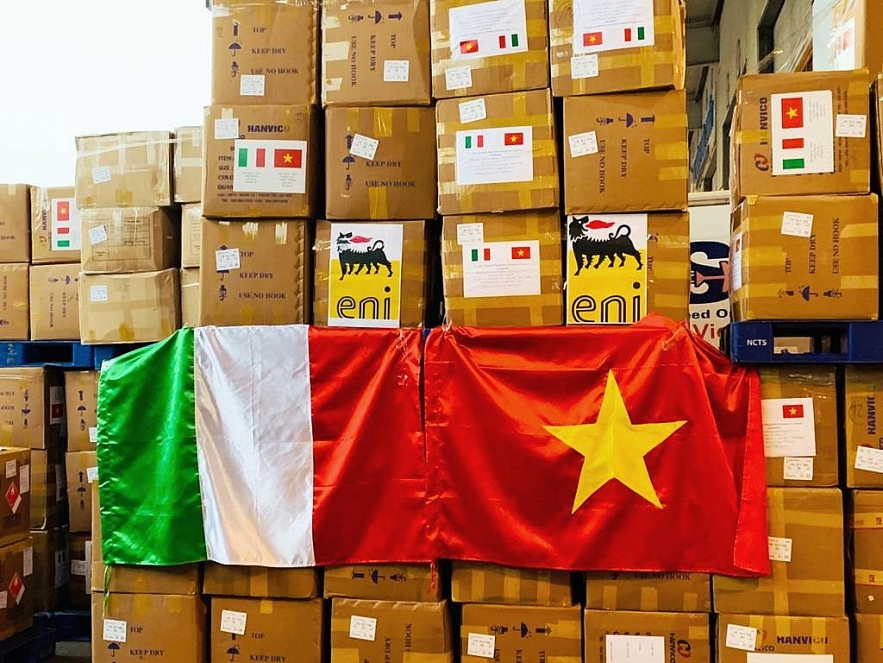 The Italian EmbaItalian Embassy thanked the Vietnamese Government and people one more time for this helpful act of solidarity given to the European country in their fight against the novel coronavirus (COVID-19) epidemic.ssy in Vietnam on April 17 said that the shipment consisted of 143.000 masks by various businesses and individuals throughout the country, has been arrived in Milan.
South Africa responded to the pandemic by imposing a lockdown and using community health workers to test people, building on experience in battling HIV and TB. Economic Advisor to the President Trudi Makhaya noted challenges in getting enough test kits, addressing risks in public transport systems, and quickly managing disease hotspots.
With the crisis exacerbating inequality, South Africa has focused on distributing social relief funds to reach a greater proportion of the population and, especially, to prevent people from going further into poverty. The country has also staggered payment days to avoid crowding at payment points or shopping areas and is supporting increases in public works to create more jobs. Going forward, the goal will be to address fiscal deficits, while working towards a greener economy and greater regional integration to bolster the recovery.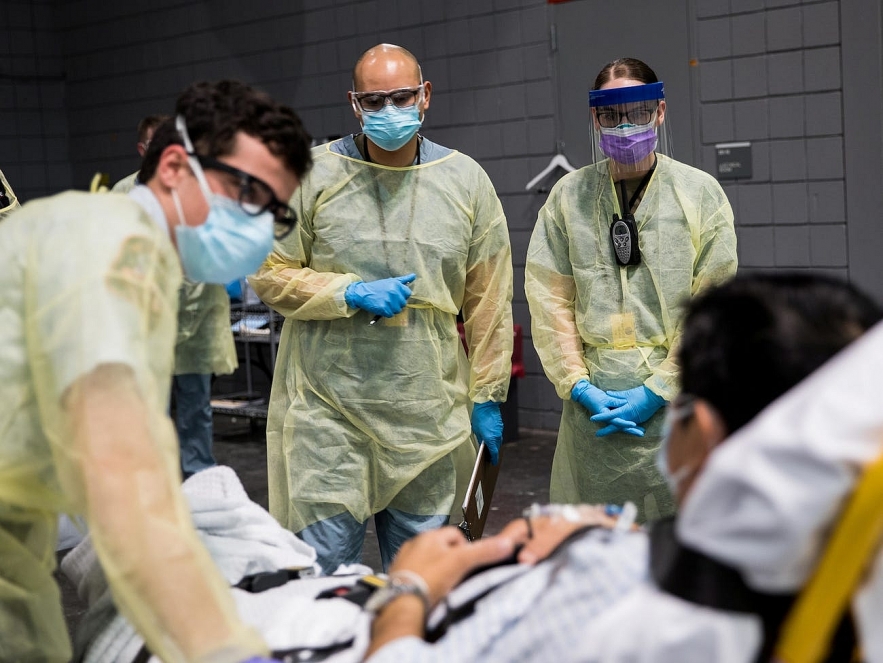 Soldiers assigned to the Javits New York Medical Station conduct check-in procedures on an incoming coronavirus patient with local emergency workers in New York City, April 5, 2020. Photo: U.S. Navy
Colombia also highlighted the challenge of sufficient testing while reaching and supporting the 50% of its people who work in the informal economy. Luis Guillermo Plata Páez, who has been leading the country's COVID-19 response, stressed that there is no choice between saving lives and saving the economy – both are needed – and that enhanced testing can accelerate economic reopening.
The government worked closely with the private sector, resulting in dozens of companies switching production to manufacturing personal protective equipment and ventilators. The crisis has also accelerated the use of technology and digitization, which gives hope for a more prosperous future for all Colombians.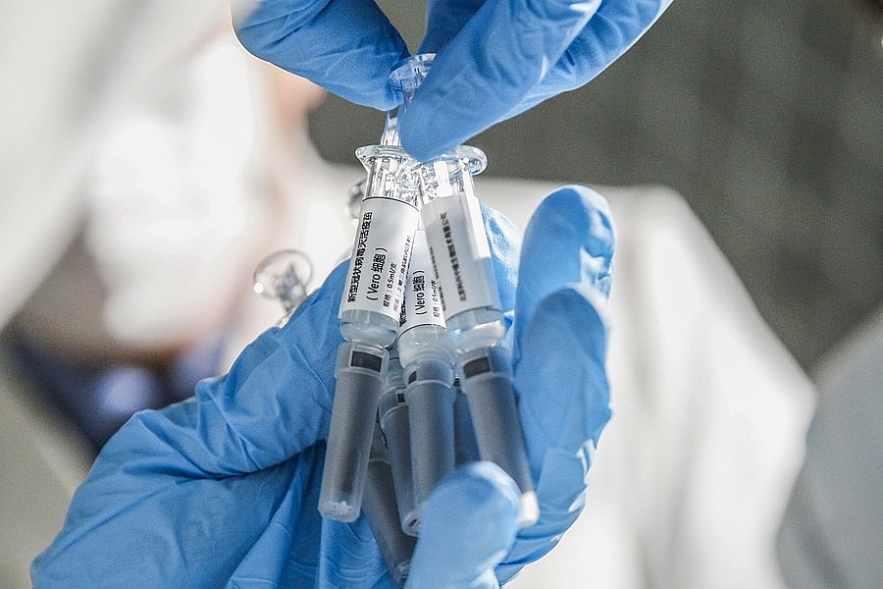 A staff member displays samples of the COVID-19 inactivated vaccine at Sinovac Biotech Ltd., in Beijing, capital of China, March 16, 2020. Photo: Xinhua/Zhang Yuwei
It was clear from the session that policy makers see that public health and economic recovery are intertwined. Panelists were optimistic that countries will be better prepared for any future waves of the disease with greater knowledge and experience now of what works to minimize both the health and economic impacts of the pandemic.
As moderator Martin Wolf summarized, "We went into this together and will come out of this together. It will be hard for most countries to recover fully without the world healing together." We very much believe this is the case.
Brief overview of the author - Mari Elka Pangestu
Mari Pangestu is the World Bank Managing Director of Development Policy and Partnerships. Ms. Pangestu joins the Bank with exceptional policy and management expertise, having served as Indonesia's Minister of Trade from 2004 to 2011 and as Minister of Tourism and Creative Economy from 2011 to 2014.
She has had vast experience of over 30 years in academia, second track processes, international organizations and government working in areas related to international trade, investment and development in multilateral, regional and national settings.
Ms. Pangestu is highly regarded as an international expert on a range of global issues. She served as Chairperson of the Board of Trustees of the International Food Policy Research Institute (IFPRI) in Washington D.C and as advisor to the Global Commission on the Geopolitics of Energy Transformation of International Renewable Energy Agency (IRENA) in Abu Dhabi.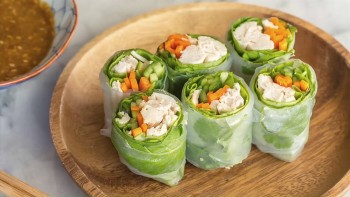 Travel
Rolls are a easy-to-make dish that is loved by many Vietnamese diners as well as Korean stars.