World Population Day (July 11): History, Significance, Vietnam and World Population in 2021
World Population Day on July 11 is a holiday that's dedicated to focusing on the importance of population issues. Learn more about its history, significance, and world population data and development in 2021.
World Population Day aims at focusing people's attention towards population issues and how it affects overall growth and development plans and programs.
World Population Day: History, Significance, why is it celebrated

The world's population reached 7 billion on 31 October, 2011. Pictured near an entrance to UN Headquarters is a banner for a global campaign by UNFPAto build awareness of the opportunities and challenges posed by this milestone. UN Photo/Rick Bajornas
World Population Day is an annual event, observed on July 11 every year, which seeks to raise awareness of global population issues. The event was established by the Governing Council of the United Nations Development Programme in 1989. It was inspired by the public interest in Five Billion Day on July 11, 1987, the approximate date on which the world's population reached five billion people. World Population Day aims to increase people's awareness on various population issues such as the importance of family planning, gender equality, poverty, maternal health and human rights.
The Day was first marked on 11 July 1990 in more than 90 countries. Since then, a number of a number of UNFPA country offices and other organizations and institutions commemorate World Population Day, in partnership with governments and civil society.
The UN and Population
The UN Population Division collaborates closely with the agencies, funds, programmes and bodies of the United Nations system in the implementation of the work programme on population and in the follow-up to the International Conference on Population and Development. United Nations missions, national Government offices, United Nations offices, researchers, media representatives and the public regularly consult the Population Division regarding population estimates and projections, and information and analyses on population and development issues.
At its thirty-eighth session, the Statistical Commission requested the United Nations Statistics Division and other international agencies to increase their technical assistance to national statistical offices in order to strengthen national capacity for the implementation of the 2010 World Programme on Population and Housing Censuses. In addition, the Commission requested countries to begin implementation of the revised Principles and Recommendations for Population and Housing Censuses.
UNFPA works with many partners, both within and outside the United Nations system, including Governments, non-governmental organizations, civil society, faith-based organizations, religious leaders and others, to achieve its mission. To better respond to local needs, UNFPA increasingly devotes resources to country-led efforts, placing emphasis on country-focused and country-led implementation to achieve improved results, at the same time addressing mutual accountability and strengthening harmonization and alignment.
UNFPA works to support family planning by: ensuring a steady, reliable supply of quality contraceptives; strengthening national health systems; advocating for policies supportive of family planning; and gathering data to support this work. UNFPA also provides global leadership in increasing access to family planning, by convening partners – including governments – to develop evidence and policies, and by offering programmatic, technical and financial assistance to developing countries.
Significance And Why It Is Celebrated
World Population Day aims at finding solutions to issues related to growing population. istockphoto
The main aim behind having a World Population Day is to focus attention on consequence of population issues and how it affects overall development plans and programs.
The greatest threat that growing population causes is quick depletion of natural resources and the threat that it poses to sustainability. However, apart from this threat, World Population Day should also be looked at as an opportunity to celebrate the spirit of brotherhood. On this day, you must realise the responsibility you have towards one another.
The Population Division works closely with agencies, programs, funds and bodies of the UN system in order to execute work program on population.
World Population Day is celebrated differently in different countries. Most of United Nations Fund For Population Activities (UNFPA) County Offices celebrate the day with poster and essay contests and sports concerts to actualise awareness to the cause. In 2011, world population crossed 7 billion mark. On the occasion, the UNFPA and its partners launched 7 billion actions aimed at involving people, spurring commitments and sparking actions related to the opportunities and challenges presented by a world of 7 billion people.
As a phenomenon, World Population Day begin to be identified after unprecedented decrease in mortality that occurred in developed parts of the world. The day was a major achievement as it escalated life-duration from 30 to 67 years between 1800 and 2005, thus leading to rapid boom in population from 1 billion to 7 billion in 2010.
2021 World Population by Country
The current US Census Bureau world population estimate in June 2019 shows that the current global population is 7,577,130,400 people on earth, which far exceeds the world population of 7.2 billion from 2015. Our own estimate based on UN data shows the world's population surpassing 7.7 billion.
China is the most populous country in the world with a population exceeding 1.4 billion. It is one of just two countries with a population of more than 1 billion, with India being the second. As of 2018, India has a population of over 1.355 billion people, and its population growth is expected to continue through at least 2050. By the year 2030, the country of India is expected to become the most populous country in the world. This is because India's population will grow, while China is projected to see a loss in population.
The next 11 countries that are the most populous in the world each have populations exceeding 100 million. These include the United States, Indonesia, Brazil, Pakistan, Nigeria, Bangladesh, Russia, Mexico, Japan, Ethiopia, and the Philippines. Of these nations, all are expected to continue to grow except Russia and Japan, which will see their populations drop by 2030 before falling again significantly by 2050.
Many other nations have populations of at least one million, while there are also countries that have just thousands. The smallest population in the world can be found in Vatican City, where only 801 people reside.
In 2018, the world's population growth rate was 1.12%. Every five years since the 1970s, the population growth rate has continued to fall. The world's population is expected to continue to grow larger but at a much slower pace. By 2030, the population will exceed 8 billion. In 2040, this number will grow to more than 9 billion. In 2055, the number will rise to over 10 billion, and another billion people won't be added until near the end of the century. The current annual population growth estimates from the United Nations are in the millions - estimating that over 80 million new lives are added each year.
This population growth will be significantly impacted by nine specific countries which are situated to contribute to the population growth more quickly than other nations. These nations include the Democratic Republic of the Congo, Ethiopia, India, Indonesia, Nigeria, Pakistan, Uganda, the United Republic of Tanzania, and the United States of America. Particularly of interest, India is on track to overtake China's position as the most populous country by the year 2030. Additionally, multiple nations within Africa are expected to double their populations before fertility rates begin to slow entirely.
Global life expectancy has also improved in recent years, increasing the overall population life expectancy at birth to just over 70 years of age. The projected global life expectancy is only expected to continue to improve - reaching nearly 77 years of age by the year 2050. Significant factors impacting the data on life expectancy include the projections of the ability to reduce AIDS/HIV impact, as well as reducing the rates of infectious and non-communicable diseases.
Population aging has a massive impact on the ability of the population to maintain what is called a support ratio. One key finding from 2017 is that the majority of the world is going to face considerable growth in the 60 plus age bracket. This will put enormous strain on the younger age groups as the elderly population is becoming so vast without the number of births to maintain a healthy support ratio.
Although the number given above seems very precise, it is important to remember that it is just an estimate. It simply isn't possible to be sure exactly how many people there are on the earth at any one time, and there are conflicting estimates of the global population in 2016.
Some, including the UN, believe that a population of 7 billion was reached in October 2011. Others, including the US Census Bureau and World Bank, believe that the total population of the world reached 7 billion in 2012, around March or April.
Vietnam Population Data and Development in 2021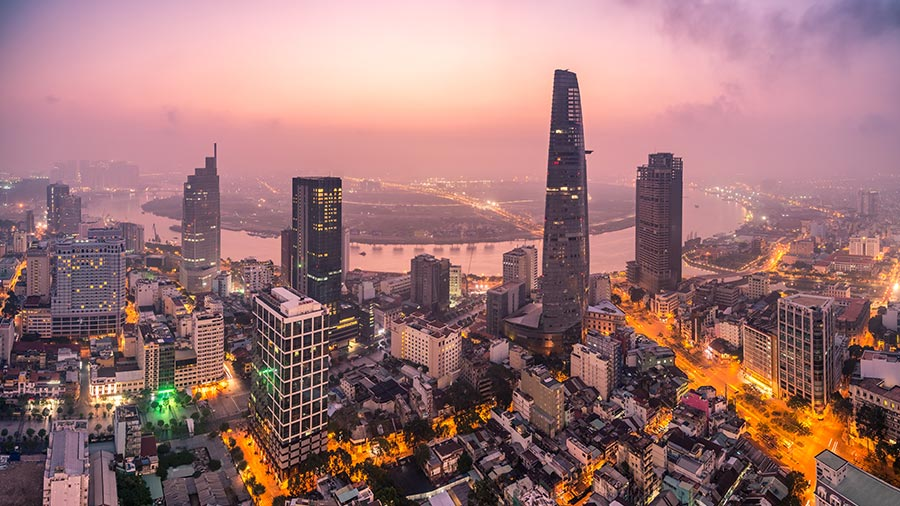 Photo: BizLive
Given Vietnam's turbulent history, the country is making great strides in population growth. Currently, Vietnam's population is 97.3 million people, a number expected to hit 100 million by the end of 2024. Vietnam's population is projected to hit its peak of 109.78 million people in 2054.
Vietnam's population is increasing by about 1% each year, adding about 1 million people per year. Despite this, the annual population growth rate is decreasing each year and eventually, the population will begin decreasing after 2055.
Vietnam's fertility rate in 1980 was 5 births per woman, which has decreased to 2.0 births per woman. This is the result of the government's "two-child policy" that limits births by issuing contraception, fining couples that have more than two children, and prohibiting them from moving to urban centers.
Vietnam Population Growth
Further consistent growth followed, even through the long years of the Vietnam War which you may have been assumed to have a negative sort of impact on the population of Vietnam. In fact, growth continued at a similar level throughout the second half of the 1900's and has continued further to the point where the Vietnam population of 2014 stands at just short of 93 million.
From the years of 1955 to 1990, Vietnam enjoyed positive yearly population changes of over 2% - even as much as 3% in some years. However, since that time, the increase percentage has fallen to just below a full 1%.
Vietnam Population Projections
The growth Vietnam has seen in the recent past is expected to continue, however, at an increasingly slower rate. By 2035, the population will be growing half as quickly as it is today. It is projected that the Vietnam population will break 100 million by 2022.
Vietnam Population Clock
| | |
| --- | --- |
| Vietnam Population (as of 7/5/2021) | 98,177,873 |
| Last UN Estimate (July 1, 2021) | 98,168,833 |
| Births per Day | 4,232 |
| Deaths per Day | 1,732 |
| Migrations per Day | -240 |
| Net Change per Day | 2,260 |
| Population Change Since Jan. 1 | 418,100 |
Net increase of 1 person every } 2260
Population estimates based on interpolation of data from World Population Prospects.