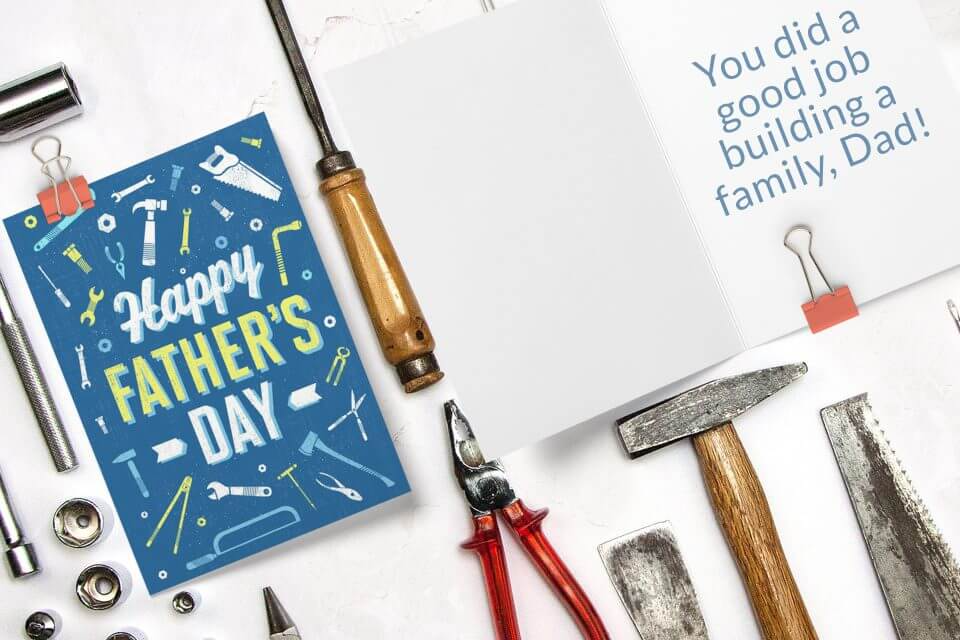 Photo: greetingsisland
Short Father's Day Wishes and Messages
The website greetingsisland have shared some Happy Fathers' Day creative wishes. These will help to make your Dad laugh, make him cry, but make him happy to be remembered.
1. We've had the best fun, the best disasters, the best recoveries, the best life together. Thanks for being the BEST, Dad!
2. Hip-hip-hooray for the Dad of the Day!
3. Happy Father's Day!
4. Thanks, Dad, for everything. Wishing you all the best on Father's Day!
5. To my SUPER DAD! You passed GREAT and AMAZING waaayyy back there
6. From the Dog: Happy Father's Day to the best darn daddy at the dog park. Arf!
7. I ♥ My Dad with all my heart! Happy Father's Day, Dad!
8. Yep. It was a pretty smart move, getting you for my dad. Happy to celebrate you today!
9. BUDDIES FOREVER. So, we're still good. Love you, Dad!
10. A good dad would have been okay, but I got the Best Dad and that's even better! Happy Father's Day!
11. Hey, Dad! You're awesome! People say we're a lot alike. Happy Father's Day!
12. HEY, SUPER FATHER! #greatjob #loveyoudad #happyfathersday
13. You have the DNA of a saint, Dad. You're a gift from above! Happy Father's Day!
14. You know what, Dad? You're one of my favorite parents. Happy Father's Day!
15. Awesome, Best, Caring, Dedicated – you're a whole alphabet of great, Dad! Have a great Father's Day!
Humor is the way to many father's heart. Therefore, if your Dad always enjoys a good laugh, Hallmark suggests you feel free to joke around in what you write to him.
1. Happy Father's Day. Hope the beers are chilling and the grill is sizzling!
2. Happy 'Golf to Your Heart's Content' Day!
3. Sending you heartfelt appreciation on Father's Day. It's the least I can do considering all the gray hairs I've caused you.
4. Thanks for teaching me all the best things I know…plus some other good stuff that I probably should have paid more attention to.
5. I hope all your wildest Father's Day wishes come true—maybe even the one about staying awake through the whole afternoon of baseball on TV!
6. Today is all about you, Dad! Enjoy, because tomorrow it's back to the rest of us.
7. I hope you get to waste some time in your favorite ways on Father's Day. You deserve it!
8. Sending lots of love to the dad who did his best to keep me out of trouble from the daughter who sure did have a knack for finding it!
9. Happy Father's Day with love from your favorite kid. (Don't worry—I won't tell if you won't.)
10. Thanks for all you've done for me, Dad. Obviously, I could never repay you, but I'll happily chip in for pizza in your honor on Father's Day or any day!
11. Happy Father's Day, Daddy. We'll just drop the grilled meat off at the door to your man cave.
Helpful Tip: Be sure to keep your humor good-natured, rather than mean-spirited. In general, the closer you are to the dad receiving your card, the funnier you can go with your written message.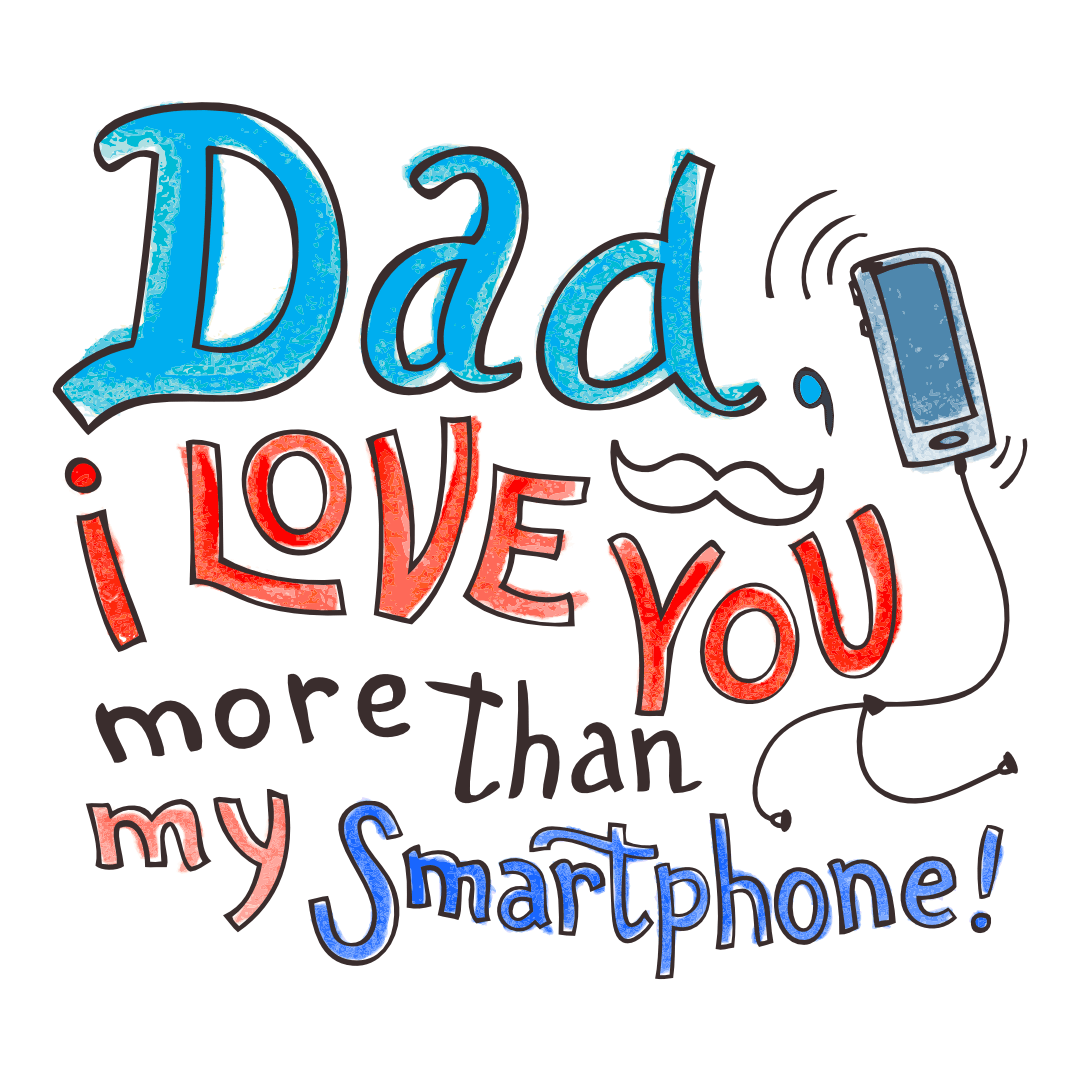 Photo: greetingsisland
Happy Father's Day Messages for 2021 | From a Distance
Covid-19, the virus and all the social distancing measures have made 2021 a special year to remember for all the wrong reasons. The website Homemade gifts made easy has listed few Happy Father's Day messages to send your Dad if you can't visit him in person this year.
1. Sending you all my love this Father's Day. We might be apart today, but you're always in my heart. Take care and stay safe in these uncertain times. I miss you!
2. This card is packed full of virus-free hugs and kisses just for you! I love you so very much and miss you enormously! I hope you have a very happy Father's Day despite this lock-down, and that I can see you again soon.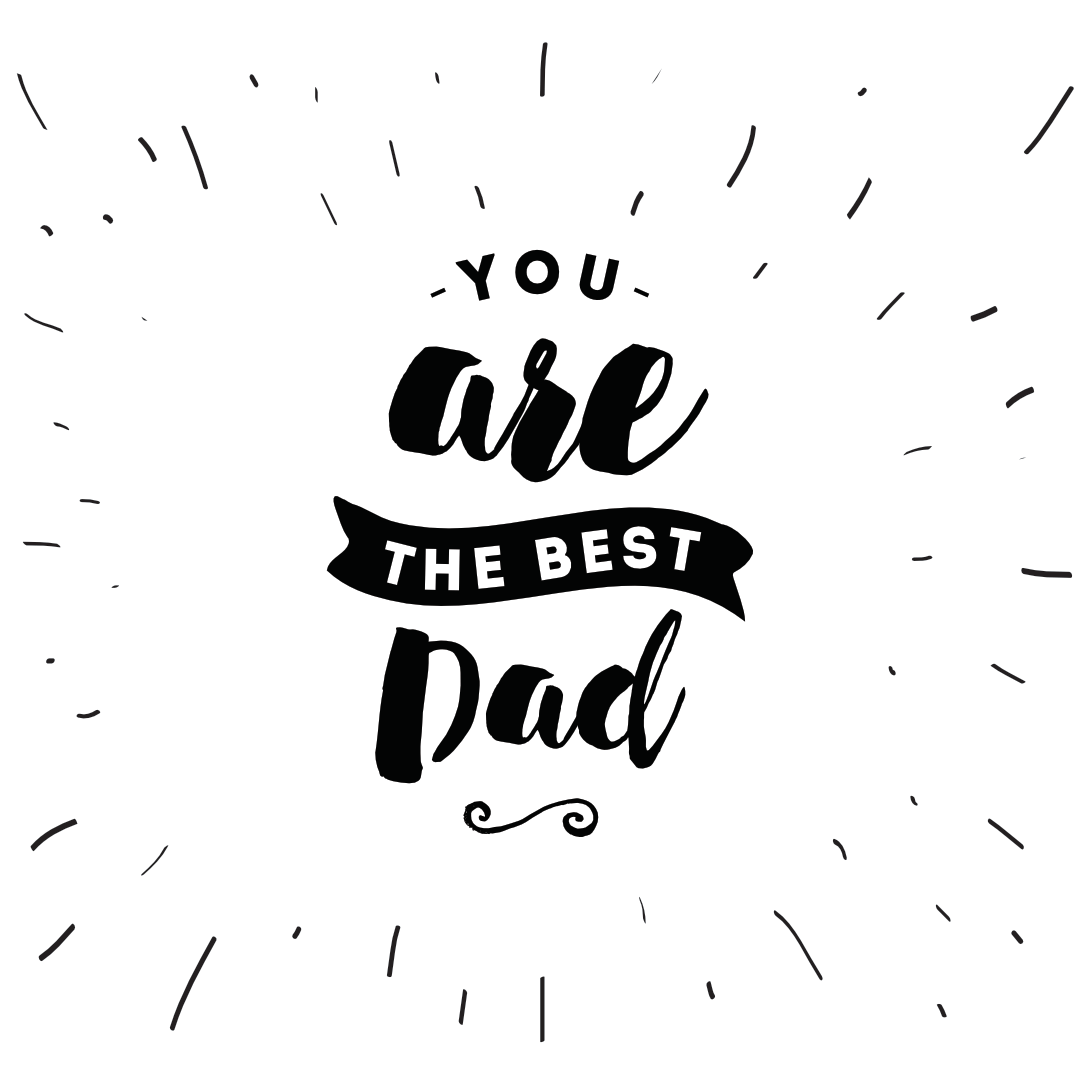 Photo: homemade-gifts-made-easy
3. Happy Father's Day Dad! We might be separated today but one day I will get to see you again and it's going to be the best catch up ever! May you keep strong, stay safe, and take care of yourselves. I miss you!
4. Happy Father's Day to my amazing Dad! Although we're far apart, you're always in my thoughts and prayers. I love you and miss you more than words can say.
5. Father and child are never truly apart, maybe in distance but never in heart. I miss you every day Dad, but know you are with me in spirit. I love you and hope you have a great day!
6. Sending you all my love across the miles. Have a great Father's Day!
7. Have a great Father's Day today Dad! I'm really looking forward to spending time together when we can next catch up.
8. Happy Father's Day to my incredible, amazing, wonderful Papa! I miss you and can't wait to see you again one day!
Heartfelt & Inspirational Happy Father's Day Messages
Let your dad know just how much you love and appreciate him with one of these beautiful and heartfelt father's day greetings from Homemade gifts made easy.
1. With your elbow grease and worn out boots, you never failed to put us first. Happy father's day to the best dad in the world! Step aside and let us do some of the work today!
2. Thank you for all the sacrifices you make for our family and all the joy and love you bring into our lives. We couldn't have asked for a better Dad! Happy Father's day.
3. Thank you for working as hard as you do every day to provide for us. You always make time for me when you're home from work and I love hanging out with you. I hope you have a fabulous Father's day.
4. Dad, You mean the world to me. There's no one else on earth like you. You care so completely, give so quietly, and love so deeply. As the years pass, I realize more and more just how lucky I am to have a Dad as wonderful as you. Happy father's day!
5. To my dearest Dad: You are my compass. Thanks for always showing me the right path and for guiding me in the right direction. Happy father's day, I love you.
6. Thank you for everything that you have given me. You've always been there for me as a dad and best friend as well. There is no other bond like ours. I love you dad!
7. When people say, 'the apple doesn't fall far from the tree,' I tell them that's the best compliment I could ever get. Someday, I hope to grow as strong and wise as you. Have a great father's day!
8. Whenever I would fail, you were there to pick me up and put me back on right path. Without you, I wouldn't be where I am today. Happy father's day Dad, thanks for everything.
9. Dad, your light guides this family and holds us together. As you get older I want you to know that I am there for you too, through thick and thin. On this special day, relax and forget your worries. Happy father's day!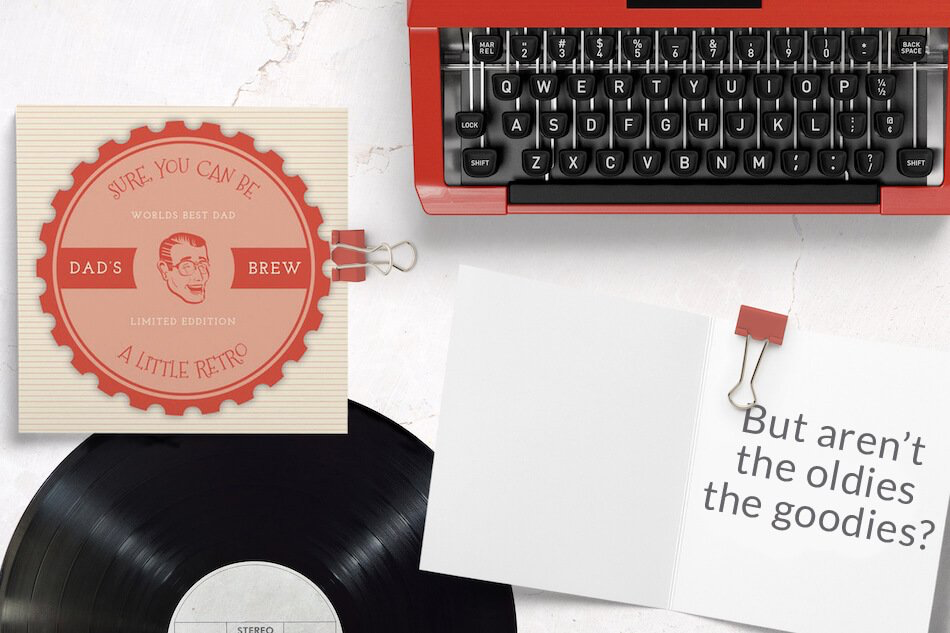 Photo: greetingsisland
Father's Day Best Wishes for your Husband
Hallmark suggests some of the wishes for you to send love to your husband or parner. Whether the two of you are in the thick of diapers and carpools or you're in a position to look back and laugh together, he will love reading that you appreciated all the good things he's done as a dad.
1. I love our family, and I love you.
2. Happy Father's Day to the man of my heart, the father of our children, the love of my life.
3. Thank you for all the ways you go above and beyond every day for our family. The kids and I are so lucky to have you.
4. I'm so grateful to be sharing life, love and parenthood with a wonderful man like you.
5. So glad you were with me for this fun and wild ride.
6. I can't imagine anyone who's a better father or more loving husband than you.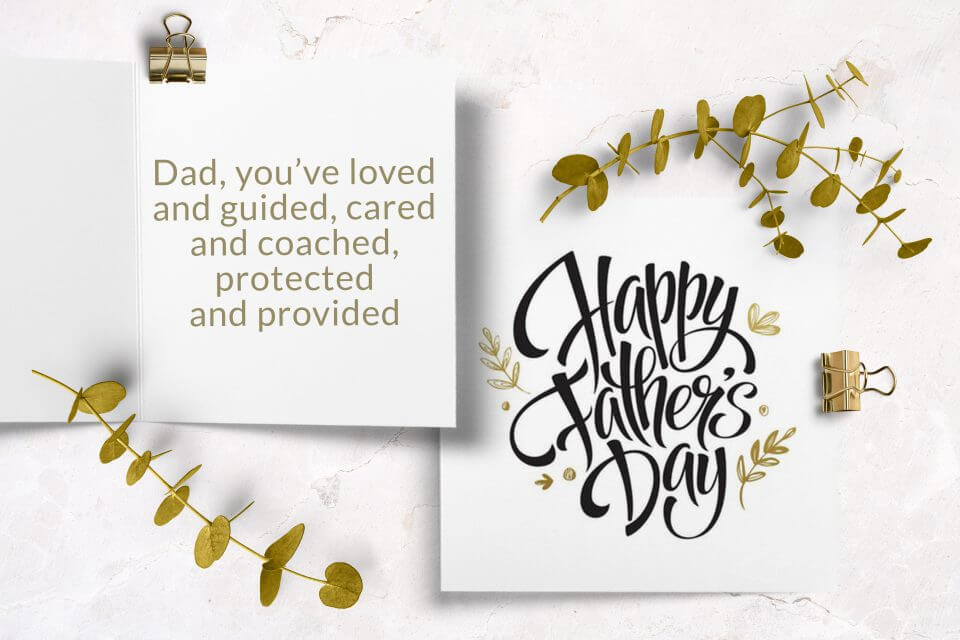 Photo: greetingsisland
7. Feeling blessed, feeling cared for, feeling loved, thanks to you.
8. Our kids think of you as a hero. And they're absolutely right about that.
9. Turns out, it IS possible for a man to look hot carrying a diaper bag. I know because I'm married to you.
10. Happy Father's Day to the man of my heart, the father of our children, the love of my life.
11. Seeing what a great dad you are only makes me love you more.
12. Happy Father's Day to the man I love. I hope you feel every day how grateful I am for you and for all you do.
13. I've never seen you sexier than with strained peas in your hair.
14. Our kids have your eyes, your cool energy and your big heart. I love you as their dad and the man who is my perfect person.
15. I adore everything about you. I'm talking to your butt. OR I'm mostly talking to your butt right now
Helpful tip: Men tend to be open to romantic and suggestive messages from their partners, even on Father's Day. So, if you think he's sexy, feel free to let him know!
Happy Father's Day Quotes and Sayings
The website Homemade gifts made easy offers these beautiful quotes about fathers in a Happy Father's Day message to your dad.
1. My father gave me the greatest gift anyone could give another person, he believed in me.
~ Jim Valvano
2. He didn't tell me how to live; he lived, and let me watch him do it.
~ Clarence B Kelland
3. It was my father who taught me to value myself. He told me that I was uncommonly beautiful and that I was the most precious thing in his life.
~ Dawn French
Photo: greetingsisland
These next Father's Day quotes are about fatherhood and what it means to be a dad.
4. Everyone can be a father, but it takes a lot to be a dad.
~ Wade Boggs
5. FATHER: a son's first hero and a daughter's first love.
~ Unknown
6. When you need real understanding, When you need someone to care, When you need someone to guide you... A father's always there.
~ Thomas J. Langley
7. Dads are most ordinary men turned by love into heroes, adventurers, story-tellers, singers of songs.
~ Pam Brown
8. I believe that what we become depends on what our fathers teach us at odd moments, when they aren't trying to teach us. We are formed by little scraps of wisdom.
~ Umberto Eco
9. A father is neither an anchor to hold us back, nor a sail to take us there, but a guiding light whose love shows us the way.
~ Unknown
10. I cannot think of any need in childhood as strong as the need for a father's protection.
~ Sigmund Freud
Some beautiful religious Father's Day quotes about fathers and the special role they have in family life.
11. Father! - to God himself we cannot give a holier name.
~ William Wordsworth
12. Blessed indeed is the man who hears many gentle voices call him father!
~ Lydia M. Child
13. Train up a child in the way which he should go and when he is old he will not depart from it.
Wishing Father's Day with Images
Last but not least, celebrate Father's Day this year by sending these wishes by images from inspiringwishes.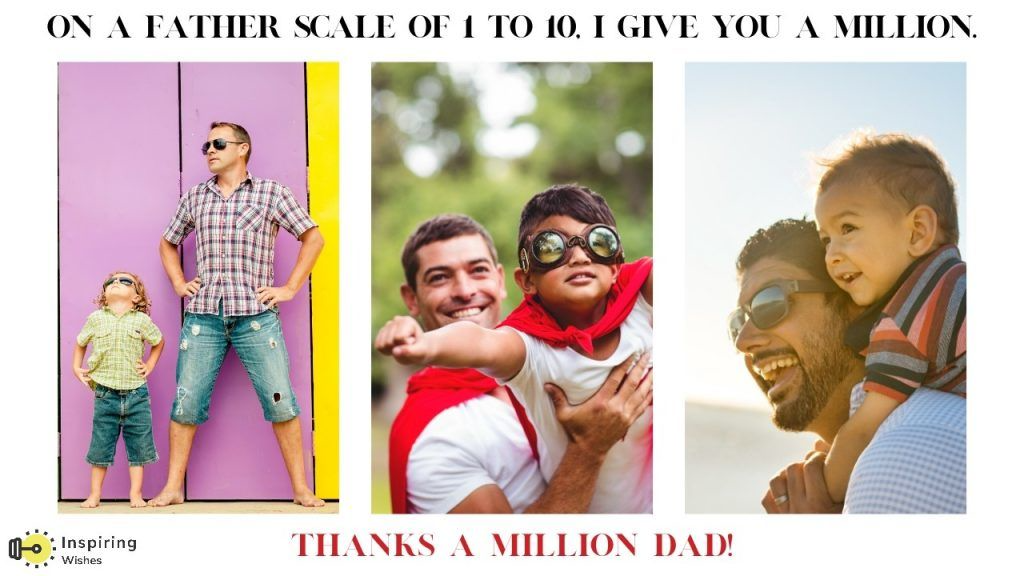 Happy Fathers Day Wishes Images. Photo: inspiringwishes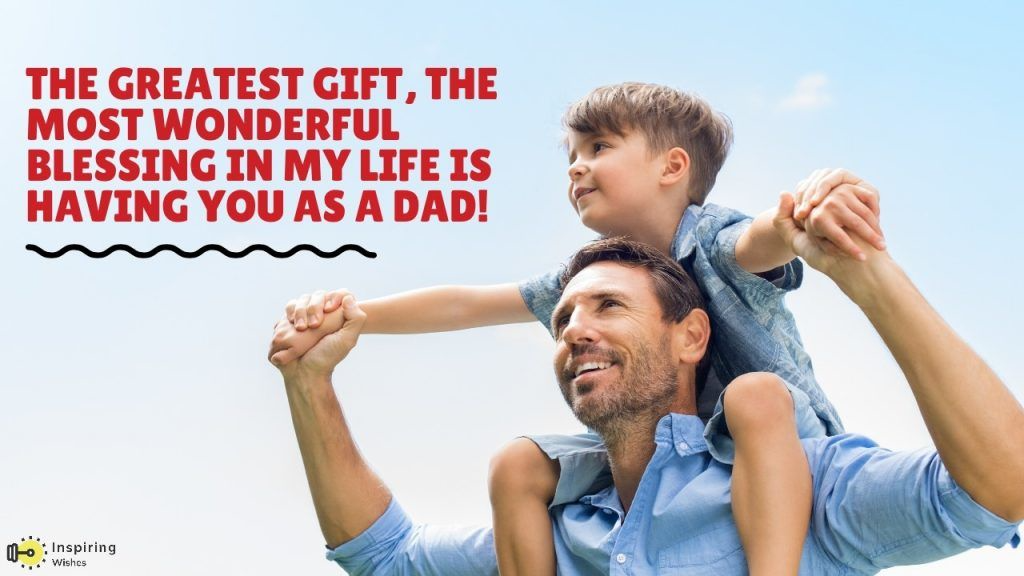 Happy Fathers Day Wishes Images. Photo: inspiringwishes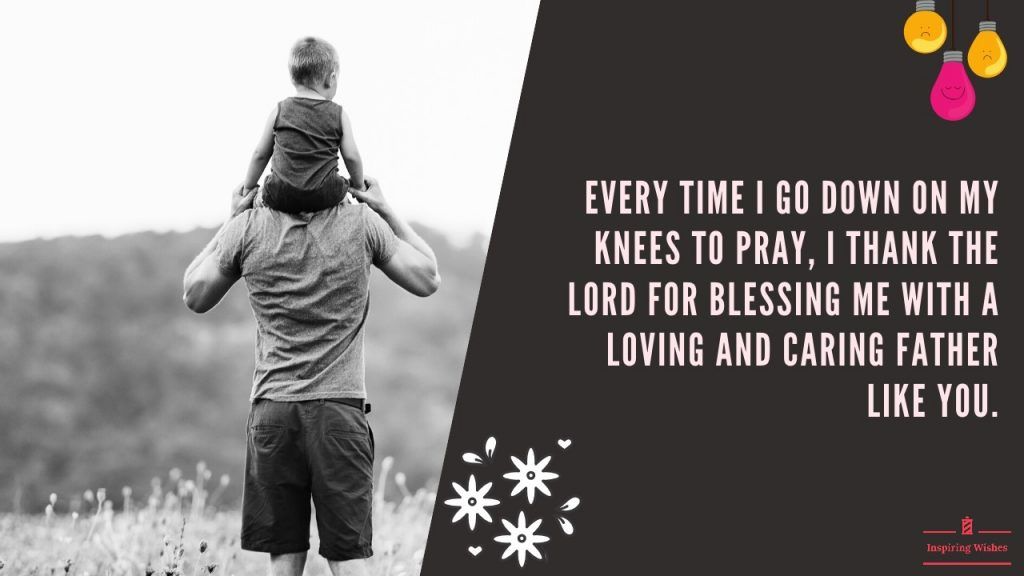 Happy Fathers Day Wishes Images. Photo: inspiringwishes
Happy Fathers Day Wishes Images. Photo: inspiringwishes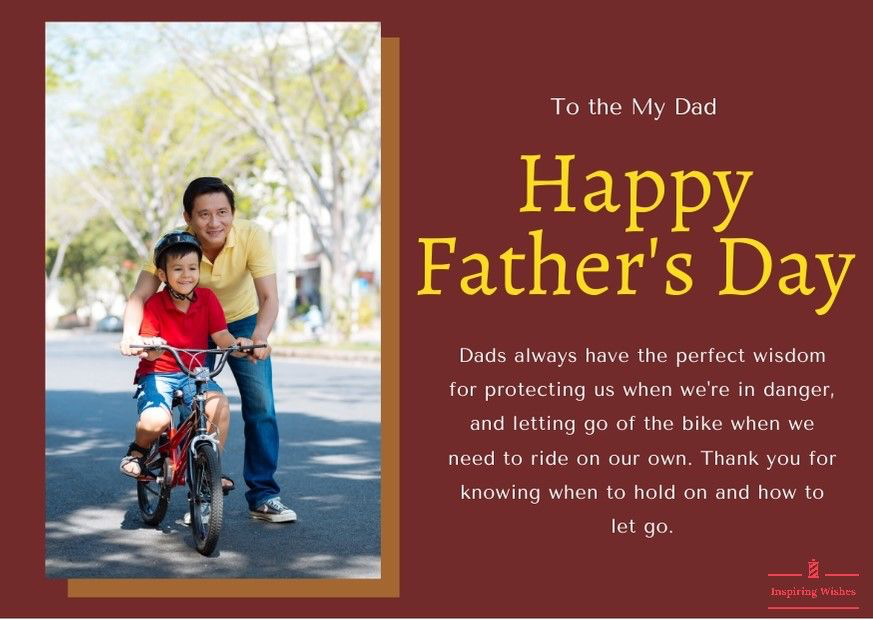 Happy Fathers Day Wishes Images. Photo: inspiringwishes
Rosie Nguyen