World Vision Continues to Support Quang Tri, Yen Bai Provinces
World Vision Vietnam is implementing programs to support the most vulnerable group of Vietnam.
World Vision in Vietnam will contribute to improving health - sanitation - clean water, livelihoods, infrastructure, and resilience to natural disasters of beneficiary communities, especially most vulnerable children, in Quang Tri and Yen Bai provinces.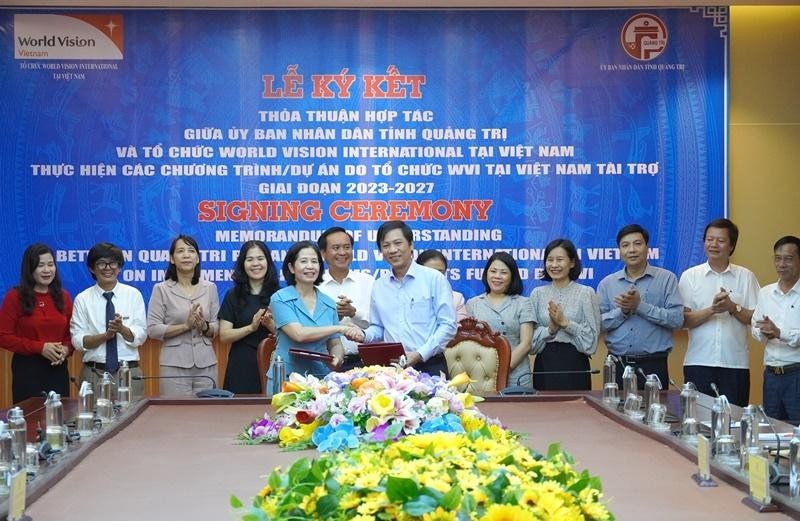 At the central province of Quang Tri's signing ceremony. Source: quangtri.gov.vn
Quang Tri Provincial People's Committee and World Vision in Vietnam (WVI) have recently signed a cooperation agreement on the implementation of programs/projects funded by WVI, 2023-2027 period with a budget of approximately USD 9.8 million, bringing the total accumulated budget of cooperation committed with Quang Tri province since 2000 to nearly USD 46 million.
Speaking at the signing ceremony, Vice Chairman of Provincial People's Committee Hoang Nam thanked and highly appreciated WVI, which has always accompanied Quang Tri province in the past time; at the same time affirming that as a foreign NGO operating for a long time in the area, WVI has supported many programs and projects and brought practical effects to beneficiaries.
The Vice Chairman of the Provincial People's Committee also thanked the donors, recognizing the efforts of local partners, especially the project implementation areas. The province will continue to direct the relevant departments, agencies and sectors to complete the procedures soon after signing the cooperation agreement so that the projects can soon be deployed in the province in the period of 2023-2027 to achieve the set targets. out.
World Vision is a Christian relief and development humanitarian organization, working to improve the quality of life of people, especially children, who are marginalized and living in poverty. World Vision started working in Vietnam in 1988. Since then, World Vision has implemented many relief and development programs, partnering with the Vietnamese government, other NGOs, and communities.
In Quang Tri, over the past time, WVI has cooperated with local authorities to implement programs and projects that significantly improve the lives of poor households and people in difficult circumstances, especially the poor. children. Notably, in the period 2018-2022, WVI and localities have effectively implemented regional programs and small projects in Dakrong, Huong Hoa, Hai Lang, and Trieu Phong districts with a total budget of nearly USD 11 million.
Along with that, WVI has implemented a microfinance program in Hai Lang, Trieu Phong and Vinh Linh districts. The program has disbursed VND 405 billion (USD 17 million) for 21,846 loans to 5,476 customers, the repayment rate is 99.97%, and the outstanding balance is VND 69 billion (USD 2.9 million). The microfinance program has created the habit of saving; increasing production scale; increasing assets and income; empowering women; improving wellbeing.
In the period of 2023-2027, WVI will implement programs/projects to support the development of Quang Tri province with a budget of nearly USD 9.8 million, bringing the total accumulated budget of cooperation committed with Quang Tri province since 2000. So far, it has reached nearly USD 46 million.
Accordingly, in this period, WVI will continue to implement the regional program of Hai Lang, Huong Hoa and Dakrong districts, including the following projects: child protection and promotion of children's participation; livelihoods; community participation and child sponsorship; and nutrition and health.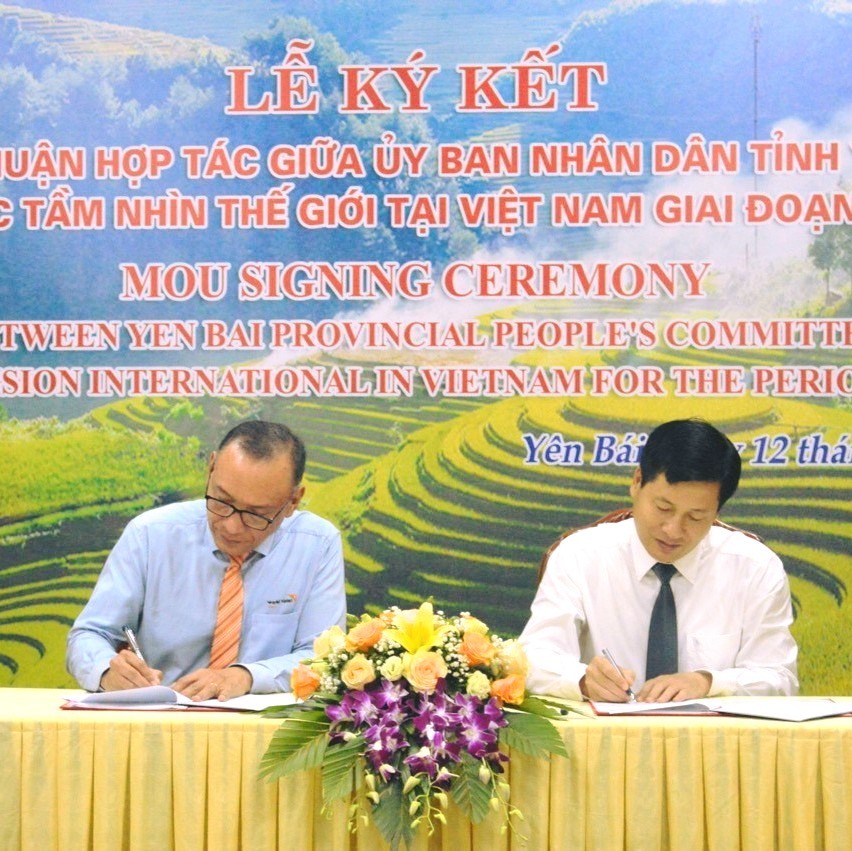 WVI's projects significantly contribute to local development in essential sectors of the northern mountainous province of Yen Bai. Source: WVI
Earlier, WVI also signed a cooperation agreement for 2023 - 2027 with the People's Committee of Yen Bai province.
The cooperation agreement is the basis for joint efforts between WVI and Yen Bai province in the next 5 years to support and improve the welfare of disadvantaged communities, especially the most vulnerable children. Based on this agreement, WVI will implement interventions in 23 target communes in four districts, with a total operating budget of VND 223 billion (USD 9.5 million).
WVI has implemented long-term development programs in Yen Bai province since 2003. With an operating budget of about VND 550 billion (nearly USD 26 million), interventions and support from World Vision Vietnam have contributed to improving the welfare of communities and children in Van Yen, Tran Yen, Luc Yen, Yen Binh, Tram Tau, and Van Chan districts.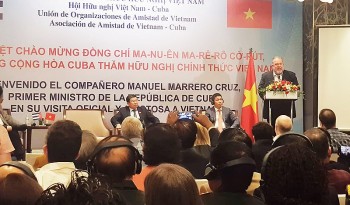 Friendship
Cuban Prime Minister Manuel Marrero Cruz met representatives from the Vietnam-Cuba Friendship Association in Hanoi on September 30, as part of his visit to Vietnam from September 28 to October 2.