10 Best and Most Delicious Street Food That Are Globally Loved In Vietnam
Vietnam is extremely famous and iconic for its varieties of street food, which bring an interesting cultural experience for tourists from all over the world.
The cheapest and one of the most delicious places to find cuisine in Vietnam is in a traditional open-air market. Here, single-dish food stalls, run mostly by women, offer finely crafted dishes passed from mother to daughter for generations, CNN reported.
1. Bun Cha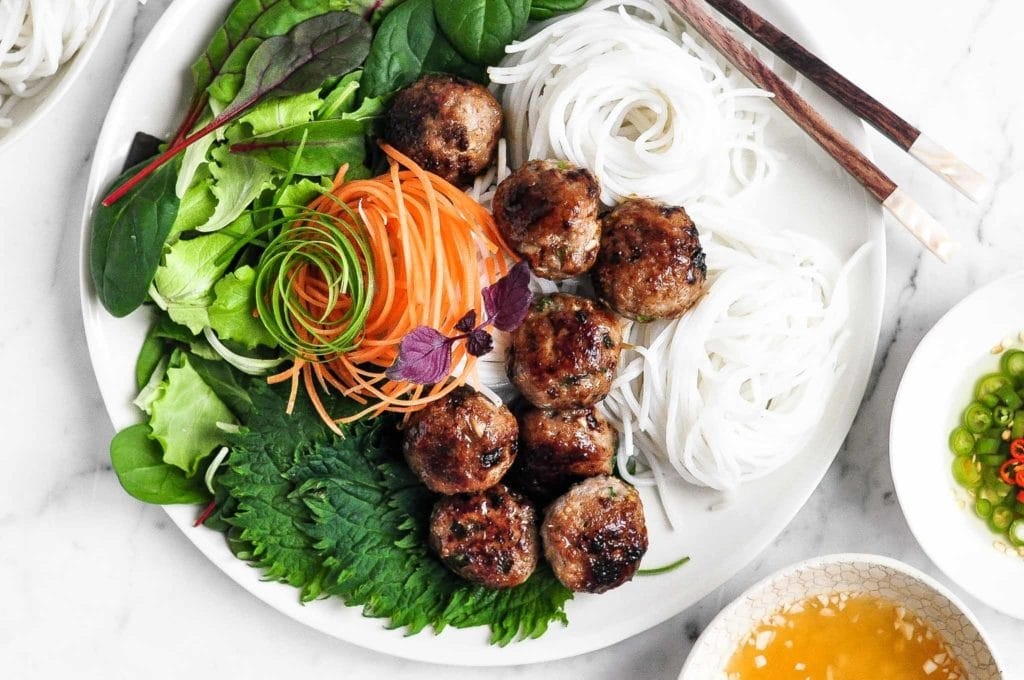 Photo: Eat, Little Bird
Bun Cha (Grilled Pork with Rice Vermicelli) is a very common dish that is thought to be originated from Hanoi. Bun Cha can be easily found in Vietnam's busy capital city from elegant restaurants to simple street vendors in narrow streets. Along with Pho, Bun Cha also stands for Hanoi's stunning cuisine culture which is the perfect combination of rice products, meat, veggie, spices, and local special dipping sauce.
You can eat Bun Cha in any meals, from hurry breakfast to lunch then hearty dinner. However, bun cha is the top choice when it comes to lunchtime in the capital. It becomes more irresistible when the incredibly aromatic smell of grilled pork pervades streets, which make our stomach growl after a hard-working day.
Just look for the clouds of meaty smoke after 11 a.m. when street-side restaurants in Hanoi start grilling up small patties of seasoned pork and slices of marinated pork belly over a charcoal fire.
Once they're charred and crispy, the morsels are served with a bowl of a fish sauce-heavy broth, a basket of herbs and a helping of rice noodles. Bun cha sets often come with the delicious nem cua be -- fried crab spring rolls. Still not convinced? It's what Obama ate during his night out with Bourdain.
2. Banh Mi Vietnam
Photo: Pinterest
Banh mi was first introduced to Vietnam during the French colonial period. It is a modification of the baguette, which was a staple food of the French in the 19th century. The baguette, paired with pork pâté, ham, cheese, and butter to serve only the French colonists at expensive restaurants and cafes, was still a luxury product to most Vietnamese.
When the locals learned how to make this food themselves, Banh mi became a common product, like other Western products such as condensed milk, coffee, and beer. The bakeries opened one after another in Saigon, some of which served the local class' need and became a hit, making Banh Mi the favorite breakfast to the Saigonese until now.
In Vietnam, besides famous dishes such as Com Tam (broken rice), Pho (beef noodle soup), and Banh Cuon (steamed rice rolls), Banh Mi is a typical Vietnamese breakfast that is convenient and ideal for people who have to go to work or study early in the mornings. That is the reason why most Banh mi vendors are takeaways, without any chairs or tables for you to sit down.
In the north, chefs stick to the basic elements of carbohydrate, fat and protein -- bread, margarine and paté -- but head south and your banh mi may contain a more colorful combination of cheese, cold cuts, pickled vegetables, sausage, fried egg, fresh cilantro and chili sauce.
3. Vietnamese Fried Spring Rolls (Nem Ran)
daynauan.vn
There is a dish that can be served all year round, and present in almost every menu of Vietnamese restaurant abroad: A dish that is so famous that many locals of Vietnam assume it as their own specialty and give it their own name such as: "Nem Ran" by northerners and "Cha Gio" by southerners.
Fried spring roll was brought to Hanoi from the Southern part of Vietnam and this dish has rapidly become a favorite one of Hanoian, and to express the affection as well as to remember the real origin of the dish, people here call it "Nem Sai Gon".
Unlike popular myth, Vietnamese do not eat fried spring rolls with rice everyday. In fact it is a preferred food on special occasions such as Tet and other family festivities. Spring rolls not always go along with rice but also seen with round noodle in the mouth-watering bún nem dish.
Ingredients used for the fried spring roll are different depending each local but usually it comprises of lean minced pork, sea crabs or unshelled shrimps, edible mushroom, dried onion, duck/chicken eggs, pepper, salt and different kinds of seasoning. There are also special variants of the traditional pork-based roll, such as Crab spring rolls or Nem Cua Be.
4. Goi Cuon
hoidaubepaua.com
It is also interesting to make, simply a do-it- yourself-dish. The mission of chef is to prepare all necessary ingredients, namely rice paper, boiled shrimp, boiled pork, cooked vermicelli noodles, fresh bean sprout, cucumber, lettuce, mint, herbs and of course other things for a mouthwatering sauce. You could replace boiled shrimp, boiled pork by shrimp paste, grilled pork, grilled beef or whatever you like; therefore, there are various versions of Goi Cuon, but all are indeed tasty. And now, it is your turn to choose your preferred ingredients, place them down middle of a floppy wrapper, with veggie first, then fold over each end and tightly roll the rice paper into a neat tube. Be careful to have a nice piece and finally dip it into a sweet sour spicy sauce.
Making an appetizing sauce is challenging and each restaurant has their own recipe. It is commonly made from fish sauce blended with the correct proportion of vinegar, garlic, sugar and chili. Sometimes tapioca flour and coconut milk are boiled with ground garlic and onion to make an eye-catching viscid sauce. More specially, a little glutinous rice wine added to the sauce is the secret of Hanoians. Some regions prefer fish sauce with minced kohlrabi and carrot tenderized with salty water, blanched quickly and tossed with garlic, chili, and vinegar. Indeed, relishing gỏi cuốn is an amazing experience.
5. Pho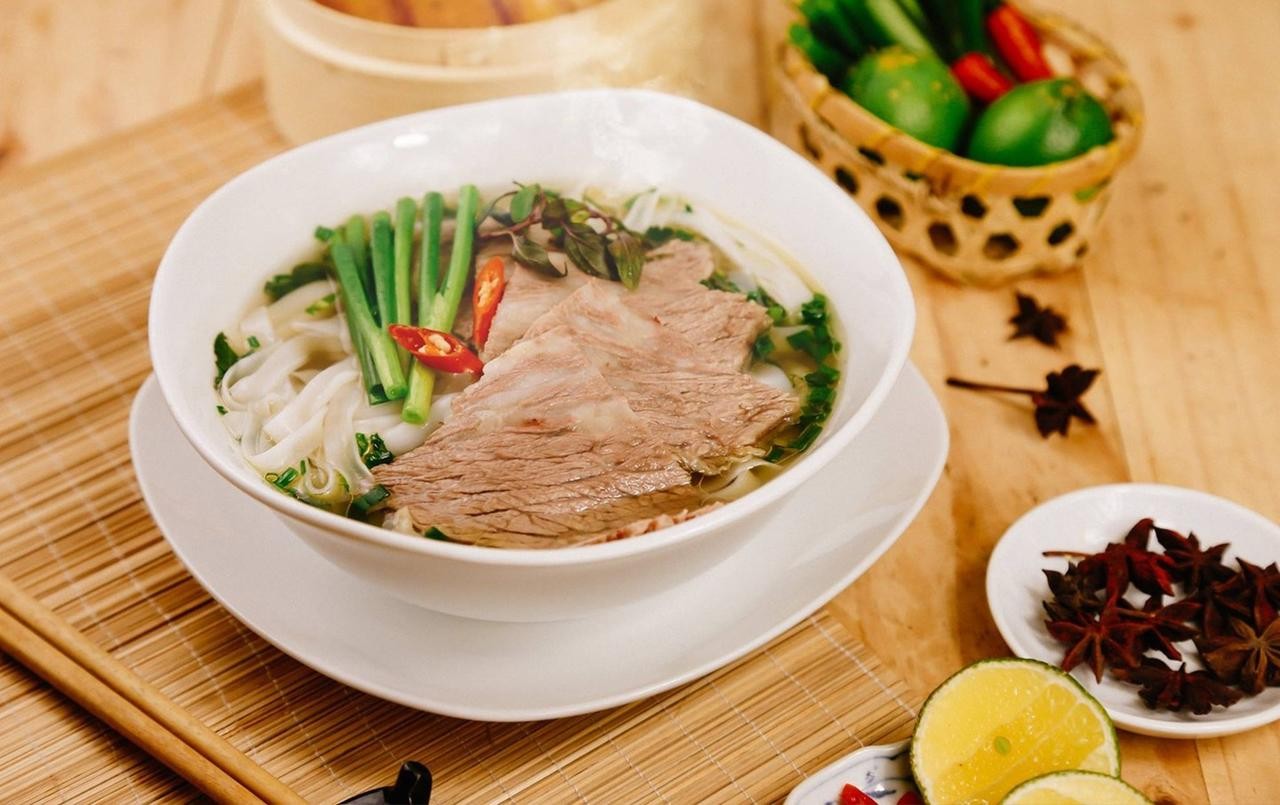 Photo: BestPrice Travel
Phở or Pho is a Vietnamese soup dish consisting of broth, rice noodles (bánh phở), herbs, and meat (usually beef), sometimes chicken (phở gà). Pho is a popular food in Vietnam where it is served in households, street stalls and restaurants countrywide. Pho is considered Vietnam's national dish.
Pho originated in the early 20th century in northern Vietnam, and was popularized throughout the world by refugees after the Vietnam War. Because Pho's origins are poorly documented, there is disagreement over the cultural influences that led to its development in Vietnam, as well as the etymology of the name. The Hanoi (northern) and Saigon (southern) styles of pho differ by noodle width, sweetness of broth, and choice of herbs.
6. Bun Rieu Cua
Photo: My Kitchies
A deep, reddish broth made from tomatoes and pulverized crab, poured over white rice noodles, topped with marinated snails and crab cake, and garnished with fresh herbs and leaves, Bun Rieu Cua is one of those Vietnamese soups that jumps out at you from the bowl. Despite being one of the most ubiquitous street food dishes in Vietnam, Bun Rieu Cua doesn't s have the same broad appeal among travellers and expatriates as other Vietnamese noodle soups. But, Bun Rieu Cua is a favourite among locals, which, Vietnam being a nation of discerning foodies, is a sign that you should take the dish seriously, however strange it might initially be to your palate. You may find you have to 'work' a little before acquiring a taste for Bun Rieu Cua, but this just makes it all the more rewarding when, finally, everything clicks and the dish makes sense.
7. Banh Xeo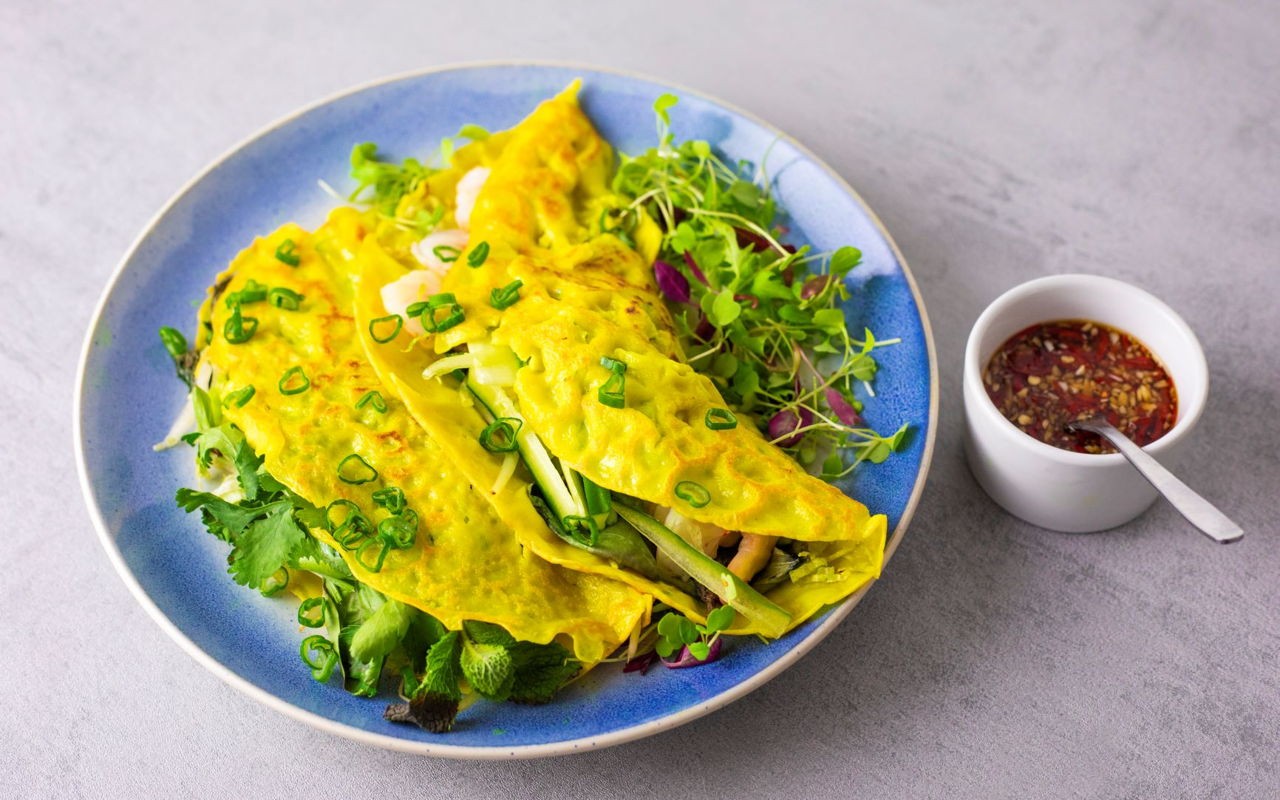 Photo: School of Work
Loosely translated as sizzling pancakes, bánh xèo is a famous Vietnamese dish that combines crunchy crêpes with a variety of savory ingredients. The distinctive Vietnamese element in these nourishing pancakes is rice flour, which is combined with water, turmeric, and coconut milk or coconut cream in order to create the thick yellow batter.
Additional ingredients, most commonly scallions, bean sprouts, shrimps, and cubed pork or beef, are sautéed before the mixture is added to the pan. The pancake is pan-fried at a low temperature and gently folded in half, keeping the ingredients safely tucked inside the pancake.
Banh Xeo is eaten everywhere in Vietnam, with slight regional differences in ingredients. Traditionally, it is served in a unique way, usually complemented with vegetables such as lettuce, carrots, and cucumbers, heavily seasoned with fresh cilantro, mint, and parsley.
Famous nuoc cham sauce, made with fish sauce, lime juice, sugar, chopped chili peppers, and garlic is typically served alongside bánh xèo. The pancakes are always freshly prepared and are supposed to be torn in larger pieces, which are usually wrapped in lettuce or rice paper and eaten by hand.
8. Bun Bo Hue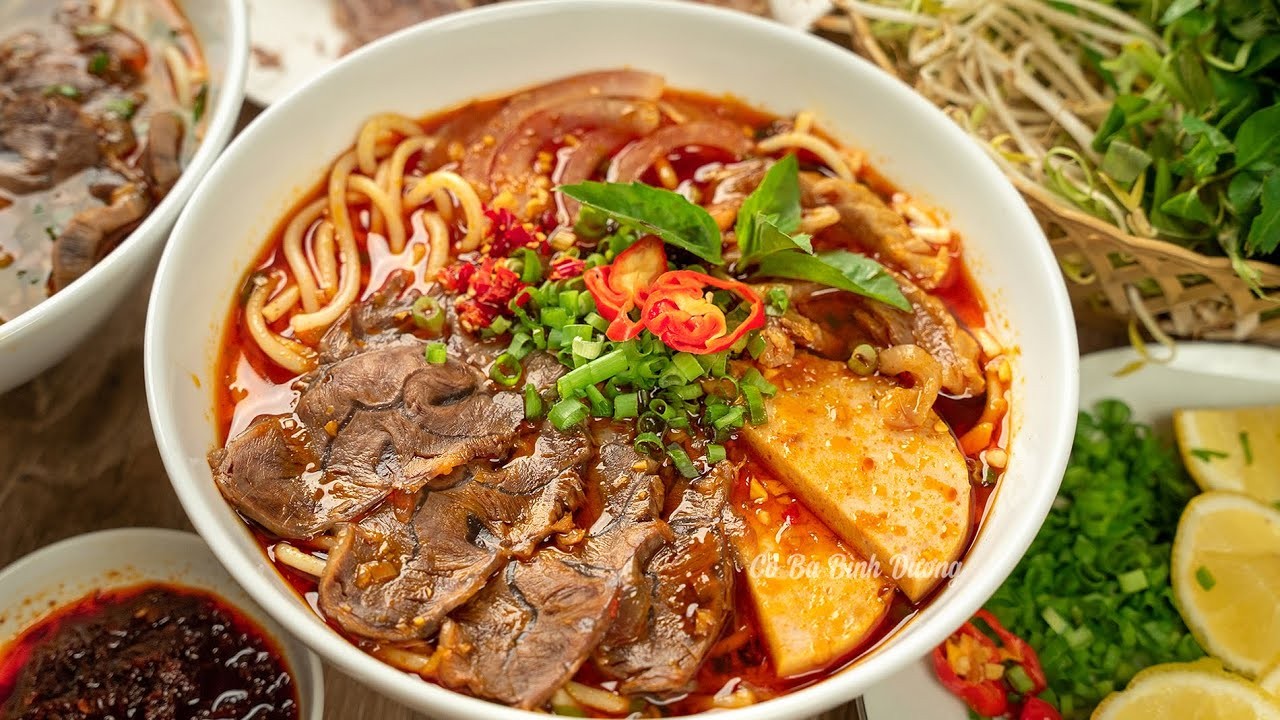 Photo: Co Ba Binh Duong
In such a more specific way, Bun Bo Hue is a dish containing rice vermicelli, beef, and pork. This kind of soup can be eaten in every meal of the day, from daily meals such as breakfast, lunch, dinner to more formal events when you want to hold a small family gathering or invite your friends, your colleagues for a farewell party.
A closer look at Bun Bo Hue reveals that there are rather many special ingredients which all play a crucial role in keeping the bowls tasty and catchy. Especially, the 3 major ones including rice vermicelli, pork, and beef. It is quite easy to spot the white rice noodle which is cylindrical, thick and a bit chewy, unlike Pho noodle.
Bun Bo Hue literally means Hue's beef noodle soup, so the must-have ingredient is beef. The meat is often thinly sliced, and the tendon part of the cow body makes the soup unique. And actually, tons of people like the taste of beef tendon and the feeling when masticating it is incomparable.
Even though Bun Bo Hue is a beef noodle soup, pork is another important ingredient. The pig pork taken from the leg part is highly popular due to the firm muscle. Also, blood sausage can be a favorable element in a Bun Bo bowl to many people, but that totally depends on each person however luscious it is. In addition, there are some more vital ingredients of Bun Bo Hue, namely onion, shrimp paste, lemongrass, banana flower, and crab sausage.
9. Ca Phe Trung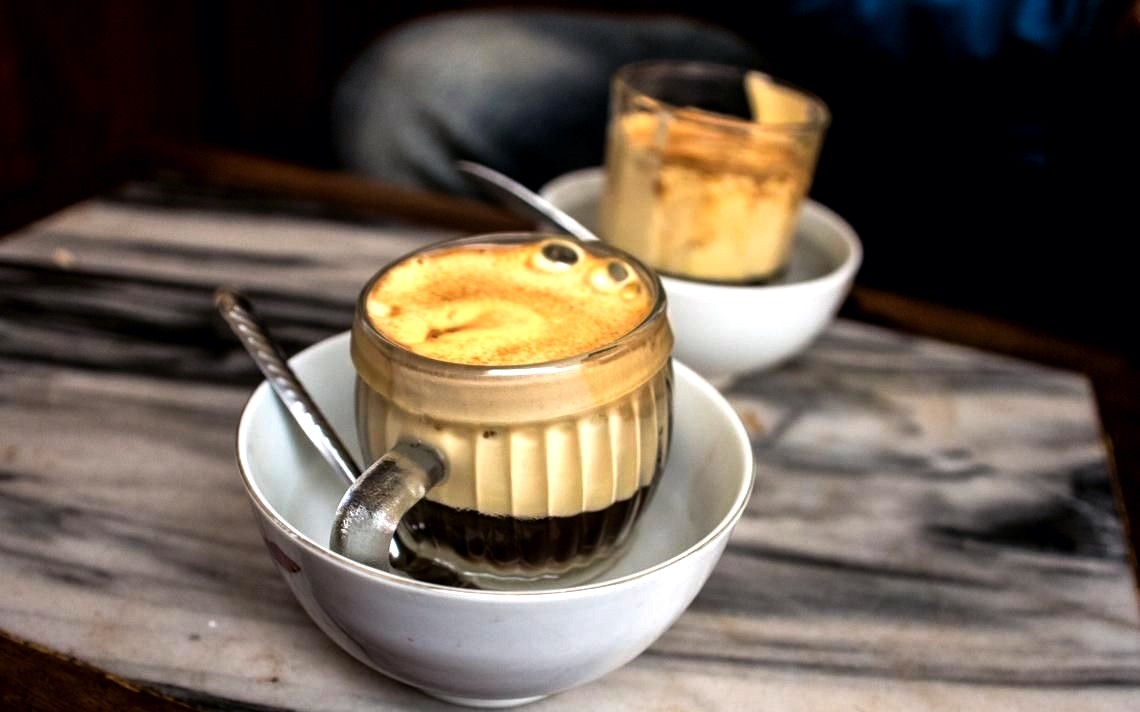 Photo: Instagram
An egg coffee (Vietnamese: Cà phê trứng) is a Vietnamese drink traditionally prepared with egg yolks, sugar, condensed milk and robusta coffee. The drink is made by beating egg yolks with sugar and coffee, then extracting the coffee into the half of the cup, followed by a similar amount of "egg cream"— egg yolks which are heated and beaten, or whisked.
The legend goes that fresh milk was in short supply during the war so whisked egg yolk was used as a replacement.
The drink is served in cafes throughout Vietnam, though it originates in Hanoi. The Giang Café (Vietnamese: Cà Phê Giảng) in Hanoi is known for serving the drink, which it makes with chicken egg yolk, coffee powder, condensed milk, and, optionally, cheese. The cup is sometimes served inside a bowl of hot water or set upon a small candle to retain its temperature. The son of the café's founder Nguyen Giang claims that his father developed the recipe for the drink when milk was scarce in Vietnam in the late 1940s, replacing the dairy product with egg yolk.
10. Bot chien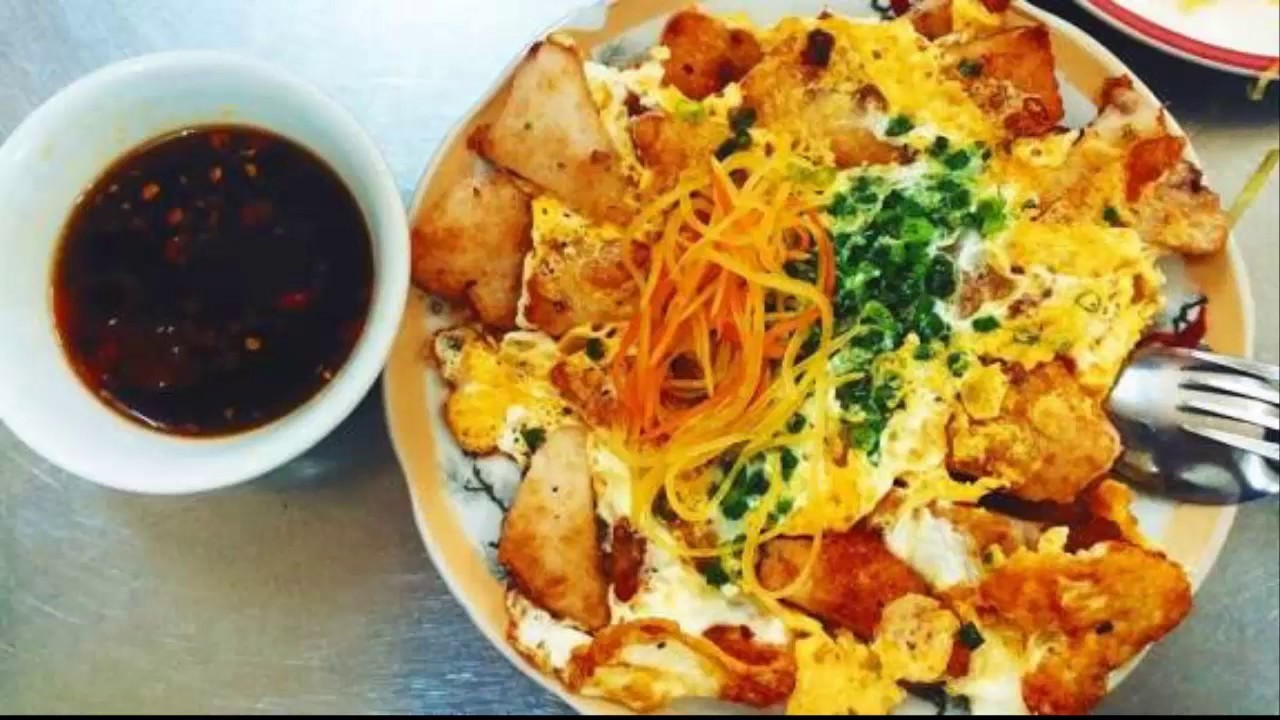 Photo: TienLe Cooking
Ho Chi Minh City's favorite street snack, bot chien is popular with both the after-school and the after-midnight crowd.
Chunks of rice flour dough are fried in a large wok until crispy, and then an egg is broken into the mix. Once cooked, it's served with slices of papaya, shallots and green onions, before more flavor is added with pickled chili sauce and rice vinegar.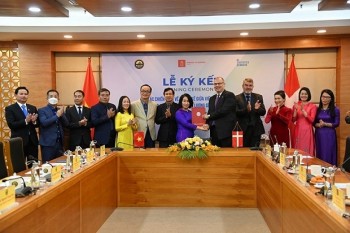 Friendship
Denmark will support Vietnam with about US$1 million to carry out a project on improving the quality of official statistics